Today is one of those days. You know those days: cold, windy, cozy sweaters, kind of days. The ones where you want to have a bowl full of comforting cheesy carbs. Enter this easy cheesy one pot lasagna. And I mean it when I say easy AND cheesy. Very cheesy. Very easy. Okay, I need to stop.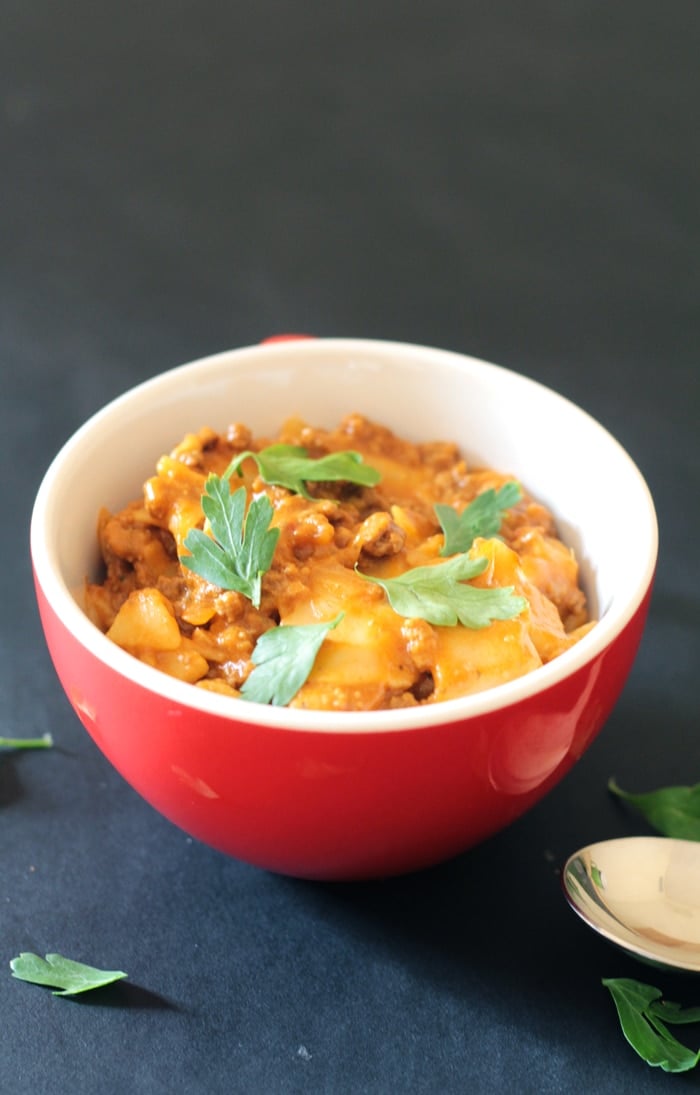 So before we go on with the recipe (which btw is super easy because you basically dump everything into one pot after browning the meat and then watch your favorite series on tv while it's cooking away), I need to tell you something.
I'm one of those people.
Who actually like to make traditional lasagna with layers. I actually like to make the meat sauce, white sauce and the pasta all in different pots.
Why? Because I'm weird and I like spending time in the kitchen.
Also, there's something so special, so celeberation-y about making layered dishes. It's like a project. And I love projects. Especially edible projects that involve pasta and cheese.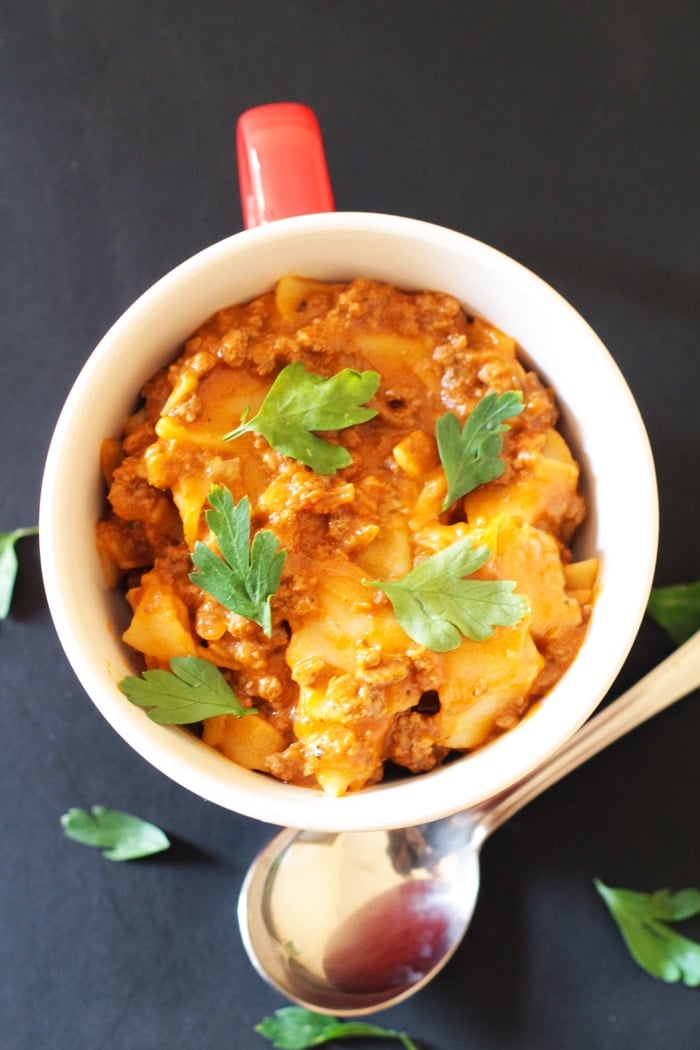 But on these cold, windy, cozy, sweaters kind of days, I don't want to spend hours in the kitchen. I want something quick, that's made in one pot (less dishes to wash FTW), so that I can cuddle with my toddler.
So that's why I decided to make this. And do I dare say I actually like this better than the traditionally layered lasagna?
So here are a few handy tips for you to make the perfect one pot lasgana:
1.) Heat oil to a medium high heat and fry the onions until light golden brown. Do not let these go too brown, we just need them slightly cooked and translucent and light golden.
2.) Then goes in the minced meat (I used beef), ginger and garlic, and some simple pantry spices.
You can skip the spices if you want to (just season with salt and pepper) but I feel the spices listed in the ingredient list add a nice special kick to the overall flavor of the dish.
3.) Now brown the meat for about 15-20 minutes (stirring every few minutes or so, to avoid the meat sticking to the bottom of the pan) until it's nicely browned.
4.) Now go in the broken pieces of lasagna sheets, water, chicken cube and pasta sauce. Bring to a light simmer, cover and cook on medium low heat until the pasta is cooked through and the sauce has thickened up.
5.) And finally, it's the time for all that cheese to go in and stirred until it melts and becomes all ooey gooey and stringy!
Look at all that gooey cheese. You know you want it. 😉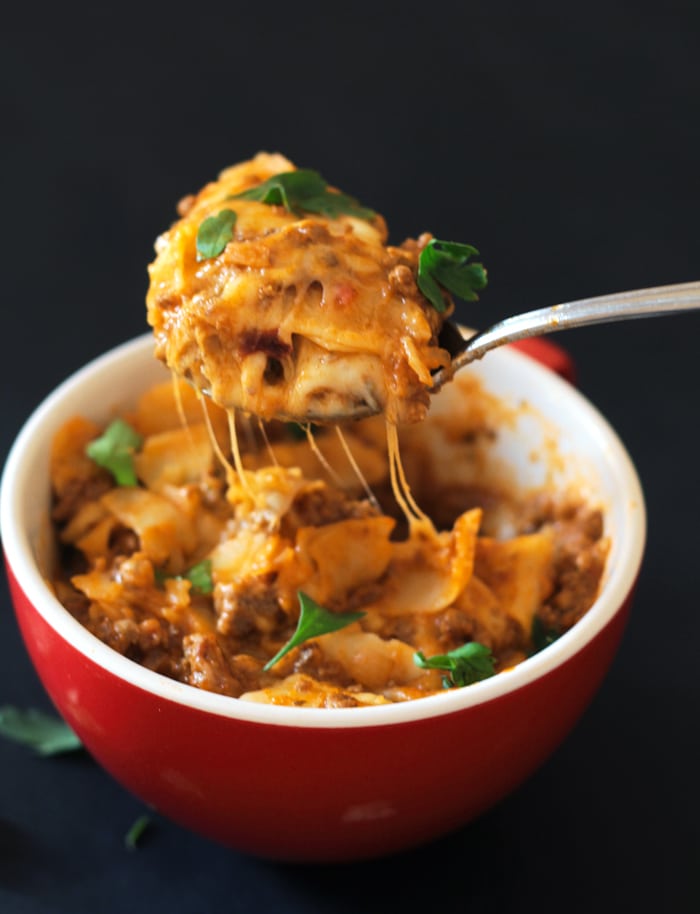 Happy cheesy carbs!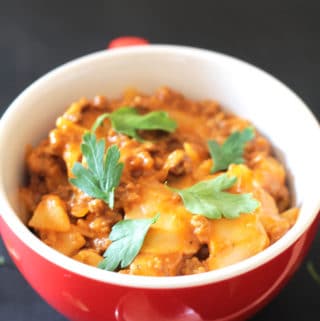 Easy Cheesy One Pot Lasgana
A delicious easy cheesy one pot lasagna made in no time. Required effort: minimal. Flavor level: Out of this world.
Print
Pin
Rate
Ingredients
1

medium onion

chopped finely

1-2

tablespoons

oil

1

tablespoon

garlic

minced finely

1/2

tablespoon

ginger

minced finely (optional)

500

grams

minced beef

I used low fat

1/2

teaspoon

red chili flakes

1

teaspoon

salt

or to taste

1/2

teaspoon

red chili powder

optional

1

teaspoon

dried oregano

1

teaspoon

dried basil

1

large jar of pasta sauce

640 grams

3-4

cups

water

1/2

chicken stock cube

12

lasagna sheets

broken into 2 inch pieces

1/2

or 1 cup shredded mozzarella cheese
Instructions
In a large pot, heat oil and saute the onions until light golden.

Add minced ginger & garlic, and the minced beef. Also add the red chili flakes, salt, red chili powder, dried oregano, and dried basil. Cook on medium high heat until the minced beef is nicely browned - about 15-20 mins (I like to brown minced beef really well), basically until you can see the oil separating from the minced beef.

After the meat has browned, add the pasta sauce, the water, chicken stock cube and lasagna sheets and bring to a boil.

Reduce heat to a simmer and cover. Stir occasionally, ever 15 minutes or so, until the pasta is tender and cooked through.

Add more water if you think the consistency is getting too thick.

Add cheese and stir until melted. Garnish with chopped parsley and serve immediately.