Don't be quick to judge this cake by its playful pink buttercream icing. On the outside, it looks beautifully innocent with its thick layer of pink buttercream and a summery topping of juicy red strawberries. But it's the inside layer that's full of darkness and rich moist chocolate flavor.
The contrast of the sweetness of the strawberries against the deep chocolate flavor is delicious. A mouthful of this chocolatey soft crumbliness packed with vanilla flavor from the buttercream will be sure to take you to cake heaven. This cake is sure to surprise your guests when you cut open and reveal the sinfully delicious three layers of chocolate cake inside. The contrast of the bright pink against the deep reddish brown velvety crumb of chocolate cake looks gorgeous, don't you think? 🙂
And what's even better is that this cake recipe is a one bowl fiesta and you can even use a hand mixer instead of a stand mixer. Even though this cake is one of the easiest recipes to make, there are a few things that you need to keep in mind.

The flour! We are using all-purpose flour here, and it is very important to note that the flour needs to be measured correctly. Flour can be easily incorrectly measured, which can literally make or break the cake. Seriously. There are two ways to get an accurate measurement for flour. You can use a baking scale to measure the weight, or you can use the spoon and sweep method. I personally use the spoon and sweep method and it works perfectly fine. But whatever you do, do not under any circumstances scoop the flour out of a jar, because that will be disastrous for the cake. And then all your cake dreams will crumble into a crumbly mess of crumbs, and you will end up eating out of a ice cream tub (which is not a bad thing, but less than tasty cakes are a bummer). So I seriously recommend to measure the flour correctly. I cannot stress this more.

To maximize the softness and moistness of the crumb, we will be using three very important agents here. Buttermilk, oil and eggs. Buttermilk is important in this recipe! It helps in tenderizing the gluten in the flour, which in turn makes the cake crumb soft. It also adds a slight, delicious tang to the cake which deepens the flavor of the cake. But I never have any buttermilk lying around in my fridge, and I want to make this cake right now, without going to the grocery, you say?! Well, there is a super easy way to make buttermilk at home and take you to cake heaven without leaving your kitchen. Milk and white vinegar. That's all you need to make homemade buttermilk, and think of yourself as a domestic goddess, or god. Just add one tablespoon to a cup of milk, and let it stand for five minutes. This recipe requires 1 1/2 cups of butter milk, so we will add 1 1/2 tablespoons of vinegar to 1 1/2 cups of buttermilk. The milk will curdle and look unappetizing, but don't worry it will add super flavor and softness to your cake. And we want that in a chocolate cake, right? Yes! We also need the buttermilk for sciencey reasons like it reacting with baking soda to activate the special powers of baking soda. Yes, I just wrote special powers while referring to baking soda.
Oil is the second moistening agent in this recipe. Butter isn't used in this recipe because we don't need a buttery flavor. Eggs also act as moist-making agents in this cake. The egg yolks add luscious moistness and the egg whites help leaven the cake. Eggs are like one of the power players in the baking game.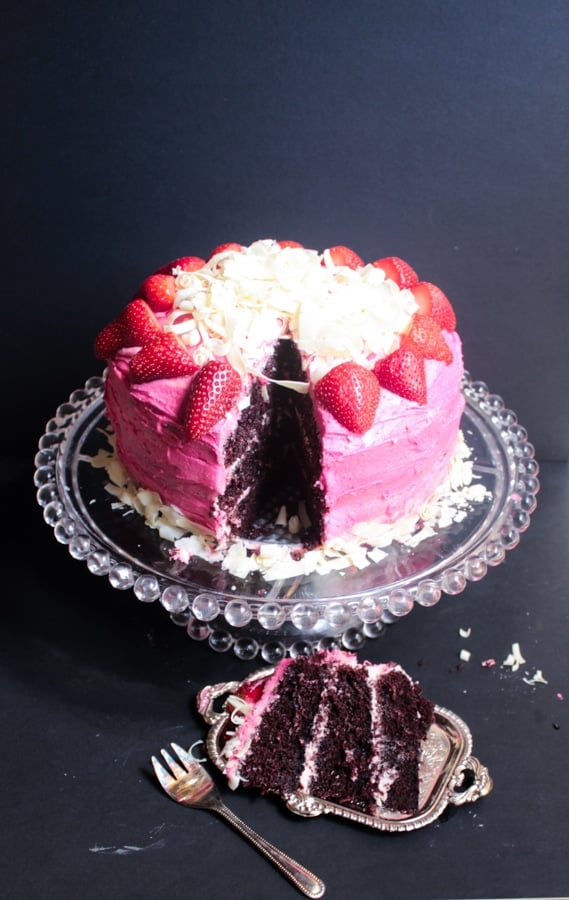 We will also be adding hot coffee to this cake. Now, if you are a coffee hater do not go away and look for a coffee sans recipe. This cake will not taste like coffee at all. Coffee just deepens the chocolate flavor, and the more chocolate flavor the better right? So do not skip the coffee at all! But if for some reason you really can't use coffee, then substitute with very hot water.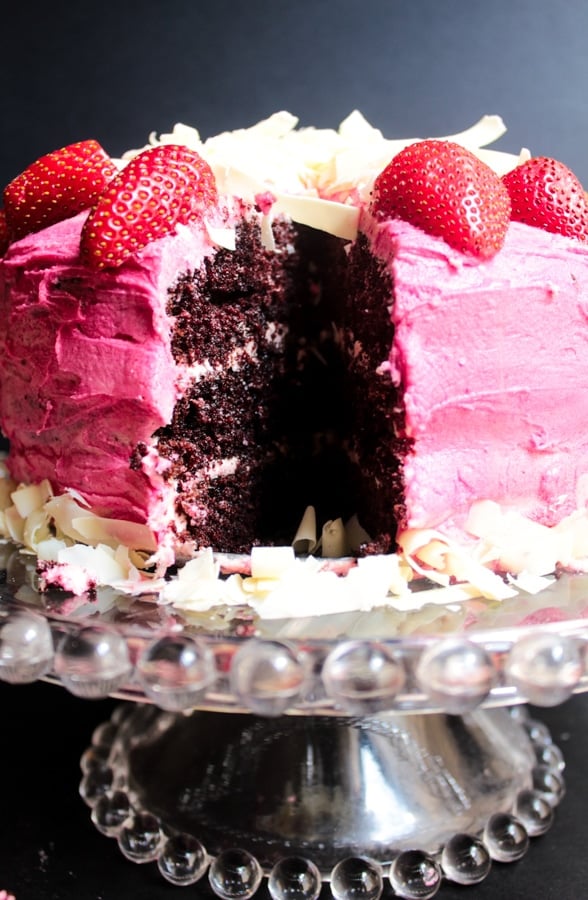 Now, let's come to the icing on the cake. This is a super simple American buttercream icing recipe. We will need copious amounts of butter and confectioners' sugar, a pinch of salt, a little bit of dreamy vanilla flavor, heavenly heavy cream, and bright pink food color. I used Wilton's Rose gel food color.

Ingredients
For the three 8" cake layers:

2 1/4

cups

all purpose flour

2 1/4

cups

granulated sugar

1

cup

unsweetened cocoa powder

1

tablespoon

baking soda

1 1/2

teaspoons

baking powder

1

teaspoon

salt

1 1/2

cup

buttermilk

room temperature - see notes for an easy method to make buttermilk at home

1

cup

freshly brewed hot coffee

can be substituted with hot water

3/4

cup

vegetable oil

1 1/2

teaspoons

vanilla essence

3

eggs

room temperature

For the Pink Vanilla Buttercream Icing

1

cup

227 g unsalted butter, softened

1/2

teaspoon

salt

5

cups

confectioners' sugar

2/3

cup

heavy cream

1

tablespoon

warm water

1 1/2

teaspoons

vanilla essence

Bright pink food coloring

I used Wilton's Rose gel food coloring
Instructions
For the Cake Layers:

Preheat oven to 350 F (180 C). Butter and lightly flour three 8 inch cake pans. Line with parchment rounds. If you don't have three cake pans, don't worry you can use one pan and bake each layer separately. While one layer is baking, I cover the remaining batter with foil and place in the fridge.

Sift the flour, sugar, cocoa powder, salt, baking soda and baking powder in a large bowl.

In a separate bowl, combine the wet ingredients: buttermilk, coffee, oil, vanilla and eggs and mix until combined.

Add the wet ingredients to the dry ingredients, and using a handheld mixer combine. This will take about 1 minute. The batter will be very thin.

Bake the layers, each will take about 20-23 minutes, depending on your oven. Do not over bake. The cakes are done when an inserted toothpick in the middle comes out clean.

Let the cake layers cool in the pan for about 10 minutes, running a knife gently around the cake pan. Take out of pans and cool completely at room temperature.

For the Pink Vanilla Buttercream Icing:

Add softened butter and salt to a large mixing bowl. Using a handheld mixer on medium speed, beat the butter until it is light and fluffy. This will take about 8-9 minutes.

Turn your handheld mixture to the lowest speed, and slowly add the confectioners sugar. Add the heavy cream, water and vanilla. After the ingredients are combined, turn the speed to medium and beat until light and creamy. This will take about 7-8 minutes.

Assembling the Cake:

Transfer about 2 cups frosting to a medium bowl. Tint this a pale pink with food coloring. This will be frosting we use within the layers.

Place a small amount of frosting on your cake stand or board, and place the first layer of the cake bottom-side up. Spread about 1/2 cup of the pale pink frosting from the middle to outer side of the cake layer.

Repeat with the second cake layer, again using 1/2 cup of the pale pink frosting.

Place the third layer bottom-side up and cover the whole cake with a thin layer of crumb coating.

Cover the cake and place it in the refrigerator for a 1-2 hours until the buttercream is hardened. You can even do this for overnight.

Tint the remaining frosting a bright pink, as bright as you like. I used a few drops to achieve this look. Carefully frost the top of the cake, and then move onto the sides. It doesn't have to be perfect.

Decorate with strawberries and white chocolate shavings.

Keep at room temperature until you serve the cake. To get a clean cut, dip a long, sharp knife and dip it in hot water. Do this for each cake slice, while wiping with a clean cloth in between cuts.
Notes
*How to make your own buttermilk: The general ratio is one cup of milk + one tablespoon of vinegar (or lemon juice). Let the mixture stand for five minutes, until you can see that the milk is curdled in appearance. Since this recipe calls for 1 1/2 cups of buttermilk, you will have to add 1 1/2 tablespoon of vinegar to 1 1/2 cups of milk. *Make sure that before frosting the cake, the crumb coating is firm to touch, otherwise you won't get a neat look with the finished look of the cake.
***Recipe slightly adapted from Sweetapolita's Watercolor Buttercream Party Cake