Pizza Toast is a great and easy snack that's ready in 5 minutes. You only need a handful of ingredients, and any toppings you desire. Only have bread, cheese and pizza sauce? You've got yourself a pizza toast...or add more toppings if you want. 🙂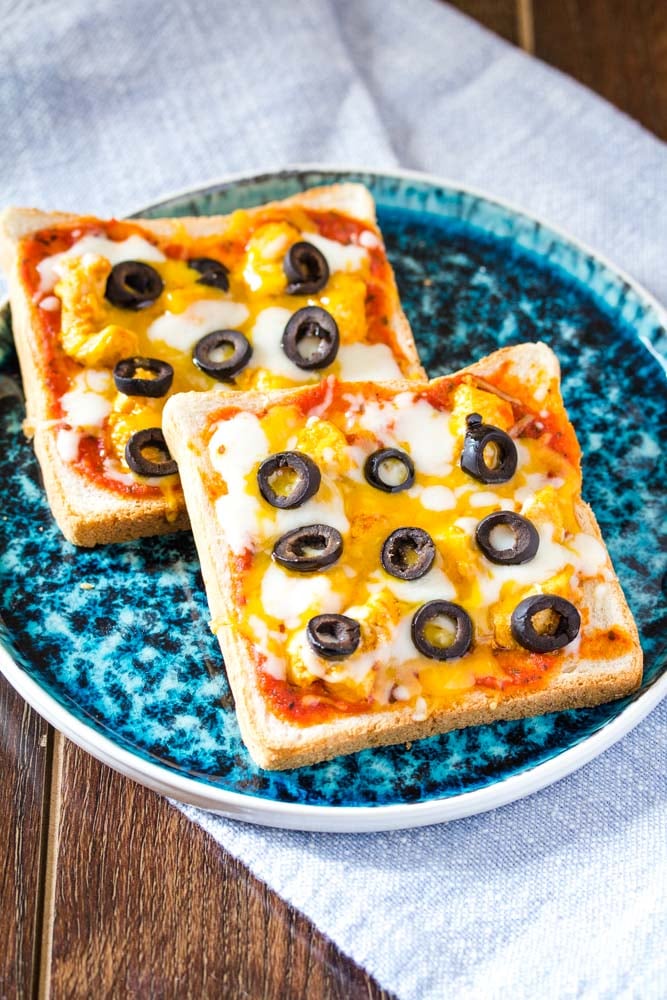 So I have two kids, and when there are kids in a house, you know you need an endless supply of snacks. 1 kid = 1 million snacks. 2 kids = 3 million snacks. And so on. I kid you not.
Enter pizza toast. This a good snack, that's super versatile and only adds 5 minutes of extra work to your never ending list of chores. Better than a complicated snack recipe that takes too long to make, right? Hehe.
Let's Talk About Pizza Toppings
Know the saying, the world is your oyster? Well, here the bread is quite literally your pizza. Okay, that doesn't make sense. Or does it? I can't say anything as I've become a mombie from a mom. I'll get back to you on this when I'm no longer sleep deprived. 😛
But you can use ANY toppings you like for this recipe. I mean, I've quite literally only used olives in this recipe (as you can see), because A.) my daughter absolutely loves olives and B.) I literally did not have any other topping on hand. And guess what, they still turned out so yummy! Heck, you can even just do plain cheese and pizza sauce, that never goes wrong!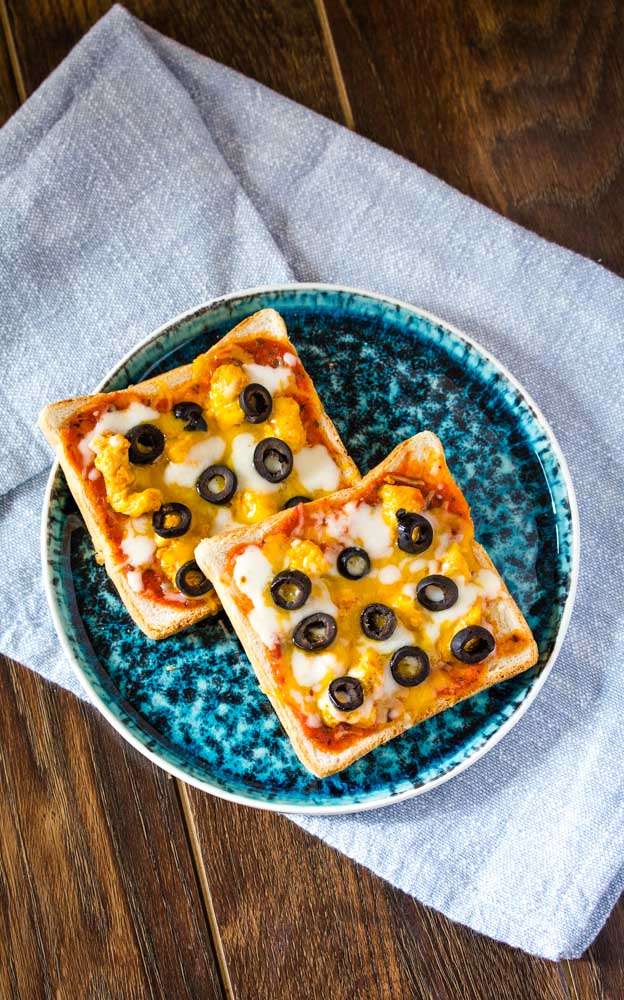 Other Topping Ideas
Leftover grilled chicken
Pepperoni
Capsicum (bell pepper)
Onion
Corn
Tomatoes
Mushrooms (saute them a little bit first though)
Jalapenos
Let's Talk about Ingredients
Bread
Use any sliced bread you have on hand! I've tried both white bread and multigrain bread, and both times it turned out delicious! I think french bread would be a nice option too.
Cheese
I've use shredded mozzarella cheese in this recipe, but I've also used shredded cheddar cheese. You can pretty much use any cheese you like, and even sliced cheese works.
Pizza Sauce (and its Alternate)
I use pizza sauce in this recipe, BUT let me say this here, I've even used ketchup in a pinch. And you know what? Even that turns out really yummy. So use whatever you have on hand, as long as there's cheese, it's going to work out. Cheese makes everything better, doesn't it?
Now that I think about it, even some ranch dressing with grilled chicken and jalapenos would be a great option too, if you don't want the typical pizza sauce version. Yum!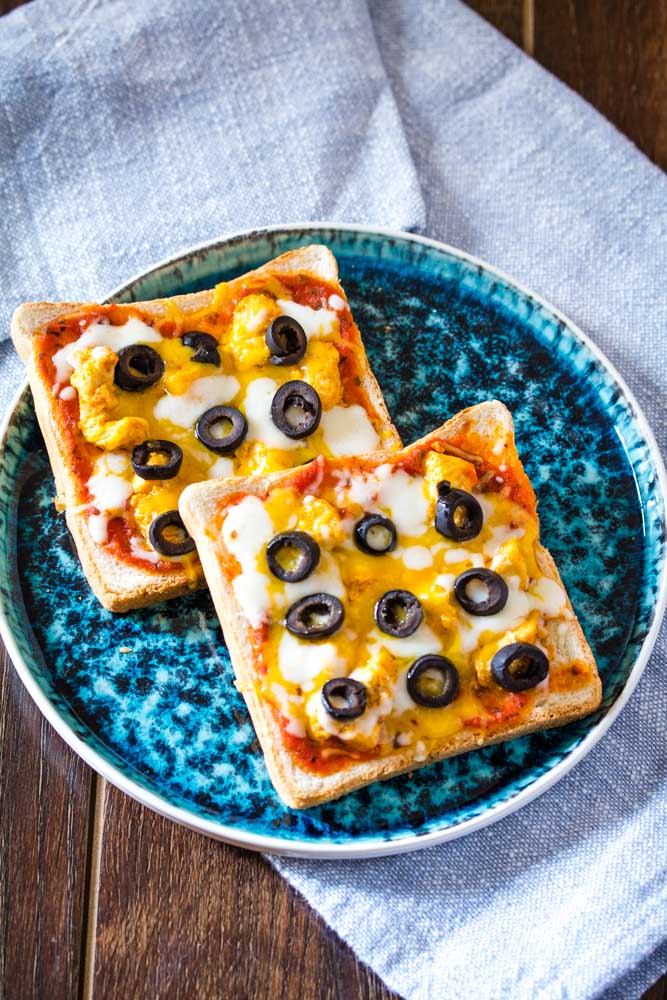 Looking for More Yummy Pizza Recipes?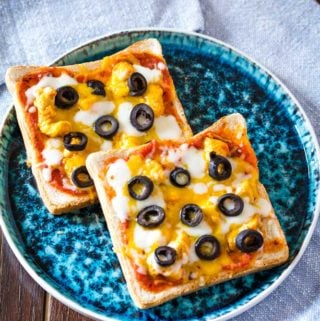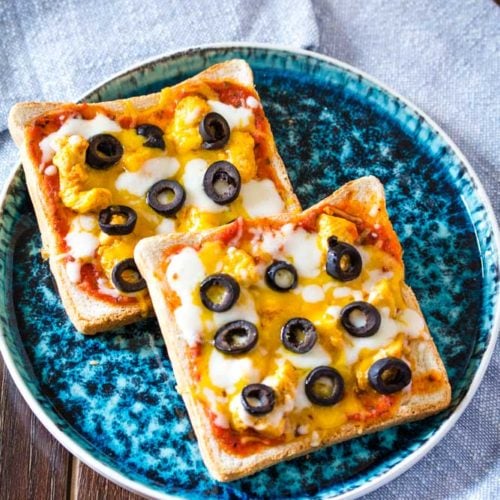 Pizza Toast
Pizza Toast is a great and easy snack that's ready in 5 minutes. You only need a handful of ingredients, and any toppings you desire.
Print
Pin
Rate
Ingredients
4

bread slices

4

tablespoons

pizza sauce

1 tablespoon per slice

1

cup

shredded cheese

I used mozzarella and cheddar

1/4

cup

olives

or any toppings of your choice such as pepperoni, capsicum, tomatoes, corn, onion
Instructions
Preheat oven to 200 C

Place the bread slices on a baking tray

Spread pizza sauce

Sprinkle over shredded cheese

Add olives (or desired toppings)

Transfer to oven, and bake for about 5 minutes, or until the cheese has melted and the bread slices have slightly crispy edges.
Nutrition