Seviyan Kheer (aka Vermicelli Kheer) is a sweet milky pudding made with roasted vermicelli, milk and butter (or ghee), and sugar. It's an easy popular dessert across India and Pakistan, and is often made at festive occasions like Eid.
If you're looking for more yummy desi desserts do check out this Chocolate Samosa. Or if you're in the mood for some traditional desserts, these recipes for Suji ka Halwa and Shahi Tukda won't disappoint you!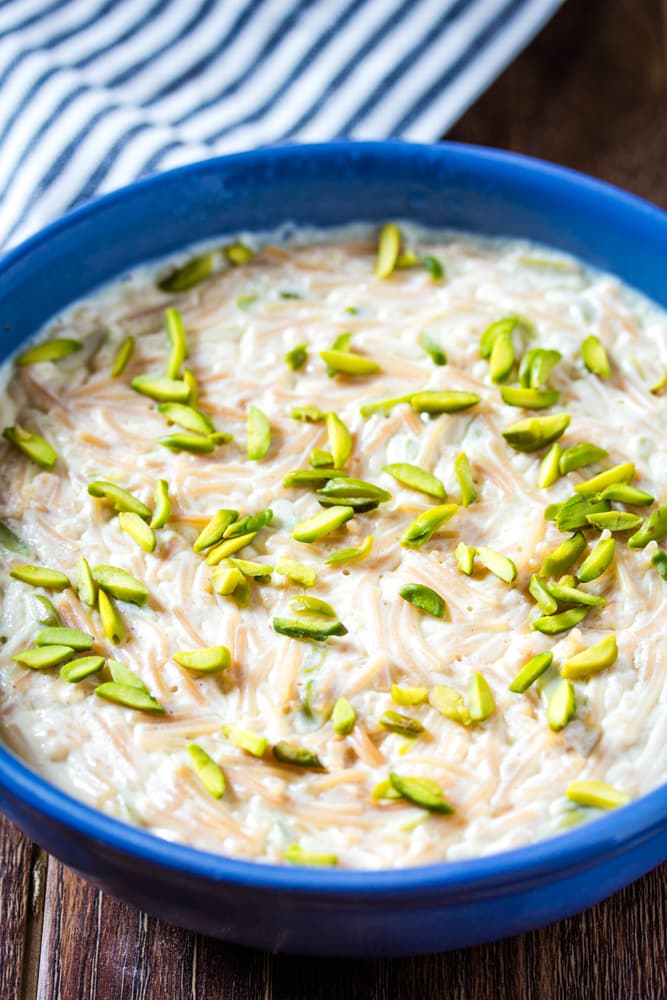 I often steer away from making complicated recipes that call for many ingredients, and this is why it is one of my favourite desserts to make.
While many recipes for vermicelli kheer call for saffron strands and a variety of dry fruit, I like to keep it pretty simple. 
Jump to: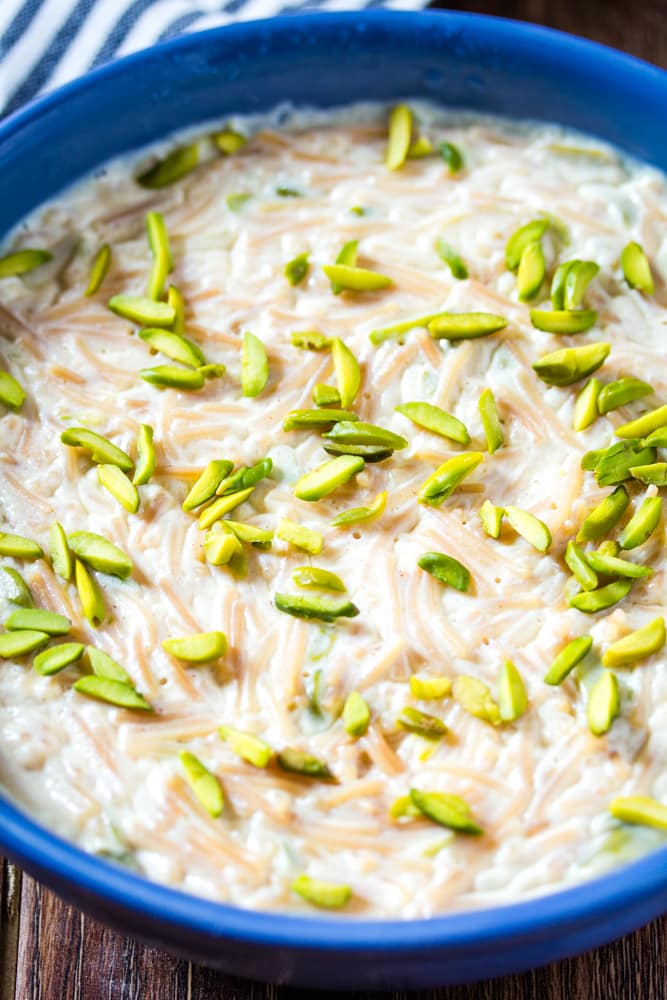 About this Recipe
I absolutely love seviyan kheer (sometimes also called semiya kheer or in Indian it's also called semiya payasam) because it is so comfortingly delicious, it reminds me of my childhood days, I suppose.
It doesn't need much flavoring, because the vermicelli noodles toasted in butter lend such a nutty and delicious flavor to the milk, that it's almost perfect. Pair it with slivered pistachios (my favorite dry fruit) and you've got a lovely simple and homely dessert.
It looks so homely and you're kind of like okay yeah it'll taste fine but it won't be the triple chocolate cake of the party, but seriously, leave the chocolate cake for once and try this seviyan kheer. It's like a warm hug on a cold winter's night in pudding form.
What Is Seviyan?
Seviyan is the Urdu word for Vermicelli pasta and is used in many recipes across the subcontinent. Kheer is the Urdu word for pudding that's often made with milk.
There are two versions of dessert seviyan, Sweet Dry Vermicelli or Vermicelli Pudding. Sweet dry vermicelli is made without milk.
The recipe that we are making today is made with whole milk.
Why this Recipe Works
Indian desserts can typically be complicated, however, this vermicelli kheer is the simplest it gets.
You don't need any fancy ingredients, and it's made in no time at all! And the best part is that there's no prep time for this recipe at all and the total time for cooking needed is only 30 minutes.
So unless I'm making this vermicelli kheer for a festival like Eid, I like to keep this dessert pretty simple.
For Eid, I would suggest adding more roasted nuts and raisins to make it fancy. If you love fancy desserts you'll also love this Sheer Khurma or this Mango Mousse.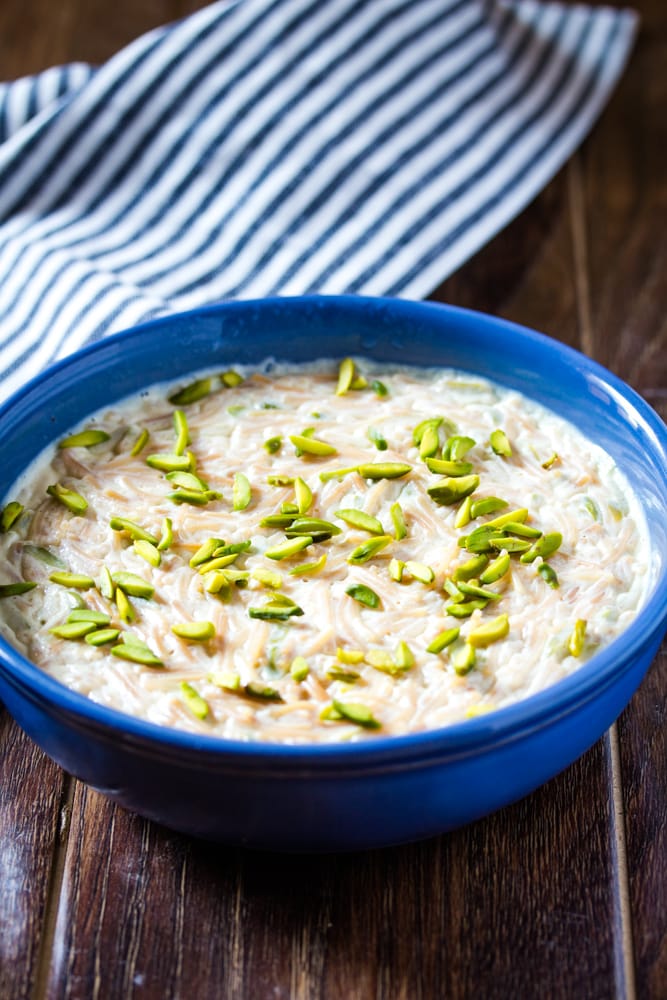 Ingredients You'll Need to Make Sevaiyan Kheer
Butter: I like to use butter for this recipe because that's what I usually have on hand. Traditionally this recipe is made with ghee. I like to use the highest quality butter I can find such as Kerrygold or Lurpak.
Vermicelli noodles: Break the vermicelli noodles into small pieces before you roast them in melted butter or ghee.
Milk: Use full-fat milk for best results, however, this can also made be in non-dairy milk such as almond milk.
Nuts: I only like to use pistachios in this recipe but traditionally other nuts are also used such as cashews, almonds, and even raisins.
Sugar: I like my sevai kheer to be really sweet so I use a whole cup of sugar. However, you can reduce the amount to your liking.
Cardamom powder: Traditionally in Pakistani seviyan kheer we use green cardamom pods (choti elaichi), however if you've ever bit into one accidentally you know it's not exactly the most pleasant experience. To avoid this I use a little bit of cardamom powder for the flavor. A little bit goes a long way so we only need 1/4 teaspoon of it!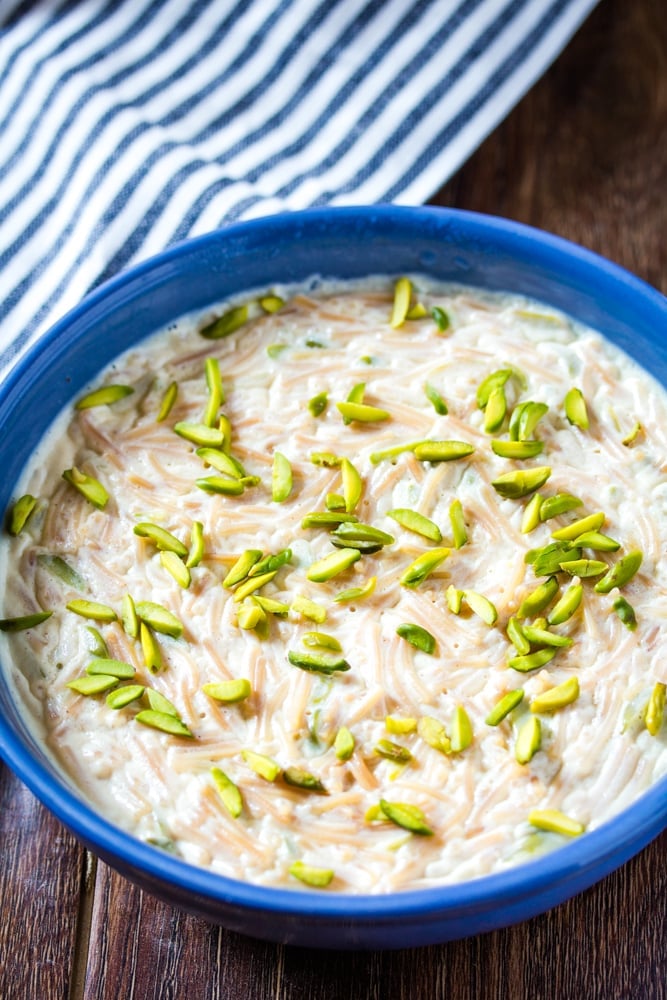 How To Make

Pakistani Seviyan Kheer Recipe

Roast the Vermicelli: Start by melting the butter in a medium-sized saucepan, and then toast the vermicelli noodles until they're golden brown and they release a nutty brown aroma.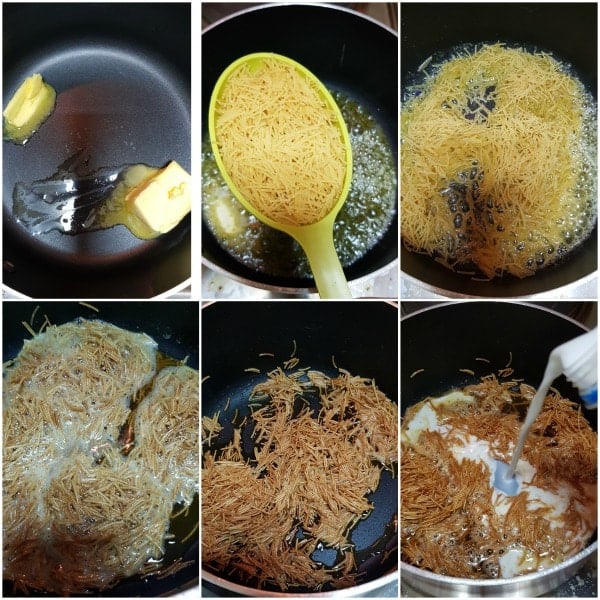 Cook the Kheer: Add milk, sugar and cardamom powder (which is optional).
At this point you can also add some saffron strands for flavor and color.
Bring to a boil and cook until the milk has reduced and the vermicelli noodles are soft and plump.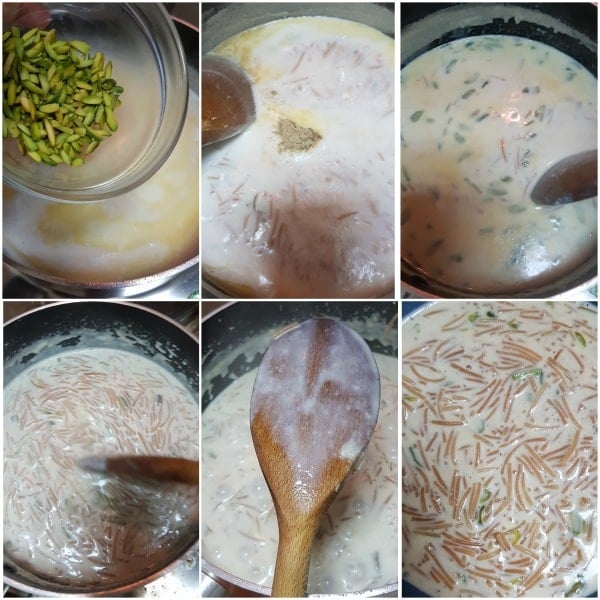 Serve: Transfer to a serving dish, and top with slivered pistachios or your choice of dry fruit and raisins. I don't like raisins, so you'll never find any raisins in my seviyan kheer. Lol.
It can be eaten warm, or after being cooled in the fridge. I like it both ways, but having seviyan kheer warm is my favourite way to have it.
Expert Tips
Make-Ahead: This is an easy make-ahead recipe and you can prepare it 2 or 3 days in advance. You can also double the ingredients to make a larger quantity to feed a crowd.
Whole Fat Milk: Using full-fat milk will give the creamiest results for this dessert. However, you can use skim or low-fat milk as well.
Sugar-Free: You can also easily swap out the sugar with a sweetener of your choice to make this dessert healthier.
Roast on Low Heat: The only tricky part of this recipe is roasting the vermicelli. Roast on medium-low heat until fragrant and golden brown. But don't let them brown too much!
Condensed Milk: To make these dessert even more special you can replace some of the sugar with condensed milk for more decadence.
Recipe FAQs
What is vermicelli made of?
Vermicelli noodles are made of whole wheat flour and come in different varieties of thickness.
What is the difference between Sheer Khurma and Seviyan?
The main difference between the two is that in Sheer Khurma a thinner variety of vermicelli is used, commonly known as nylon vermicelli. In Seviyan we can use a thicker variety. Sheer Khurma is also thinner in consistency.
Can you make this recipe vegan?
Yes, you can easily make this vegan by replacing the butter with oil and using non-dairy milk such as almond milk.
Storage Instructions
In an airtight container, seviyan kheer can last up to 3-4 days in the fridge.
Did you know that vermicelli noodles can be used in savoury recipes as well? Try out my popular recipe for Lebanese Rice Pilaf with Vermicelli Noodles.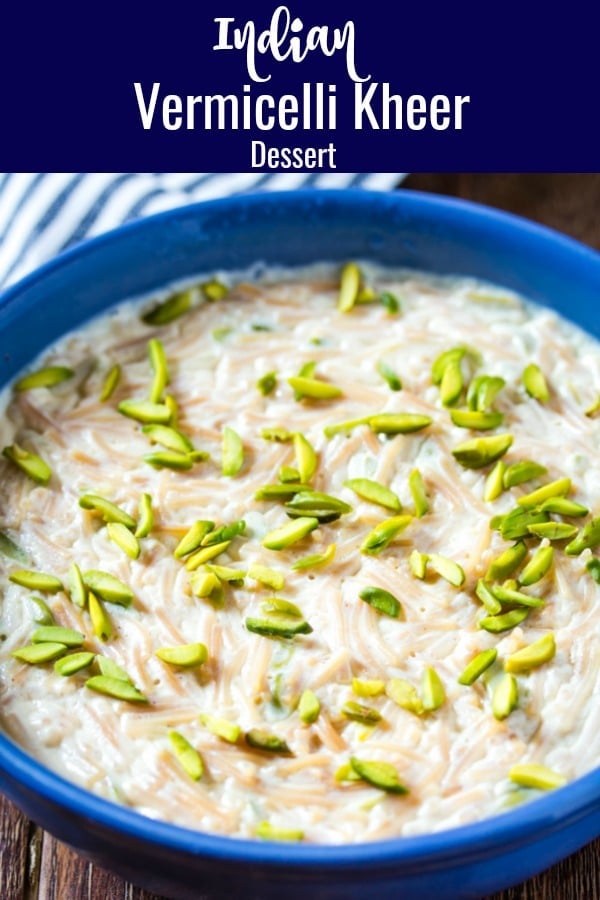 More Delicious Pakistani and Indian Dessert Recipes
Zarda Rice Recipe (Meethe Chawal)
What's your favourite dessert to have for Eid? Let me know in the comments below!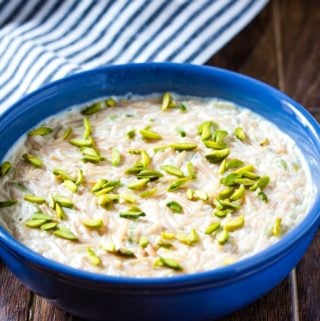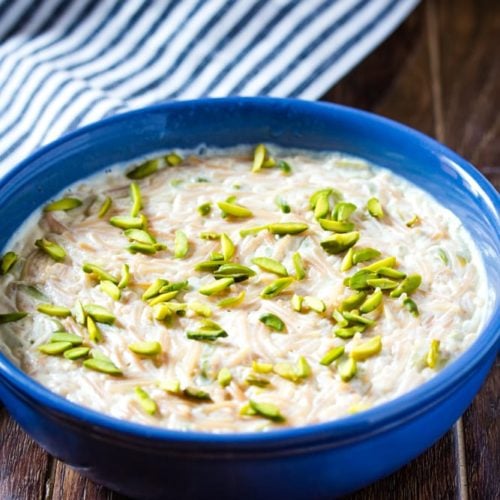 Seviyan Kheer
Seviyan Kheer (aka Vermicelli Kheer) is a sweet milky pudding made with vermicelli, milk and butter (or ghee). It's an easy popular dessert across India and Pakistan, and is often made at festive occasions like Eid.
Print
Pin
Rate
Ingredients
2

tablespoons

butter

or ghee

1/2

cup

vermicelli

broken into pieces

2

cups

milk

1/4

cup

slivered pistachios

1/4

teaspoon

cardamom powder

1

cup

sugar

Slivered pistachios for garnish
Instructions
In a medium sized saucepan, melt the butter.

Add the vermicelli and toast it for a few minutes on medium high heat (about 3-4 minutes). The vermicelli will become golden brown and release a nutty aroma.

Add the milk and stir. Cook on medium heat for a few minutes.

Add cardamom powder, slivered pistachios and sugar.

Cook the seviyan kheer for another 15 minutes or so, until the milk thickens. Keep stirring every few minutes. The kheer thickens upon cooling, so keep that in mind while reducing the milk while cooking the kheer.

Once the kheer is thickened to your desired consistency (I like mine to be a little on the thin side when taking off the stove, because it will further thicken upon cooling), transfer it to a serving bowl and top with slivered pistachios.

Seviyan kheer can be eaten while warm or after it's been cooled down in the fridge.
Notes
Ingredient Notes: 
Vermicelli Noodles: I like to use thick whole wheat vermicelli for this recipe, however, you can also use the thinner variety.
Butter: You can also use ghee or clarified butter.
Milk: Whole milk is best for this recipe, but if you want you can swap with low-fat milk. You can also use non-dairy milk such as almond milk.
Sugar: You can adjust the amount of sugar according to your preference. 
Cardamom Powder: You can also use 2-3 whole green cardamom. 
Dry Fruit & Nuts: Use your favorite nuts for this recipe such as almonds, cashews, and walnuts. Dry fruit such as coconut and raisins is great in this recipe too. 
Nutrition
Calories:
424
kcal
|
Carbohydrates:
83
g
|
Protein:
7
g
|
Fat:
8
g
|
Saturated Fat:
3
g
|
Cholesterol:
13
mg
|
Sodium:
115
mg
|
Potassium:
257
mg
|
Fiber:
1
g
|
Sugar:
57
g
|
Vitamin A:
218
IU
|
Vitamin C:
1
mg
|
Calcium:
160
mg
|
Iron:
1
mg