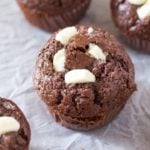 Print
Cream Cheese Filled Chocolate Muffins
These Cream Cheese Filled Chocolate Muffins are the perfect indulgent treat. An easy to make chocolate muffin recipe, which is filled with a divine cream cheese filling and topped with white chocolate chunks.
Preheat oven to 220C/425F degrees. Line the muffin tin with 12 paper cups.

In a medium sized bowl, sift together the all purpose flour, unsweetened cocoa powder, baking powder, baking soda, salt and granulated sugar.

In a separate bowl, whisk together the eggs with the buttermilk, oil, melted butter, and vanilla extract. Pour this mixture into the dry ingredients and mix until just combined. Do not over mix. The batter will be thick and lumpy.

To make the cream cheese filling: Place the cream cheese in a microwave safe bowl and heat on low power for about 30 seconds. Stir in the granulated sugar until combined.

Drop about 2 tablespoons of the muffin batter into each muffin cup. Top with a tablespoon of the cream cheese filling. Add the remaining muffin batter until the muffin cups are almost full.

Bake the muffins at 220 C / 425 F for about 3 minutes, and then reduce the oven temperature to 180 C / 350 F (do not remove the muffin tin from oven). Bake for an additional 17-20 minutes until a tooth pick inserted comes out clean.

Remove from oven and gently press in the chocolate chunks on the muffins tops. Transfer to a wire rack and let cool for about 15 minutes.