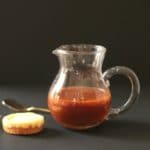 Print
Homemade Golden Salted Caramel Sauce
This delicious and super easy salted caramel is so quick to make at home. Perfect for as a topping on ice creams, cheesecakes, brownies, and many more desserts. Only four ingredients needed!
Place sugar in a medium saucepan, and place it on a medium hot stove. Stir continuously with a wooden spoon.

The sugar will take sometime to melt, so be patient with it. It will first start forming clumps as it melts, and change color to an amber-gold liquid. Be careful so as to not to burn the sugar.

Once it has melted completely and is a deep amber-gold, add the cubes of the butter and keep stirring continuously. The caramel will bubble rapidly as the cold butter hits it so be careful while stirring.

Once the butter has melted completely, add in the heavy cream. Once again the caramel will bubble rapidly so please be careful while stirring.

Allow the caramel to boil for 1-2 minutes and then take it off heat. Add the salt, and mix it.

The caramel needs to be cooled completely before it can be used.

Eat with a spoon. Or you know, do the less indulgent thing by adding it to ice cream or your choice of dessert.