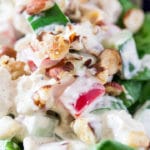 Print
Creamy Chicken Hazelnut Salad
This Creamy Chicken Hazelnut Salad is a keeper. Easy, excellent creamy chicken salad with crunchy hazelnuts, juicy cherry tomatoes and fresh cucumbers.
For the Dressing:
1

cup

mayonnaise

2

teaspoons

mustard

1/2

teaspoon

salt

1/2

teaspoon

pepper

2

tablespoons

white vinegar
For the Dressing:
In a small bowl mix together the dressing ingredients until fully combined.

Pour the dressing over the chicken salad, and toss until the salad is evenly coated.

Chill in the fridge until ready to serve. This salad is very versatile and can be eaten on its own, or used as a filling in sandwiches and wraps.