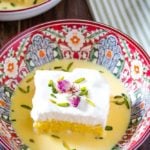 Print
Saffron Milk Cake
Saffron Milk Cake is the Middle Eastern version of the famous tres leches cake (also known as three milk cake). But this Saffron Milk Cake is not just any cake. It's delicious with the heady aroma and flavour of saffron. Bonus points, it's extremely easy to make too!
For the Saffron Cake
1

cup

all purpose flour

3/4

teaspoon

baking powder

1/2

teaspoon

saffron threads

plus 1 tablespoon hot water

100

grams

butter

softened to room temperature

3/4

cup

sugar

3

eggs

at room temperature

1

teaspoon

vanilla
For the Sweetened Milk to Soak the Cake
1 1/2

cups

milk

1/4

cup

whipping cream

1/2

cup

condensed milk

A pinch of saffron threads

For the Whipped Cream Topping

1 1/2

cups

whipping cream

heavy cream

1/3

cup

icing sugar
For Topping
Slivered pistachios

Dried roses

Pinch

of saffron
For the Saffron Cake
Preheat the oven to 170 C and grease an 8 x 8 baking pan with butter. Set aside, while you prepare the cake batter.

In a bowl, whisk together the flour and baking powder. Set aside.

Add the saffron threads to one tablespoon of hot water, and set aside while it blooms and releases its aroma.

In the standing of a mixer (you can also use a handheld mixer) add the butter and sugar. Beat on medium high speed for about 5-7 minutes until the butter and sugar are well incorporated. The batter at this point will look fluffy and pale in color.

Add the eggs one by one, and mix on medium speed until well incorporated.

Now add the saffron water and the vanilla. Mix until just combine. Do not overmix.

Transfer the batter to the prepared baking pan, and bake for about 25 minutes or until a toothpick inserted into the cake comes out clean.

Remove from oven, and set aside to cool while you prepare the sweetened milk.
For the Sweetened Milk
Add the milk, whipping cream, condensed milk and saffron to a medium pot and bring to a boil. Simmer for about five minutes or so.

Set aside to cool.

Using a skewer or a fork, poke the cake all over before you add the sweetened milk.

Pour over half of the sweetened milk (the remaining will be used while serving). Set aside.
For the Whipped Cream Topping
Add both the whipping cream and sugar to the bowl of a stand mixer (you may also use a handheld mixer). Beat on high speed for about 5 minutes or until soft peaks have formed. Do not overbeat, or else you'll end up with butter.

Spread this whipped cream evenly over the cake. Cover and place in the fridge for at least 4 hours or overnight.
To serve Saffron Milk Cake
Cut the saffron milk cake into even squares. To serve, place on square onto a serving plate, pour over 2-3 tablespoons of the sweetened milk.

Garnish with slivered pistachios, dried roses and a pinch of saffron.