Here I stand, and here I'll staaaay, until I finish this M&M's Skillet Cookie. Let me eaaaat, let me eaaat!
Oh hi there, I didn't notice you! I was just singing a love song to this M&M's Skillet Cookie, because it's made of all things sweet and delicious, and surely deserves a very special place in my stomach, ahem, heart I mean.
There are cookies, and then there is this M&M's Skillet Cookie topped with lots of ice cream and chocolate syrup.
I mean, please, take a good look at this.
How can anyone resist this beautiful, delicious GIANT cookie? Not me for sure.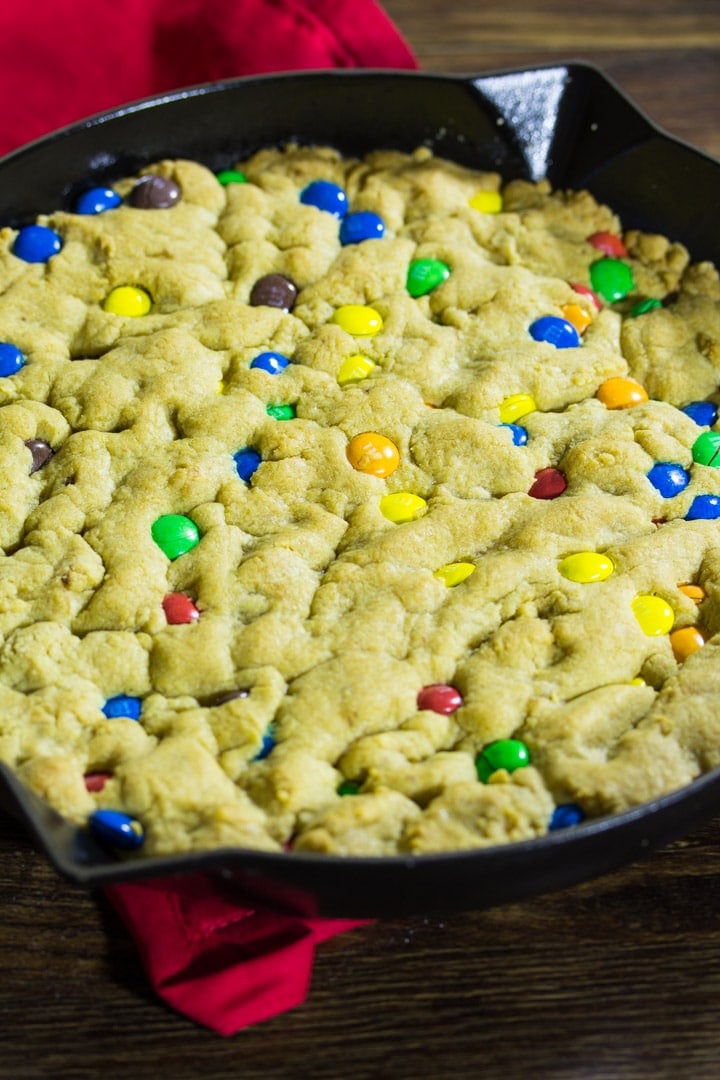 I had a great time making this cookie, especially the video, because my 3 year old daughter very enthusiastically helped me make this cookie...and that made the whole video process a lot more fun. So watch out for those cute little baby hands! 🙂
Now let's talk about some cookie basics here. First, I'd like to say...this cookie is delicious and basically adapted from this cookie recipe on my website.
The ingredients remain the same, but I swapped out the chocolate chunks for M&M's because they are so much more fun and cute!
Also, this is a GIANT M&M's skillet cookie, and those are small cookies.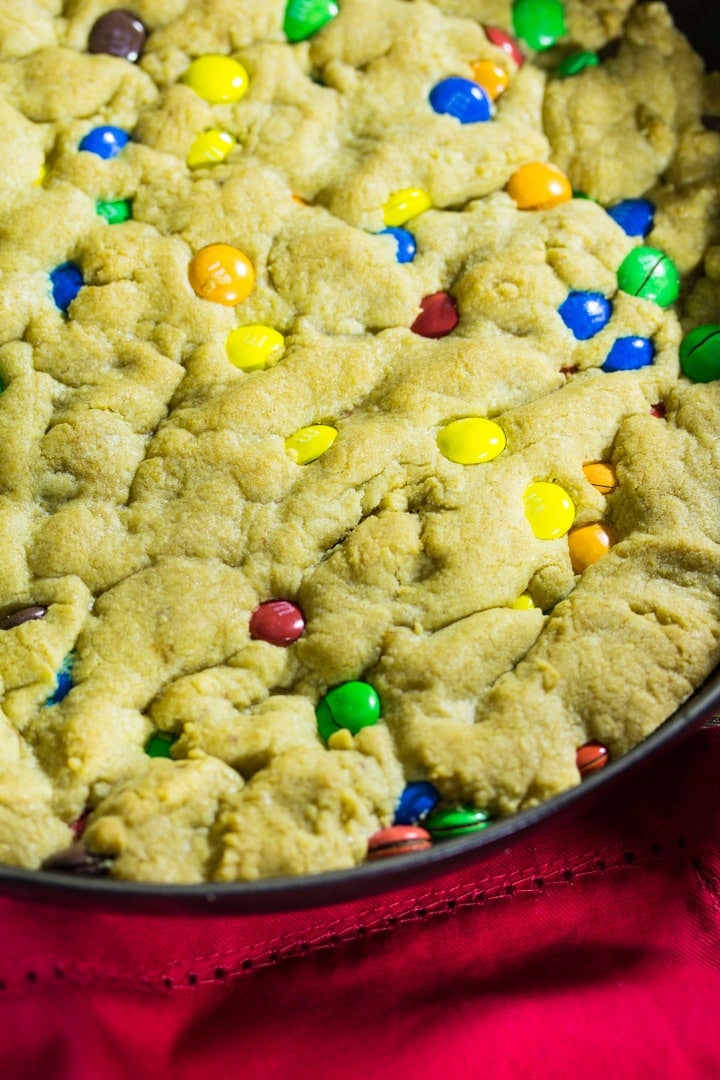 Plus, if you eat this whole skillet by yourself (shhhh I won't tell anyone) then you can just say it was only ONE cookie after all. And that'll make you a very smart cookie. 😉
Now let's talk about the basics of this M&M's Skillet Cookie:
1.) You'll need a 10-12 inch skillet OR baking pan to bake this cookie in.
2.) This cookie is super soft and chewy and is totally delicious, thanks to the brown sugar and cornstarch that goes into the cookie dough.
3.) It's also important to use room temperature eggs. We add 1 whole egg and 1 egg yolk to this cookie dough. The extra egg yolk adds chewiness to the cookie.
4.) Please do not over bake the cookie. The cookie is ready to come out of the oven when the edges are golden brown, and the middle of the cookie is still soft and slightly undercooked. The cookie will continue baking from the residual heat of the skillet.
5.) Feel free to add chocolate chips, mini Reese's peanut butter cups, caramels etc...anything you like. The world is your cookie! 😉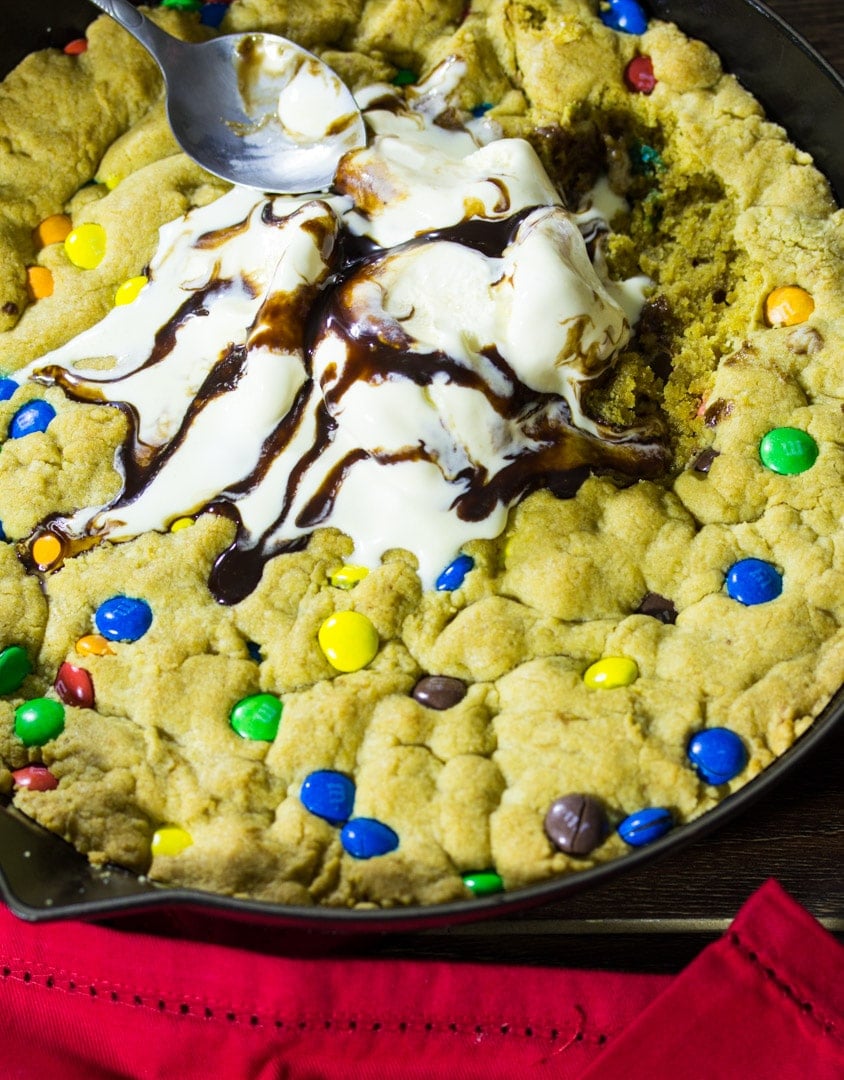 I do hope you try this M&M's Skillet Cookie, and it's the perfect recipe to make with your kids helping. I had a lot of fun making this cookie with my daughter, and I'm sure you will too. 🙂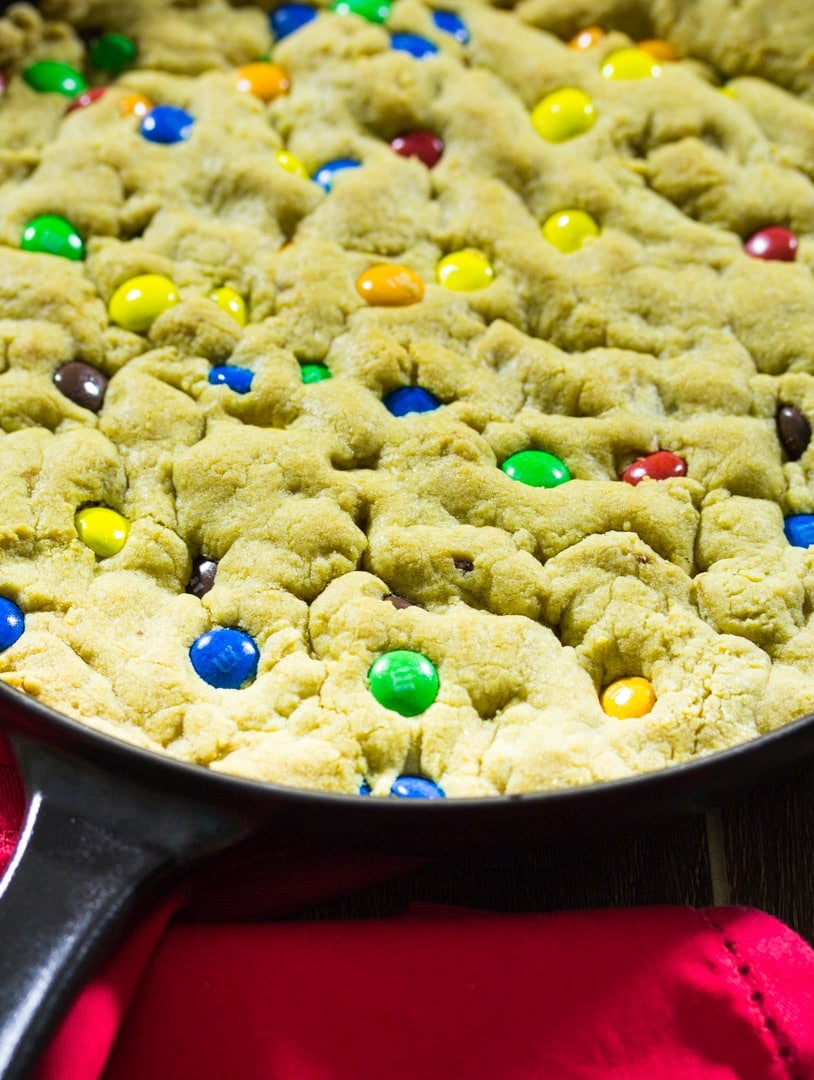 Enjoy! 🙂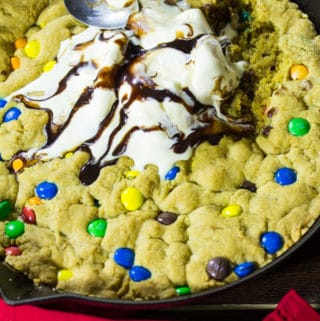 M&M's Skillet Cookie
This M&M's Skillet Cookie is an easy and delicious dessert and is perfect for get togethers and potlucks. Served with ice cream, it's absolutely delicious!
Print
Pin
Rate
Ingredients
2

and 1/4 cups all-purpose flour

1

teaspoon

baking soda

1

and 1/2 teaspoons cornstarch

1/2

teaspoon

salt

3/4

cup

1.5 sticks or 170g unsalted butter, melted

3/4

cup

loosely packed light brown sugar

1/2

cup

granulated sugar

1

large egg + 1 egg yolk

at room temperature

2

teaspoons

pure vanilla extract

1

cup

M&M's
Instructions
Preheat the oven to 350 F and lightly grease a 10-12 inch oven-safe skillet. Set aside.

In a medium sized bowl, whisk together the flour, baking soda, cornstarch and salt.

In a large bowl, combine the wet ingredients: melted butter, brown sugar, granulated sugar, egg and egg yolk, and vanilla. Whisk together until combined. Now add in the dry ingredient mixture, and mix until just combined. Don't over mix.

Gently fold in the M&M's.

Transfer the cookie dough to the skillet, and press with your hands until it's evenly spread across the skillet.

Bake for about 10-15 minutes, until the edges are light golden and the middle is still slightly soft and undercooked.

Remove the skillet from the oven and let rest for 15-20 minutes (the cookie will continue cooking in the heat of the skillet) and then serve with ice cream.