Today I'm taking you to the streets of China Town. Reds, golds and oranges everywhere. Chinese lanterns hanging from roof tops. Temples adorned with fiery dragons and lights. And the most important thing: super, super delicious food. There's something about Chinese food, that has everyone in love with it. Maybe it's the sauces? Maybe it's the easy and quick factor? Maybe it's the ultimate yummy factor? The crunchy vegetables or the velvety chicken? Who knows, as long as it's in a plate in front of me, and the Food Network is on. I love my Chinese food. Forever and ever.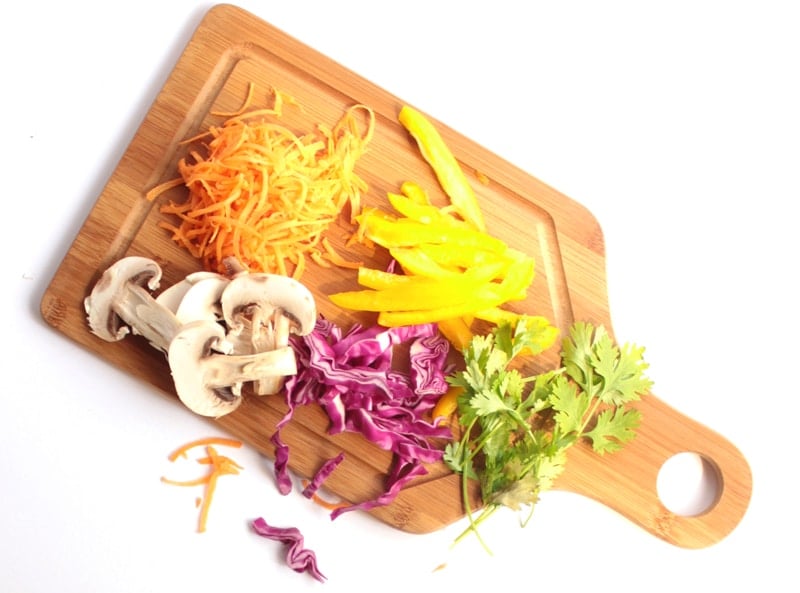 So pack your wok, favorite bottle of soy sauce and chopsticks. I'm taking you to the colorful and wonderful land of Chicken Chowmein. Just look at that bowl of noodely goodness. Doesn't it look beautiful to you? This is my version of Chicken Chowmein with Rainbow Vegetables, because just look at those gorgeous colors going on in that bowl!
Still not convinced you need to make this for dinner? Here are a few more reasons that you should not deprive yourself of this deliciousness in a bowl:
A.) It's super quick and easy to make (always a win in my book, because toddler = no time).
B.) Look at those vegetables. Crunchy, fresh, and healthy. Rainbow in food form. Do I need to say more?
C.) It's noodle heaven! (Okay that's not really a reason, but if you're a noodle person you'll have already started heating oil in your wok).
D.) It's delicious food! (Do you really need a better reason than this?)
This really is a super fast dish to make. If you have a food processor it takes like 5 secs to shred the purple cabbage and julienne the carrots. Or if you're a masterchef you can do it by hand. And even if you're not just use a box grater. That should work too. But just be careful not to cut your hand.
One more tip before I leave you to read the recipe. When preparing a quick stir fry it's best to have all your vegetables, meat and sauces ready to go, because the actual cooking of the recipe is just 5-10 minutes. So it's best to have all your ingredients prepped and ready before cooking.
So that's it from my side. I really do hope you try this dish. It's so delicious, that you'll never go back to take out again!
Happy stir frying! 🙂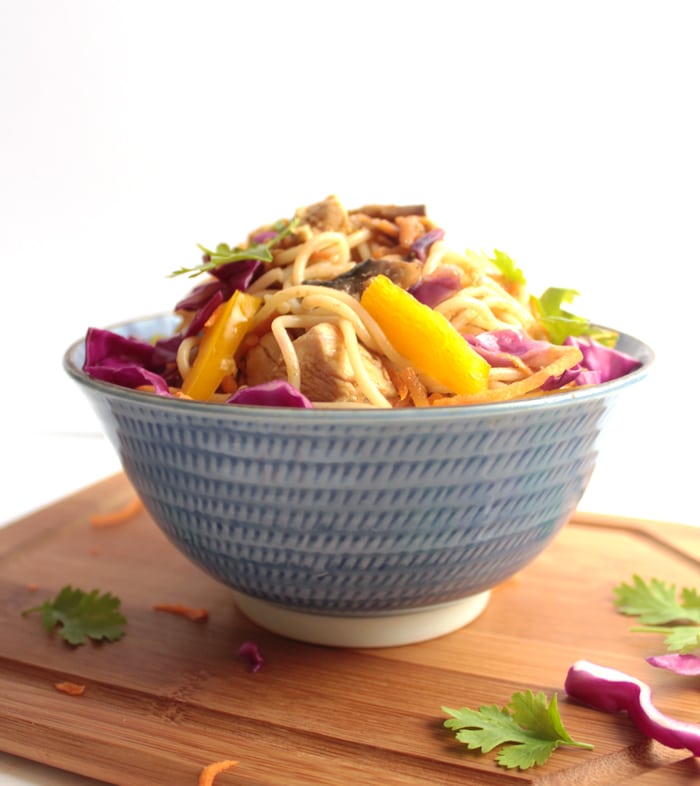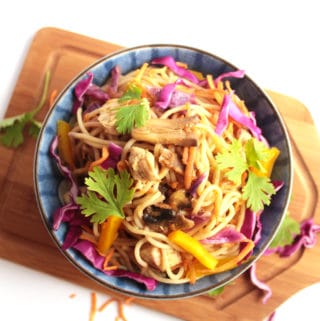 Chicken Chow Mein with Rainbow Vegetables
A delicious, healthy and quick take on the ever famous Chicken Chow Mein. Ready in just under 30 minutes.
Print
Pin
Rate
Ingredients
200

grams

chow mein noodles

see notes for subsitution

2

tablespoons

oil

I use canola

2

tablespoons

ginger garlic paste

see notes

1

green chili

slit and the seeds taken out

500

grams

boneless

skinless chicken breasts (chopped in bite size cubes)

1

teaspoon

salt

adjust to taste

1/2

teaspoon

white pepper

1

medium onion

thinly sliced

1

carrot

julienned (see notes)

2

cups

cabbage

finely shredded (see notes)

1/2

cup

mushrooms

thinly sliced

1/2

bell pepper

julienned

2

tablespoons

oyster sauce

2

tablespoons

soy sauce

1

tablespoon

white vinegar
Instructions
Prepare the noodles according to the package instructions.

Heat the 1 tablespoon oil in a wok over high heat and add the ginger garlic paste and green chili and stir fry for about 30 seconds until you can smell the garlic in the wok.

Add the chicken and cook until it's white but not fully cooked through. This should take about 1 minute.

Season the chicken with salt and white pepper. Take the chicken out of the wok and set aside.

Add 1 tablespoon of oil to the wok, and then add the vegetables. I start by adding the onion and carrot, wait for them to soften slightly and then add the cabbage, mushrooms and bell pepper. Stir fry for about 1 minute.

Add in the chicken and saute for 1-2 minutes, ensuring that the chicken is cooked.

Add in the noodles, oyster sauce, soy sauce and white vinegar and stir fry for 1-2 minutes.

Delicious chicken chow mein is ready! You can now dig in with your chopsticks.
Notes
Note 1 The chow mein noodles can be substituted with spaghetti. I didn't have chow mein noodles at home so I used spaghetti.
Note 2 I use my chopper to mince the ginger and garlic, because I find it faster and convenient than chopping by hand.
Note 3 I use my food processor to julienne the carrot. You can use a box grater too, or do it by hand.
Note 4 I also use my food processor to shred the cabbage because it's super fast. Again, you can use a box grater or do it by hand. It'll just take a little longer.