Chicken teriyaki is a nostalgic dish for me. One of my most vivid memories from when we lived in Japan is of trying chicken teriyaki for the first time. Sitting on the tatami floor, wearing thick comfy socks (it was winter) and having my first bite of chicken teriyaki at the wooden table that graced our TV room. I think one of my siblings had brought it from some school fair, or some food stall. I really can't remember. But it was love at first taste. The chicken was smoky and charred from being grilled and the teriyaki sauce was sweet, tangy and gingery.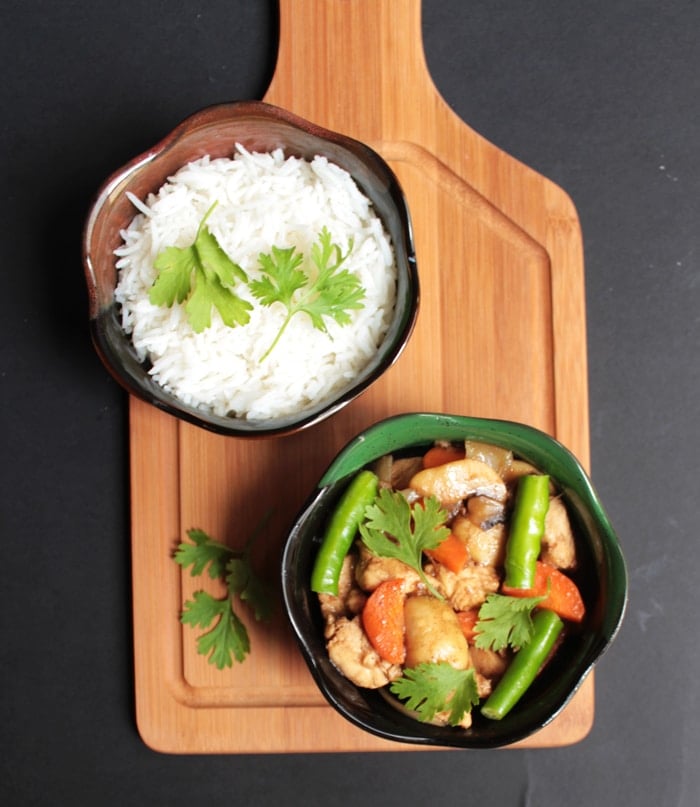 The thing about food though, is that sometimes the memories associated with it are stronger than the memory of the taste itself. I can never fully describe the taste of that chicken teriyaki I had so many years ago, but I can tell you all about the memories associated in that moment. And I can tell you that in order to relive those memories I have ordered it at every restaurant I've been to which had chicken teriyaki on the menu. But I was never able to find one that tasted closest to the one I had in Japan.
And I still haven't found that exact tasting chicken teriyaki. Perhaps because I've put it on a pedestal of The Best Chicken Teriyaki Ever and that is a hard standard to meet because taste and memory are so subjective.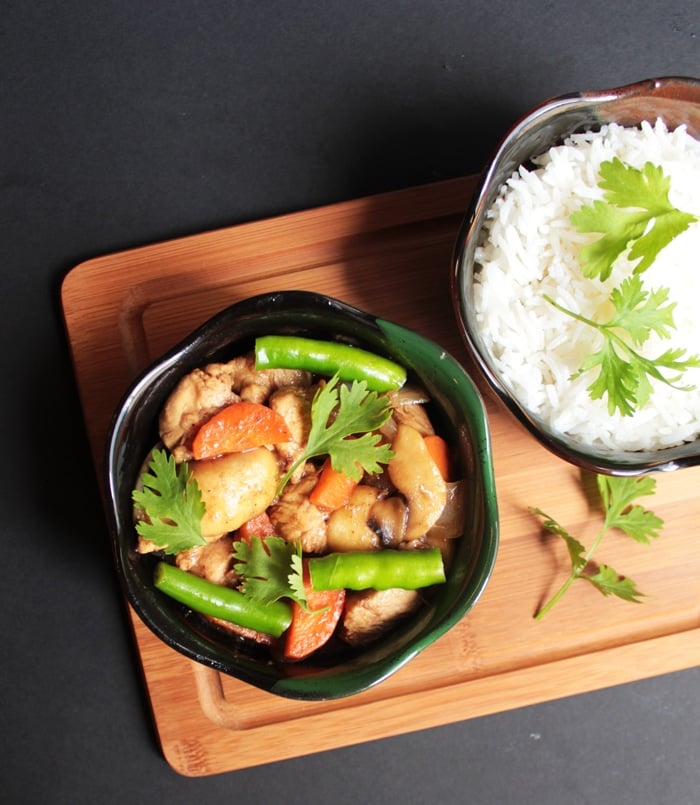 The dish that I've brought to you today is not authentic chicken teriyaki. I made this recipe as a quick stir fry. I didn't grill the chicken, because you know toddlers and kitchens don't go together too well and I needed a quick dish. I also added vegetables for texture. It still hasn't matched my childhood chicken teriyaki, but perhaps one day I will find a recipe that does match it. And I will post about it.
But for now, this quick and easy stir fry will do to satisfy my chicken teriyaki loving taste buds. It's very delicious and so so so easy to make. So you have to make it. Now I'm off to reminisce about a place where I sat on tatami floors and ate warm chicken teriyaki while watching Japanese cartoons.
Happy wok'ing!
P.S. If you have a dish or recipe that you strongly associate with childhood memories, let me know in the comments section below.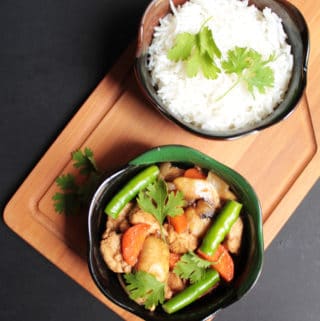 Chicken Teriyaki with Vegetables
Sweet and tangy chicken teriyaki is super fast and easy to make. Ready in 30 minutes and better than take out!
Print
Pin
Rate
Ingredients
2

tablespoons

oil

1

tablespoon

garlic ginger paste

3

green chilies

slit and deseeded

1/2

teaspoon

salt

1/2

teaspoon

black pepper

500

grams

boneless chicken breast

chopped in cube sized pieces

1

large carrot

chopped

3-4

large fresh button mushrooms

chopped

1

medium onion

chopped in cube sized pieces

1

tablespoon

soy sauce

1

teaspoon

hot sauce

1/2

cup

teriyaki sauce

I used store bought
Instructions
Heat oil in a wok on high heat.

Add the ginger garlic paste and cook for 30 seconds.

Add the green chilies and saute for about a minute.

Add the chicken and let it cook on high heat until its water has dried up. Season with salt and pepper. Remove chicken from the wok and set aside.

Add in the onions and carrots and let saute until they have just slightly softened. Finally add the mushrooms and saute for 2-3 minutes.

Add the chicken back into the wok, add the soy sauce, hot sauce and teriyaki sauce and saute for another 2-3 minutes.

Serve with white rice or egg fried rice.
Notes
I used store bought teriyaki sauce, but you can make your own and use that instead.