Oh Falafel, Falafel, how are you so deliciously crispy? Falafel is probably one of the crispiest snacks that I've ever had in my life. Seriously, and it doesn't even get soggy after awhile it's been prepared, like french fries (not that I have anything against fries. I love you fries, forever and ever). I love snacks btw, and you can see the evidence here, here and here. And today I'm so excited to show you how to make falafel!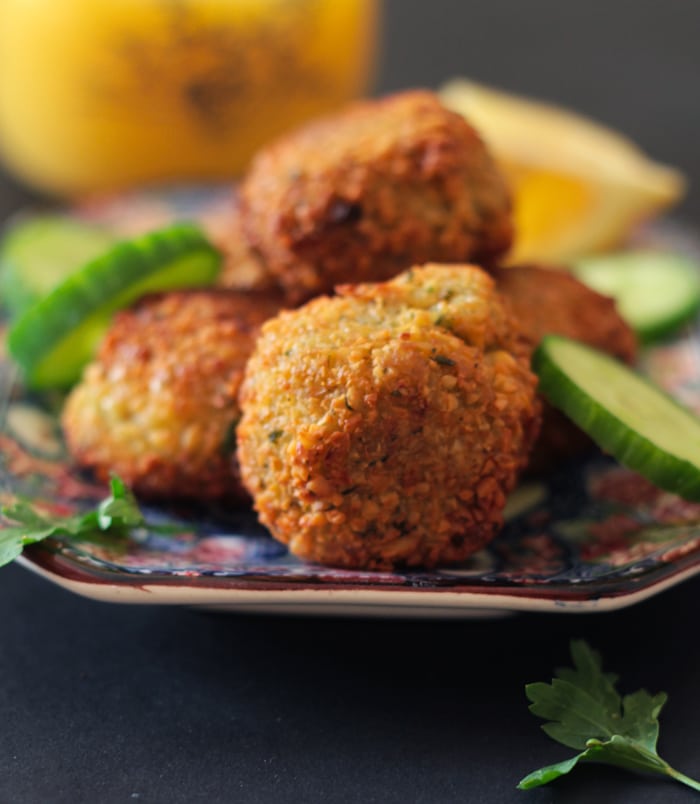 Falafel is the Middle Eastern fast food, and omg is it good or what? Eat it plain as a quick snack, or make it into a delicious wrap by adding hummus, salad and pita bread. It is one satisfying meal, I promise you. Living in Bahrain, I'm basically spoiled and can get really, and I mean really, really good falafel at a whim. But the other day, I suddenly decided I wanted to make falafel at home. I knew there were dried chickpeas involved, and apparently it's a long drawn process during which I could have ordered falafel from my favorite restaurant anyway. But I'm not exactly logical when it comes to food or cooking, because food. And what if for some reason I'm stuck at home, or I move to a place where good falafel isn't easily available (OMG that would be a terrible move), then what would I do without one of my favorite snacks? Yeah, okay maybe the situation isn't it as a dramatic as I'm making it to be, but let's just go with the flow shall we? So I totally needed to learn how to make falafel at home. And now you can too, because it's so easy! It's the time to become independent falafel makers so that we never have to depend on anyone else to make delicious falafel for us. Let's do this falafel lovers! We can do it with solidarity and concentration. Okay, seriously it's not that difficult, just requires a bit of patience.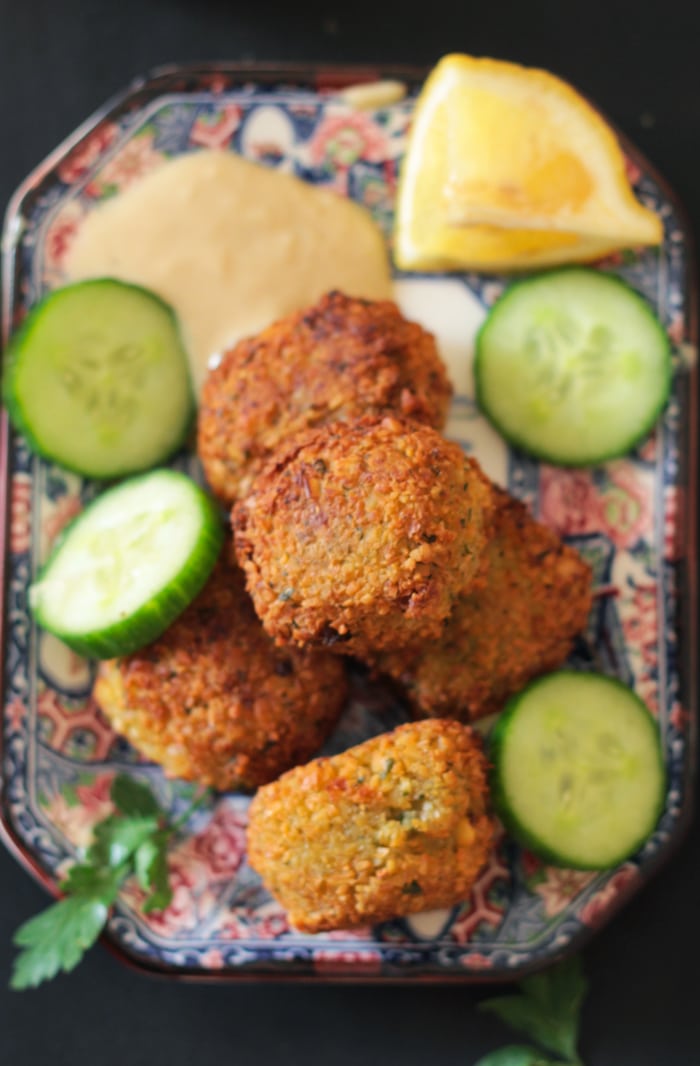 How to Make Falafel at Home:
Step 1 - Soak the dried chickpeas in water for about 8-10 hours (canned chickpeas are not recommended in this recipe, see recipe notes). Spend chickpea soaking time deciding whether you want to eat the falafel plain or wrapped up in soft pita bread with all the fixings. Or you can even soak them overnight and just go to sleep.
Step 2 - Add chickpeas to a food processor, and pulse for a few seconds and then add the spices and herbs and pulse a little more until the falafel mixture resembles coarse breadcrumbs. We're getting closer to snack heaven people.
Step 3 - Refrigerate the falafel mixture and wait a little more. You can watch reruns of Friends or Game of Thrones during this time.
Step 4 - Shape the falafel into patties or balls and fry until they turn into deep golden brown crispy bites of deliciousness.
Step 5 - Eat said deliciousness.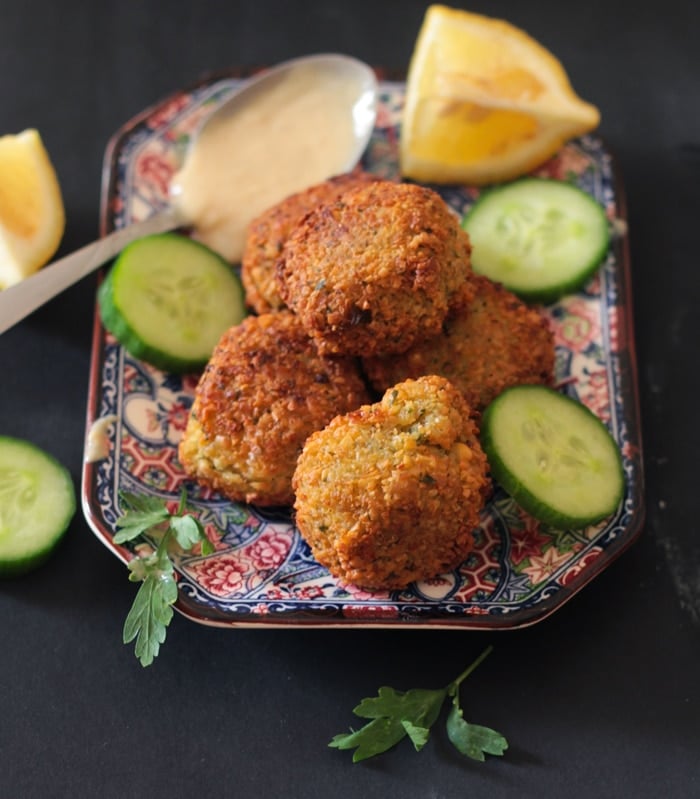 Happy Falafel making! 🙂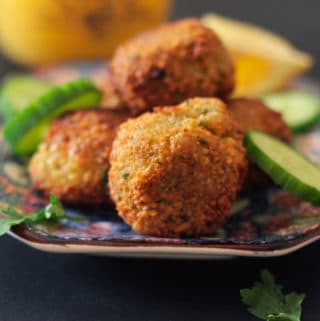 How to Make Crispy & Delicious Falafel at Home
Falafel is a Middle Eastern deep fried & crispy snack often made with chickpeas and spices. Served with hummus, tahini, and is also delicious in sandwiches.
Print
Pin
Rate
Ingredients
1 1/2

cups

dried chickpeas

See Notes

A handful of fresh parsley leaves

stems removed

A handful of fresh coriander leaves

stems removed

3-4

garlic cloves

Salt to taste

1

teaspoon

ground cumin

1

teaspoon

ground coriander

1

tsp

red chili powder or cayenne

1

egg

2-3

tablespoons

freshly squeezed lemon juice

1

tablespoon

tahini sauce

1

egg

1 1/2

tablespoons

all purpose flour

Oil for frying
Instructions
In a large bowl, soak the chickpeas in water for about 8-10 hours. After the soaking period is complete, drain the water and pat dry the chickpeas.

Place the chickpeas and garlic in a food processor, and pulse for about 10-20 seconds, then add the herbs and pulse until the mixture resembles coarse bread crumbs.

Transfer the chickpea mixture to a bowl, and add the spices. Mix in the egg, lemon juice, tahini sauce, and flour. Refrigerate for at least an hour (you can keep the mix in the refrigerator up to one night - see Notes for freezing instructions).

When ready to cook, gently shape the falafel mix into patties or balls (as seen in the pictures).

Fill a medium sauce pan or frying pan with 1-2 inches of oil, and heat it until medium-hot.

Gently place the falafel in the oil and fry for about 3-4 minutes, until deep golden brown. Do not add too many falafel at once, as they will not cook properly.

Serve with hummus, tahini sauce or in sandwiches.
Notes
Using canned chickpeas is not recommended in this recipe because the falafel will not have the authentic crispy texture that is achieved by using dried chickpeas.
These Falafel can be frozen as well. To freeze, shape the falafel mixture into patties or rounds and place them on a baking sheet or tray, and place in the freezer for about 1-2 hours until they're slightly frozen and can keep their shape. Transfer the falafel patties or balls to a ziplock bag and store in the freezer up to 1 month. When ready to cook, thaw the Falafel in the fridge for 1-2 hours and then fry according to recipe instructions.
For more Deliciousiness click below: