This is the crispy version of my ever popular Aloo Tikki recipe. We are talking mashed potato patties flavoured with Pakistani spices and herbs, coated in breadcrumbs and fried until crispy and golden. These potato cutlets are perfect served as a tea time snack with Karak Chai or as a side dish with Daal.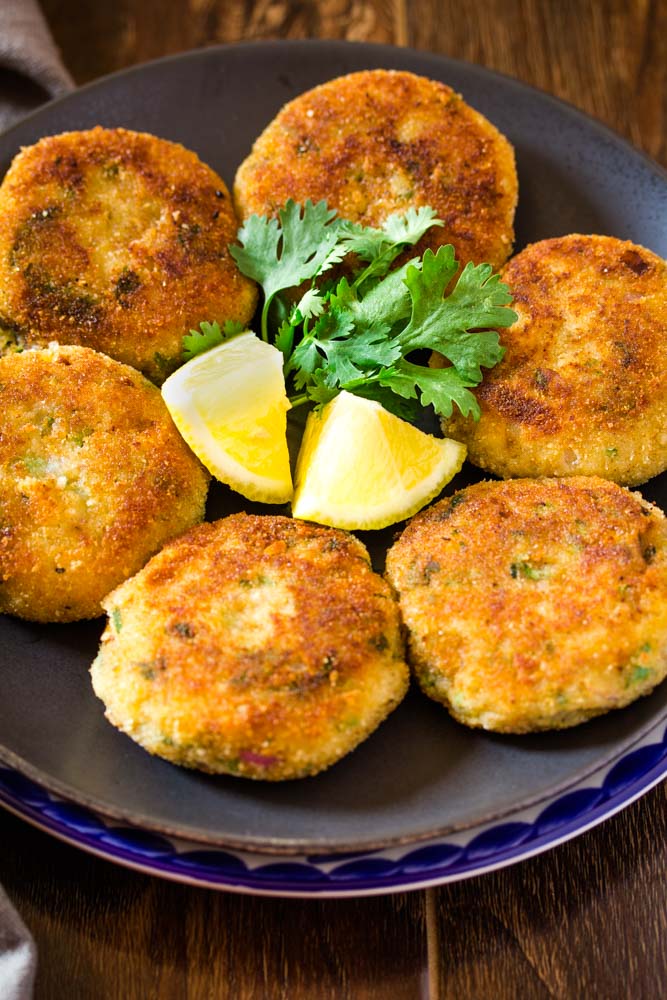 This Potato Cutlets recipe is actually the very first recipe I ever posted on the blog in September 2015! What started as something to do in my free time while I stayed at home with my daughter, has become a huge part of my life, and I love being able to stay at home with kids while I pursue what I'm passionate about…cooking! 🙂
Why am I updating this post? Because, I think the photos needed to be updated, hehe. The recipe is the same as before, and just as delicious! It's a little emotional though, to update this post...as it's always been very close to my heart.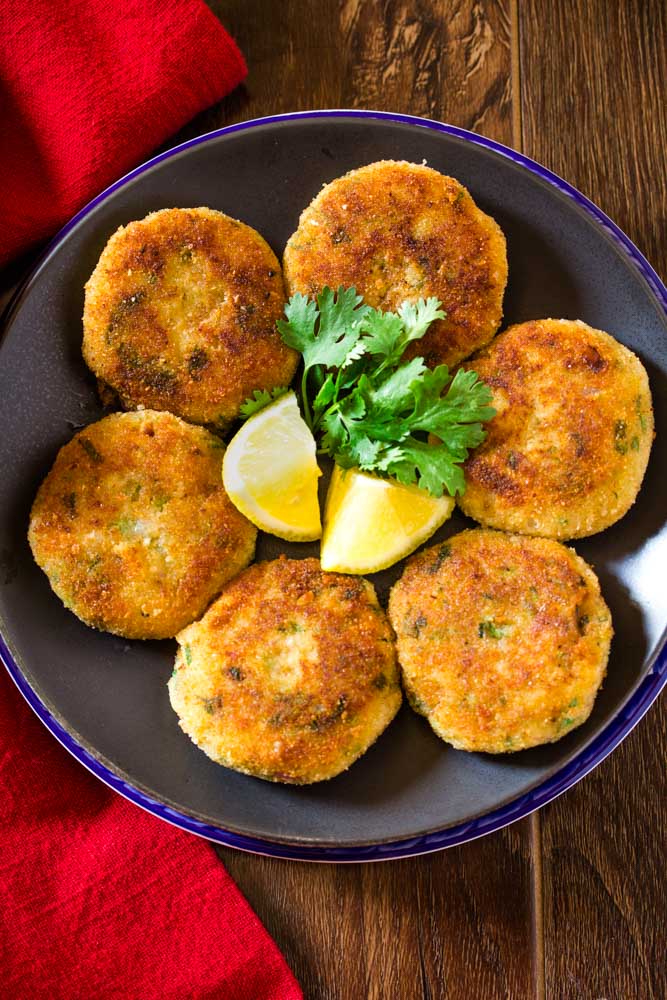 These Potato Cutlets Are:
Crispy
Golden
Fluffy on the inside
Flavored with spices and fresh herbs
Versatile - add chaat masala, or stuff them with cheese or paneer…yum!
Ingredients You Need to Make These Potato Cutlets
Boiled and mashed potatoes
Onions
Green chillies
Fresh coriander / cilantro
Simple spices such as kashmiri chilli powder, coriander powder, cumin powder. I sometimes also add chaat masala, to add a tangy kick to these potato cutlets.
A squeeze of fresh lemon juice
Eggs
Breadcrumbs (I used regular bread crumbs, but panko breadcrumbs would be great too)
How to Make Crispy Golden Potato Cutlets
Boil the potatoes, cool them, and mash them.
Add chopped onion, chopped fresh coriander, chopped chillies and spices. Add a squeeze of lemon juice. Mix until everything is incorporated.
Shape the patties in rounds, as shown in the pictures.
After shaping the patties, I like to refrigerate them for at least 30 minutes. This helps in firming them up, so that they don't fall apart while frying.
For frying, we dip the potato cutlets in an egg wash, and then coat with breadcrumbs.
Shallow fry on medium high heat, until golden on both sides.
Serve with green chutney or this mint and coriander raita.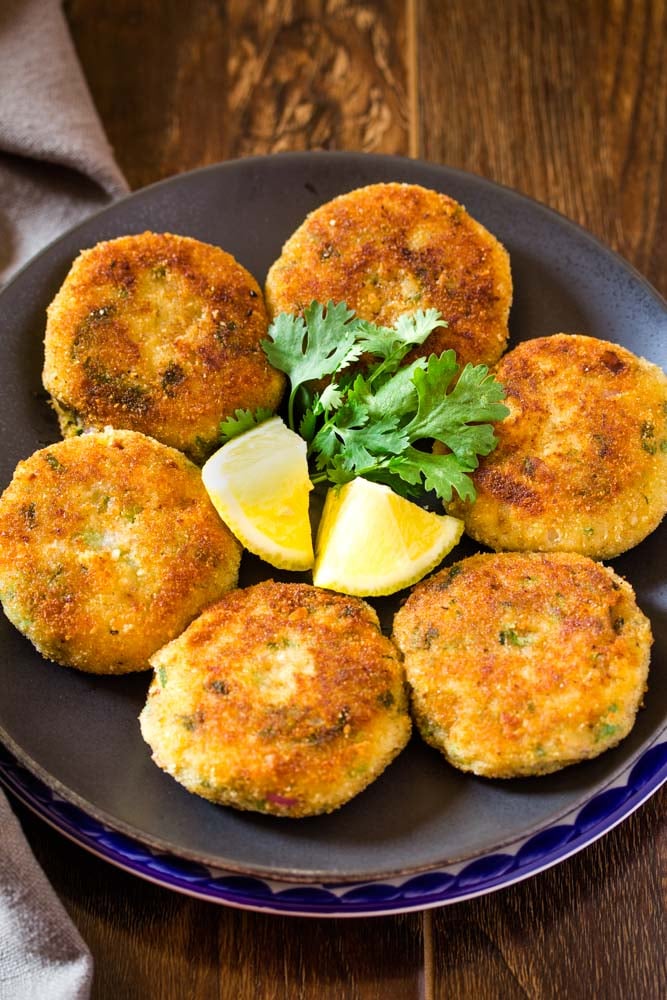 Can These Potato Cutlets be Prepared in Advance?
Yes these potato cutlets can be prepared and stored in refrigerator for up to 2 days. Just shape the patties and store them in an airtight container in the fridge. When ready to fry, dip in egg wash, coat with breadcrumbs and fry.
More Delicious Snack Recipes on I Knead to Eat
Crispy Breaded Chicken Cutlets
Baked Spinach and Cheese Samosa
Just wanted to share a little bit of the original text of this post for Potato Cutlets 🙂
This recipe is dear to my heart. I never really wrote down the ingredients, I just remember it from watching my mother make it in front of me. And I think the recipes that we know like the back of our hand, are the ones that are the most special ones. Like dear old friends we can turn to for comfort. Recipes that forgive if we make a mistake in measuring one or two ingredients.
And below is one of the original photos I took for this post! 🙂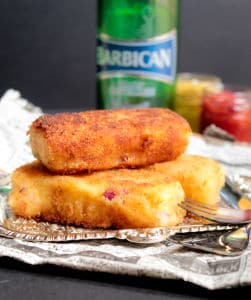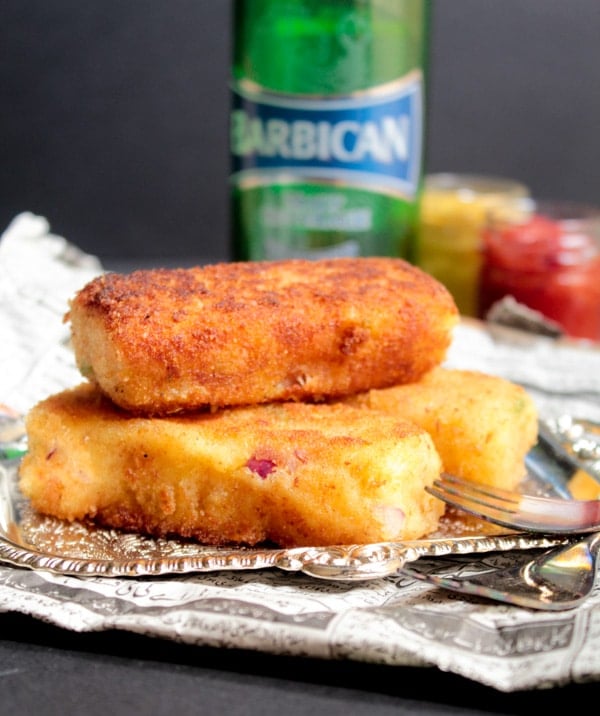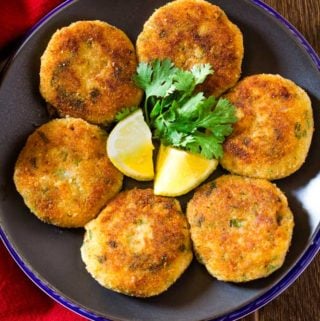 Ingredients
4

medium potatoes

1

medium red onion

(chopped finely)

2

green chilies

(de-seeded and chopped finely)

A handful of fresh chopped coriander

1 1/2

tsp

salt

1

tsp

red kashmiri chili powder

(can substitute with cayenne pepper)

1/2

tsp

coriander powder

1/2

tsp

cumin powder

1/2

tsp

chaat masala

optional

a squeeze of fresh lemon juice

2

eggs + 1 tablespoon water

1 1/2

cup

dry breadcrumbs

1/2

cup

oil for frying
Instructions
Wash the potatoes thoroughly and peel them. Put the peeled potatoes in a large pot with enough water to cover them completely and boil until the potatoes are completely boiled, and a fork slips through easily.

Once the potatoes are boiled, drain them in a colander and wait for them to cool.

After the potatoes are cooled, mash them with a potato masher or a fork in a large bowl.

Add the chopped onions, the chopped green chilies and the chopped coriander.

Add 1 1/2 tsp salt, 1 tsp red kashmiri chili powder, 1/2 coriander powder, 1/2 tsp cumin powder. Mix all of these ingredients together until well combined.

Shape the cutlets with your hands. You can make them round, or rectangle like I've done.

In a medium bowl whisk the eggs together with the water.

In a separate bowl or plate add the dry breadcrumbs.

Carefully dip each cutlet in the egg mixture first, and then the breadcrumbs covering the surface completely. Place on a tray.

Heat oil in a medium sized fry pan, and add the cutlets. Make sure not to overcrowd the pan.

Fry the cutlets on each side for about 2-3 minutes or until the outer layer is a deep golden brown.

Serve with ketchup, mustard or any condiment of your choice.
Nutrition