Good snack lovers of the world, today I'm here to introduce you to your favorite new snack - Baked Spinach and Cheese Samosa. We're talking a delicate thin crispy pastry filled with a creamy cheesy and spinach filling.
Here's the video tutorial for folding the Baked Spinach and Cheese Samosa - P.S. don't forget to like the I Knead to Eat Page on Facebook for more delicious recipes 🙂
https://www.facebook.com/ikneadtoeat/videos/1833891890262980/
I bet you won't be able to stop at just one samosa!
Now, samosas may seem tricky because:
A.) The folding technique seems complicated.
B.) They usually are a fried snack, and most people do not like frying (me, included).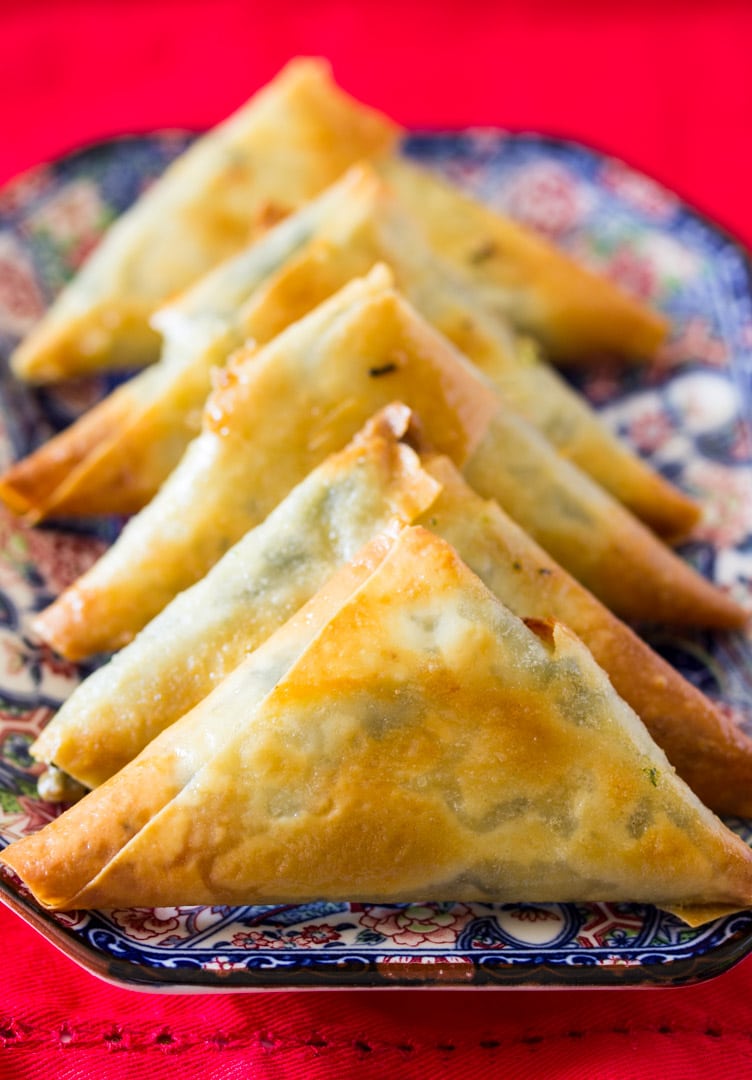 But guess what? I'm the queen of making everything easy, because:
A.) I don't have a lot of time to be doing complicated stuff in the kitchen all day. I have a toddler, remember, which is equivalent to not having a life. :p
B.) I want really good food, but basically without the effort. Lol.
So I went ahead and made a video for this recipe to make the whole samosa folding thing easier for you.
As you'll see in the video, it's actually not that complicated and with a little bit practice you'll become a samosa folding ninja. That's an important life skill, for all of us samosa lovers. Not kidding.
Also, for the second issue of frying, I've completely omitted that by baking these samosas. Just make sure that you grease the baking sheet with oil (so as to avoid sticking) and also brush the Baked Spinach and Cheese Samosa with egg wash. This will help in giving a golden brown color to the samosas.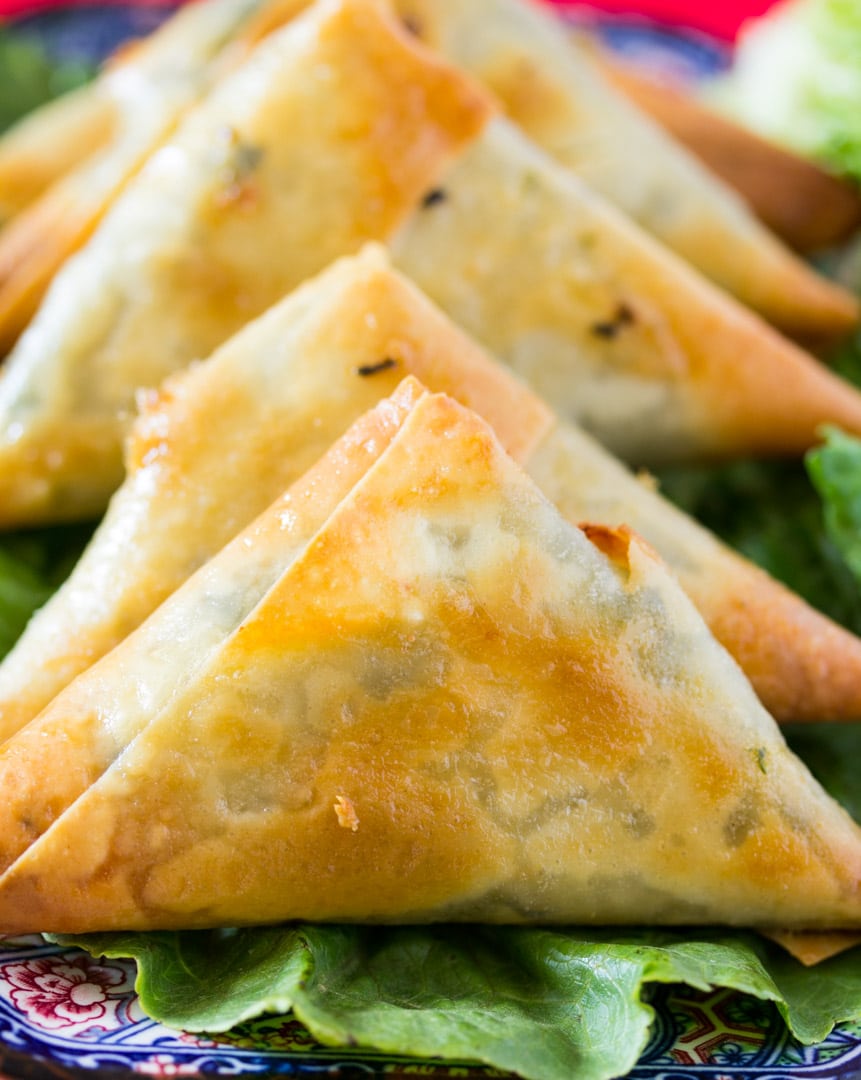 And that crunchy sound when you take your first bite of the Baked Spinach and Cheese Samosa? It's love at first bite. 🙂
Now let's talk a little bit about the filling of the Baked Spinach and Cheese Samosa. Usually, back from where I am, we add spicy meat filling or spicy potato filling to our samosas. But I wanted to go for something a bit different, and inspired by a Middle Eastern snack I like to have here in Bahrain - Spinach and Ricotta Fatayer, I decided to try a spinach and cheese filling in samosas. And it turned out awesome!
Just make sure that the cream cheese you use is at room temperature so that it incorporates fully with the rest of the filling ingredients. Also, I like to add feta cheese because it adds a delicious tangy and salty flavor to the filling.
Also, I have a thing for adding unique fillings to my samosas - have you tried my Chocolate Samosa? It's so delicious too!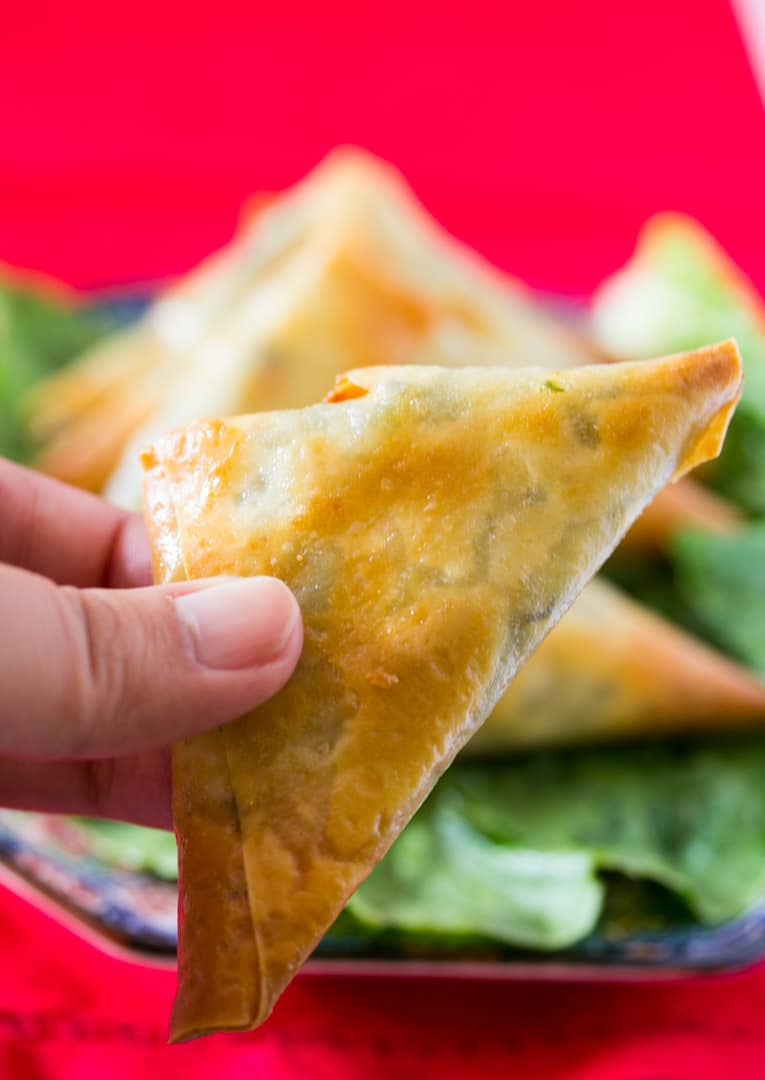 I do hope you try this Baked Spinach and Cheese Samosa recipe, because it's super delicious - the crunchy pastry and creamy filling is a mind blowing combination! 🙂

Enjoy!!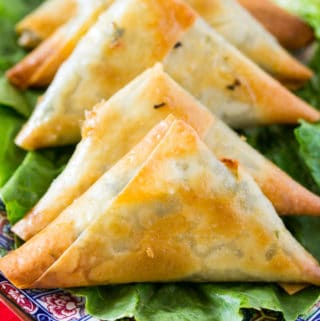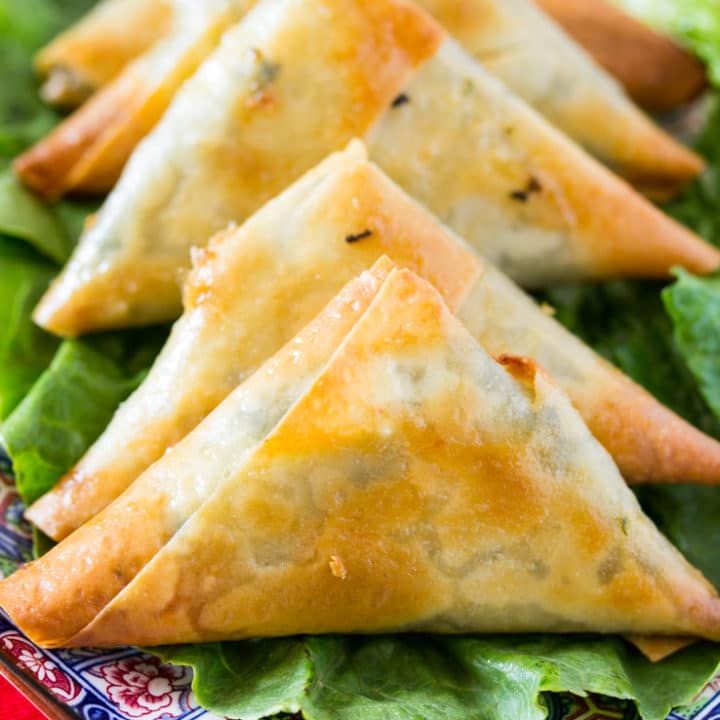 Baked Spinach and Cheese Samosa
Learn how to make Baked Spinach and Cheese Samosa with an easy to follow video tutorial. A delicious snack that's perfect as an appetizer for parties!
Print
Pin
Rate
Ingredients
8

oz

cream cheese

(room temperature)

1/2

cup

feta cheese

1

cup

spinach

(I used the frozen kind which is already shredded, and squeezed out the water)

1/2

teaspoon

garlic

(minced)

Salt and pepper to taste

1

egg + 1 tablespoon water

(combined to make the egg wash)

20

samosa pastry strips

1

cup

flour + 1/2 cup water

(mixed together to form a thick paste)
Instructions
In a mixing bowl, combine the cream cheese, feta cheese, spinach, garlic, salt and pepper. Mix until full incorporated. A couple of things to note: make sure the cream cheese is at room temperature so that it is easier to mix it. Also, all excess water should be squeezed out from the spinach.

Preheat oven to 400 F / 200 C and prepare a baking sheet by lightly greasing it with oil. Set aside.

Place a samosa pastry strip vertically on a plate / tray, and start by adding about 1-2 teaspoons of the spinach cheese on the bottom corner.

Fold the samosa pastry corner over the samosa filling. Then from the opposite side fold over the corner into the opposite direction. Continue until you have a triangle shaped parcel, and then using your finger to spread the flour / water paste seal over the rectangular flap of the samosa pastry over to completely seal the samosa. Do watch the video for a visual tutorial on how to fold the samosas.

Continue until all samosas have been filled.

Place prepared samosas on baking sheet and lightly brush each samosa with egg wash on both sides.

Bake for about 10-12 minutes or until the samosas are golden brown and crispy.

Serve immediately.
Nutrition