Pakistani Yellow Daal is an easy and nutritious meal to make your dinnertime delicious. This is a delicious, wholesome dal recipe made in just 30 minutes with a simple yet delicious tempering of fresh garlic, cumin, and onion.
Here are some more easy Pakistani recipes you'll love: Aloo Palak, Keema Matar, Chicken Malai Boti, Achari Chicken, and Chicken Palak.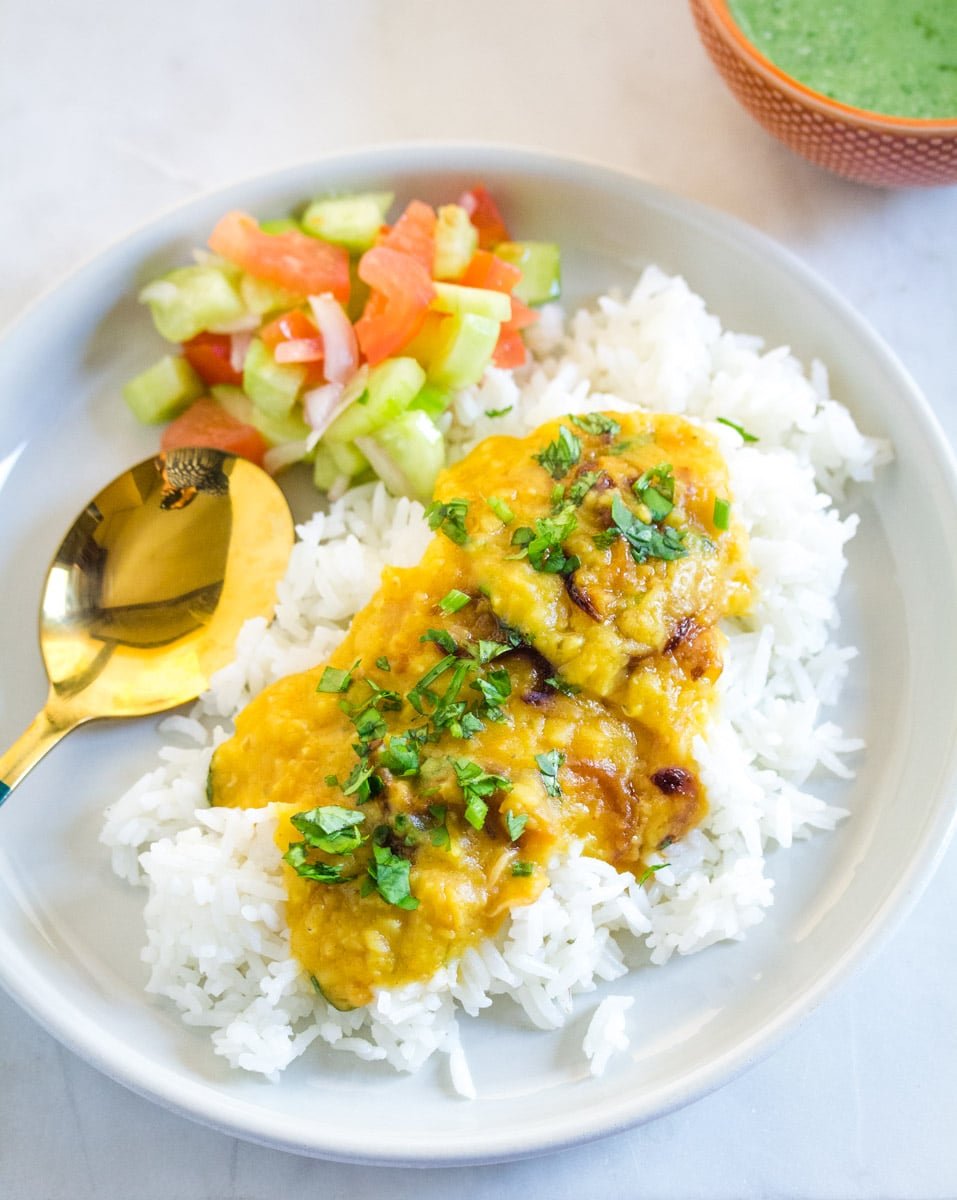 Daal (also known as dal, dahl, dhal) happens to be the very first meal I made after I got married. I had no knowledge of cooking (chopping onions was my biggest fear) and my mother knowing what a novice I was in the kitchen suggested that I should start with this easy recipe, because it's pretty hard to mess up and also super delicious, and it would be less likely that I would put the kitchen on fire. 🙂
Jump to: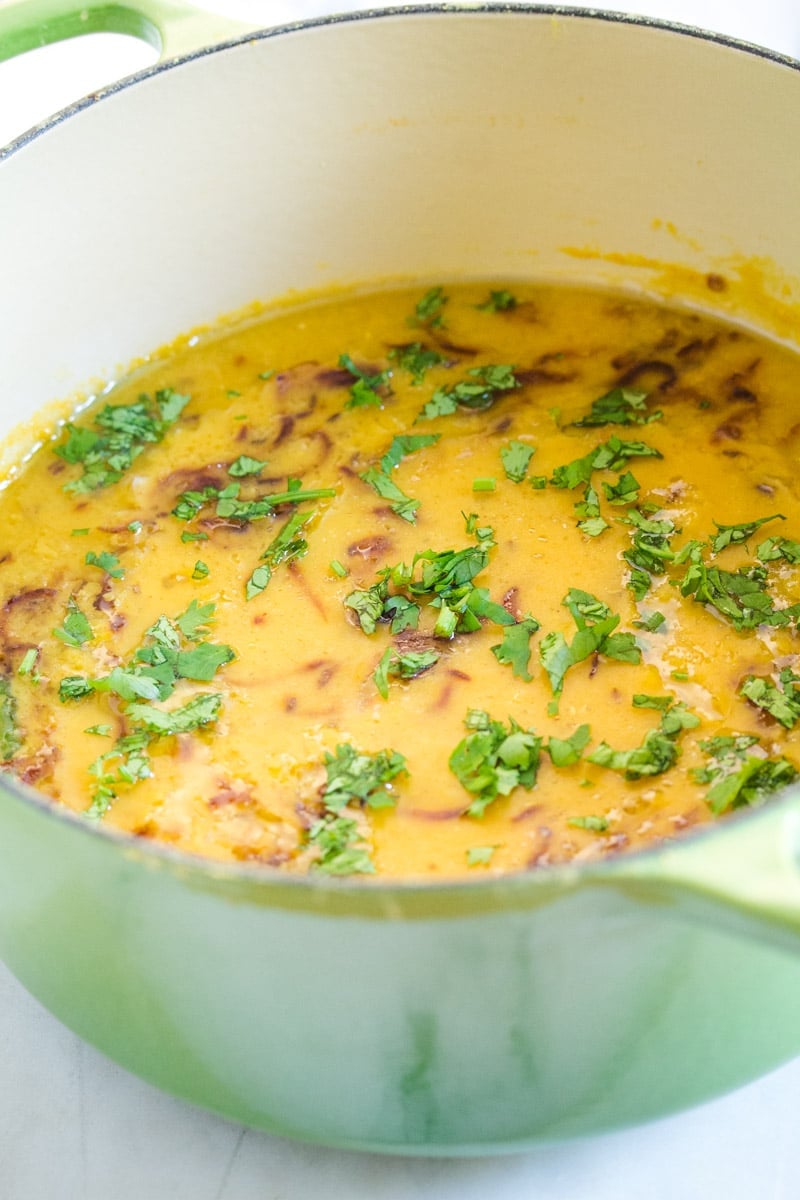 About this Recipe
This Pakistani lentils recipe is the perfect example of simplicity at its best.
There are many different ways to make lentils and each household in India and Pakistan has different methods and recipes to make daal.
The beautiful thing about lentils is that you can make it as simple as you want or dress it up with tadka (more commonly known as dal tadka) and pair it with white rice or roti / naan (Indian flatbread).
This recipe only requires one type of lentils : red split lentils also known as masoor lentils. It's often made by mixing two different types of lentils (masoor and moong) but I usually make it just using masoor, and it still turns out scrumptious.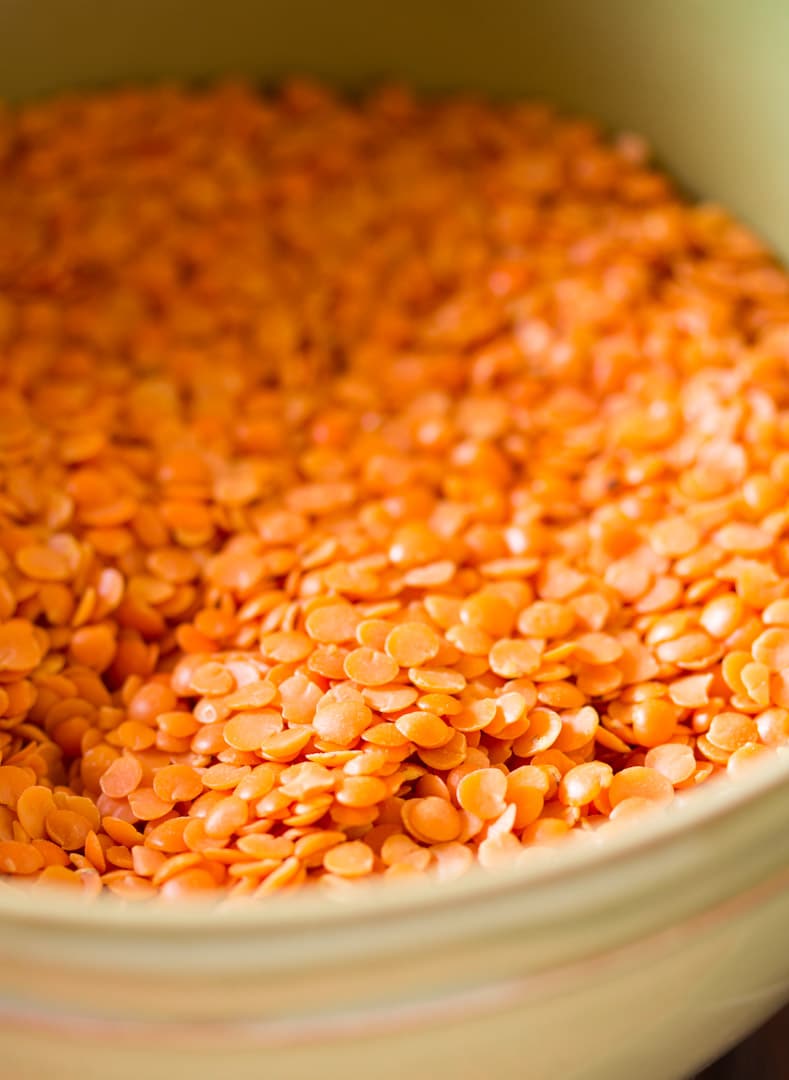 Why You'll Love this Recipe
Super Quick: The best thing about masoor dal is that it doesn't require any soaking, and cooks quickly. So you can have dinner on the table within 30-40 minutes.
So Nutritious: This is a wholesome and nutritious dish, and it's naturally gluten-free and vegan if you don't add butter.
Minimal Effort: This is one recipe you can make even when you're really tired because it is so effortless and requires minimum ingredients. Just add some boiled basmati rice and you're good to go!
However, you don't have to keep it all simple! Daal chawal can be as elaborate as you want it to be. Add some pakoras, kachumber salad, achaar, and mint raita to add all kinds of deliciousness.
P.S. If you're interested in learning more about South Asian lentil recipes, check out this Ultimate Guide to Daal Recipes in the Pakistani & Indian Manner. There are lots of delicious recipes included too!
Ingredients for the Yellow Daal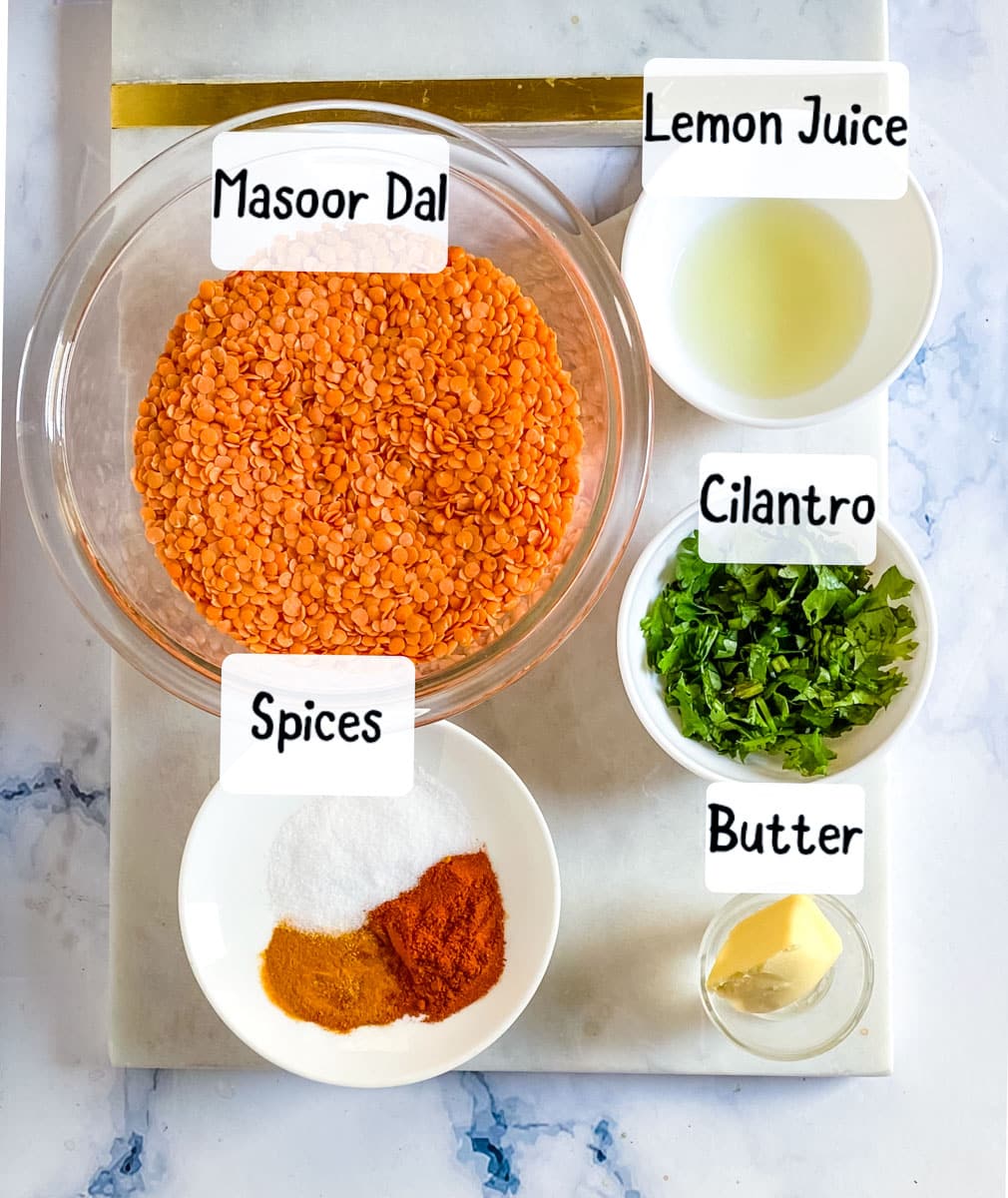 Masoor Daal: This dal doesn't need any soaking and cooks quickly. Sometimes I also add a handful of moong dal for extra flavor. This is however an optional step, and even with just red lentils, it turns out beautifully.
Spices: The daal is boiled with just two ground spices plus salt: red chili powder and turmeric powder.
Bonus Ingredients: Butter and freshly chopped coriander are the ingredients that take your daal up to another level. Also, add a squeeze of lemon juice at the end to add another amazing note of fresh flavor. Don't get me wrong, this recipe turns out just fine without these ingredients, but with them, it's another level of deliciousness. 🙂
Tempering Ingredients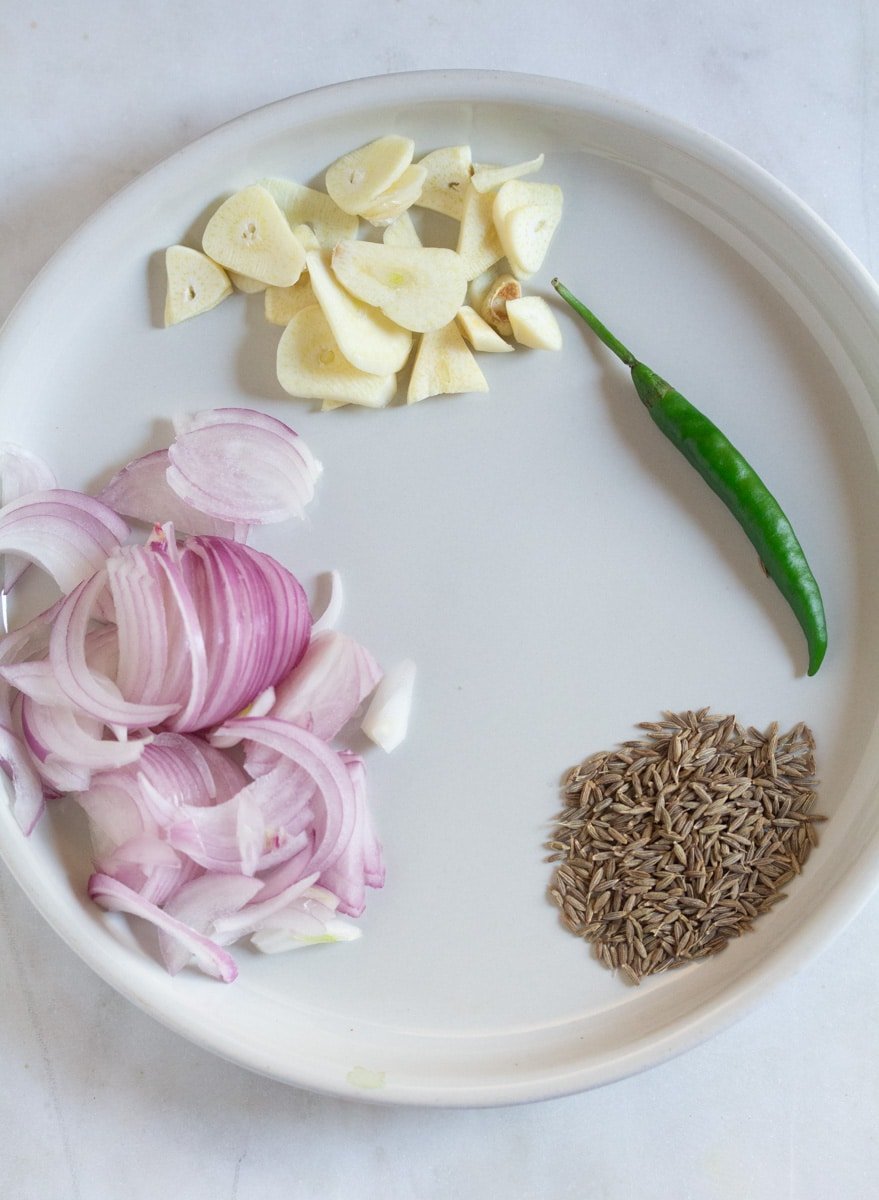 Onion: Thinly slice it, so it gets evenly golden brown in the tadka.
Fresh Garlic: You will need a clove or two, thinly sliced.
Cumin seeds: Adds a delicious flavor to the tadka, but you only need to saute it for a few seconds or else it will burn.
Green chili: Slit lengthwise, add it last to the tarka. In just a few seconds it will blister in the oil and release a delicious aroma.
How to Make Masoor Dal
1.) Wash the red split lentils (masoor dal) in water 2-3 times. Drain. Note: In this recipe, I've used only red split lentils, but you can also use a mix of half masoor and half moong, as seen in the pictures below.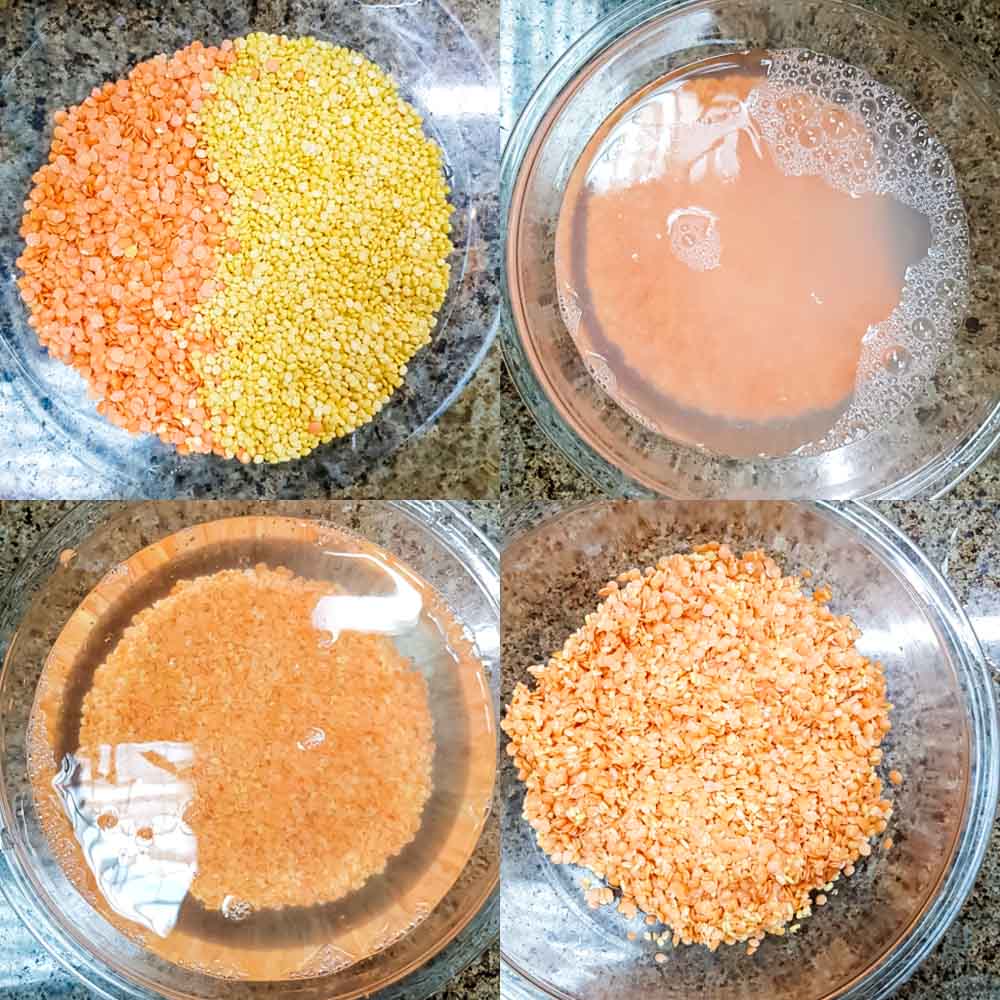 2.) Transfer it to a medium-sized pot, and add enough water so that it is one inch above the lentils.
3.) Add kashmiri chilli powder (laal mirch powder), turmeric (haldi) and salt. Boil the lentils until cooked. Pro tip: To avoid overflowing, place a wooden spoon on top of the pot. This is my mom's tip!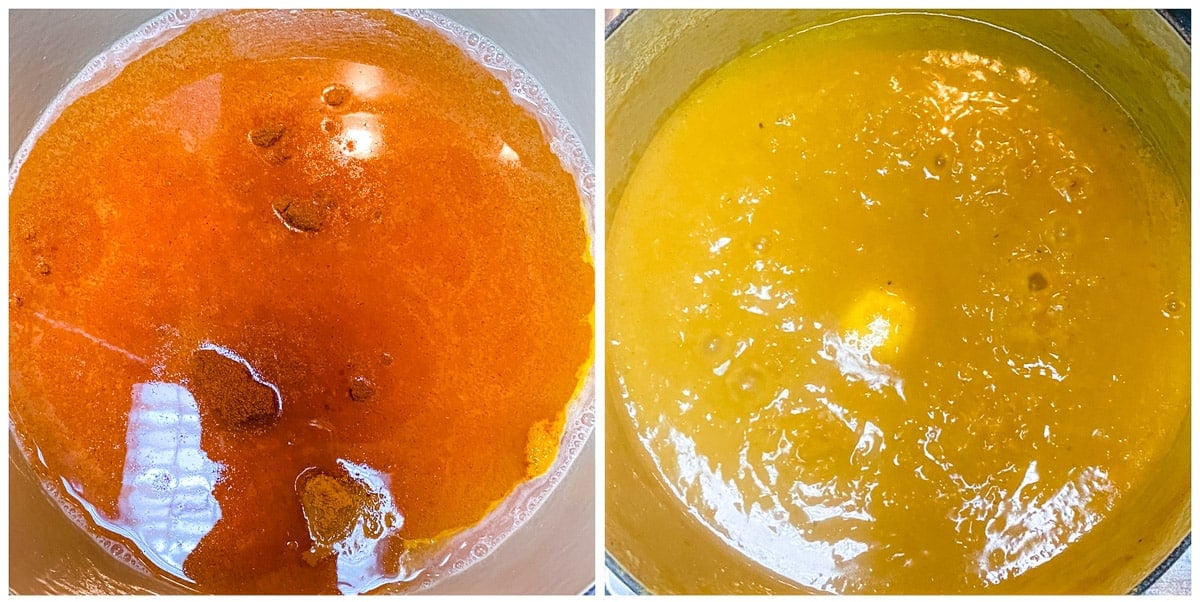 4.) Once it's boiling, you'll often see some floating white foam on top of the water, you can discard it. This is an optional step, and most of the time I don't discard the foamy stuff.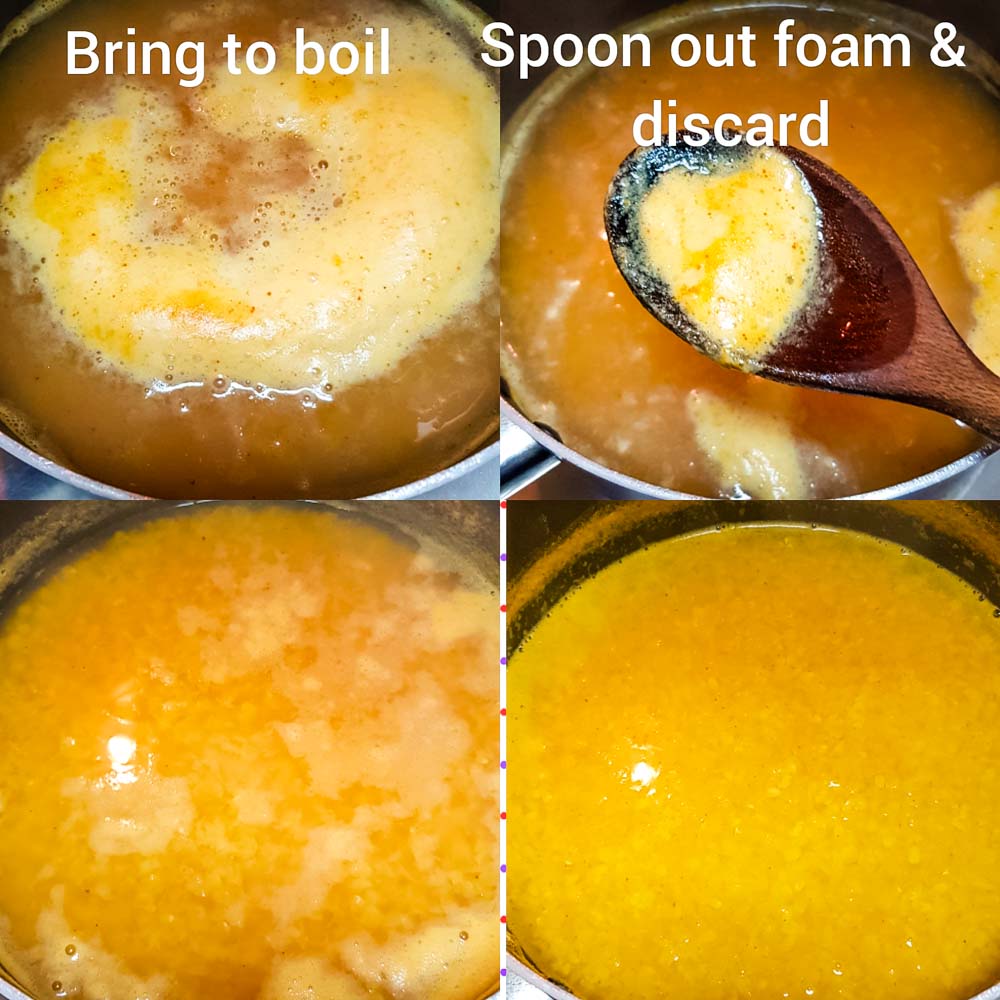 5.) Let it simmer for about 30 minutes until the lentils are cooked through and can be easily mushed with the back of a spoon (see pictures below for reference).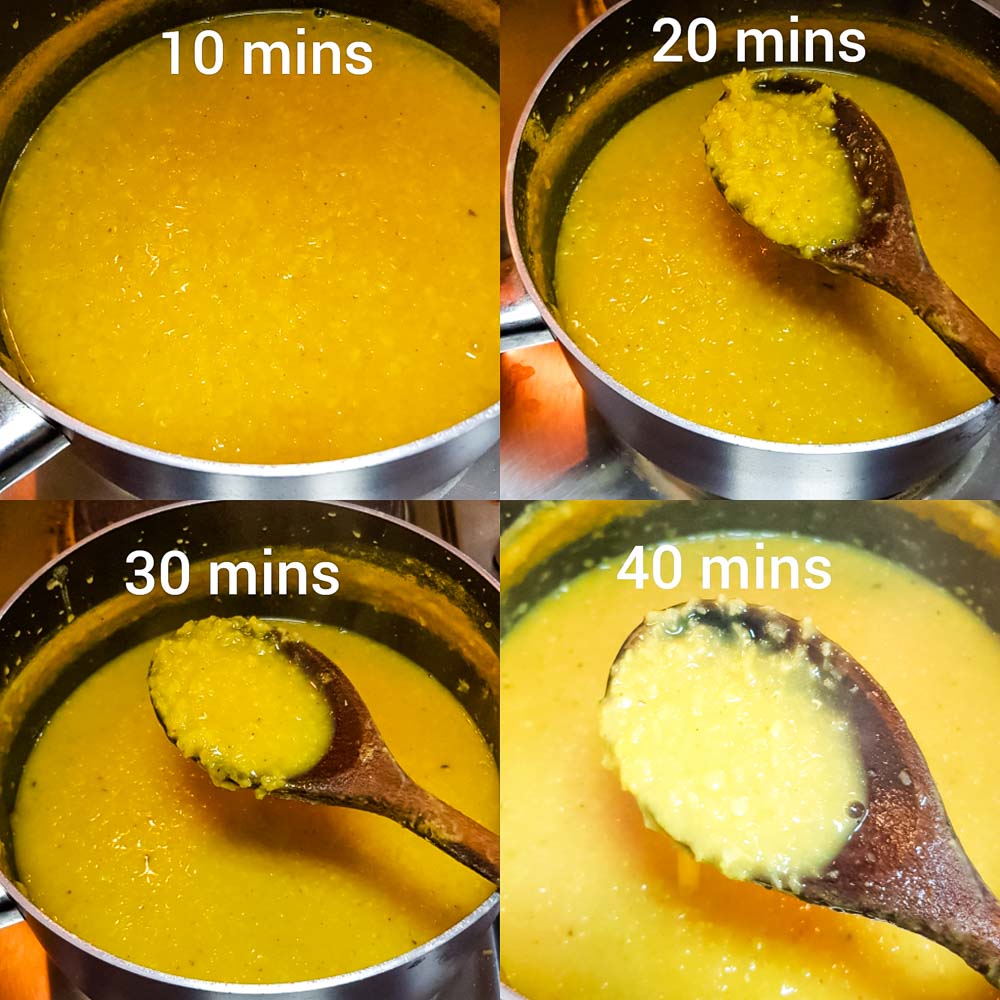 How to Make the Tempering
Once the lentils are almost cooked through, you can start preparing the tadka (spiced tempering) in a frying pan.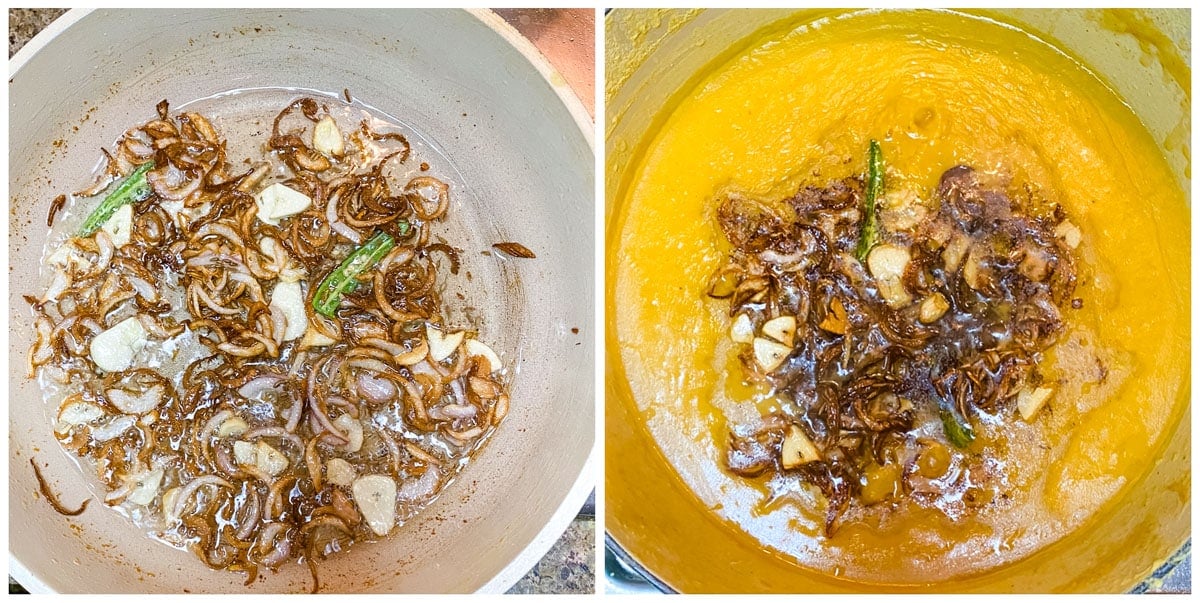 Heat oil in a small frying pan, and add onions. Fry for a minute or two, until light golden brown.
Add the sliced garlic, and saute for a few seconds.
Now add cumin seeds, and green chili. Fry for a few seconds until fragrant.
Pour over the prepared tadka over the daal, and top with chopped cilantro and butter. Add lemon juice, and mix.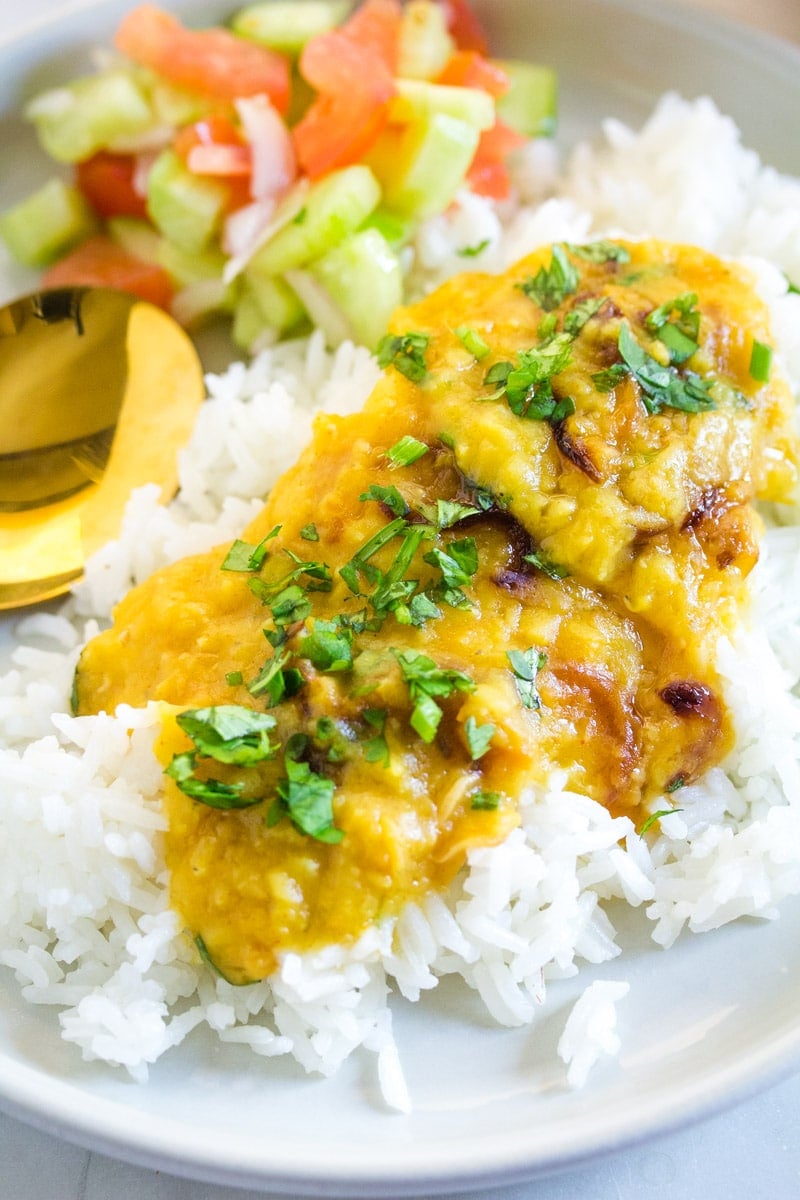 Helpful Tips
Tip #1: Tempering is basically made up of very hot oil, so be careful when transferring it to the daal.
Tip #2: You can change up the flavor of the tempering by using different ingredients. For example you can use curry leaves, finely chopped tomatoes or whole red chilies when making the tempering.
Tip #3: As the daal cools down, it will thicken. When reheating, you can add some water to change the consistency of it to your liking.
Tip #4: To make the cooking process even faster, you can make the dal in an instant pot or pressure cooker. You will need to pressure cook it for 7-10 minutes.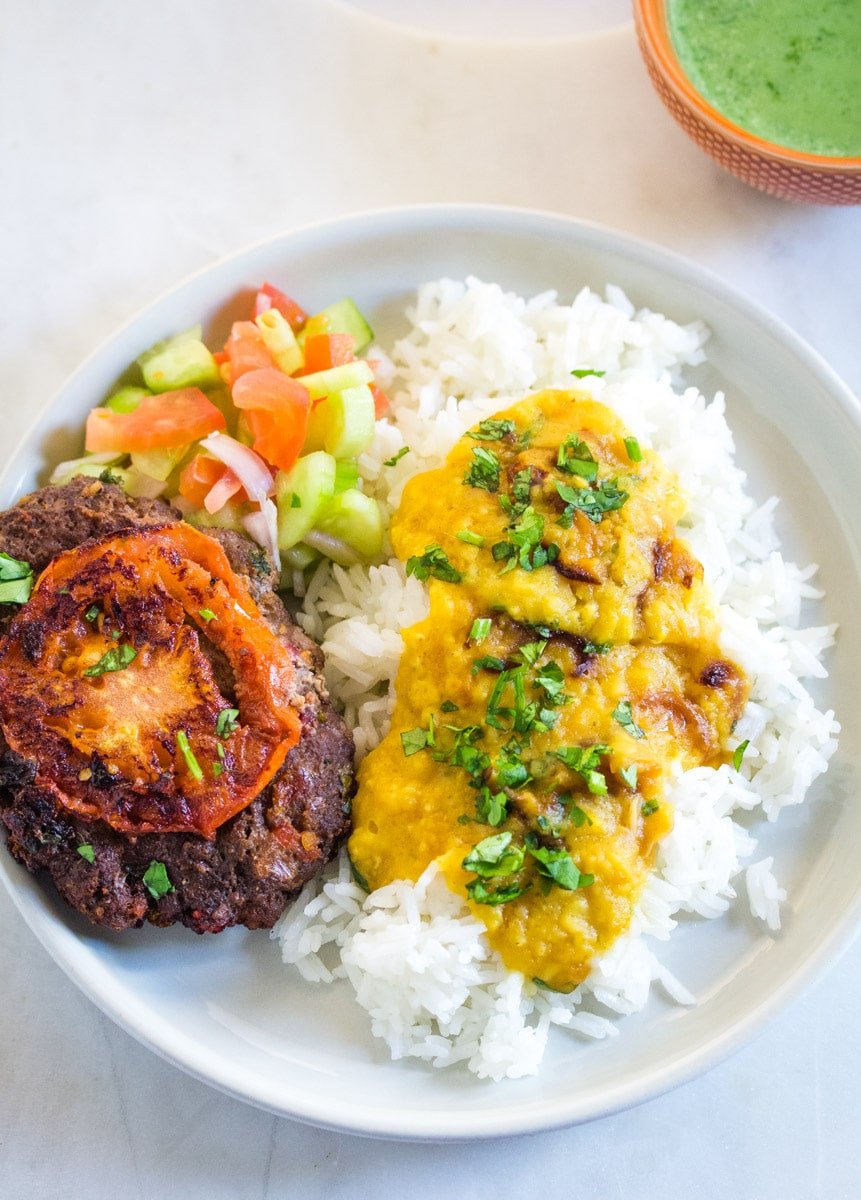 Serving Suggestions
These yellow lentils are best enjoyed with plain white rice, fluffy naan/roti, and lots of fresh, crunchy salad. In the picture above, I paired it with white jasmine rice, kachumber, and chapli kabab!
You can also pair this with delicious salads and raita such as: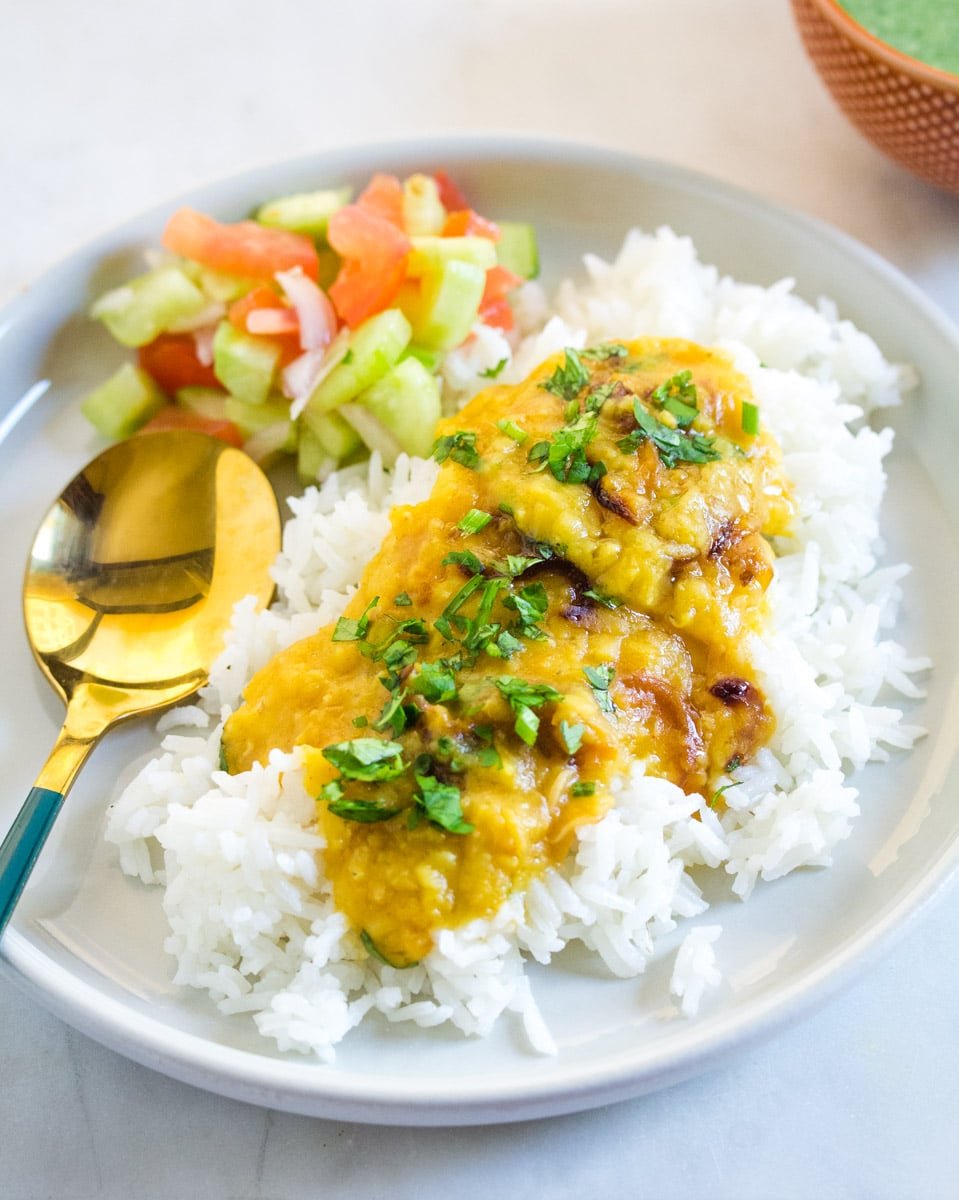 Some Health Benefits of Dal
1.) Lentils are known to help lower cholesterol.
2.) It's high in fiber so it's good for the digestive system.
3.) It's also high in protein so it helps in keeping you full for longer.
4.) There have been studies that show it helps in reducing the risk of heart disease.
5.) It's great for weight loss as it is high in protein and fiber, keeps you fuller for longer, and virtually has no fat.
6.) Also it's really yummy and comforting, so that makes you happy...and being happy keeps you healthy. I added that one on my own, but it's true! 😉 :p
Recipe FAQs
How long can you store daal for?
You can store daal in an airtight container up to 2-3 days. You can also freeze daal for up to 1 month.
Best Yellow Daal Recipe
This is best and easiest yellow daal ever. Made with just masoor dal, it is then topped with an easy, but aromatic tempering of spices and garlic. This daal is comfort food at its best!
Print
Pin
Rate
Ingredients
For the Daal
2

cups

masoor daal

4

cups

of water

(or as needed)

1/2

teaspoon

red chilli powder

1/2

teaspoon

turmeric powder

1

teaspoon

salt
For the Tempering
1/4

cup

oil

1

small onion finely sliced

2

garlic cloves

thinly sliced

1/2

teaspoon

cumin seeds

1

green chilli

slit in half
Finishing Touches
1

tablespoon

lemon juice

1

tablespoon

butter
Instructions
Boil the Masoor Dal
Start by placing the red lentils in a bowl, and wash with water 2-3 times. Discard the excess water.

Place the daal, water, and spices into a medium-pot. Partially cover with lid, and cook for 30 minutes (occasionally stirring) or until the daal is cooked through, and can easily be mashed with the back of your spoon. See pictures in post for reference.
Prepare the Tempering
Heat oil in a small pan, and add the sliced onions.

Fry on medium high-heat until the onion is golden brown, then add the garlic and fry it for a few seconds until golden and fragrant.

Add the cumin seeds and cook for only 10 seconds, and then add the green chili. Let it blister for a few seconds.

Carefully pour over the tadka onto the cooked daal.
Finishing Touches
Add the butter, lemon juice and cilantro. Mix well until combined.
Notes
Lentils: I only use masoor dal for this recipe, but you can also add a handful of moong dal for extra flavor.
Removing the scum: When the dal is boiling, you will see white scum forming on the surface. You can scoop it up and discard if desired.
How to Store: Daal can be stored in the refrigerator for 3-4 days. You can also freeze it in an airtight container for up to 1 month.
Nutrition
Calories:
309
kcal
|
Carbohydrates:
39
g
|
Protein:
16
g
|
Fat:
10
g
|
Saturated Fat:
1
g
|
Polyunsaturated Fat:
3
g
|
Monounsaturated Fat:
6
g
|
Trans Fat:
0.04
g
|
Cholesterol:
0.3
mg
|
Sodium:
431
mg
|
Potassium:
620
mg
|
Fiber:
19
g
|
Sugar:
2
g
|
Vitamin A:
80
IU
|
Vitamin C:
6
mg
|
Calcium:
50
mg
|
Iron:
5
mg