Learn how to make delicious and comforting Daal: Indian Yellow Lentils by following my easy and simple tutorial. Read onto find tips for how to make the perfect daal and the many health benefits of daal.
Daal (also known as dal, dahl, dhal) happens to be the very first meal I made after I got married. I had no knowledge of cooking (chopping onions was my biggest fear) and my mother knowing what a novice I was in the kitchen suggested that I should start with daal. Because it's pretty hard to mess up and also super delicious, and it would be less likely that I would put the kitchen on fire. :p 
I remember whenever we would come back home from a long road trip / flight, my mother would go straight into the kitchen and within 30 minutes there would be a delicious spread of daal chawal, kebab and salad would be ready. Daal is a comfort food in most Indian and Pakistani households. And to date, it's one of my favorite meals to make because it's delicious and super easy to make. If you're a regular reader around here, you must know by now that I don't do difficult cooking at all. I'm probably the laziest cook in the world, and I believe that's the way it should be. Food doesn't have to be difficult to be delicious.
And this Pakistani daal recipe is the perfect example of simplicity at its best. Now that I've told you how much I love this dish, let me show you how to make yellow daal.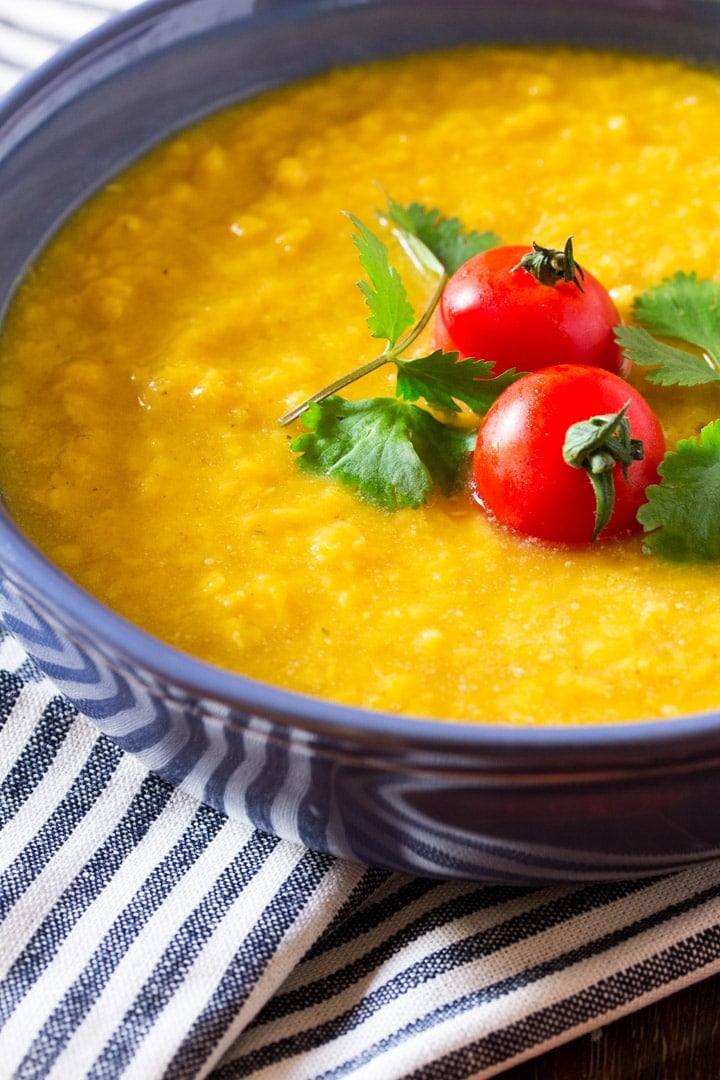 How Do You Make Indian Dal?
There are many different ways to make Daal and each household in India and Pakistan has different methods and recipes to make daal. The beautiful thing about daal is that you can make it as simple as you want or dress it up with tadka (more commonly known as daal tadka) and pair it with white rice or roti / naan (Indian flatbread).
The dal / daal that I'm teaching you to make today is the simplest I know of. The recipe only requires one type of lentils : red split lentils also known as masoor daal lentils. This daal is often made by mixing two different types of lentils (masoor and moong) but  I usually make it just using masoor daal, and it still turns out scrumptious.
In the most simplest terms this is how Indian Dal is made:
1.) Soak the red split lentils (masoor dal) in water for 15-20 minutes or so. Drain.
2.) Transfer the daal to a medium sized pot, and add enough water so that it is one inch above the lentils.
3.) Add kashmiri chilli powder (laal mirch powder), turmeric (haldi) and salt. Boil the lentils until cooked.
4.) Once the lentils are cooked through, you can either garnish with lots of chopped coriander OR make a tadka and make this daal into daal tadka.
The recipe that I'm sharing with you today is without the tadka because I wanted to keep things simple today.
What is Dal Made Of?
So what is Dal? There are many different kinds of lentils that are used to make daal. But the most commonly made daal is made from Indian Masoor daal which is a salmon colored round lentil – also known as red split lentil. See below. Isn't it a beautiful color? I like to call it pink daal because it's easier to remember, hehe. However, once cooked, it turns into that bright sunny yellow color as you can see in the rest of the pictures.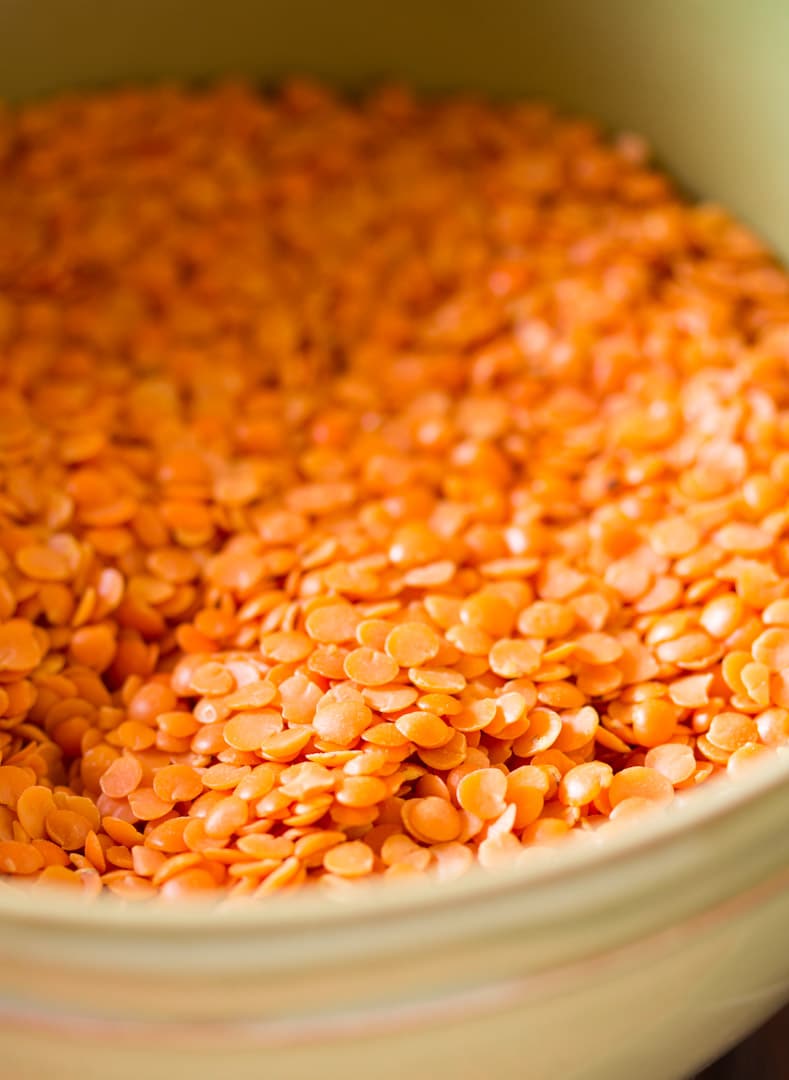 Is Dal Good for Health?
Daal or dal has major health benefits such as:
1.) It helps lower cholesterol.
2.) Daal is high in fibre so it's good for the digestive system.
3.) Daal is also high in protein so it helps in keeping you full for longer.
4.) There have been studies that show daal helps in reducing risk of heart diseases.
5.) It's great for weight loss as it is high in protein and fibre, keeps you fuller for longer and virtually has no fat.
6.) Also it's really yummy and comforting, so that makes you happy…and being happy keeps you healthy. I added that one on my own, but it's true! 😉 :p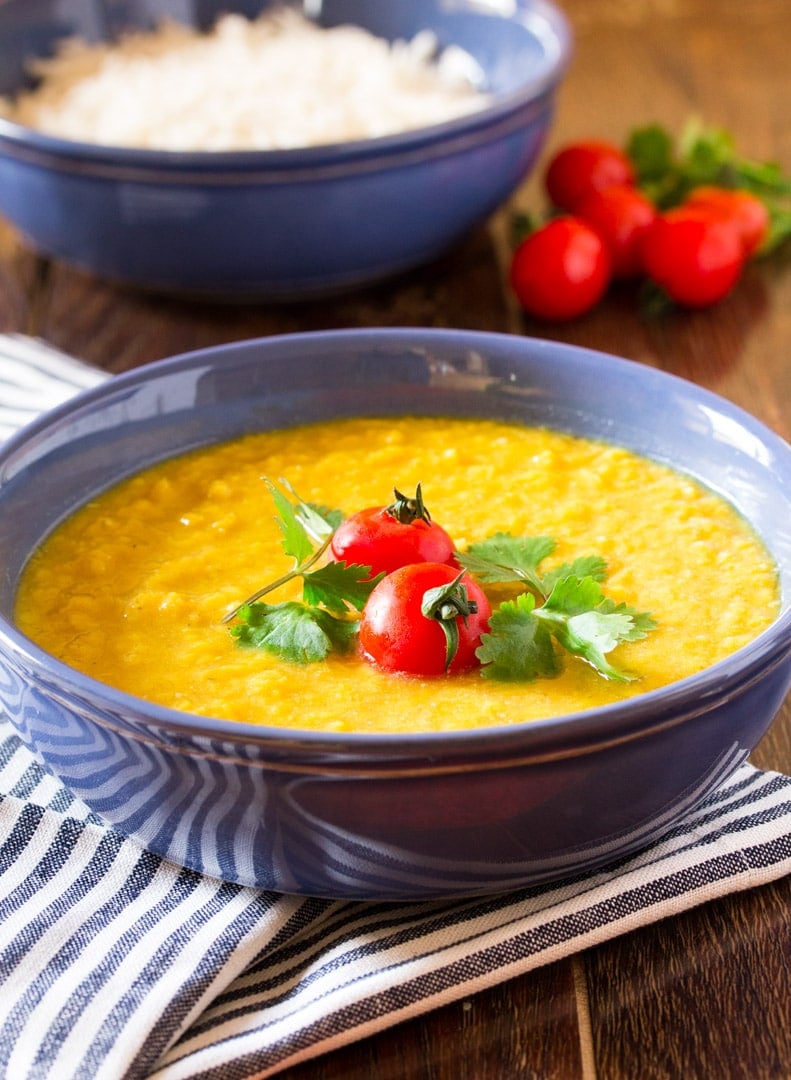 Daal is best enjoyed with plain white rice, fluffy naan / roti and lots of fresh, crunchy salad…but if you want to pair it with other Indian recipes, try the ones below:
Shimla Mirch Keema (Spicy Minced Beef with Capsicum)
You can also pair this daal with delicious salads such as:
Easy Creamy Macaroni Salad Recipe 
Daal: Indian Yellow Lentils
Learn how to make delicious and comforting Daal: Indian Yellow Lentils (masoor daal) by following my easy and simple tutorial. Read onto find tips for how to make the perfect daal and the many health benefits of daal.
Ingredients
1

cup

red split lentils

(masoor daal)

3

cups

water

1

teaspoon

salt

1/2

teaspooon

turmeric powder

(haldi)

3/4

teaspoon

red chilli powder

(kashmiri laal mirch powder)

Juice of half a lemon

1/2

cup

chopped coriander

(for garnishing)

chopped tomatoes

(for garnishing)
Instructions
In a medium sized bowl, soak the lentils in water for 15-20 minutes.

Rinse the lentils and transfer to a medium sized pot and add the rest of the ingredients: water, salt, turmeric powder and red chilli powder.

On medium high heat, boil the lentils for about 30 minutes, while occasionally stirring. The consistency of the daal can be adjusted by adding more water if it's too thick for your liking.

Finish the daal by adding a the juice of half a lemon and garnish with chopped coriander and tomatoes. Serve with plain white rice or naan / roti.