This is the easiest Instant Pot Red Lentil Soup recipe ever. All you need is red lentils, a few spices, and lemon juice. Ready in only 8 minutes, this is a delicious and soul-nourishing soup!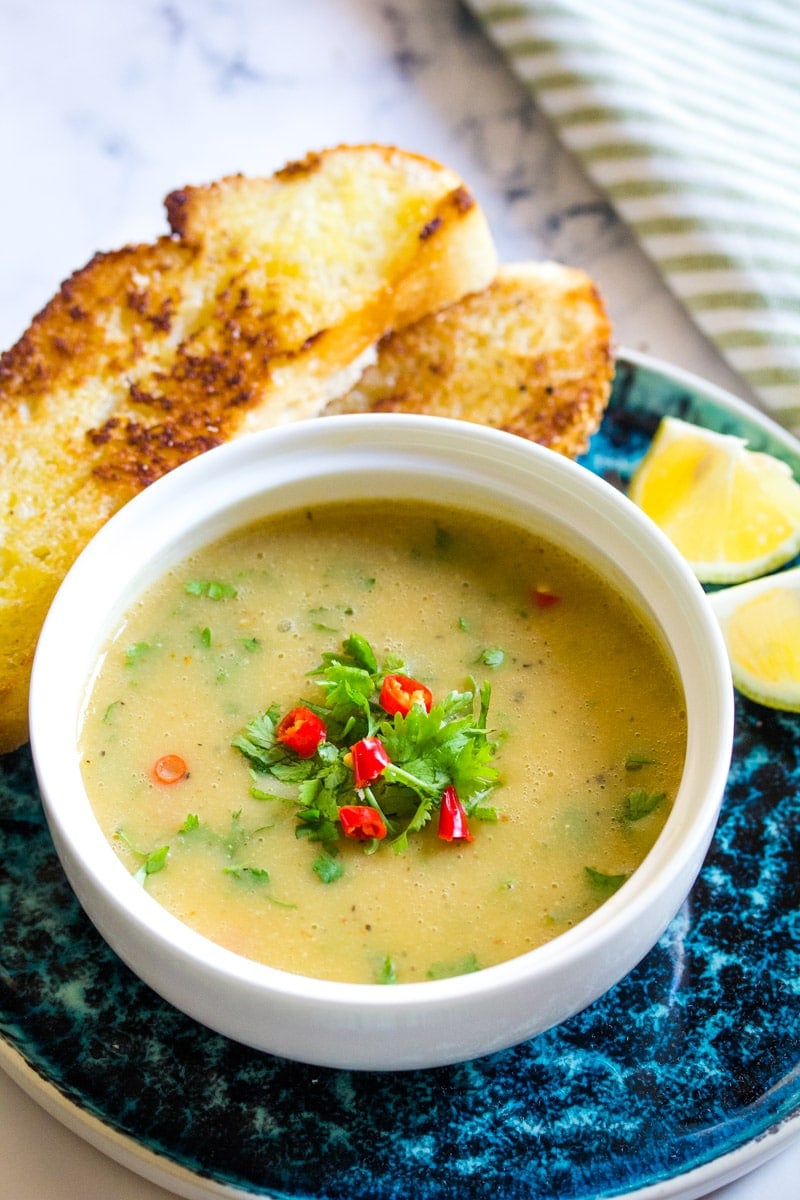 Today I'm excited to be sharing one of my favorite recipes, passed down to me by my mother. We love this soup in our family, and whenever I make it, it always brings back memories of my childhood.
This instant pot red lentil soup is not only a great soup, but it's also extremely healthy. Learn more about the health benefits of these humble legumes here.
Love soups? Try these recipes: Chicken Corn Soup, Hot & Sour Soup, and this delicious Roasted Red Pepper and Tomato Soup.
My favorite memory of this Instant Pot Red Lentil Soup is squeezing extra lemon juice onto it, and then dipping toasted buttered bread into the soup and devouring it.
Now that it's almost cold weather, I think this is a wonderful recipe to add to your list of winter comforts.
I just love winter because: cozy soups and lots of hot chocolate are allowed.
Add a blanket and a great book to the mix, and we're ready for a soul-nourishing evening.
Why this Recipe Works with Such Few Ingredients
Easy: Let's get real, somedays we don't want to be slaving away in the kitchen. For me that's most days, but that's neither here nor there. Anyway, we are not chopping anything in this recipe, and we are just dumping everything into the instant pot, setting it to 8 minutes pressure cooking and walking away.
Five Ingredients Only: you only need red lentils, black pepper, red chilli flakes, salt. Add some freshly squeezed lemon juice and water to the mix, and you're good to go. I know it sounds like there aren't enough ingredients, but trust me, the combination works.
Healthy: Did I mention how super healthy this recipe is? First of all, we're using all whole ingredients and there's no need to add oil either!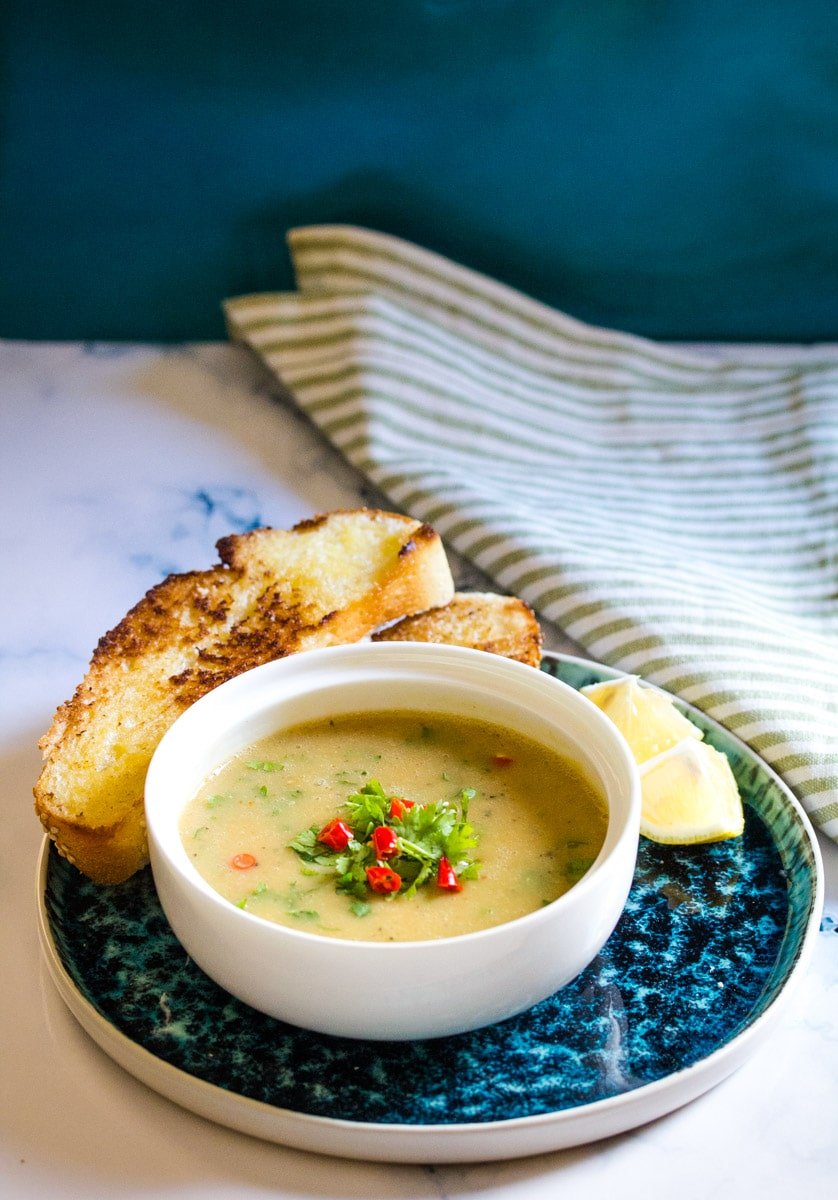 Ingredients You'll Need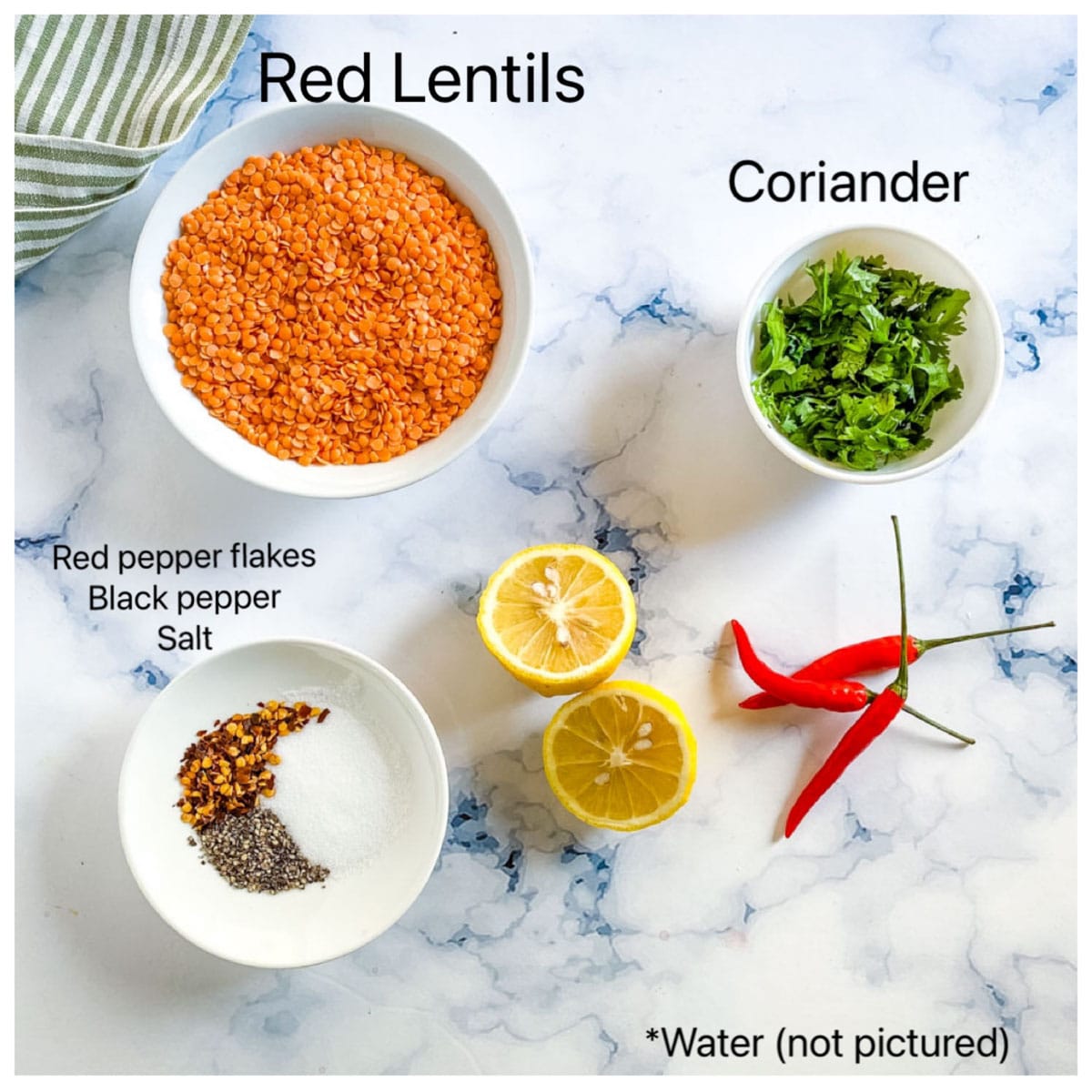 Red lentils: there's no need to even rinse or soak the lentils. Some people do rinse to check for debri or stones, but I generally find no need to do it as they're already cleaned.
Spices: black pepper, red chilli flakes and salt is all you need. Feel free to add more seasonings of your choice, but I love this combination.
Lemon juice: use freshly squeezed lemon juice to add brightness to the soup.
Coriander: Top with freshly chopped coriander. You could also use parsely instead.
Red chillies: I like to add sliced red chillies to my soup for an extra kick but these are entirely optional.
Water: this recipe calls for 5 cups of water as the lentils expand a lot as they cook. This is to keep the consistency smooth & creamy, once the soup is blended.
How to Make Red Lentil Soup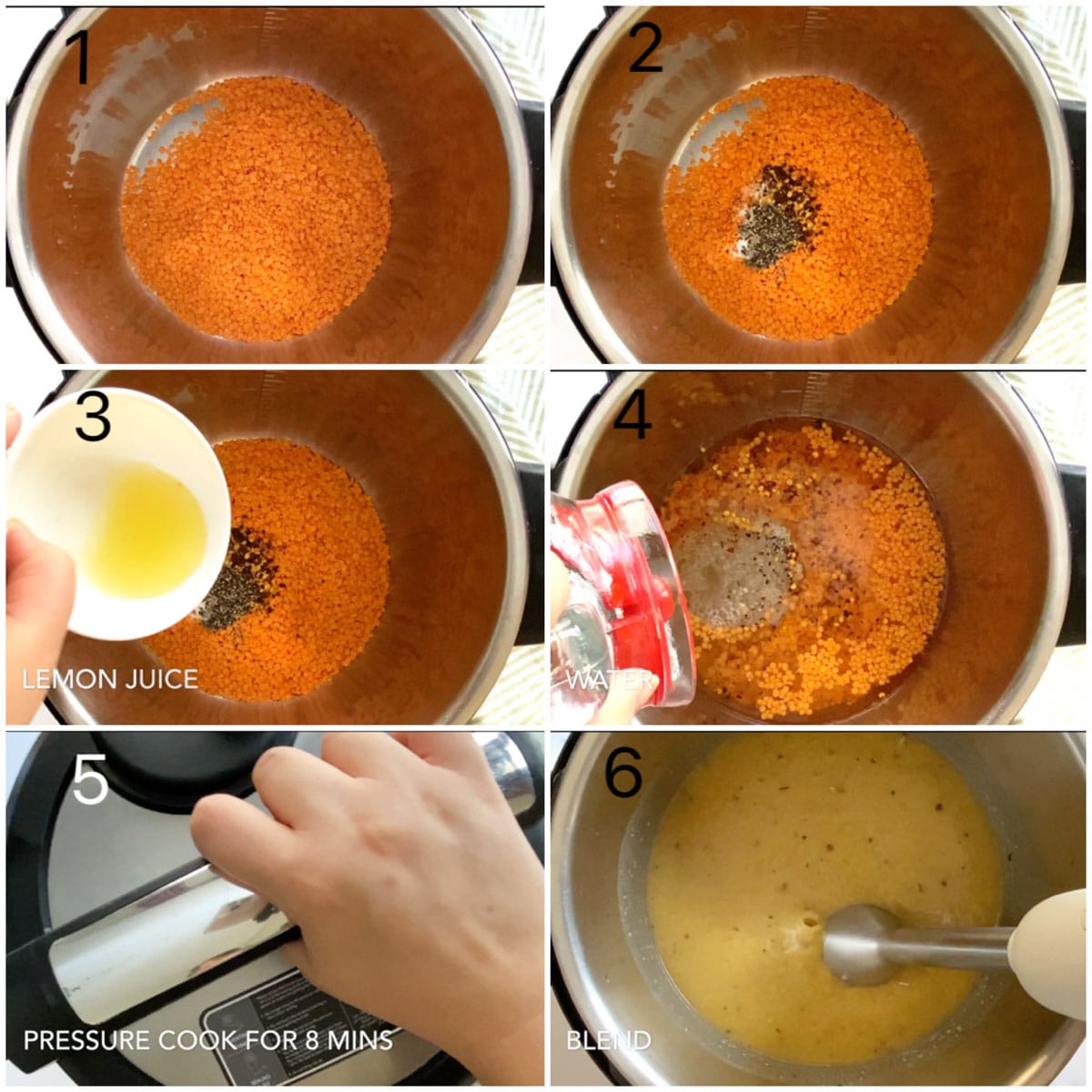 Add all the ingredients to the instant pot, and stir.
Pressure cook for 8 minutes, and then natural release for 5-10 minutes.
Remove the lid, and using a hand blender, blend the soup until smooth.
Topped with chopped coriander and sliced chillies (optional), and serve with buttered bread or garlic bread.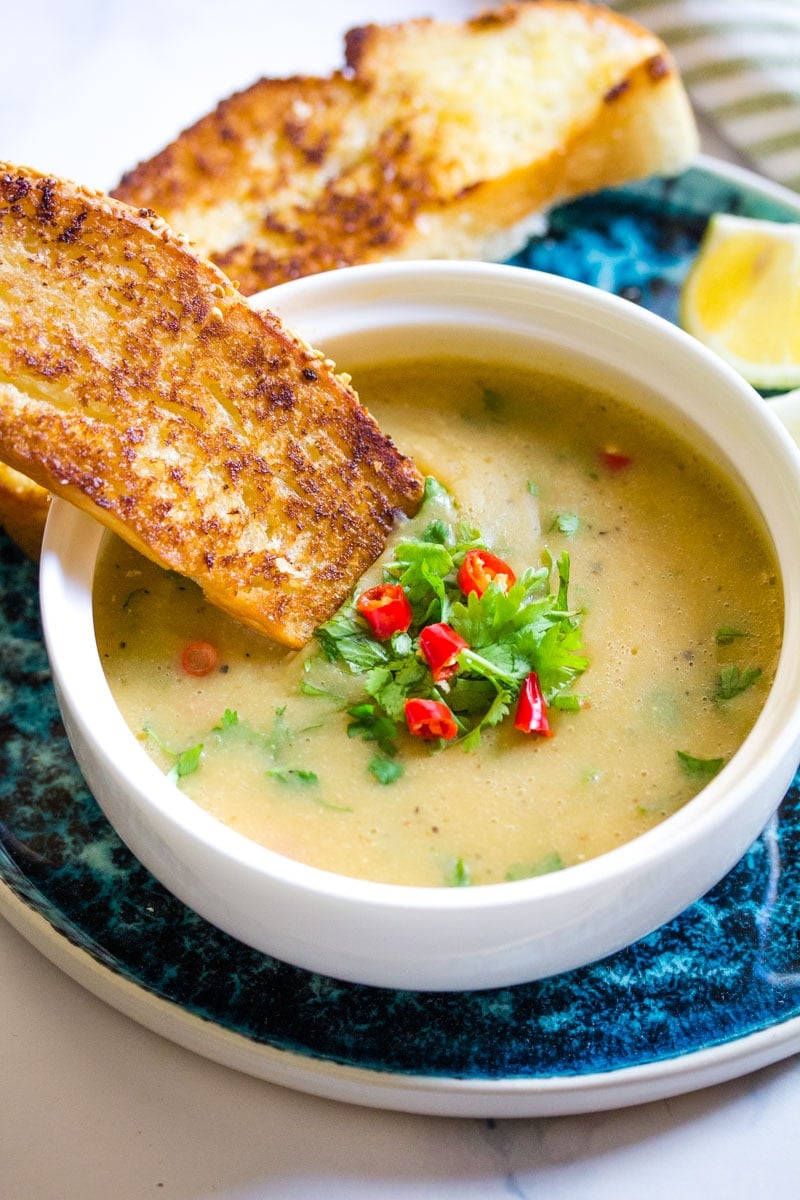 Sucess Tips
Fresh lemon juice: since this soup requires such few ingredients, I highly recommend using fresh lemon juice instead of bottled lemon juice because it just doesn't taste the same.
Instant pot size: For this recipe I use a 6 quart instant pot.
Lentils: I only use red lentils for this recipe as they are relative quicker to cook and break down quite easily, making them perfect for soups.
Hand blender: I use a hand blender to blend the smooth as it's easy and faster. However, you can easily use a blender to to blend the soup. Just be sure to let the soup cool down, before blending it if using a blender.
Cook on stove top: This recipe can be easily adapted for stove top. Bring the soup ingredients to a boil in a pot, and then lower the heat and simmer for 30-40 minutes until the lentils are softened. Proceed by blending into a smooth consistency.
Recipe FAQs
Do you need to soak red lentils before cooking?
No, there's no need to soak red lentils as they cook and dissolve pretty quickly.
Do you need to rinse red lentils?
I don't always rinse lentils because these days they already come processed and clean. However, this is a personal preference and many people do rinse lentils before cooking.
What to serve with red lentil soup?
Serve it with garlic bread, breadsticks, or a side salad for a complete meal.
Are red lentils good for you?
Yes, they're a great source of protein and other nutrients such as fibre, magnesium and folate.
How to store this soup
This soup can be stored in an airtight container for up to 3-4 days. It can also be frozen for up to 1 month. When ready to eat, thaw overnight in the fridge and reheat on the stove the next day.
Enjoy! ~ Wajeeha
More Delicious Instant Pot Recipes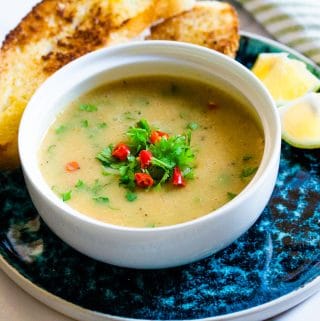 Instant Pot Red Lentil Soup
This Instant Pot Red Lentil Soup is an easy, healthy, and fast meal to prepare. Ready in just 8 minutes with zero ingredient prep!
Print
Pin
Rate
Ingredients
1

cup

red lentils

masoor dal

1

teaspoon

crused red chilli flakes

adjust to taste

1/2

teaspoon

cracked black pepper

1

teaspoon

salt

or to taste

2

tablespoons

lemon juice

freshly squeezed

5

cups

water
Instructions
Place red lentils in the instant pot.

Add the crushed red chilli flakes, black pepper and salt.

Add the lemon juice and water. Stir.

Place the lid of the instant pot, and turn the pressure valve to sealing.

Pressure cook (set to manual) for 8 minutes. Natural release for 10 minutes.

Turn the pressure valve towards venting, and vent the remaining pressure.

When the pin goes down, remove the lid.

Stir the lentil soup, and using a hand blender, blend the soup into a smooth consistency.

Pour into serving bowls, top with coriander and chillies. Enjoy with garlic bread.
Notes
Red Lentils: These are perfect for soup as they break down and cook relatively faster than other legumes. 
Spices: You can adjust the quantity of spices as per your liking. 
Lemon juice: This recipe calls for very few ingredients, and lemon juice plays a key role in lifting the flavors of the soup. I highly recommend using freshly squeezed lemon juice. 
Hand blender: I use a hand blender for convenience, but you can also use a blender. 
Storing: It can be stored in an airtight container in the fridge for up to 3 days. Freeze up to 1 month. 
Nutrition
Calories:
650
kcal
|
Carbohydrates:
112
g
|
Protein:
47
g
|
Fat:
2
g
|
Saturated Fat:
1
g
|
Polyunsaturated Fat:
1
g
|
Monounsaturated Fat:
1
g
|
Sodium:
2429
mg
|
Potassium:
1803
mg
|
Fiber:
56
g
|
Sugar:
5
g
|
Vitamin A:
670
IU
|
Vitamin C:
20
mg
|
Calcium:
151
mg
|
Iron:
14
mg