Chana Pulao aka Chickpea Rice is a quick dinner that's ready in less than 30 minutes. You only need 6 ingredients to make this super delicious and healthy pulao. Serve it with this Easy Raita and Seekh Kabab, and you're all set for a wonderful meal.
If you know me in real life, or have been around I Knead to Eat for sometime, you must know that I'm all for super easy recipes…I only have one condition though…along with being really easy my recipes have to be really yummy too…because there's not compromise when it comes to taste.
This Chana Pulao is not only really delicious, but it's also quite a healthy recipe.
What's Chana Pulao?
So today I'm sharing with you one of my favourite quick fix dinners. Chickpea Pulao is one of those one pot Pakistani recipes that you can make while your toddler is clinging to your legs for dear life. Yes, true story.
Chana Pulao or Chickpea Rice is a one pot recipe that is as basic as it gets. It's basically chickpeas cooked in tomato and onion base and then rice is added, and all of this cooked into a fragrant comforting pulao or pilaf.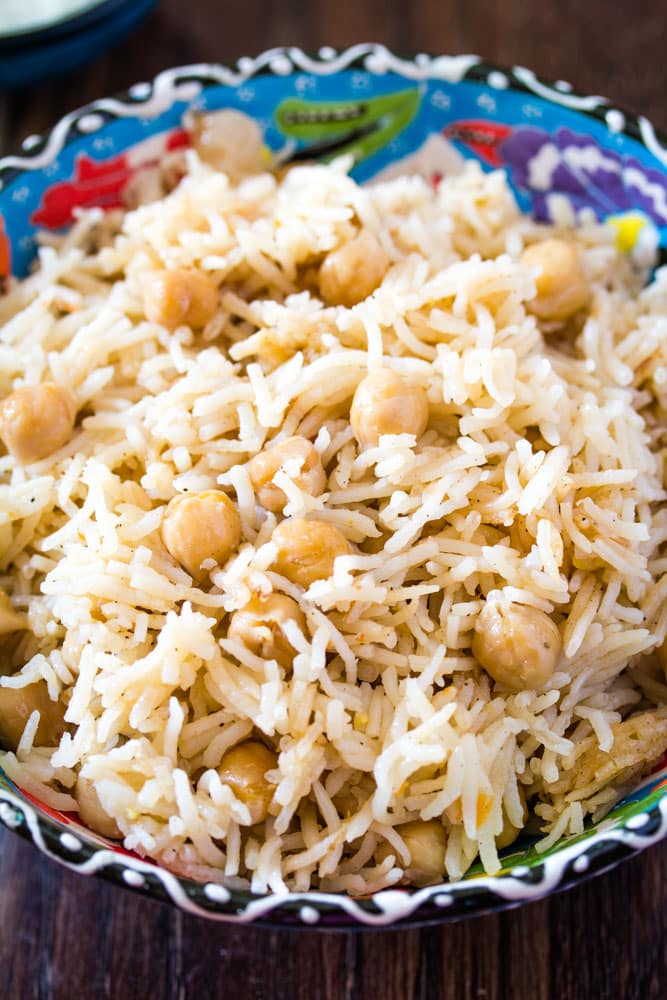 I do love my rice recipes, especially pulao recipes such as this Matar Pulao and Easy Veg Rice. 
This Chana Pulao is one of the fastest recipes I know how to make, and my goodness it's satisfying after a long tiring day. You can keep it simple by pairing it with some raita or chutney or you could go all fancy and pair it with this Chicken Karahi or Chicken Korma.
Chana Pulao goes best with Coriander and Mint Raita
My favorite way of having chana pulao is with the coriander and mint raita pictured below. I'll be posting the recipe for it soon. So stay tuned!!
How to Make Chana Pulao
Chana Pulao is super easy to make. You can make it as easy as you want or add a few things to make to if more aromatic and fancy. There are a lot of variations of chana pulao. Some call for whole spices or garam masala, some call for only onion and some call for both onion and tomato. 
So let me walk you through my recipe for Chana Pulao.
To Use Whole Garam Masala or Not?
Often Pakistani or Indian pulao recipes are made with whole spices such as a cinnamon stick or two, whole black peppercorns and clove.
I prefer not to use whole spices in my recipes, because A.) my kids don't like them as such and B.) I like to share recipes with you guys which are easy with accessible ingredients. So if you don't have whole spices, no worries…you can still make this delicious chana pulao!
I do sometimes add cumin, if I'm in the mood, but it's not necessary. 
Canned Chickpeas vs Raw Chickpeas
So in Pakistan we don't quite often use canned chickpeas. Instead we use raw chickpeas by soaking them in water first and then boiling them.
However, I almost never use raw chickpeas in my cooking. I use canned chickpeas which in my humble are delicious and not much different than raw chickpeas. Also, SUPER convenient.
You of course can use any chickpeas you like, depending on your preference.
Tomato & Onion Masala Base
This is your basic masala that's used in everyday Pakistani cooking.
Start by sautéing chopped onion until it's golden and then add chopped tomatoes. Add some salt, lal mirch powder and a teeny bit of turmeric. Cook this masala until the oil separates and comes to the surface.
Add the chickpeas and cook for 5-7 minutes. Add water, let it come to a boil and then add the rice. Boil until most of the water has evaporated and the rice is almost cooked through.
Cover the pot with a lid, and then leave it on low heat for 5 minutes or so. Remove from heat, and fluff up the rice with a fork. 
And enjoy!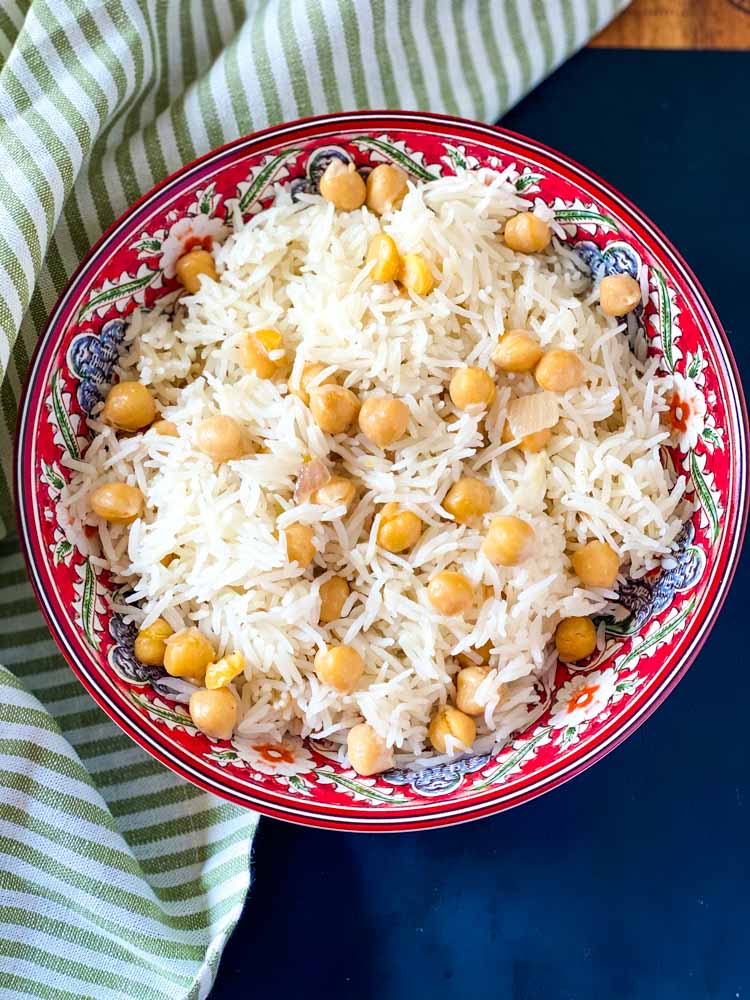 What to Serve with Chana Pulao
Hariyali Chicken – Green Chicken Curry
Pakistani Beef Curry (Bhunna Gosht)
Aloo Keema – Easy Ground Beef Curry
Indian Salad (Kachumber Salad)
Chana Pulao Recipe
Chana Pulao aka Chickpea Rice is a quick dinner that's ready in less than 30 minutes. Serve it with this Raita and Seekh Kabab, and you're set for a wonderful meal.
Ingredients
1

tablespoon

oil

1

small onion

finely chopped

1

small tomato

finely chopped

Salt to taste

1/2

teaspoon

lal mirch powder

1/4

teaspoon

turmeric powder

haldi

1 15

ounce

chickpea can

drained

1 1/2

cups

basmati rice

soaked in water for 15-20 minutes

3

cups

water
Instructions
Heat oil in a pot, and add the onions. Cook the onion until its golden brown. Once the onion is golden brown, add a splash of water and quickly cover the pot with a lid. This way the onion release its colour and gives a beautiful golden brown colour to the overall pulao.

Remove the lid, and add the chopped tomatoes. Cook on high flame for about 4-5 minutes until the oil separates from the curry. Keep stirring during this step.

Then add the chickpeas (draineand cook for 4-5 minutes while continuously stirring. Now add the water and cover the pot with a lid. Bring to a boil. Add the rice (drain the water in which it was soakinand continue cooking until most of the water has evaporated and the rice has almost cooked through. Lower the heat to the lowest setting and cover the pot with a lid, and let the rice cook in the steam for about 5 minutes. Remove from heat and let rest for another 5 minutes or so.

Before serving, fluff the rice with a fork. Serve with raita or kabab.