Make a classic rice dish with this Matar Pulao recipe. The flavorful rice consists of the perfect blend of whole spices to bring added flavor to the dish.
Pair it with this delicious Chicken Korma, Easy Chicken Karahi, or Aloo Keema, or this ever-popular plain Keema.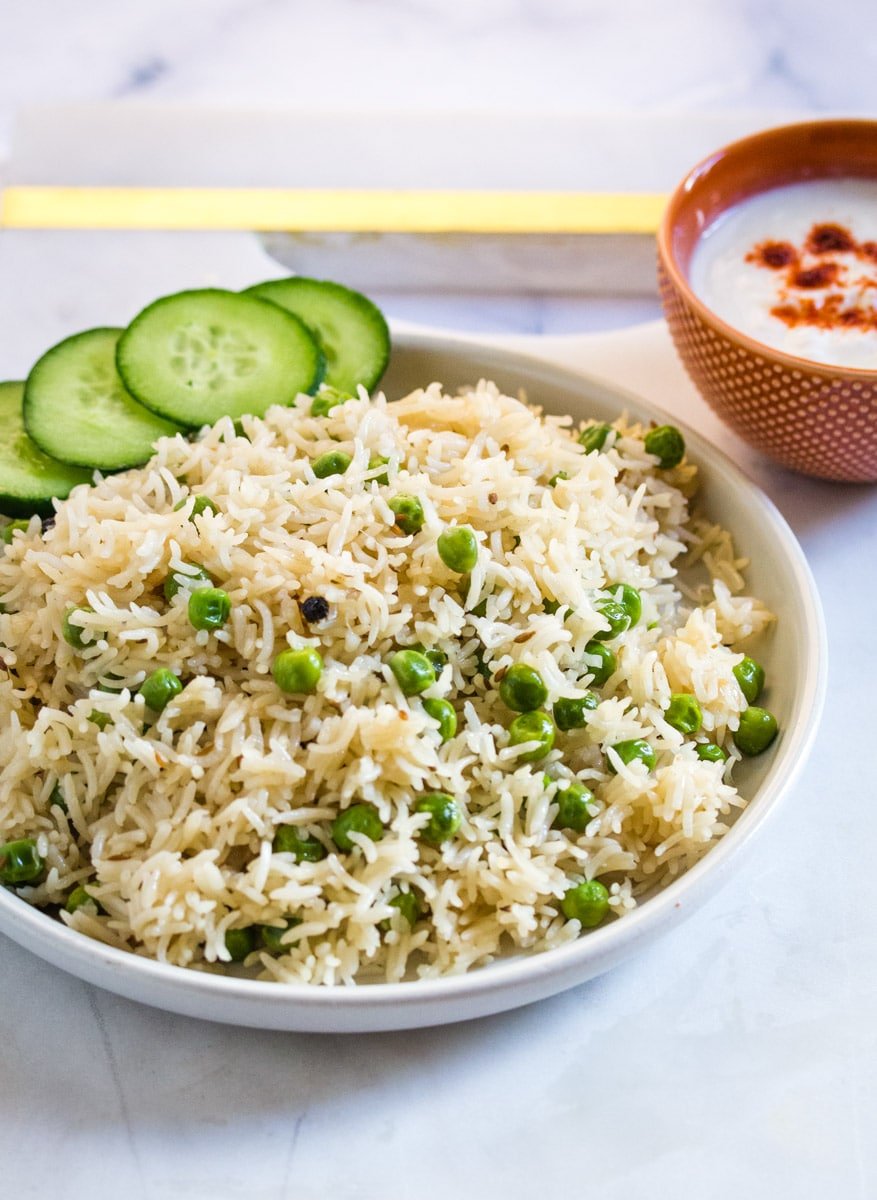 Jump to:
Matar Pulao, also known as peas pulao, is a flavorful Indian dish consisting of basmati rice with green peas, spices, and herbs that give it such an incredible taste.
It's the perfect dish to serve on the side with some of your favorite entrees, whether you're preparing meat, beef, steak, or even chicken. It will go great with this mutton karahi or achari chicken.
When you'd like to prepare a tasty, simple dish that is good for you, this is an excellent recipe to try.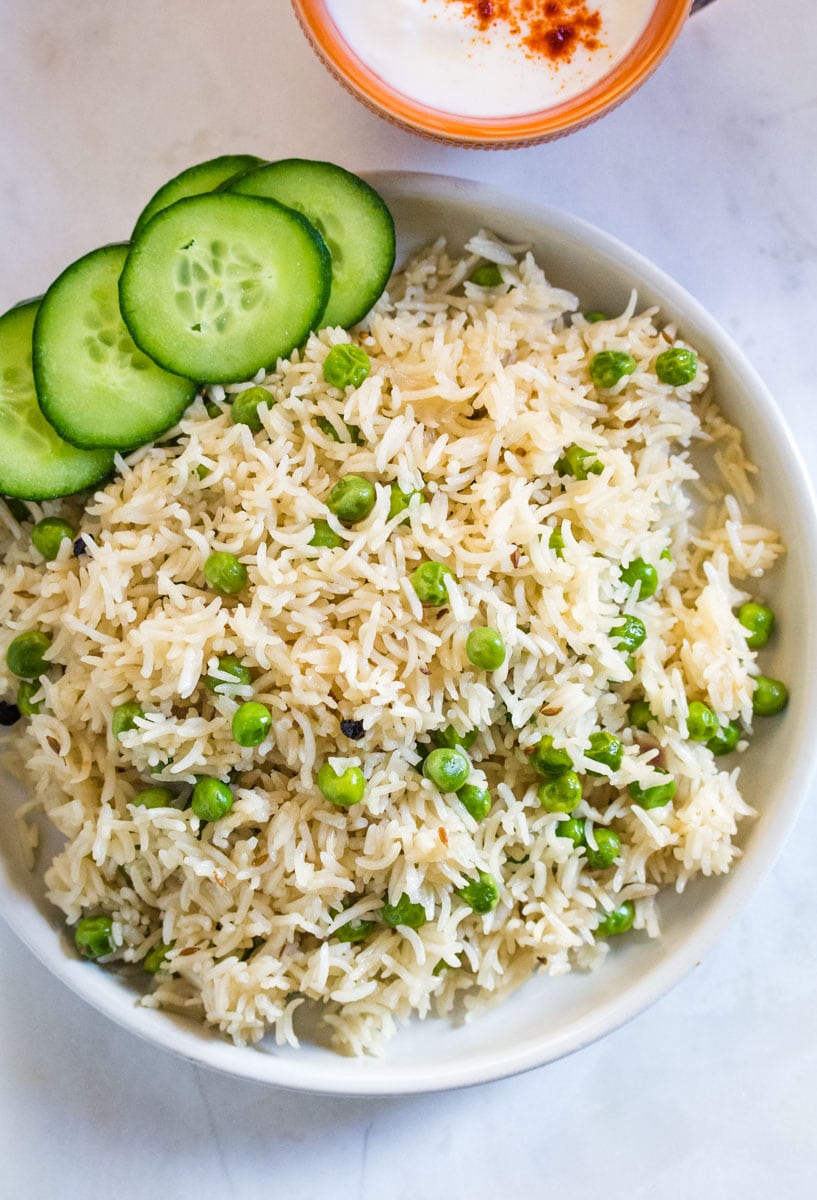 Peas Pulao Recipe
If you've ever visited an Indian restaurant, you may have had the opportunity to enjoy the incredible taste of Matar Pulao.
If so, you know how good this rice tastes and how great it is to serve as a side dish with other foods.
But, if you thought you had to go to an Indian restaurant to enjoy it, think again! You can use this recipe to prepare it at home, enjoying the fresh, wholesome taste of this rice with peas, onion, and other ingredients.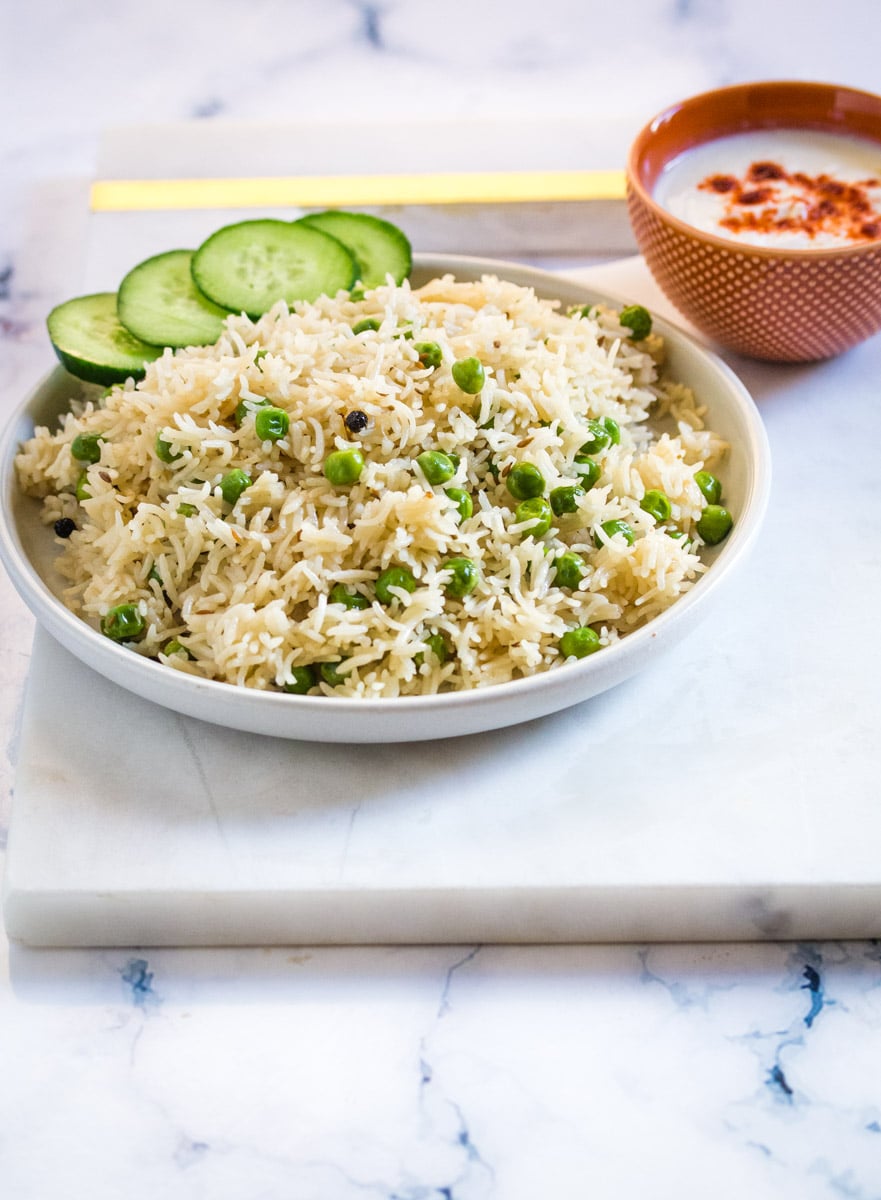 Why this Recipe Works
Quick & Easy: This is a super easy and quick one pot recipe that's ready in just 20 minutes. It can easily become a backpocket recipe, and since it's so versatile you can pair it with many easy recipes such as cucumber raita or aloo tikki, or a meat appetizer such as these mutton chops or chapli kabab.
Passes the Clingy Toddler Test: Personally for me, if I can make a delicious healthy meal, while having my toddler cling to my legs for dear life, it passes the test with flying colors. This matar pulao is such a recipe!
No complicated ingredients: Most pulao recipes call for quite a bit of whole spices. My recipe only requires bay leaves, cumin, and whole black peppercorn. But it gets even better. You can skip all the whole spices and still end up with a delicious, nourishing meal.
Ingredients You'll Need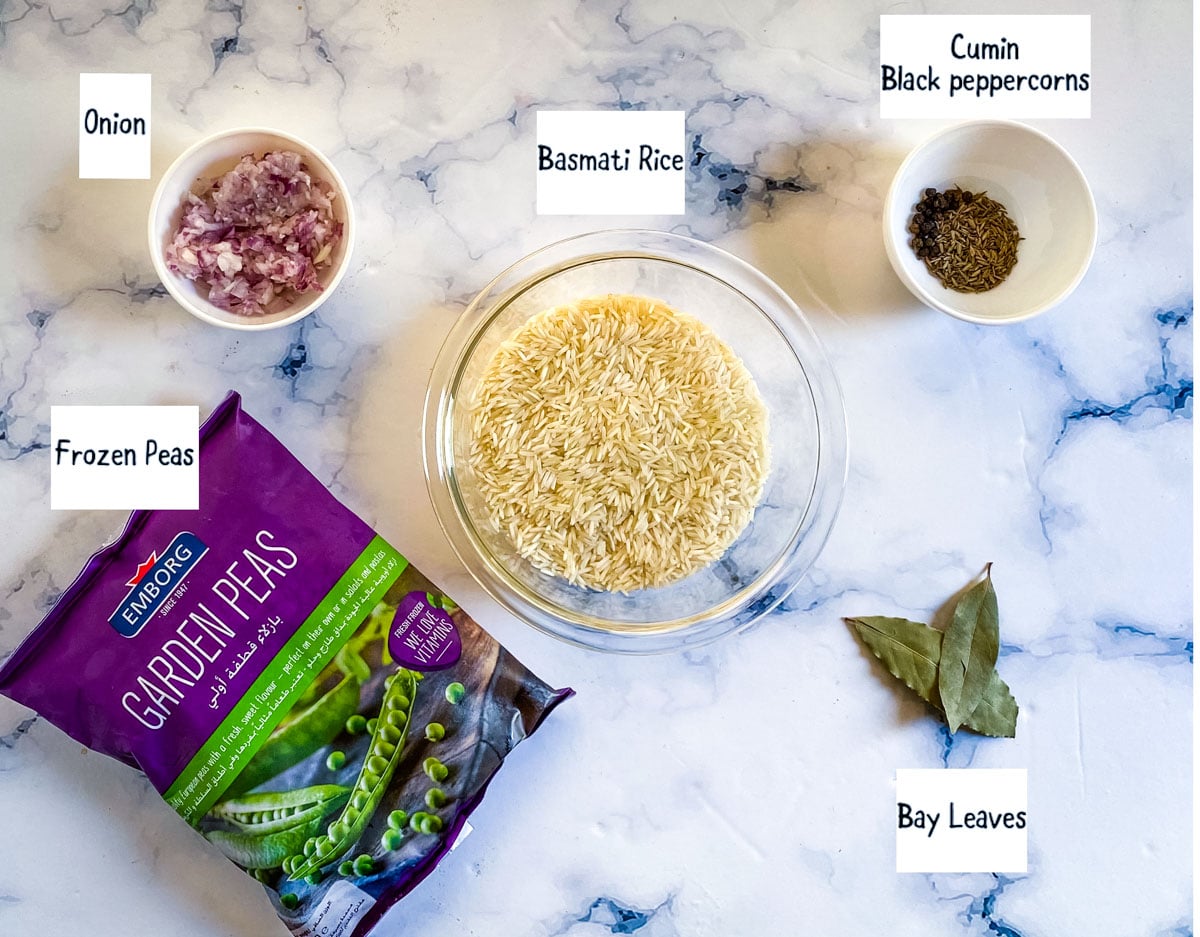 Before you get started, make sure you have the following ingredients to use:
Basmati Rice - Be sure to rinse the rice and then let it soak for at least 30 minutes before you use it.
Water - You'll use the water to help with cooking the rice to perfection. This water to rice ratio is perfect for making fluffy rice that's not mushy at all.
Peas - You can use frozen peas for this rice dish. Love peas? Try this Matar Paneer recipe as well.
Black Peppercorns - Adding peppercorns to the dish is a great way to enhance the taste of the rice.
Onion - Be sure to chop your onion into fine pieces before you get started.
You'll also need oil, cumin, bay leaves, and some salt. The bay leaves, cumin, and salt enhance the taste of the rice even more.
How to Make Peas Pulao
Saute the Onion: Heat oil in a large pot, and saute the chopped onion medium high heat.
Add the whole spices: After 3-4 minutes the onion will be turn golden brown, add these whole spices and saute for 1 minute.
Cook the peas: Add the frozen or fresh peas, and cook for 2-3 minutes.
Now add the water, and bring it to a boil.
Cook the rice: Add the rice and cook on medium-high heat for a few minutes or until most of the water has evaporated.
Steam: Cover and steam on the lowest heat setting for 5 more minutes.
Fluff: Remove the lid, gently mix the rice, and your matar pulao is ready to be served.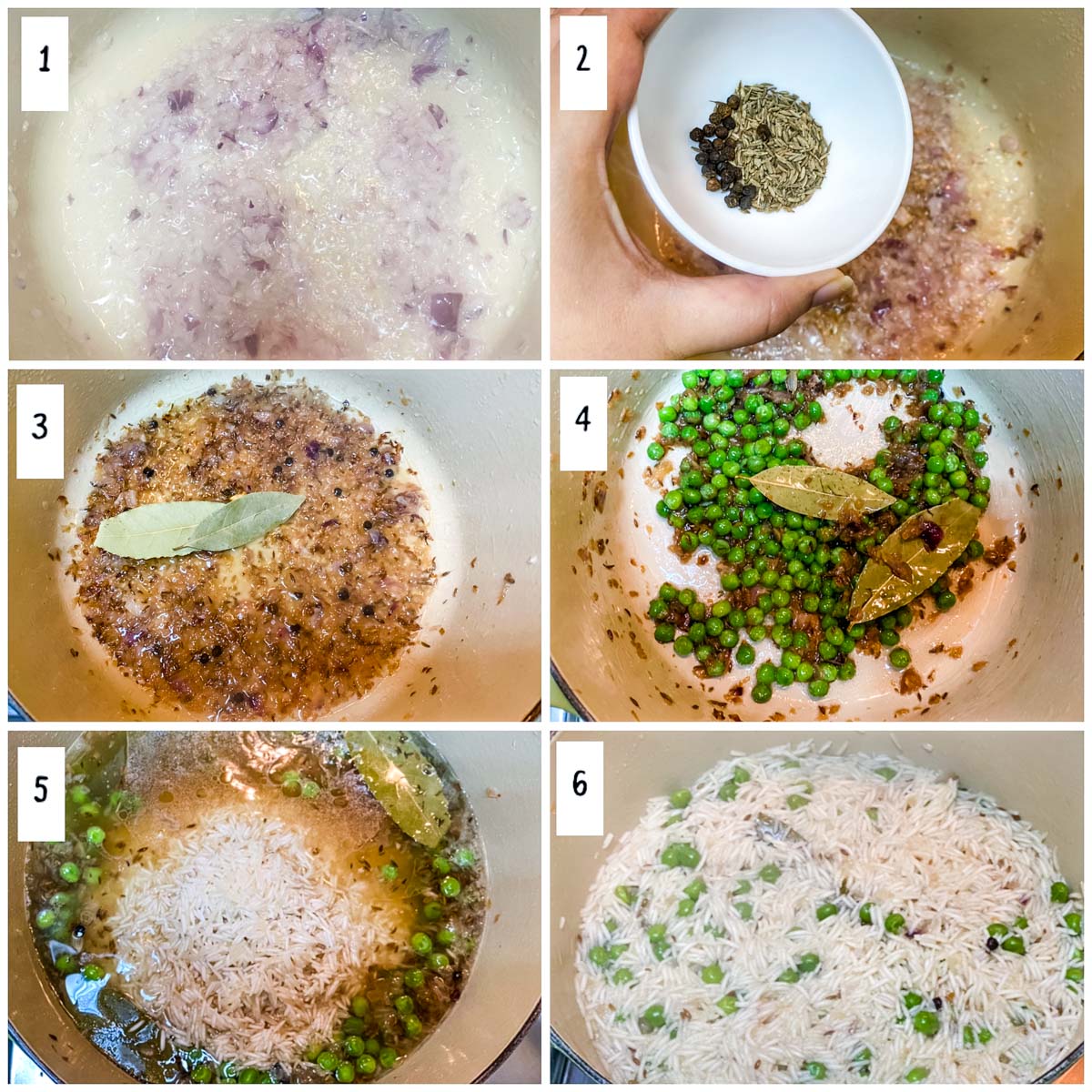 Tip: To get that beautiful color to the rice, you need to caramelize the onion first. Then add a splash of water, and let it cook for a minute or so. This helps to soften the onion, and also helps to release that beautiful color for the rice.
Recipe Notes
It's not a good idea to try this recipe with brown rice or Jasmine rice. The dish likely won't turn out the same.
Rinse your rice 2-3 times under cold, running water to get rid of excess starch.
Soak your rice in water for 20-30 minutes. Drain the soaking water, and then cook the rice.
Make sure you're using the correct ratio of rice to water. 2 ¾ cups of water would be great for this recipe. If you prefer softer rice, feel free to increase the water to 3 cups.
Once your rice is ready, be sure to fluff it up using a fork. It's the best way to keep it fluffy and ready to serve before adding it to your plate and enjoying it.
Troubleshooting Rice Issues
Undercooked rice: If most of the water has evaporated, but the rice is still hard, you can add a few splashes of water, cover with a lid, and steam on low heat for a few more minutes. NOTE: Do not add more than 1/4 cup of water at a time or else the rice may get mushy from the extra moisture.
Mushy Rice: This could be because you either added too much water, or soaked the rice for a long period of time which caused it to break down quickly.
How to Store
If you have any leftovers, be sure to place the rice in an airtight container and place it in the fridge. Your rice will stay fresh for up to five days when refrigerated.
When you'd like to have a dish that reminds you of the fresh, flavorful Indian cuisine you've had at restaurants in the past, this recipe is worth a try.
It's an easy dish to prepare, whether you're skilled in the kitchen or still learning how to cook. You'll love the way this seasoned rice tastes with the addition of slightly sweet peas for added flavor and texture.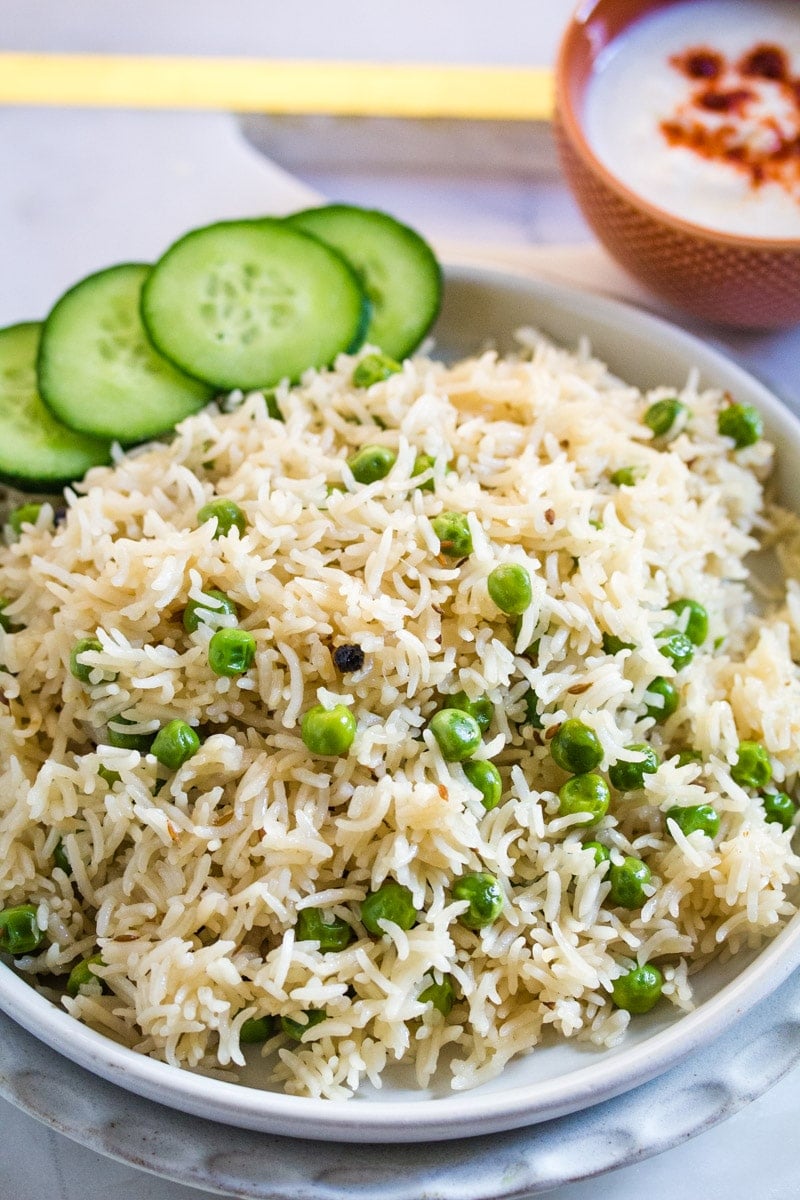 Frequently Asked Questions
Do I have to use basmati rice?
It's best to use basmati rice to keep this dish as traditional as possible. However, if you don't have it, you can use long-grain white rice as a replacement. It won't taste the same, but will still turn out well.

What type of onion should I use?
You can use a red, white, or yellow onion. Each of these types of onions will work well in this dish, adding flavor to it. You can use an onion chopper to make the process of cutting your onion even simpler and stress-free. If you don't have an onion chopper, simply use a sharp knife to begin cutting.

Do I have to use whole spices?
No, you can skip the whole spices and still enjoy this dish. I've used just cumin on more than one occasion, and the rice still turned out perfect with plenty of flavor to keep the family coming back for seconds.

Is it best to use fresh peas?
You have the option of using fresh or frozen peas. I typically use frozen peas. However, if you prefer using fresh vegetables in your recipes, feel free to use the fresh peas while preparing this dish.

Serving Suggestions
Matar Pulao can be eaten as a main or also as a side dish. Here's a list of my recipes that pair really well with Matar Pulao:
So I hope you try this super easy, wholesome recipe, and then we can talk about how awesome it is!
Matar Pulao (Peas Pulao)
Matar Pulao or Peas Pulao is a delicious rice recipe that pairs well with many Indian and Pakistani recipes. It takes only 25 minutes to make!
Print
Pin
Rate
Ingredients
3-4

tablespoons

oil

1

medium onion

finely chopped

1

teaspoon

cumin

zeera

6-8

black peppercorns

2

bay leaves

1

teaspoon

salt

1/2

cups

peas

I used frozen

2 3/4

cups

water

1.5

cups

basmati rice

rinse and soaked for 30 minutes
Instructions
In a large pot, on medium high heat, add the oil.

Add the chopped onion and saute for 3-4 minutes or until translucent and golden brown. Add a little splash of water (1-2 tablespoons) and cook for 1 minute.

Now add the whole spices and saute for 2-3 minutes.

Add the peas and cook for 2-3 minutes.

Now add the water, and bring to a boil.

Add the rice and cook on medium heat for 5-7 minutes or until the water has evaporated. Cover and cook for on low for another 5 minutes.

Remove the lid, fluff the rice gently with a fork or spatula. Matar Pulao is ready to be served.
Notes
Ingredient Notes 
Onion: Red, white, or yellow onions are all suitable for this recipe. You can either finely chop the onion by hand, or like me use a chopper to make the process faster and easier.
Whole spices: These are optional, and you can skip any if you don't have them on hand. I've even made this pulao with only cumin, and it still turns out delicious.
Basmati Rice: This recipe works best with long grain basmati rice. I do not recommend shorter grain rice such as Jasmine rice or brown rice.
Peas: I use frozen peas for convenience, but you can of course use fresh peas as well.
Quantity of Water: 2 3/4 cup of water is perfect for this recipe if you want each grain of rice separate and intact. However, you can increase it up to 3 cups for softer rice.
Nutrition
Calories:
374
kcal
|
Carbohydrates:
61
g
|
Protein:
6
g
|
Fat:
11
g
|
Saturated Fat:
1
g
|
Polyunsaturated Fat:
3
g
|
Monounsaturated Fat:
7
g
|
Trans Fat:
1
g
|
Sodium:
596
mg
|
Potassium:
175
mg
|
Fiber:
3
g
|
Sugar:
2
g
|
Vitamin A:
149
IU
|
Vitamin C:
9
mg
|
Calcium:
41
mg
|
Iron:
1
mg