Prepare a sweet, flavorful treat made with natural ingredients that are good for you with this Date Roll recipe. It's not hard to make something that will satisfy your craving for something sweet and tasty. It's also perfect for the festive season!
Love desserts? Try this Carrot Halwa and Besan Ka Halwa.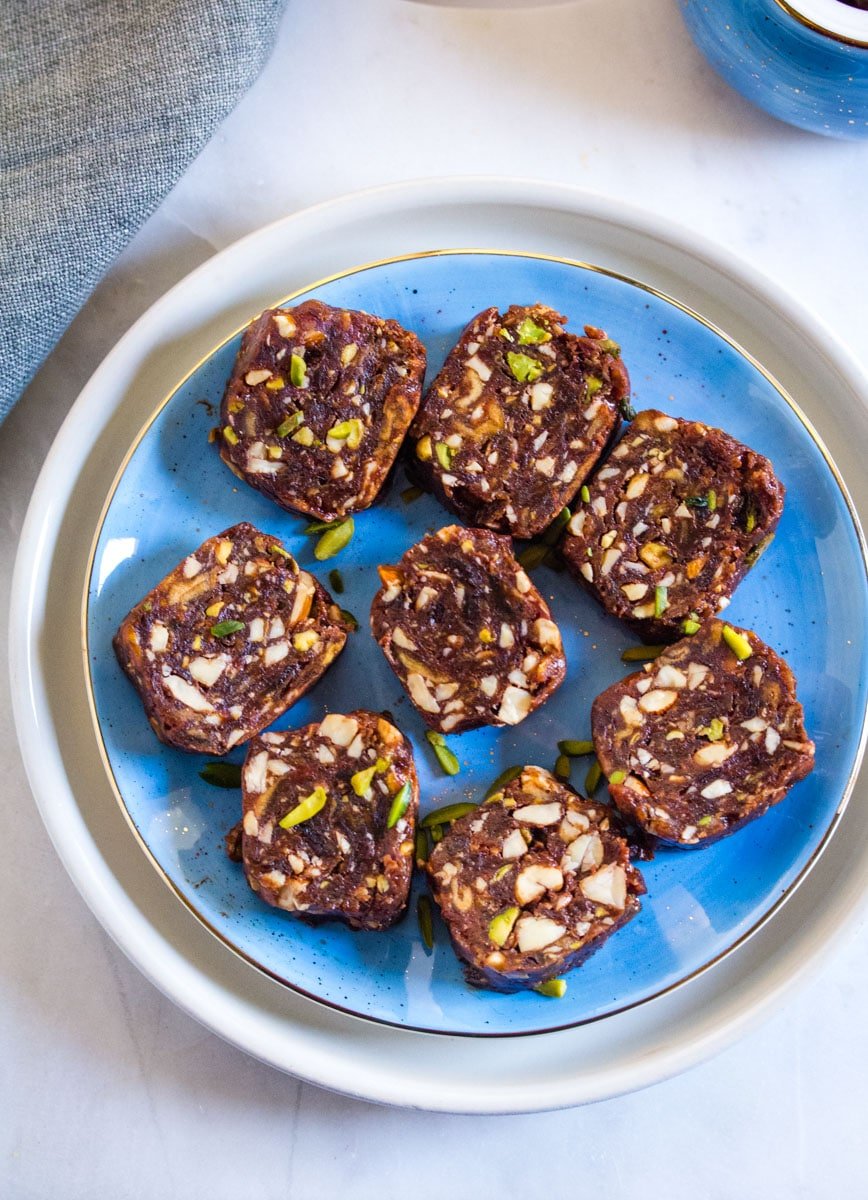 Jump to:
Recipe for Date Rolls
If you would like to make something healthy that tastes like a special sweet treat, try this easy, stress-free Date roll recipe.
It's prepared with some of the best ingredients and is an excellent source of fiber, making it perfect for anyone in the household, such as your spouse and children.
Upon learning how to make this classic Indian-style treat, it's quickly going to become a staple in your household, giving you something to look forward to enjoying.
Why this Recipe Works
Easy Yet Impressive: This date roll is perfect for festive celebrations or for casual snacking during the day. It's super easy to make, but it looks so impressive and pretty! Speaking of impressive desserts also try this Broken Glass Jello which is so easy to make but absolutely gorgeous!
So versatile: You can easily swap out the nuts according to your preference, skip the chocolate, or add other ingredients such as coconut flakes and raisins.
Easy to Store: Once you make this date roll, you can easily store it in the fridge for up to 1 month or even freeze it.
What Is a Date and Nut Roll?
A Date Roll with nuts is a long roll with a soft, slightly sticky texture. It consists of nuts with dates and a few other ingredients that give it an incredible taste and texture.
While it's slightly chewy, it's not hard on the teeth and will surely come in handy when you're in the mood for something sweet but don't want to eat unhealthy foods.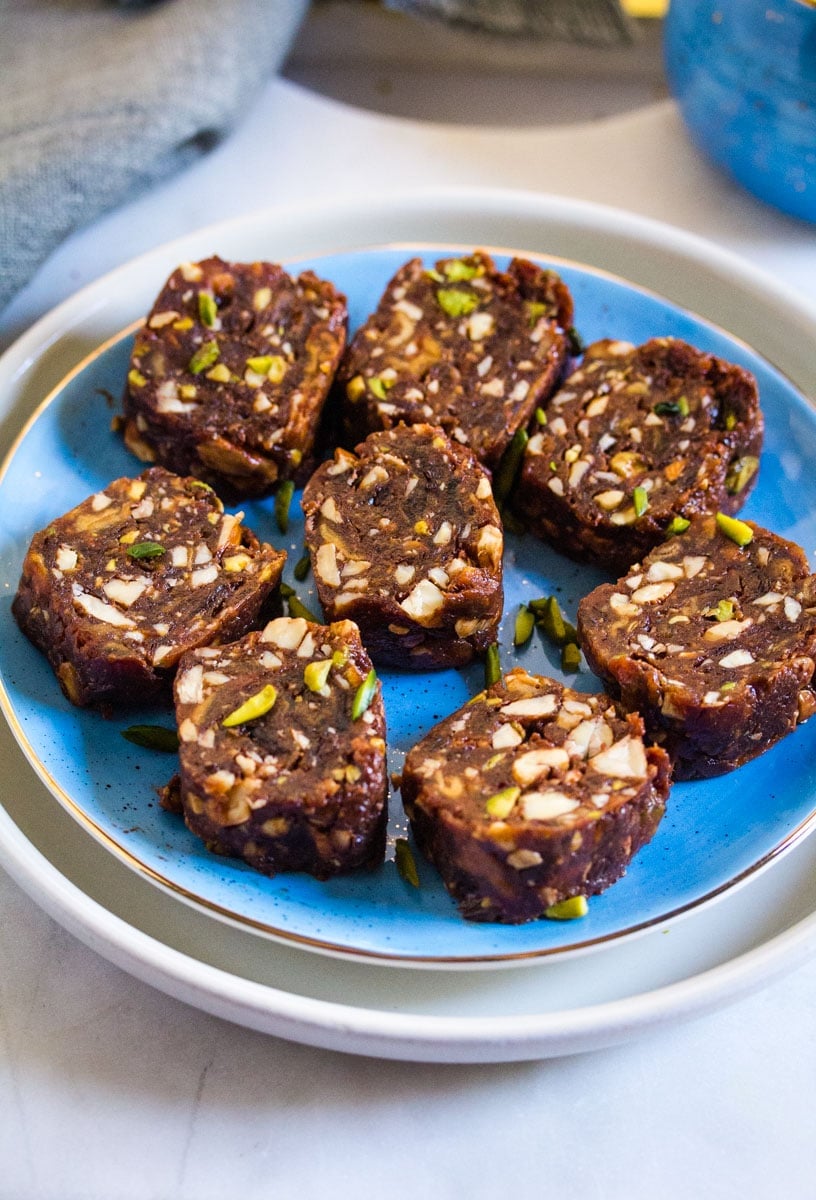 Ingredients You'll Need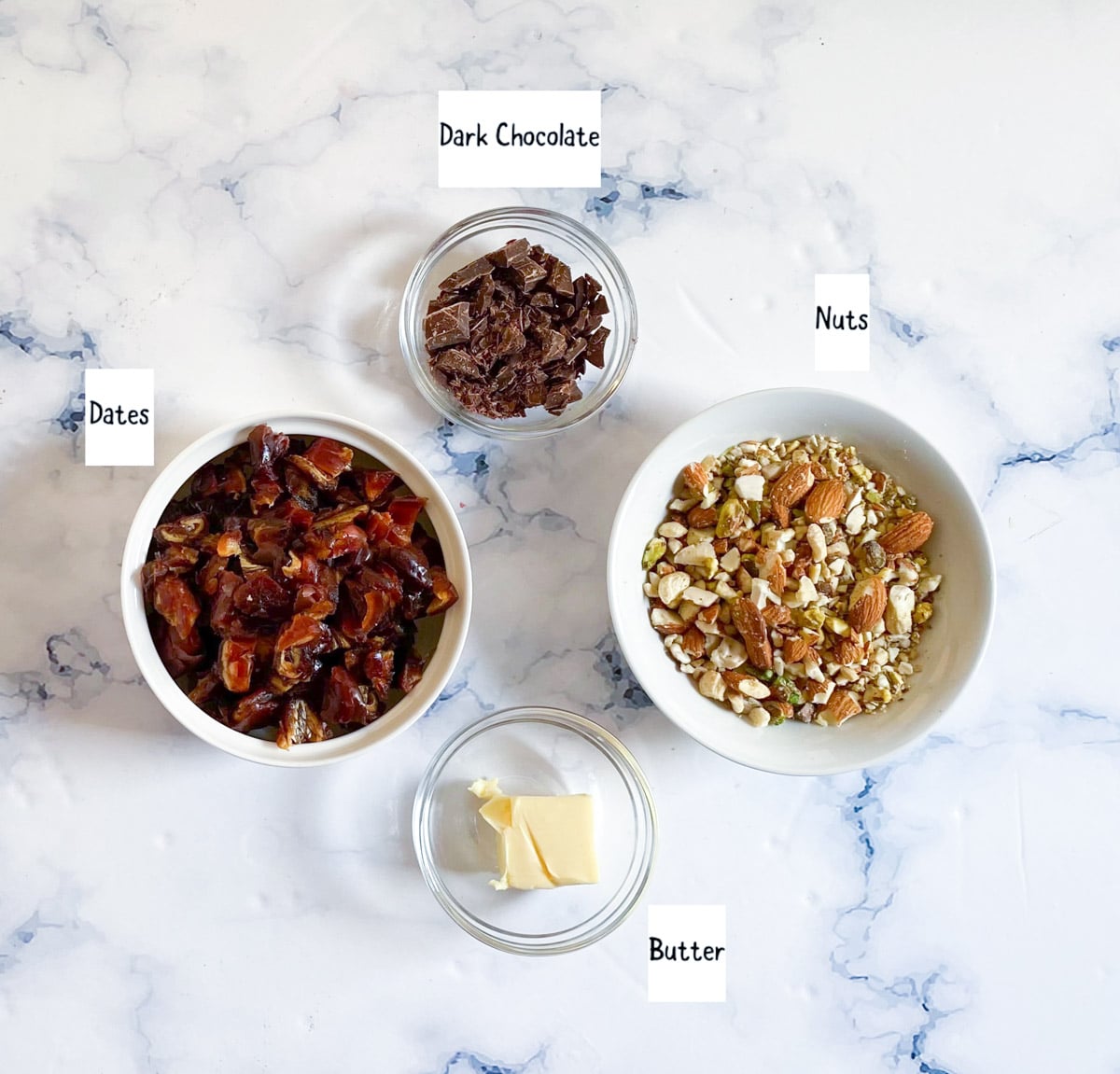 If you'd like to prepare this recipe, you'll need the following ingredients to get started:
Chopped Nuts - You can use a variety of chopped nuts for added flavor and texture.
Dates - Be sure to grab pitted dates. You'll need to chop them into small pieces.
Butter - Use around two tablespoons of butter for this recipe.
Chocolate - Roughly chop your chocolate before you use it to prepare this tasty roll with nuts and dates.
With such simple ingredients, you can quickly prepare something that tastes like a treat yet is so good for you.
How to Make Date Roll

Roast Nuts: In a fry pan or skillet, dry roast the nuts on medium-low heat for 2-3 minutes or until lightly golden brown. We don't want to darken the nuts too much. Remove from heat, and transfer to a mixing bowl.
Cook the Dates: Melt butter in the same skillet, and add the chopped dates. Cook for 3-4 minutes until the dates have softened and have become cohesive.
Combine: Add the roasted nuts to the pan, and mix well. This will take a little bit of effort but will come together. The mixture should be sticky and easily form into a ball and keep its shape.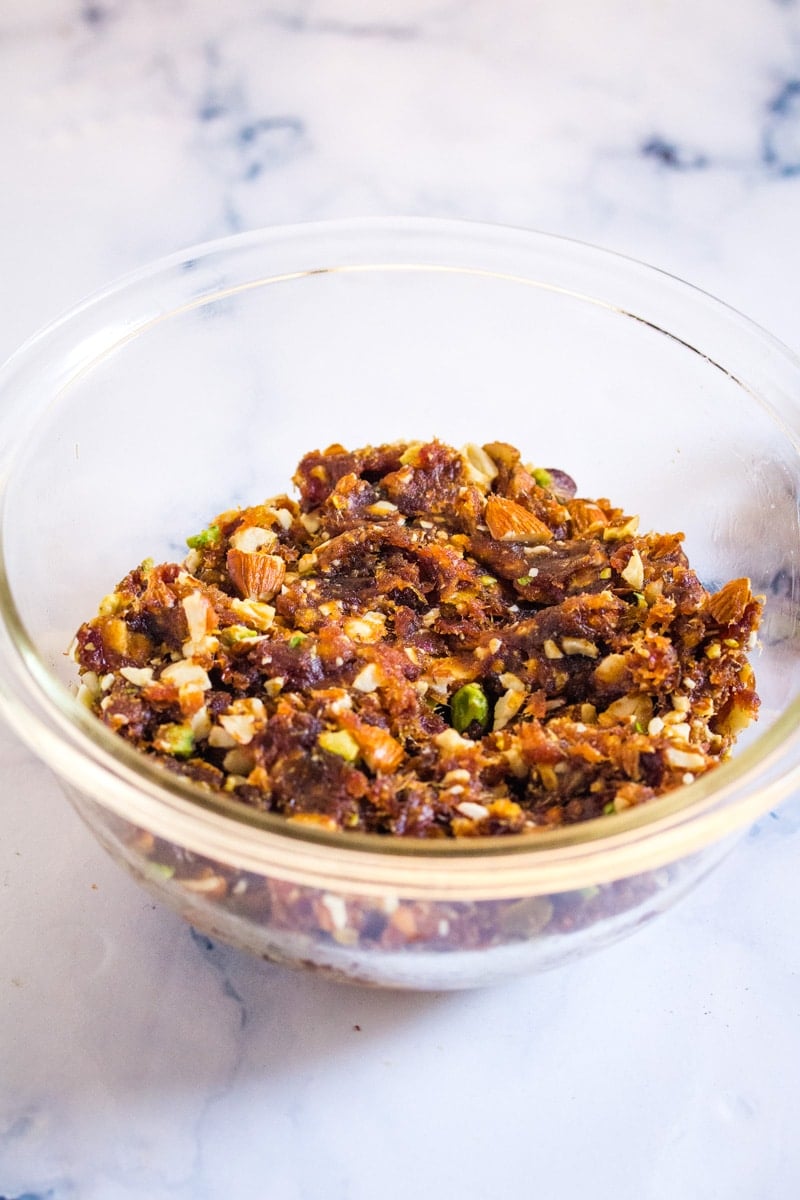 Cool: Remove from the pan to a mixing bowl, and let this dates mixture come to room temperature.
Chocolate: Add the chopped chocolate, and mix well.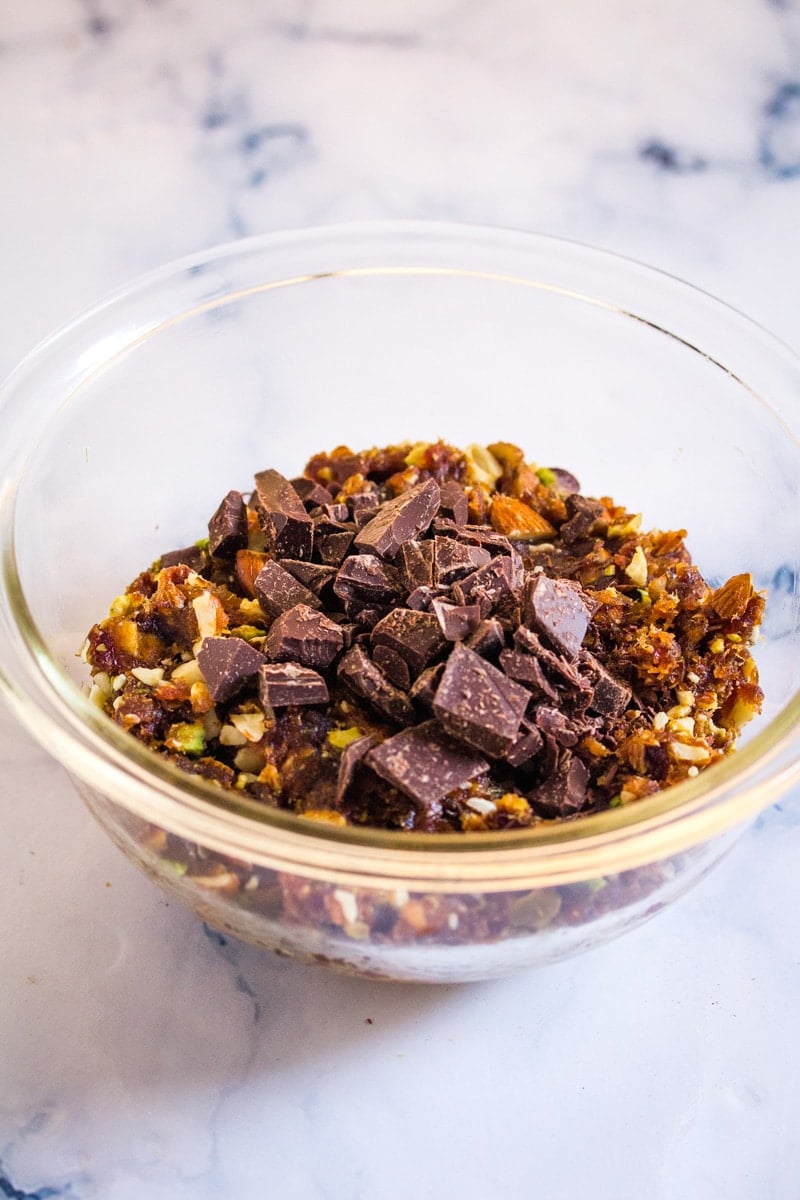 Shape: Place a large sheet of cling film onto a flat surface. Take the date and nuts mixture into your hands, and form it into a rough ball. Place it on the center of the cling film, and flatten it.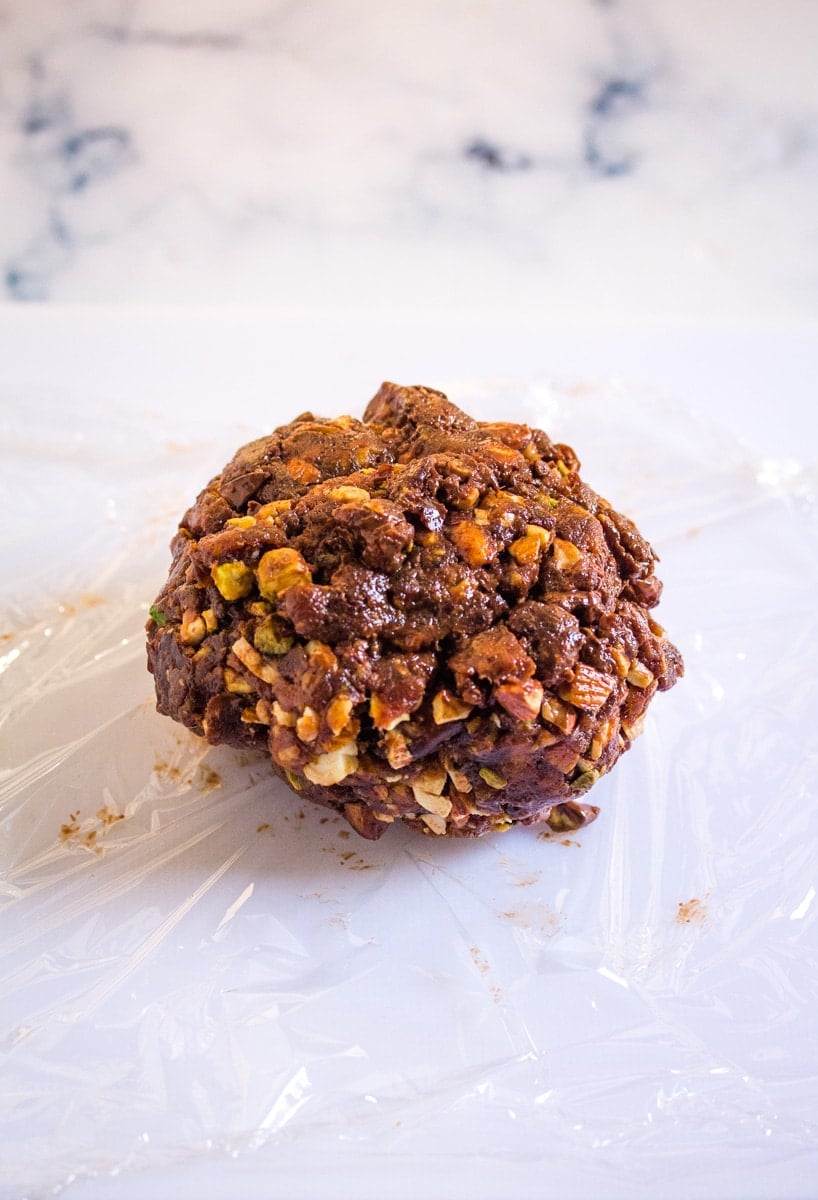 Roll It: Cover with the cling film, and use your hands to shape it into a log shape. Try to make it as even as possible. See photos below for reference.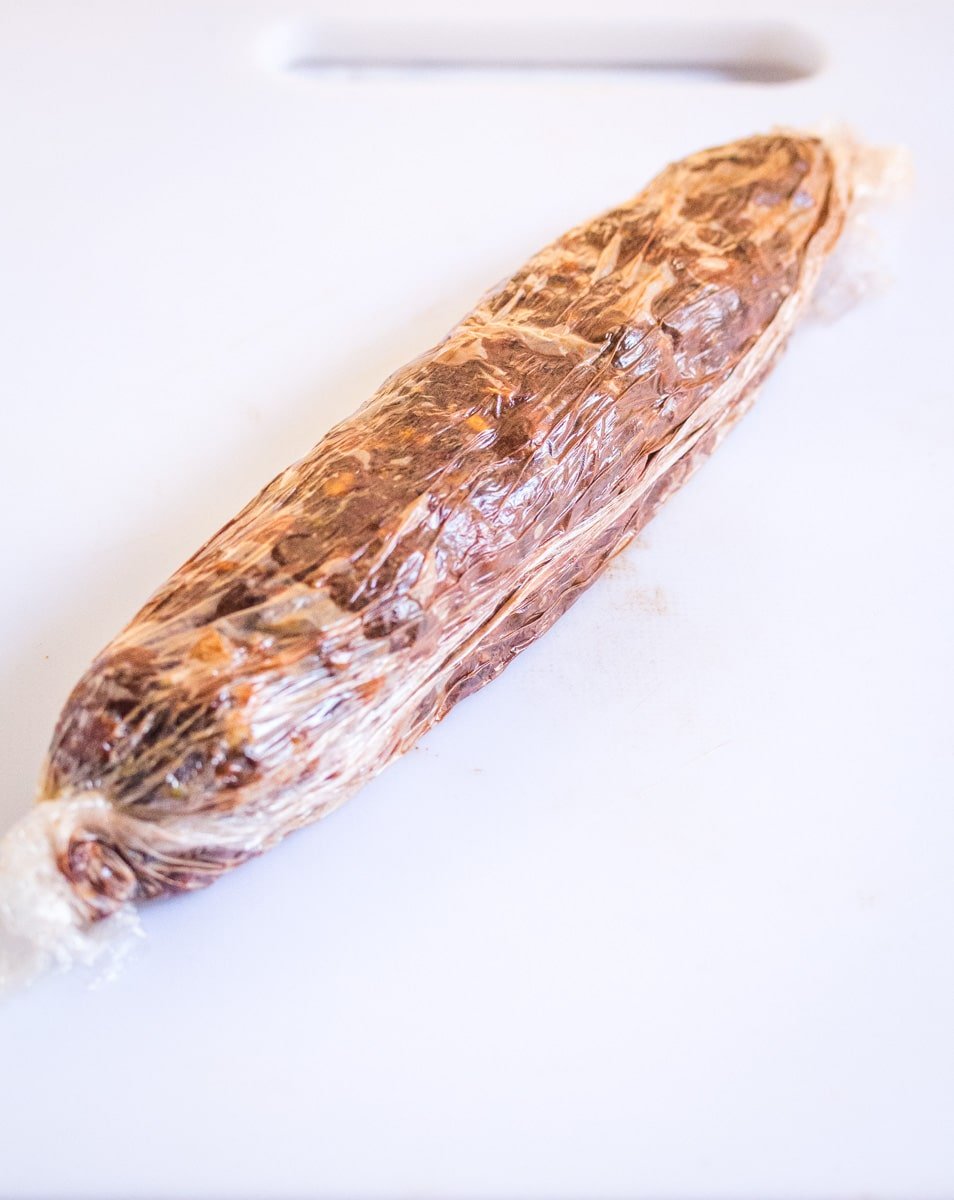 Refrigerate: Place this date roll in the fridge for 1-2 hours.
Cut: Remove the cling film, and cut into 1-2 inch slices. Now it's ready to be enjoyed!
Recipe Notes
If you don't feel like chopping the nuts by hand, you can pulse them in a food processor. I do think that using the food processor is more convenient and helps you achieve smaller bits and pieces of the nuts.
While you can use any chocolate you prefer in this recipe, I like to use dark chocolate with 70% cocoa because it has such a great taste. The flavor pairs perfectly with the nuts and dates, making this such an excellent treat to enjoy.
Some other ingredients taste great when added to this recipe, such as desiccated coconut, raisins, or even sesame seeds.
You can also shape the date mixture into other shapes such as round balls, or place it in a tray and cut it into squares.
How to Store the Date Roll
Once you've prepared the roll with dates, nuts, and chocolate, place it in a container and store it in the fridge for up to two weeks!
If you need to store it for any longer than that, it's best to put it in the freezer, where you can keep it fresh for up to three months before biting into it!
Prepare a sweet, simple treat with tasty ingredients that are an excellent source of fiber for you. This recipe isn't difficult, leaving you with something tasty to enjoy.
Recipe FAQs
What nuts are best to use in this recipe?
While you can use any variety of nuts, I like to use a blend of almonds, pistachios, and cashews. I feel like the combination of these ingredients works well because each of the nuts has a unique taste.
What type of butter would I need to use?
You can use any brand of butter that you prefer or already have in your fridge. It doesn't matter whether it's salted or unsalted.
Which dates should I use to prepare this roll with nuts?
There are several types of dates that you can use. First, make sure you're selecting pitted ones!

I prefer Khudri dates because they're soft and have such a sweet taste to them.

Medjool dates are another great choice. If you have dry, hard dates, be sure to soak them in some water to help soften them up before using them in the recipe.
What can I do if I'm struggling to cut the dates?
If you've ever cut dates before, you know that it's often a bit of a challenge because they're so sticky.

One simple hack that I like to use is that I place the knife under hot water for a few seconds and then slice it into the dates as quickly as possible to avoid all the stickiness. It works like a charm!
More Delicious Desserts: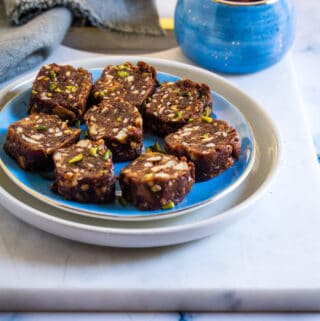 Date Roll Recipe
This Date Roll recipe is perfect as a treat for Ramadan, or an energy-boosting treat for when you just need that extra kick. Made with dates, roasted nuts, and dark chocolate, it's full of nutrition and flavor!
Print
Pin
Rate
Equipment
Skillet

Mixing bowl

cling film wrap
Ingredients
1/2

cup

chopped nuts

I used almonds, pistachios and cashews

2

tablespoons

butter

2

cups

dates

pitted and roughly chopped

1/4

cup

chocolate

roughly chopped
Instructions
Roast the chopped nuts for 1 minute on low heat in a skillet.

Transfer to a bowl, and let cool.

Add butter and chopped dates to the skillet and cook on low heat, while stirring, for 3-4 minutes until the dates have softened.

Add the roasted nuts, and mix well until fully combined.

Transfer to a bowl, and let this mixture come to room temperature.

Add in the chopped chocolate, and mix well.

Use your hands to form the mixture into a ball, and then place it on a sheet of plastic wrap. Flatten the ball a bit, and then cover with the plastic wrap, and roll it into a log shape. Try to make it as even as possible, but it does not have to be perfect.

Place in the fridge and let it set for 1-2 hours.

To cut into slices, remove the plastic wrap and then use a sharp knife to cut into 1-inch slices.
Notes
Dates: I used khudri dates which are soft and very sweet. You can also use other varieties such as Mejdool dates. If your dates are hard and dry, you can soak them in water to soften them up before chopping.
Chopping the dates: Chopping dates is hard, because they are so sticky! One trick I learned is to run the knife under hot water for a few seconds, and then chopping the dates was much easier. You will have to run it under hot water a couple of times while getting through the whole batch of dates.
Nuts: Use any nuts of your choice. You can either roughly chop them with a knife, or pulse them a couple of times in the food processor like I did.
Chocolate: I used dark chocolate with 70% cocoa. Let the date mixture come to room temperature before adding the chocolate, or else the chocolate will melt and get everywhere.
Other additions: You can also add sesame seeds, desiccated coconut, or raisins to this recipe.
Storage: This date roll can be stored in the fridge for up to 2 weeks or in the freezer for up to 3 months.
Nutrition
Calories:
182
kcal
|
Carbohydrates:
32
g
|
Protein:
2
g
|
Fat:
7
g
|
Saturated Fat:
2
g
|
Polyunsaturated Fat:
4
g
|
Monounsaturated Fat:
1
g
|
Cholesterol:
1
mg
|
Sodium:
6
mg
|
Potassium:
294
mg
|
Fiber:
4
g
|
Sugar:
26
g
|
Vitamin A:
11
IU
|
Vitamin C:
1
mg
|
Calcium:
27
mg
|
Iron:
1
mg