Egg halwa aka Anday ka Halwa is a delicious dessert that's made with eggs, milk, and bread. It's an easy recipe that comes together fast, and is an absolute favourite in our home.
Okay before I go further with this recipe, let me put out a disclaimer. This is not an authentic egg halwa recipe, lolz. I would say it's more like a bread pudding kind of thing happening in the form of halwa, but flavoured with cardamom. So you can say it's kind of a Pakistani bread pudding, but with the texture of halwa. Fusion cooking at it's best? I think so!
If you're ready to run away from my blog forever, please don't. I promise this is a good recipe. Once you make it, you can thank me with a million dollars. Haha.
Okay, so traditional egg halwa requires a bazillion eggs, but this recipe doesn't. Which is a good thing, I think. I don't know. I'm not an egg person.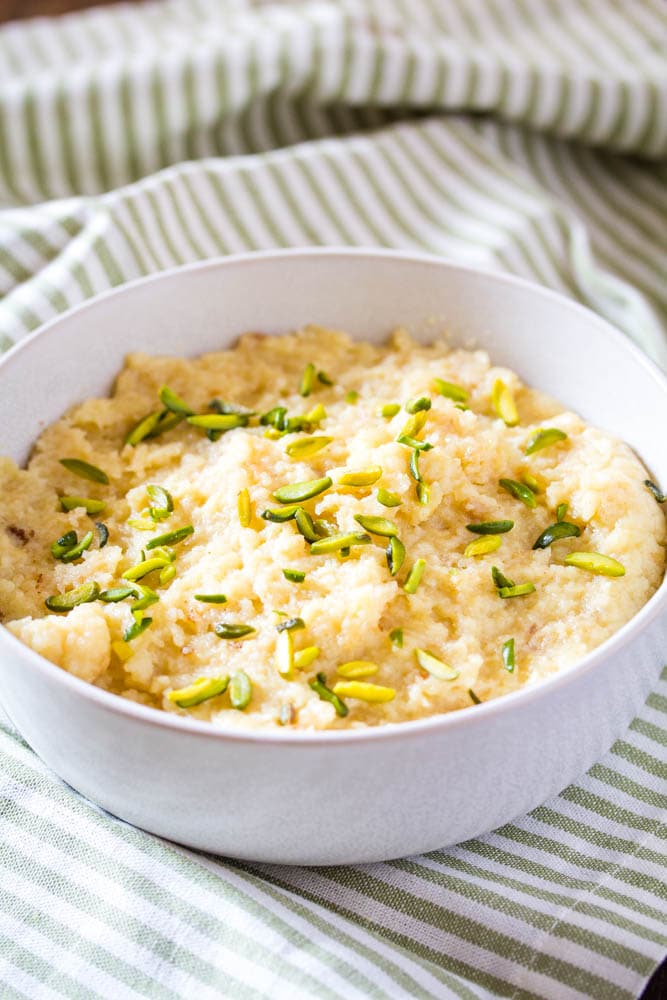 What You Need for this Egg Halwa 
Eggs (because this is an egg halwa)
Milk (I can't think of a clever sentence for this one, but you need it)
Bread (because this is not a real halwa – it's still a delicious one though)
Butter (lots of it, because butter makes everything delicious)
Green Cardamom (to add some desi flavour)
Vanilla essence (because I find eggs a little eggy, so vanilla makes the whole halwa a little less eggy)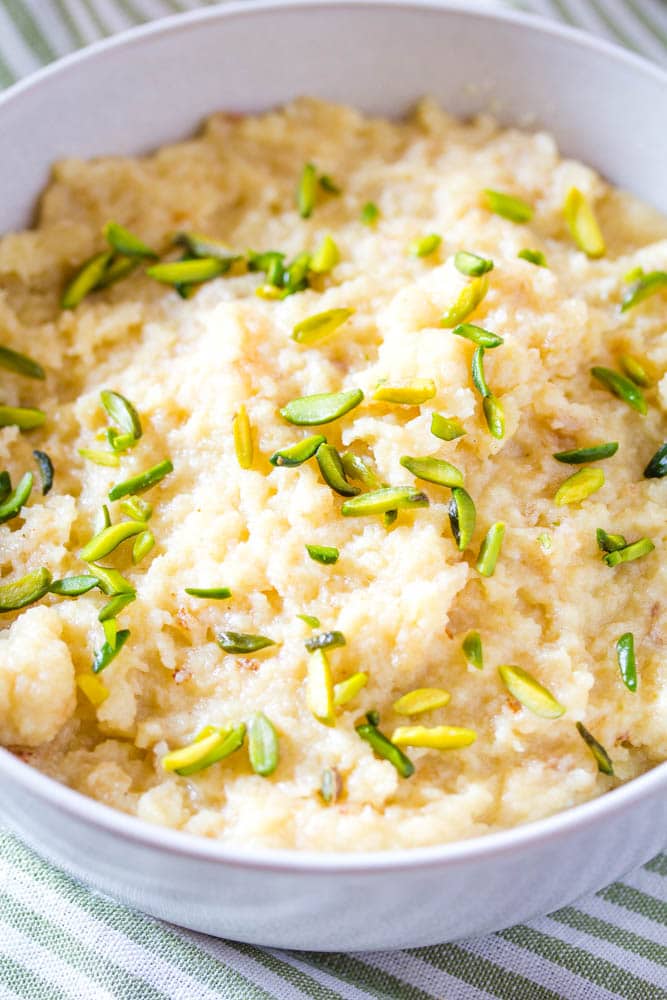 How to Make Egg Halwa
All you have to do is, mix all the ingredients together in a bowl, except for the butter and cardamom.
Put this egg milk bread sugar mix on the side.
Melt butter, add green cardamom, let it become perfumey.
Now, lower the heat, like really, really lower it.
Add the egg-milk-bread-sugar-mix, and keep stirring, so as to not to cook the eggs quickly and as a result get sweet scrambled eggs mixed with soggy bread. Lol, that doesn't sound good at all.
The point is, you have to cook this halwa low and slow for a good 5-7 minutes while stirring, until it starts to thicken and come together.
You can then increase the heat, and cook for another 10-15 minutes while stirring.
Once the halwa starts leaving the sides of the pan, it's ready.
Serve with slivered pistachios on top.
I do hope you enjoy this halwa, it really is one of our favourite desserts.
More Delicious Pakistani Desserts
Ridiculously Easy Kheer (Chawal ki Kheer)
Egg Halwa (Anday ka Halwa)
Egg halwa is a delicious dessert that's made with eggs, milk, and bread. It's an easy recipe that comes together fast, and is an absolute favourite in our home.
Ingredients
100

grams

butter

2-3

green cardamoms

choti elaichi

3

eggs

2

cups

milk

4

slices

of white bread

roughly torn into 1 inch pieces

1/2

cup

sugar

you may adjust the amount to your taste

1/2

teaspoon

of vanilla essence
Instructions
In a medium sized saucepan, add the butter and let it melt. Add the cardamom and let it sizzle for a few seconds.

Mix all of the other ingredients in a bowl, and pour this mixture into the saucepan.

Keep the heat very low, and keep stirring so that the eggs don't scramble.

After about 5-7 minutes of cooking on low heat, increase the heat and cook the egg halwa until it becomes thick and starts leaving the sides of the saucepan.

The egg halwa needs to be cooked until it's light golden and you can see the butter coming to the surface of the halwa.

This will take about 10-15 minutes of cooking on high heat, and stirring every few minutes or so.

Once the halwa is ready, transfer it to a serving dish and garnish with slivered pistachios.