Looking for a quick and delicious summer dish? This Shish Tawook recipe is a superb Lebanese recipe that offers a tasty alternative to the usual barbecue fare. You only need a few ingredients to make this tasty and healthy recipe such as yogurt and garlic.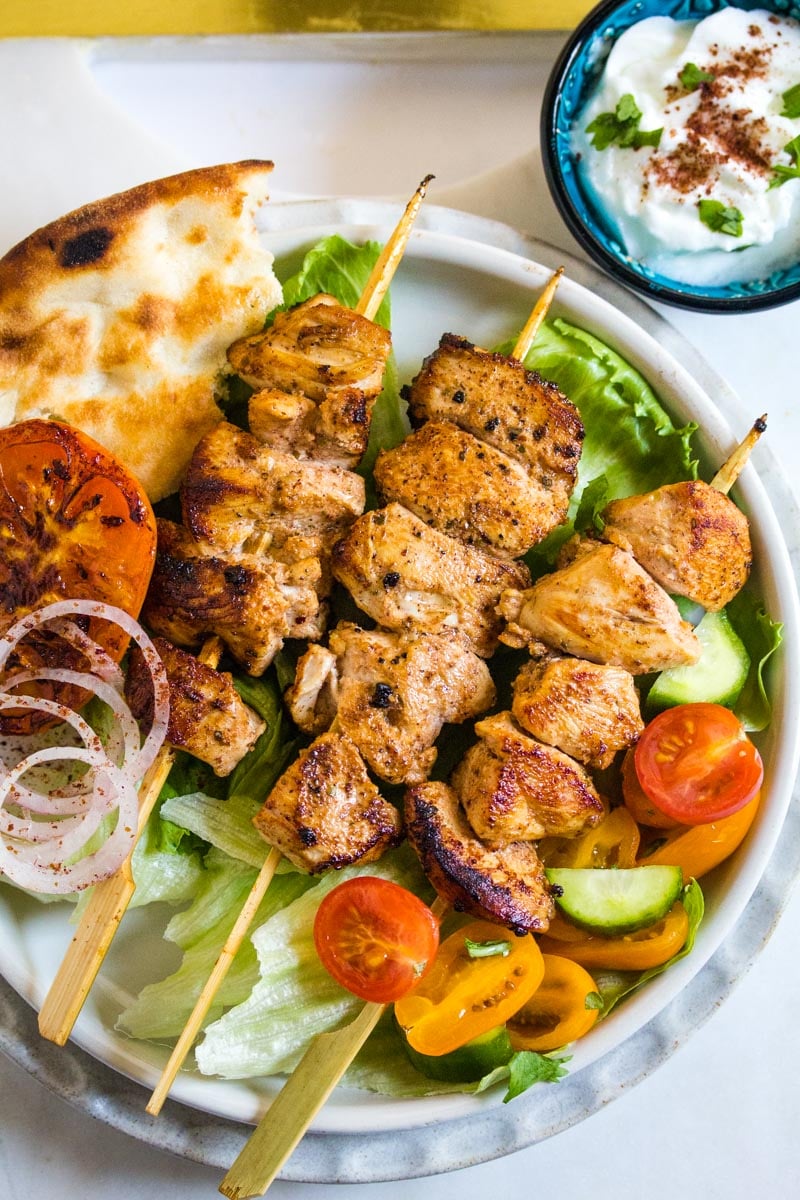 I'm in love with Middle Eastern recipes these days, so if you love Middle Eastern cuisine check out this recipe for Falafel and Moroccan Zaalouk.
If you would like to make something sweet from the Middle East then do try these recipes: Kunafa and Om Ali.
So after the delicious Lebanese Rice I posted, I'm here with another popular Middle Eastern fast food: Shish Tawook (aka Shish Taouk).
Shish Tawook is SO popular in the Middle East that it's even sold in the frozen aisle in grocery stores here.
But no need to go for the frozen option, when you can make delicious Shish Tawook recipe at home!
What Does

Chicken Shish Tawook Mean?

In Turkish the word Shish means skewer. And the word Tawook is derived from tavuk which means chicken.

So quite literally, Shish Tawook means Chicken Skewers. This is a Lebanese recipe made with garlic, fresh lemon juice, yogurt, and sumac.

It's a simple recipe yet so full of flavor. Perfect for those summer BBQs. While this recipe is usually made on outdoor grills, you can easily make it at home in the oven or on the stove top.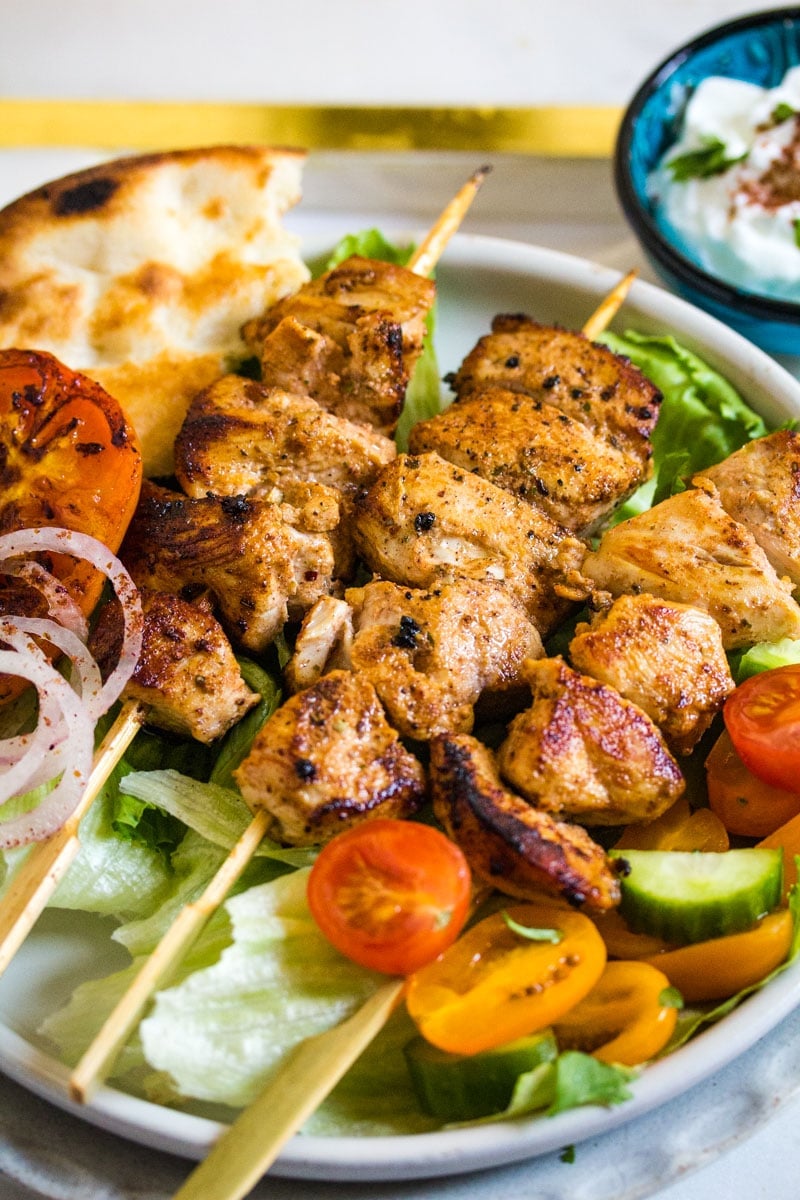 Shish Tawook Marinade
You only need a few ingredients to make the flavorful marinade: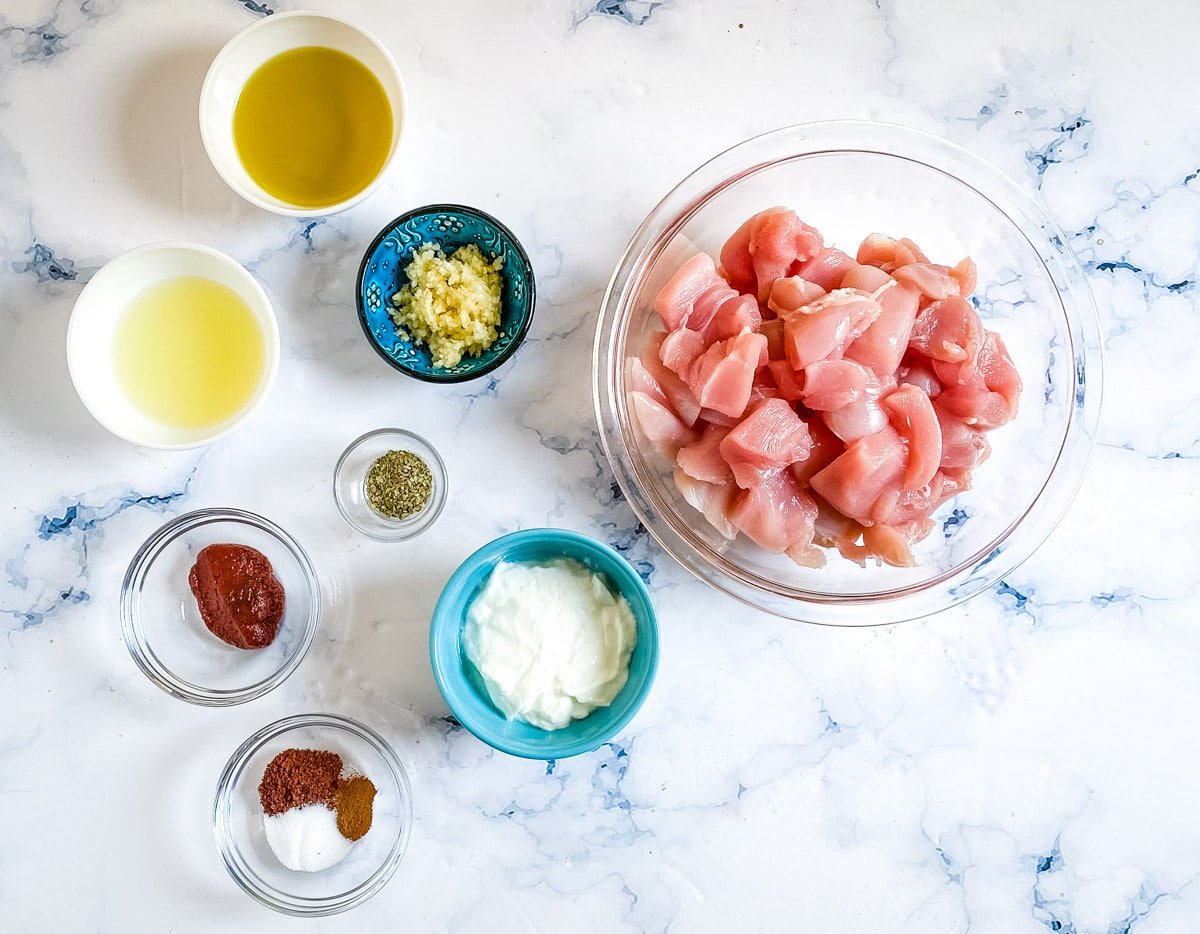 Chicken: I used chicken cubes, but you can also use skinless chicken thighs cut into bite sized pieces.
Plain Yogurt: I use whole plain yogurt for the marinade, but you can also use greek yogurt.
Spices: You will need sumac, cinnamon powder, dried oregano, and salt.
Garlic: Lots of garlic means lots of flavor! It also acts like a tenderizer so the chicken always turns out juicy.
Olive oil
Tomato paste: This adds a beautiful color to the chicken, and also a slight tangy flavor.
How To Make It
There are several ways to prepare Shish Taouk, but the most common is to thread the marinated chicken pieces onto wooden skewers and then either grill or bake in the oven.
However, I like to make mine in a cast-iron skillet and it always turns out with a golden brown exterior and a juicy interior.
Make the marinade: Mix together the marinade ingredients in a bowl until combined.
Add the chicken pieces, mix, cover and marinate for at least 30 minutes or up to 24 hours. The longer the better.
Skewers: Thread the chicken pieces onto wooden skewers and place on a plate.
Grill: Add oil to a cast-iron skillet, and bring to medium-high heat. Place the chicken skewers, and cook on each side for 3-4 minutes until golden brown.
Serve with hummus, salad, or Lebanese rice. You can also serve it with pita bread or naan bread.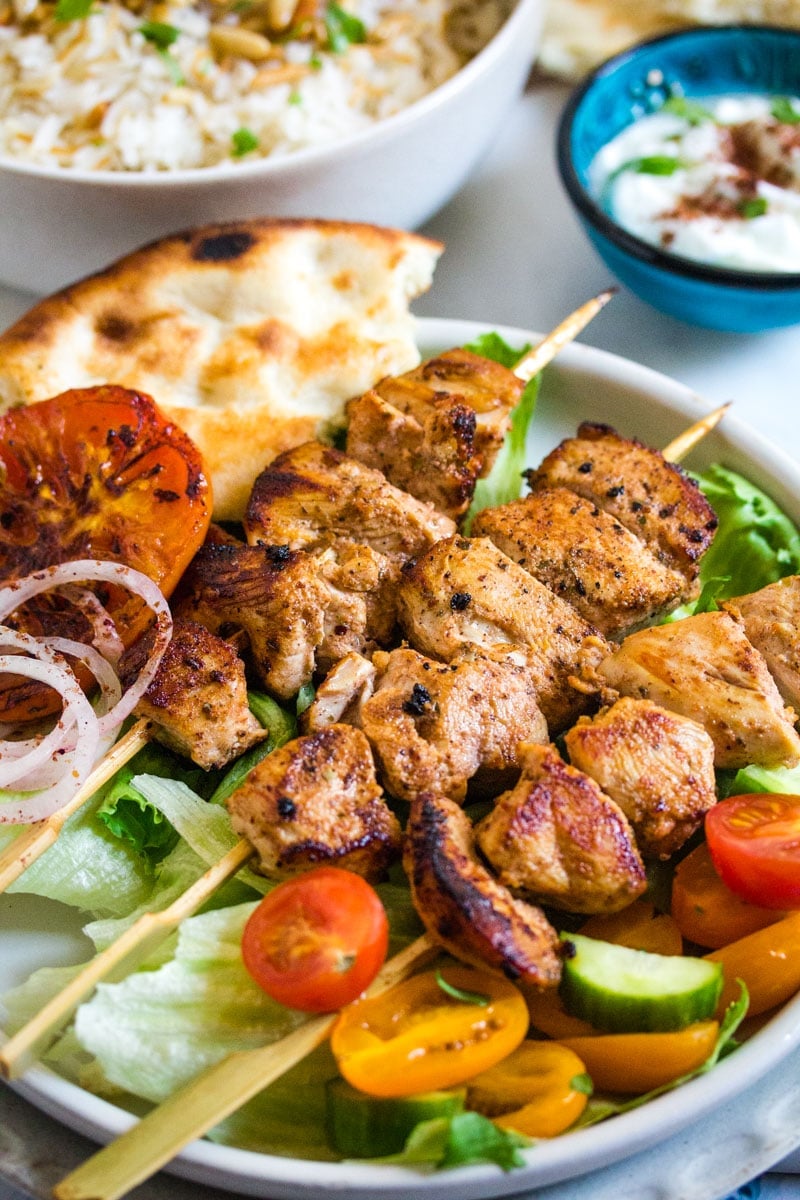 Tips for the best Middle Eastern chicken kabobs
Choose the right skewers. I used to use thin and round bamboo wooden skewers but would find that the chicken would move around too much and not cook evenly.
So now I use flat wooden skewers which are much better at holding on to the chicken cubes. If you have flat metal skewers, those are a great option too.
Soak your wooden skewers in water, before threading on the chicken. This helps to avoid burning the skewers when cooking the chicken.
Marinate the chicken for at least a few hours in the fridge. This helps in infusing the flavors and the chicken always turns out juicy and flavorful!
How to know when the chicken is cooked through? Chicken is cooked through when it reaches an internal temperature of 165 F. You can also cut through a piece, to see if it's fully cooked.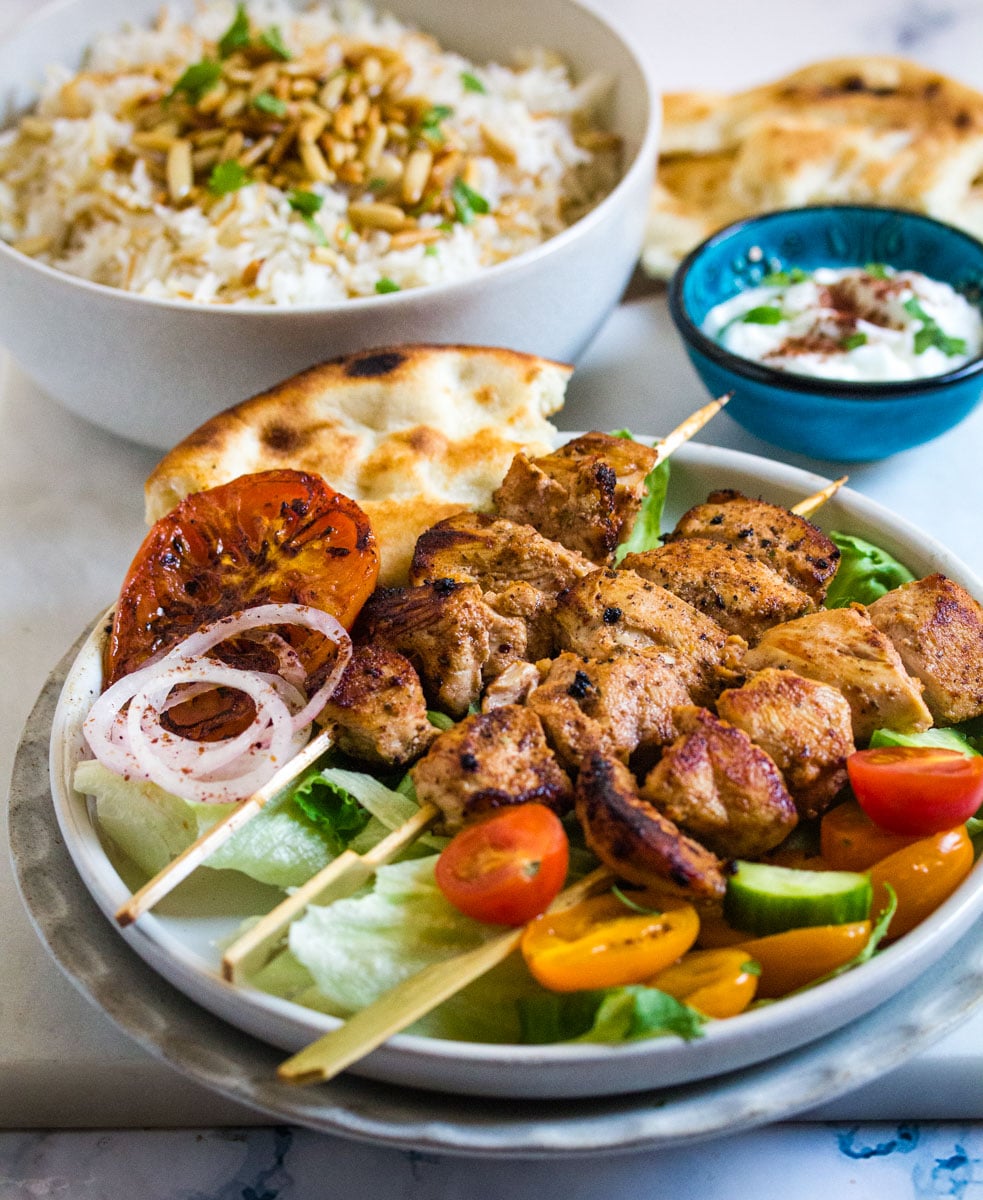 Recipe FAQs
How long should you marinate chicken shish taouk?
The lemon and yogurt act as tenderizers, so I recommend marinating the shish taouk for at least 30 minutes or up to 24 hours. The longer the chicken is marinated in yogurt, lemon and garlic and sumac, the more flavourful and juicy it will be.
What is the difference between Shish Tawook and Chicken Shawarma?
While the two recipes are similar, the flavor profile is different. Shish Tawook is based on a yogurt marinade of garlic, olive oil, tomato paste and yogurt. Shawarma on the other hand focuses on an olive oil marinade with warmer spices such as cumin and cardamom. The two recipes are cooked differently as well.
What is sumac spice?
Sumac spice is derived from red berries that are native to the Middle Eastern region. They're dried and ground into a coarse powder. Sumac is a beautiful deep maroon color, and has a tangy lemon flavor. Sumac is not spicy at all by the way.
I think Sumac should be available at most big grocery stores, but of course it must be easily available in Middle Eastern stores too. You can also buy it here.
How to store leftovers
You can store the cooked chicken in the fridge for 3-4 days. You can also freeze the marinated chicken for up to 1 month in an airtight container.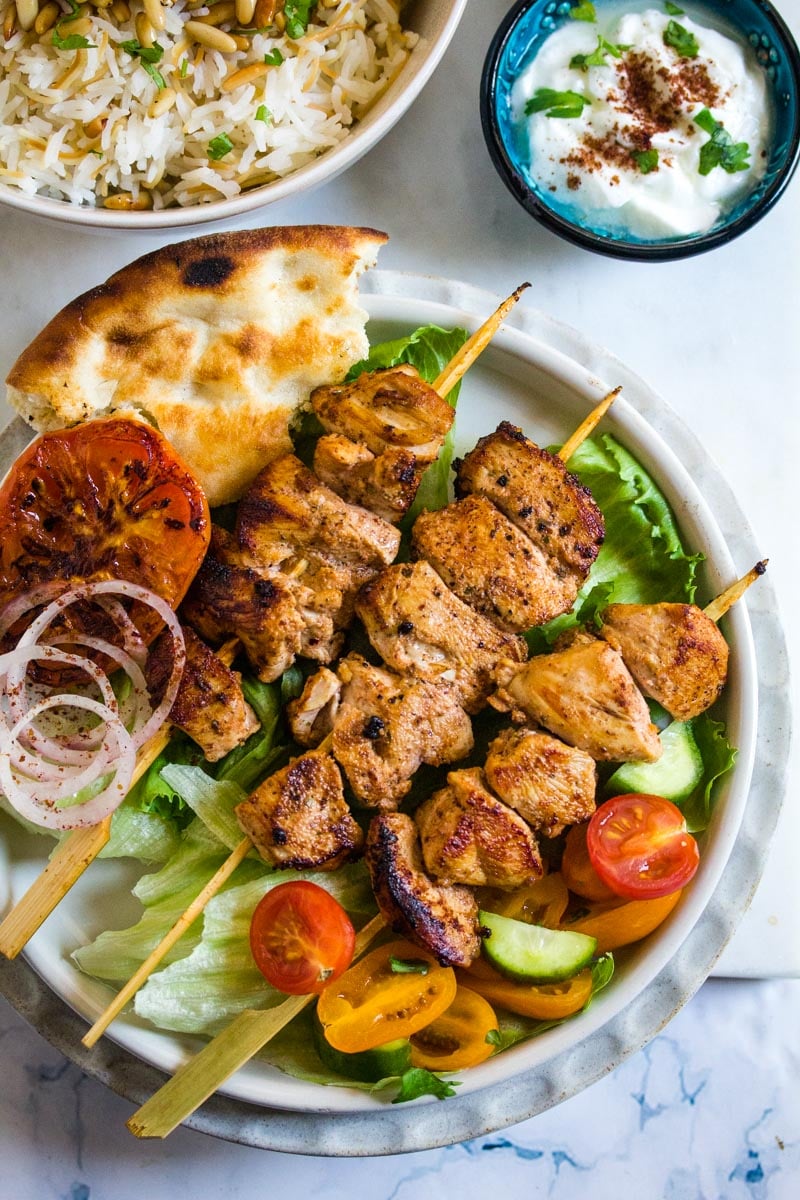 Serving Suggestions:
Shish Tawook is served two main ways here in the Middle East:
1.) As a Shish Tawook Plate: Served with rice, salad, pickled vegetables and French fries. I've always served it with this delicious Lebanese Rice Pilaf and Greek Salad. I also like to make sumac onions and grilled tomatoes to go with this recipe, which is how it's also served at Middle Eastern restaurants. Slice red onions, sprinkle with sumac and fresh lemon juice. Toss and enjoy!
2.) As a Shish Tawook Sandwich: Served on pita bread topped with salad and French fries. Drizzle with some garlic sauce for that extra oomph.
Enjoy!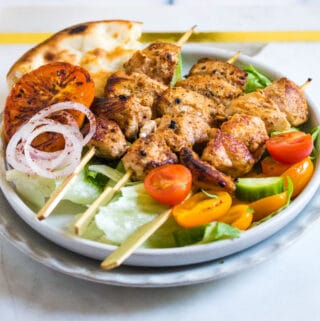 Shish Tawook
Shish Tawook or Shish Taouk is a popular Middle Eastern chicken recipe which is found at most fast food restaurants in the Middle East. The name Shish Tawook quite literally translates to grilled chicken on skewers. It is mostly served with pita bread, but I think it also pairs quite nicely with a simple and delicious Lebanese Rice.
Print
Pin
Rate
Equipment
Iron Skillet

Mixing bowl

Wooden skewers
Ingredients
2

lbs

Chicken Breast

boneless and skinless, cut into 1 inch cubes

1/2

cup

plain yogurt

I used regular yogurt, but Greek yogurt would be great too

1/4

cup

lemon juice

6

garlic cloves

minced

1

teaspoon

sumac

1

tablespoon

tomato paste

Salt and pepper to taste

8-10

wooden skewers soaked in water
Instructions
Place all the ingredients in a large mixing bowl and mix so that the chicken is coated well.

Marinate for at least 30 minutes or upto 24 hours. While the chicken is marinating, you can soak the wooden skewers in water.

Thread the chicken pieces onto the skewers. My skewers were meidum sized, so I threaded about 4 to 5 pieces on each.

Shish Tawook can be served with pita bread and salad. It can also be served with this delicious Lebanese Rice.

Heat oil in an iron skillet or girll pan to meidum high heat.

Place the skewered chicken and cook on each side for 3-4 minutes or until the chicken is golden brown and cooked through. I do this in batches of 4 skewers as to not crowd the pan.

Serve with a fresh squeeze of lemon juice. I love serving it with pita, Lebanese rice and a side of fresh salad and sumac onions.
Notes
Ingredients
Chicken: Traditionally chicken breasts cut into cubes are used for this recipe. But boneless, skinless chicken thighs are also a great option here. 
Yogurt: I use plain yogurt but you can also use greek yogurt. Low fat or skim is also fine. 
Lemon juice: Always use freshly squeezed lemon juice. 
Garlic: I use a garlic press to mince the garlic cloves. 
Sumac: This is a Turkish spice. It's dark red and has lemony flavor. If you don't have it you can use paprika powder.
Tomato paste: Some recipes don't call for tomato paste, but I like to add it for color and extra flavor. 
Best Skewers for Grilled Chicken 
The most common skewers are the long round wooden skewers. I don't personally prefer these as the chicken pieces move around too much and don't cook evenly. I recommend using flat wooden skewer or flat metal skewers. 
Alternate Cooking Methods: 
Grill: Sheesh Tawook is usually made on large grills, and you can also use your BBQ grill for it. Just cook on 3-4 minutes on each side. 
Bake: You can also bake the marinated chicken in the oven, but there's more chances of the chicken drying out. I suggest using chicken thighs for this method as it doesn't dry out easily. 
Nutrition
Calories:
291
kcal
|
Carbohydrates:
5
g
|
Protein:
50
g
|
Fat:
7
g
|
Saturated Fat:
2
g
|
Polyunsaturated Fat:
1
g
|
Monounsaturated Fat:
2
g
|
Trans Fat:
1
g
|
Cholesterol:
149
mg
|
Sodium:
310
mg
|
Potassium:
961
mg
|
Fiber:
1
g
|
Sugar:
2
g
|
Vitamin A:
161
IU
|
Vitamin C:
11
mg
|
Calcium:
59
mg
|
Iron:
1
mg