Enjoy a delicious meal, Moroccan Zaalouk, commonly known as eggplant dip. It's full of flavor and consists of several fresh ingredients that will keep you coming back for more.
If you love Middle Eastern cuisine, you'll surely love this Om Ali and this Kunafa Recipe!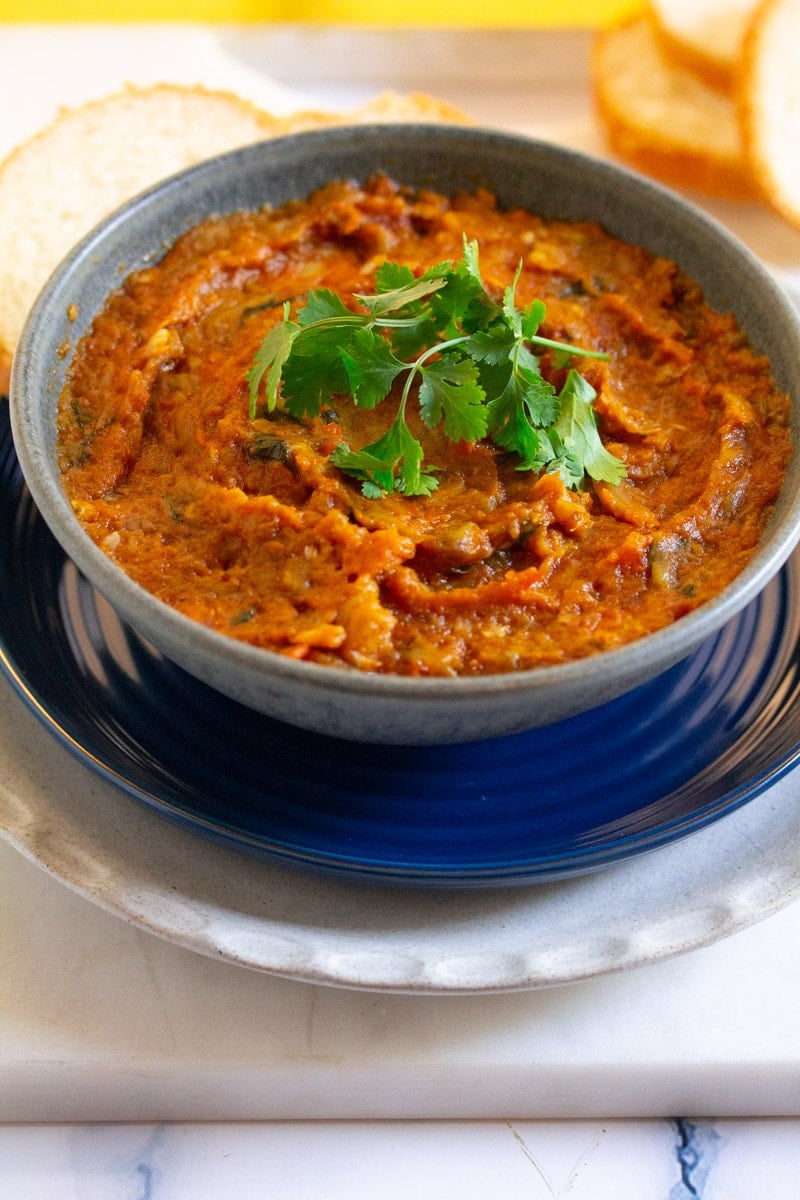 Jump to:
Zaalouk Recipe
Do you love the taste of Middle Eastern food? If so, you're surely going to enjoy this Zaalouk recipe. It contains only the best, most fresh ingredients that take it to the next level and give it a unique, delicious taste. Also try this Chicken Sheesh Tawook Recipe.
It's the kind of meal that will have you wanting to prepare it more often. In addition, you can use this as a dip with other foods, such as crusty french bread or pita.
What Is Moroccan Zaalouk?
Moroccan Zaalouk is known for its zesty, bold flavor that people love. Originally from Morocco and now enjoyed throughout the world, this roasted eggplant dish contains tomato paste, paprika powder, fresh tomatoes, and a handful of other ingredients that taste great when combined.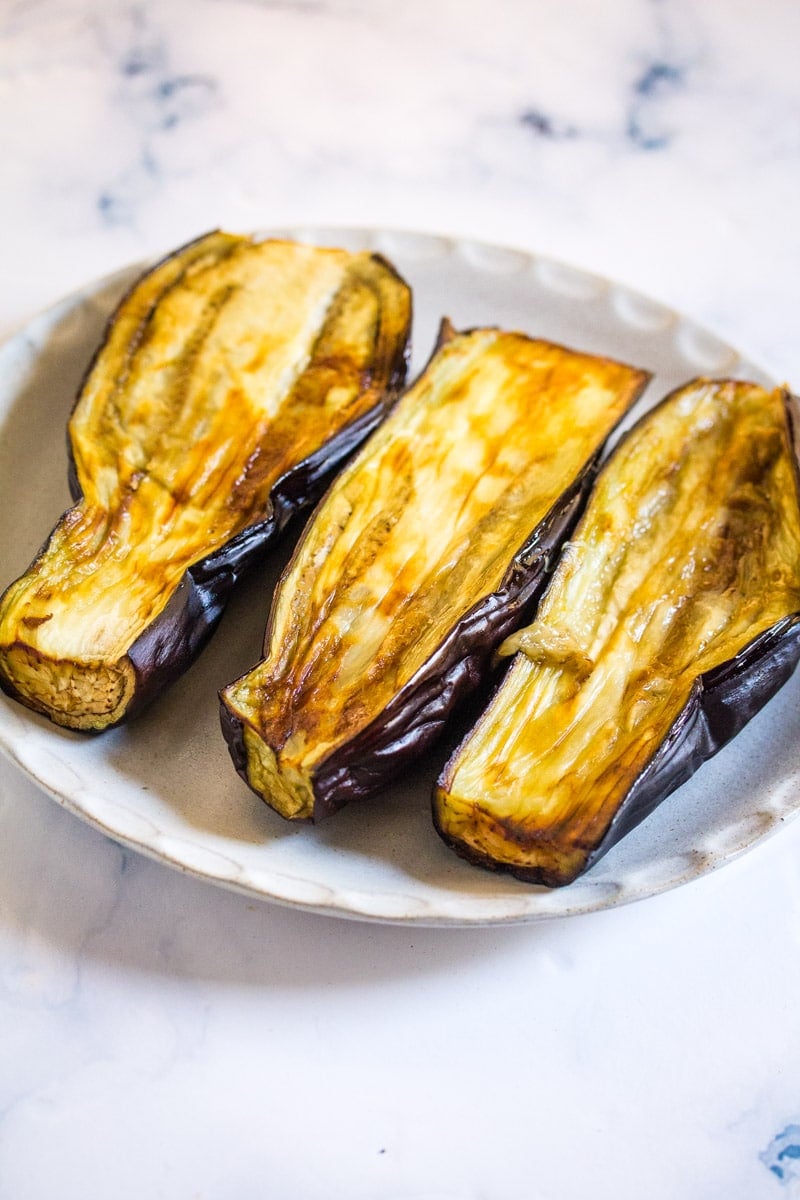 Moroccan Eggplant Salad Ingredients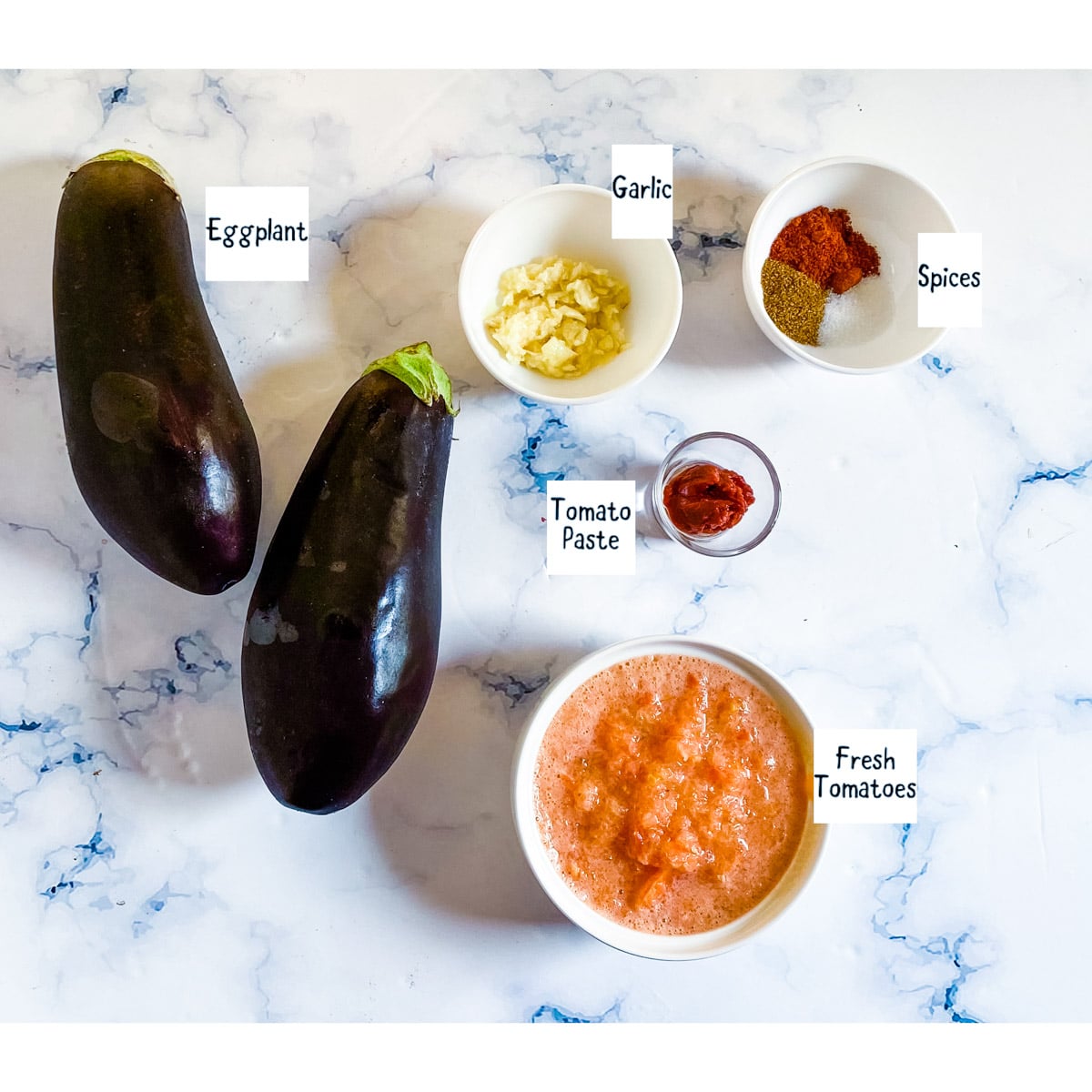 If you'd like to make the Zaalouk, you're going to need the following ingredients to prepare it:
Eggplants - Be sure to grab two large eggplants so that you'll have more than enough of them for this recipe.
Olive Oil - It's important to use a bit of oil for added flavor and texture when preparing this dish.
Fresh Tomatoes: Using fresh tomatoes is the best option here, however you can use a can of crushed tomatoes too.
Tomato Paste - A small amount of tomato paste is all you need for this Zaalouk dish. While not added traditionally, I think it amps up the flavor and gives a beautiful intense color to the dip.
Cumin Powder - Enhance the flavor with a bit of cumin added to the mix.
Paprika Powder- You can add paprika powder for added flavor and color, too.
Coriander - Chop fresh coriander to add to your mixture.
Salt & Garlic
How to Make It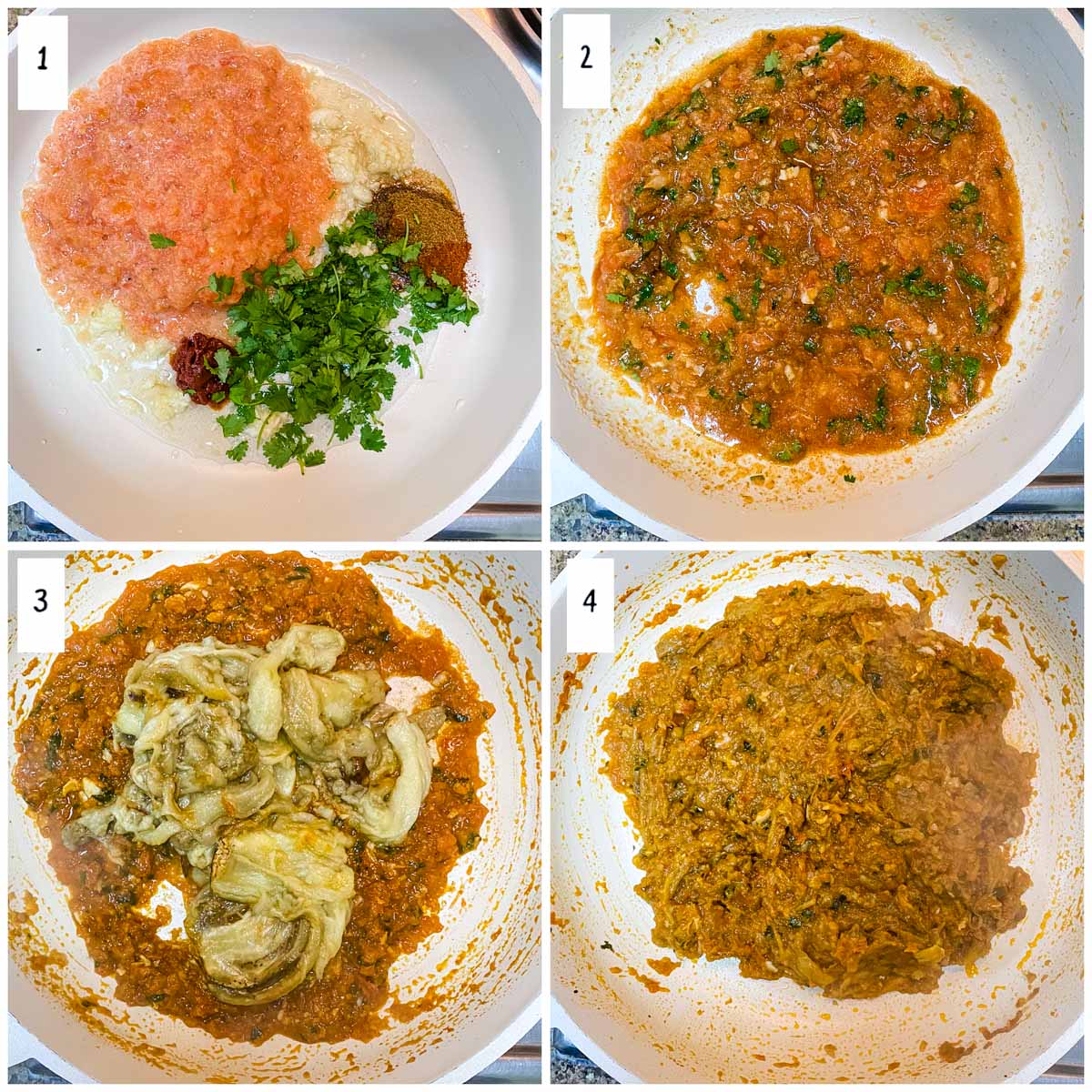 Roast Eggplants: Preheat the oven to 200 c and prepare a baking sheet by lining it with lightly greased foil. Slice the eggplants into half (lengthwise) and place skin-side up onto the baking tray. Roast for 30-40 minutes until the skin is wrinkly and upon touching the eggplant collapse into themselves.
Make the tomato base: While the eggplants are roasting, add the tomatoes and all the other ingredients. On medium heat cook this mixture for about 10 minutes or until a bright red sauce with a jammy consistency has formed.
Scoop out roasted eggplant flesh: After the eggplants have roasted, remove from the oven and let them come to room temperature. Flip them, and scoop out the flesh, avoiding most of the skin. Too much skin can add bitterness to the dip.
Add the eggplant: Add this roasted eggplant flesh to the tomato sauce, and mix well, using a wooden spoon to mash the eggplant. Cook for an additional 10 minutes to combine the flavors.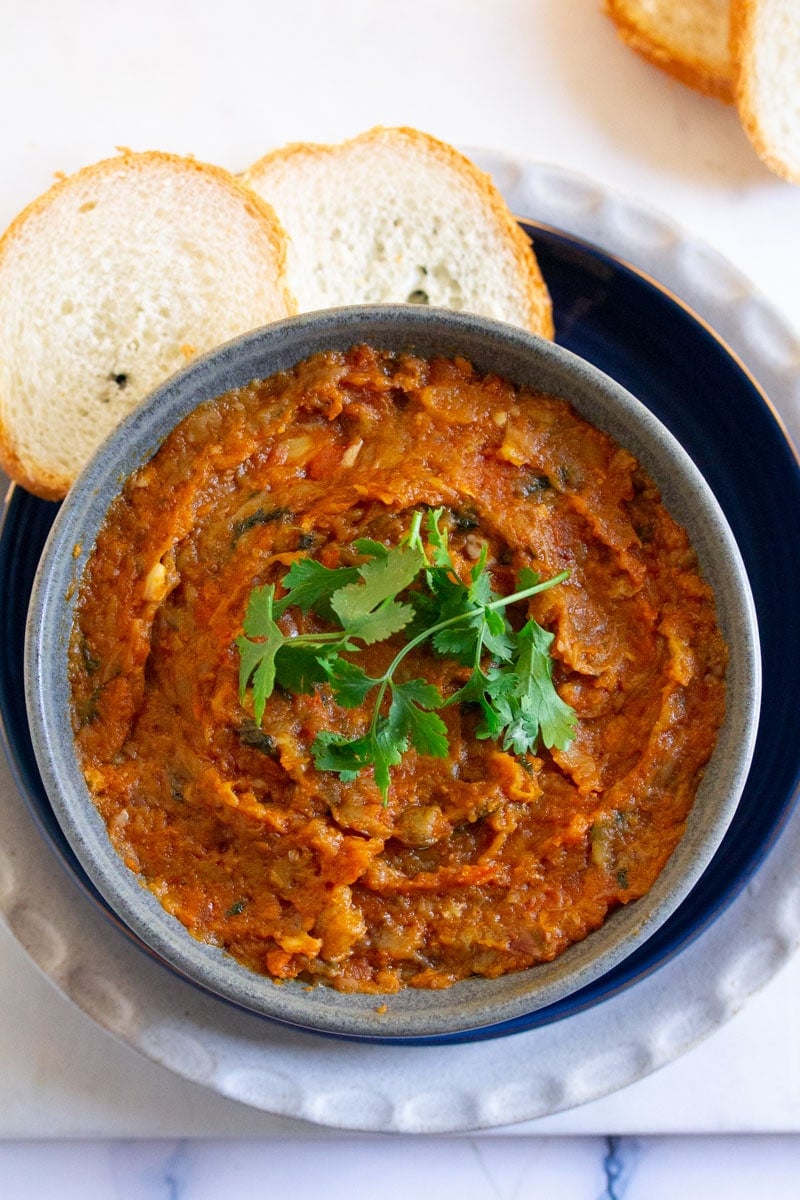 Recipe Notes
Make sure to find the biggest eggplants possible to use in this recipe. Trust me, you'll be glad that you have enough eggplant to add to this dip.
When you're baking the eggplant, be sure to place it skin side up on the baking tray. You'll need to let it roast for a minimum of 30 minutes before you remove it and let it get to room temperature. Avoid overcooking the eggplant.
It's best to use fresh garlic cloves for this recipe. You can roughly chop them before adding them to the mixture.
Frequently Asked Questions
Is this Moroccan Aubergine Recipe spicy?
No, this is a flavorful dish. However, it's not spicy. Of course, if you'd like to make a spicy version of it, feel free to do so by adding some cayenne pepper or red pepper chili flakes into the mixture.
What type of tomatoes should I use?
While traditional recipes call for chopped tomatoes, I prefer to use pureed tomatoes because they cook a lot faster, making them much easier to work with and enjoy.
Do I have to use tomato paste?
No, you don't. The original recipe doesn't call for tomato paste. However, I like to use it because I feel like it brings more flavor and color to the dip. If you don't have it, you can feel free to leave it out of this recipe.
What should I serve with it?
You can serve this with your favorite type of bread or pita. It's such a great dip, but some people like to eat it by the spoonful because it's genuinely that delicious.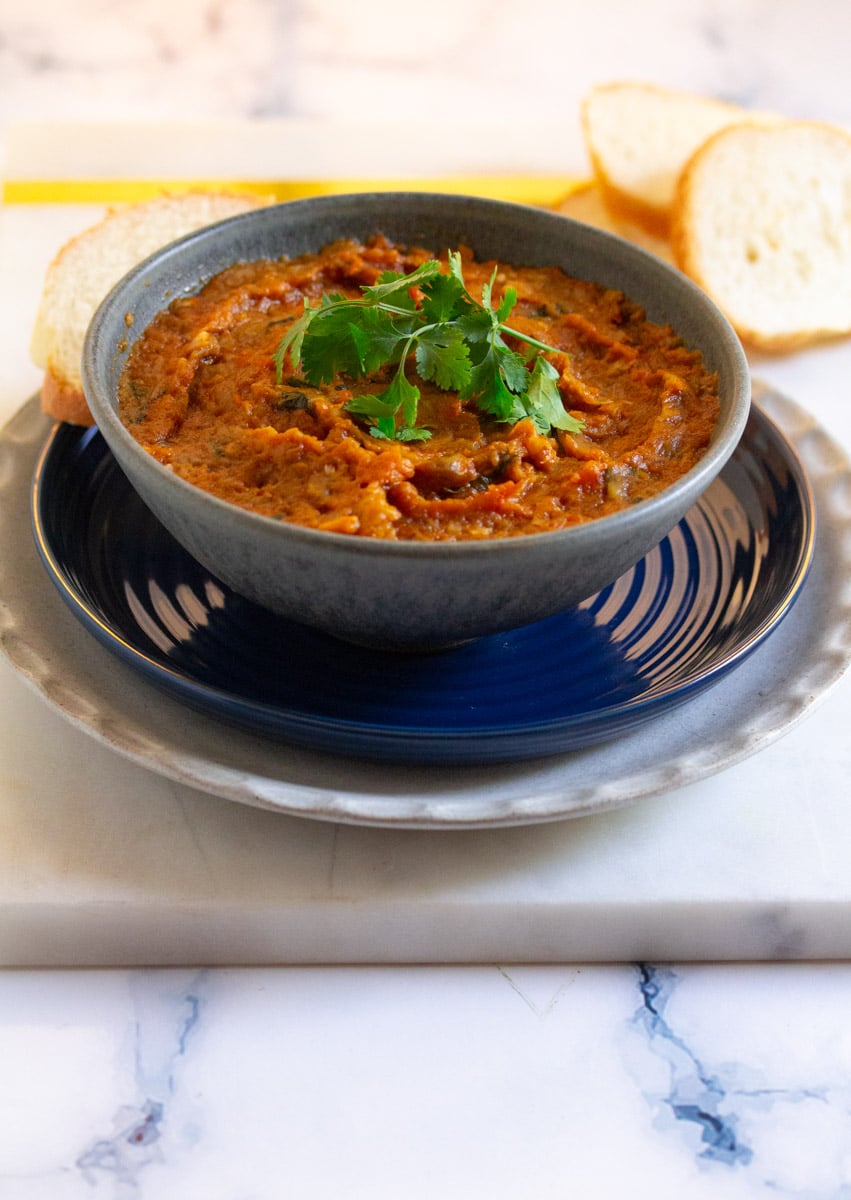 How to Store the Moroccan Zaalouk
If you have leftovers that you need to store, put them in an airtight container and then place the food in the fridge, where it will remain fresh for up to three days.
If you need to save it longer than that or prefer to make it in advance, you can store this dip in the freezer for up to a month before thawing it out in the fridge and enjoying it!
The Moroccan Zaalouk is such an incredibly flavorful dish that you can easily prepare with simple ingredients, including eggplant, cumin powder, and tomatoes.
Once you've prepared it, you can use it as a dip or even serve it on top of some of your favorite foods, such as rice and meats.
It's good for you, loaded with flavor, and an excellent choice for anyone in the mood for an Moroccan-inspired dish.
More Delicious Appetizers & Side Dishes to Try: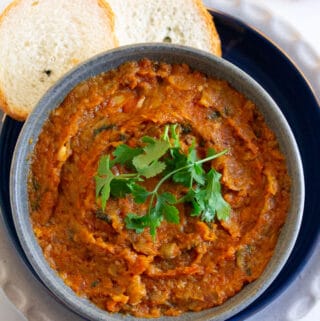 Moroccan Zaalouk Recipe
Zaalouk is a delicious, smoky eggplant dip made with fresh ingredients such as roasted eggplants, tomatoes and olive oil. It's great as a dip for crusty bread or perfect as a side salad.
Print
Pin
Rate
Ingredients
2

large eggplants

2-3

tablespoons

olive oil

2-3

large fresh tomatoes

pureed in the blender

1

teaspoon

tomato paste

5-6

garlic cloves

roughly chopped

2

tablespoons

fresh coriander

chopped

1

teaspoon

salt

1

teaspoon

cumin powder

1

teaspoon

paprika powder
Instructions
Roast the Eggplants:
Line a baking sheet with foil, and grease it with a little bit of oil. Preheat the oven to 200 c.

Trim the eggplants and slice into half lengthwise. Place skin side up on to the baking tray, and roast for about 30 minutes. Remove from oven, and let the eggplants come to room temperature. Scoop out the flesh with a spoon and place on the side. Discard the skin.
Prepare the Tomato Base:
Heat the olive oil in a skillet.

Add the tomatoes, tomato paste, garlic, coriander, and spices and cook for 10 minutes or until the tomatoes have achieved a jammy consistency.

Now add the roasted eggplant flesh, and cook for about 10 minutes until all of the ingredients have combined well.

Transfer to a bowl and serve with bread or pita.
Notes
Tomatoes: Traditionally recipes call for chopped tomatoes, but I find that pureed tomatoes cook down faster.
Tomato paste: Not used in the original recipe, I find tomato paste adds additional flavor and a beautiful color to the dip.
Storage: Store in the fridge in an airtight container for up to 3 days or in the freezer for up to 1 month.
Nutrition
Calories:
140
kcal
|
Carbohydrates:
18
g
|
Protein:
3
g
|
Fat:
8
g
|
Saturated Fat:
1
g
|
Polyunsaturated Fat:
1
g
|
Monounsaturated Fat:
5
g
|
Sodium:
603
mg
|
Potassium:
722
mg
|
Fiber:
8
g
|
Sugar:
10
g
|
Vitamin A:
854
IU
|
Vitamin C:
15
mg
|
Calcium:
40
mg
|
Iron:
1
mg