Chana Chaat Recipe is a light and refreshing Indian salad that's perfect for summers. This chana chaat recipe is very easy and can be easily adapted with different ingredients.
So, it's crazy hot and no one really wants to cook, amiright? But we can't exactly go hungry, can we? Worry not, I have the perfect solution to all your summer blues about standing in the kitchen and cooking!! Also try this Fruit Salad with Condensed Milk, if you're after a sweet dessert.
This chana chaat recipe is perfectly delicious (and healthy!!!), involves no cooking and is literally ready in 15 minutes. Also, you can add in ingredients or take them out, and just basically do whatever you feel like, because this recipe is foolproof and super delicious no matter how you make it!
So What Exactly is It?
Chana Chaat is an Indian/Pakistani Chickpea salad usually made with lemon juice, chopped vegetables such as tomatoes and onions, green chilis, and chaat masala (which is an Indian spice mix). Some people also add chunks of boiled potatoes and tamarind chutney (imli). In some households it's cooked a little bit, but in some households its served cold and not cooked.
I like to change up my chana chaat recipe depending on my mood and the ingredients I have on my hand. The recipe I'm sharing with you today is the easiest and simplest, yet the most delicious in my humble opinion. I even skip the chaat masala in this recipe because not everyone has it in their pantry.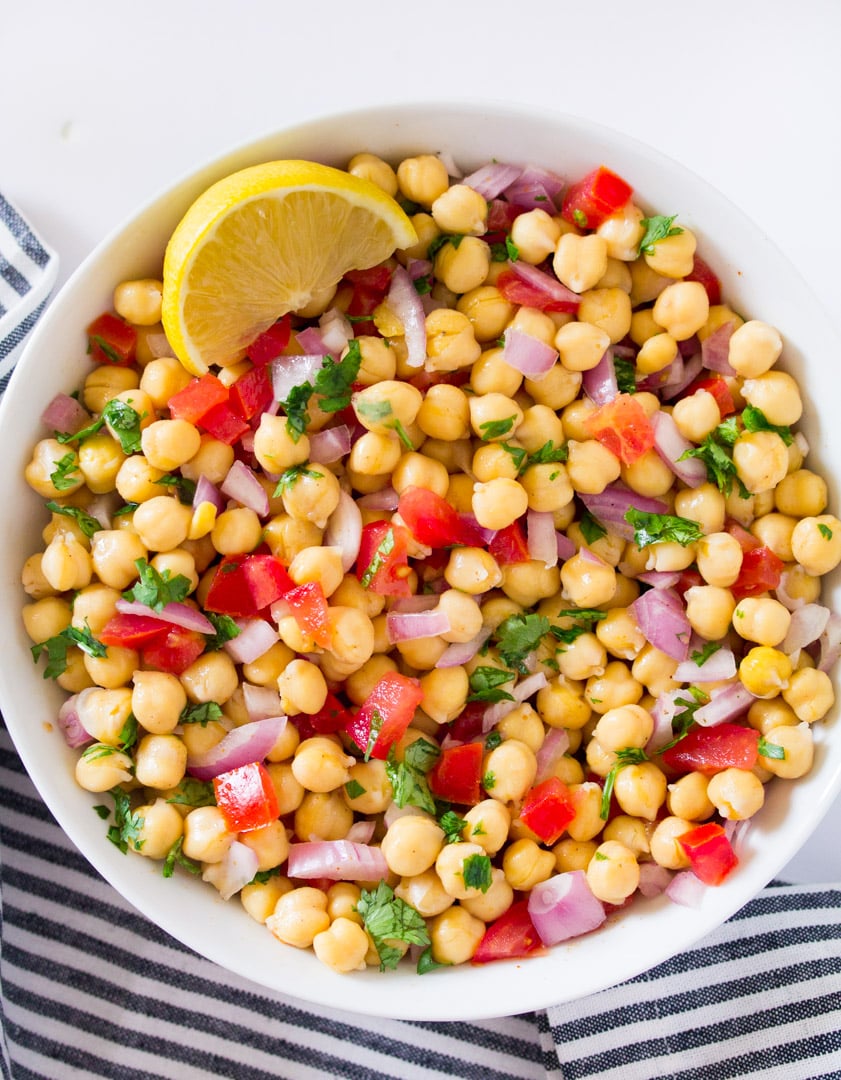 Ingredients You'll Need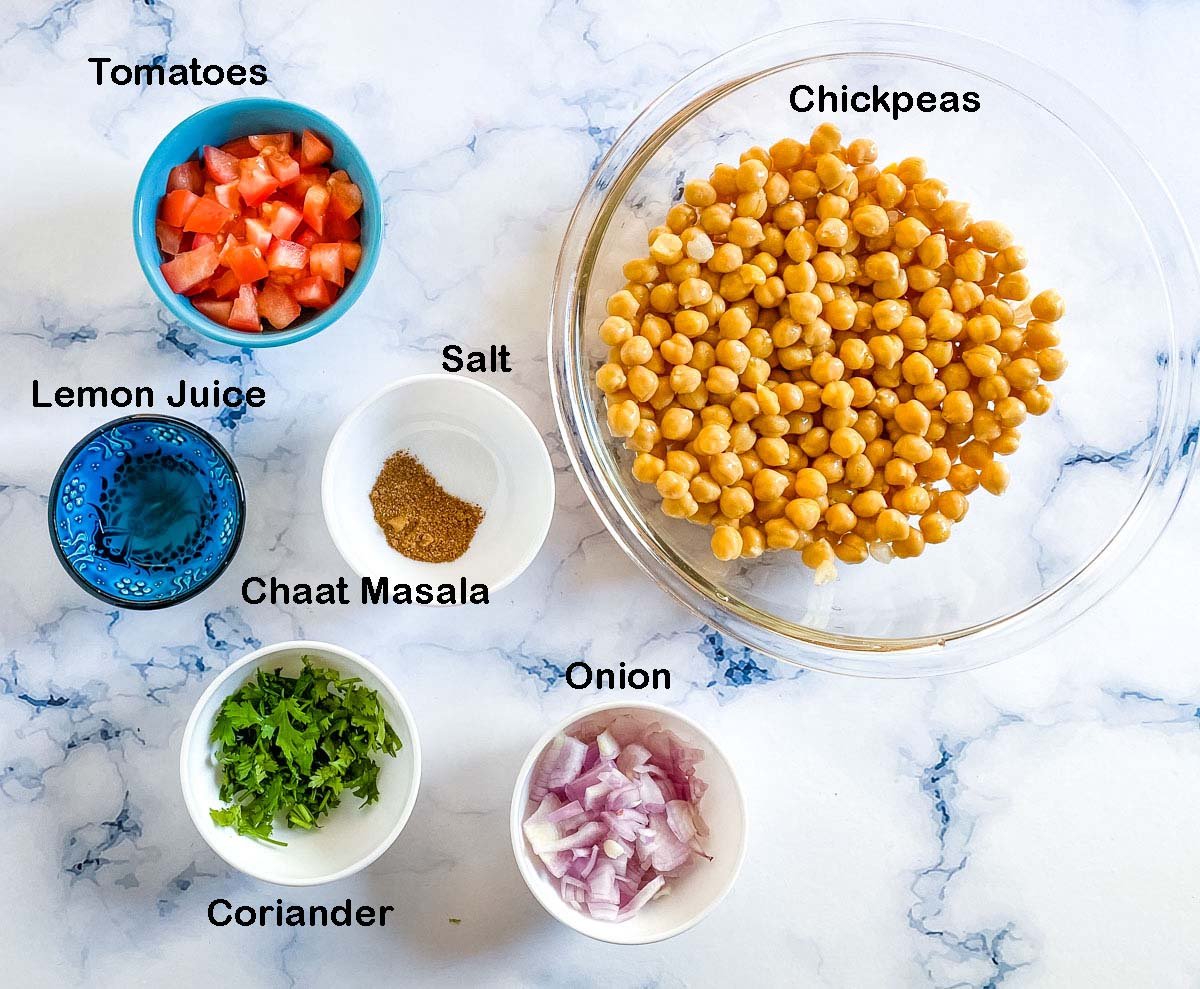 Chickpeas (garbanzo beans) - usually people boil the chickpeas first, but I find it easier and equally delicious to use canned chickpeas. It's equally delicious and convenient to use the shortcut.
Lemon juice - this is what adds a refreshing kick to the salad! Please use fresh lemon juice only, the bottled kind is SO not delicious! 🙁
Finely chopped tomatoes & onions (I use red onions but you may use white onions as well) and finely chopped green chilli.
A handful of chopped coriander - YUM!
Chaat masala - I sometimes use this, sometimes I don't, depending on my mood. I have not included this in the recipe today because I know not everyone has this Indian spice mix in their pantry. However, if you want to use it, half a teaspoon goes a long way. Chaat masala is available at Indian stores and in the ethnic aisle in most big grocery stores.
How to Make It?
So for the chana chaat recipe, you only need a few simple ingredients and then it's just a matter of tossing them together.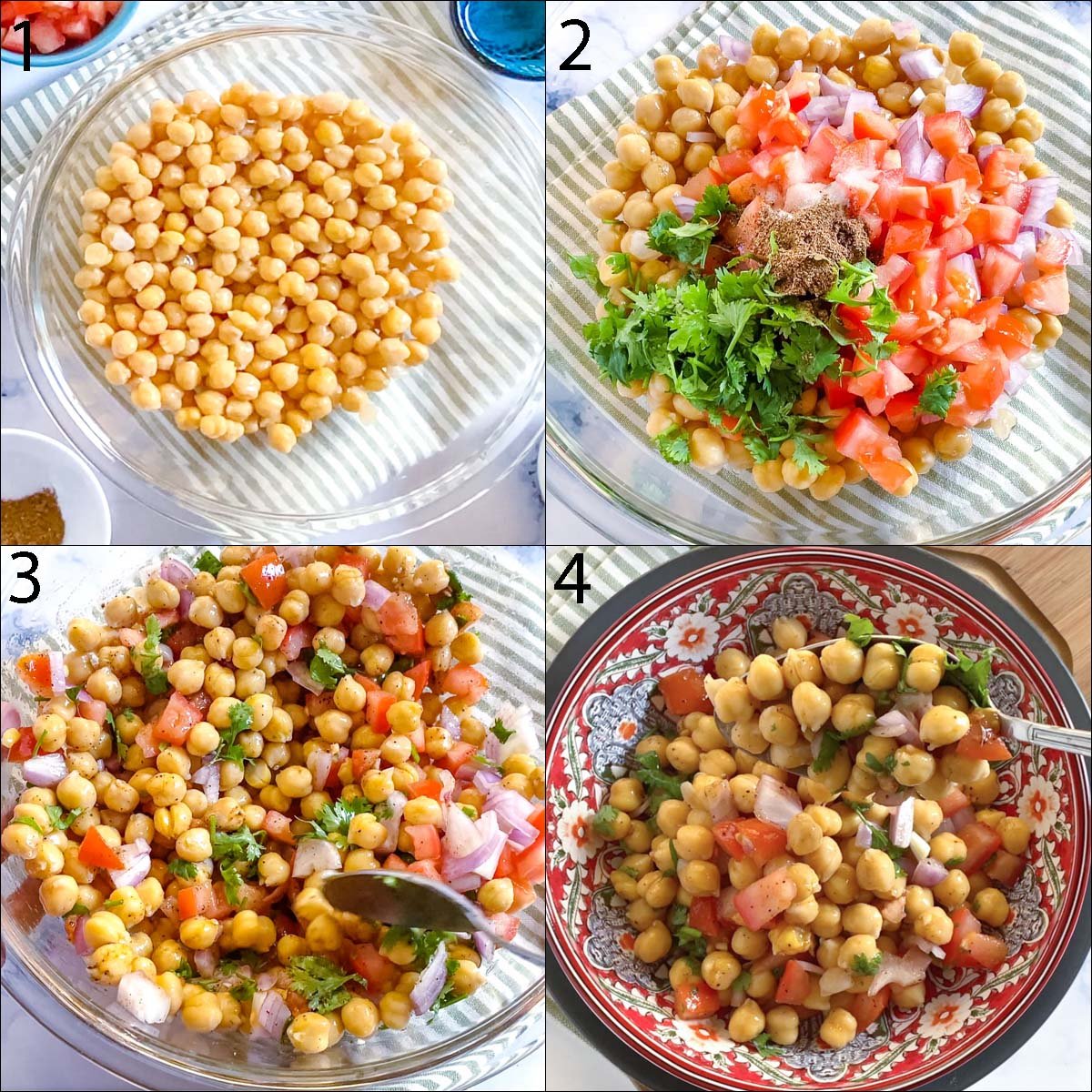 Drain the canned chickpeas and place in a mixing bowl.
Add chopped tomatoes, chopped onion, freshly chopped coriander, lemon juice, and salt and chaat masala (if using).
Mix well until all ingredients are well incorporated.
Serve immediately or store in the fridge for up to 2-3 days.
Chana Chaat FAQs
Can I use canned chickpeas instead of cooking chickpeas from scratch?
Yes. I almost always use canned chickpeas for chana chaat because it's convenient, and they're perfectly delicious. Traditionally chickpeas are cooked from scratch first, and then used for chana chaat. Both methods are fine.
How Long Can I Store Chana Chaat for?
Chana chaat can be stored in airtight container in the fridge for up to 2-3 days.
Where Can I Find Chaat Masala?
Chaat Masala is a tangy spice blend, and can be found in Indian grocery stores, or even mainstream grocery stores in the ethnic foods aisle. I use Shan Chaat Masala.
If you're bored from the typical lettuce and macaroni salads, do try this chana chaat recipe...I guarantee you that you'll love it! 🙂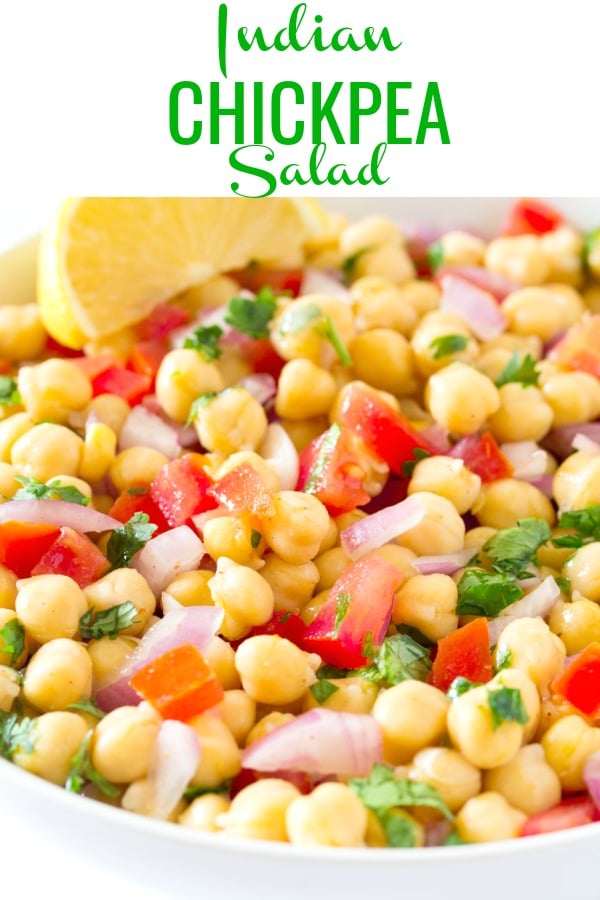 Enjoy!!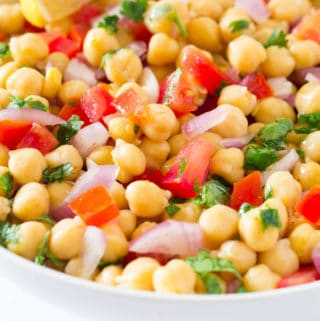 Chana Chaat Recipe
This chana chaat recipe (Indian Chickpea Salad) is a no cook salad and is super delicious. Chana chaat recipe requires only a handful of simple pantry ingredients, and is ready in no time. Perfect for a light lunch or potlucks!
Print
Pin
Rate
Ingredients
2

400 grams

chickpea cans

(drain the liquid)

1

medium

red onion

(chopped finely)

1

medium

tomato

(chopped finely)

1

lemon

(squeezed - about 1/4 cup)

handful

coriander

(finely chopped)
Instructions
In a large bowl, add all ingredients and mix until well combined.

Refrigerate for at least 30 minutes (up to overnight).

When ready to serve, toss the chana chaat once more and top with more chopped coriander if desired.
Nutrition
Calories:
16
kcal
|
Carbohydrates:
4
g
|
Protein:
1
g
|
Fat:
1
g
|
Saturated Fat:
1
g
|
Sodium:
2
mg
|
Potassium:
100
mg
|
Fiber:
1
g
|
Sugar:
2
g
|
Vitamin A:
171
IU
|
Vitamin C:
14
mg
|
Calcium:
11
mg
|
Iron:
1
mg