How to make cookies from cake mix - the ultimate guide! Craving for cookies, but don't feel like baking them from scratch? Worry not, with my simple tutorial learn how to make cookies from cake mix - you can try any flavor combination you want!
We make a lot of cake mix cookies around here. Besides being super delicious, they're super easy to make. And since I have a 4 year old who loves to bake, I taught her how to make cookies from a cake mix, under my supervision. The most fun thing about cake mix cookies is that you can make any combination of cookie flavors - sort of like an infinite combination of cookies - isn't that a wonderful thing?
Watch this video on how to make Cake Mix Cookies (get the recipe here: Strawberry Chewy Cake Mix Cookies)
Pictured today are White Cake Mix Cookies which I made way back in January for my daughter's birthday. Aren't they super cute with those colorful stars? My daughter loved them!
How To Make It
I mean, after all, it's a cake mix and isn't that meant to make cakes? Well, yes, but by altering the add on ingredients a bit, you can make soft chewy cookies!
The general ratio that's used to make cookies from cake mix is: 1 boxed cake mix + 1/2 cup vegetable oil + 2 large eggs.
Super Important Note: Only the dry cake mix is required for cake mix cookies...do not use the ingredients listed on the back of the cake mix box.
Can you Refrigerate the Cookie Dough?
Yes! In fact, the cake mix cookie batter is so soft, that I prefer to chill it for at least 1 hour. This makes it easier to scoop out the cookies onto the baking tray, and it also reduces the spreading of cookies.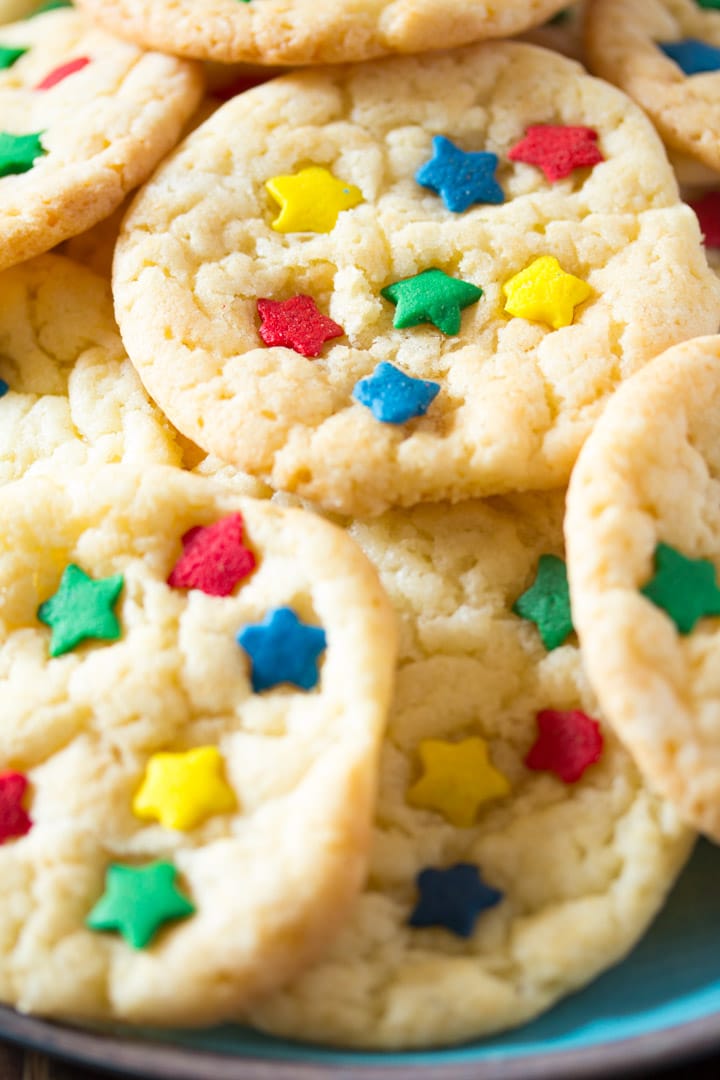 Some Tips & Tricks
Do not over mix the cookie batter!
As mentioned above, it's better to chill the cake mix cookie dough, as the dough is so soft that its sometimes a little tricky to scoop it out right after mixing the cookie batter. Also, chilled cookie batter means less spreading of the cookies in the oven. You can also make the cookie dough and chill it in the fridge up to 3-4 days.
I also use silicone baking mat to bake cake mix cookies because it helps to reduce spreading of the cookies. You may also use parchment paper.
Do not over bake these cookies!! I learnt this the hard way. Cake make cookies are still very very soft when they're supposed to be taken out of the oven. They keep baking from the residual heat of the baking sheet. I once over baked the cookies and they became so hard an hour later on - and that's a no no in the cookie world!
So just How Do You Know a Cookie is Done?
With cookies every minute counts, and remember that cookies continue cooking from the residual heat of the baking sheet. So even when they're out of the oven, they'll keep cooking for the next few minutes.
Cookies are done when the edges are a light golden brown and the middle is still soft and squishy.
Another handy trick to know if cookies are done is by touching the edge of the cookies, if it is firm then the cookies are done. If the edges are still soft then it means the cookies need a little longer in the oven.
With cake mix cookies, once the edges have set, its time to take them out. They'll look very under baked but trust in the Cookie Gods, and let them sit on the baking sheet. They'll become firmer but won't become hard.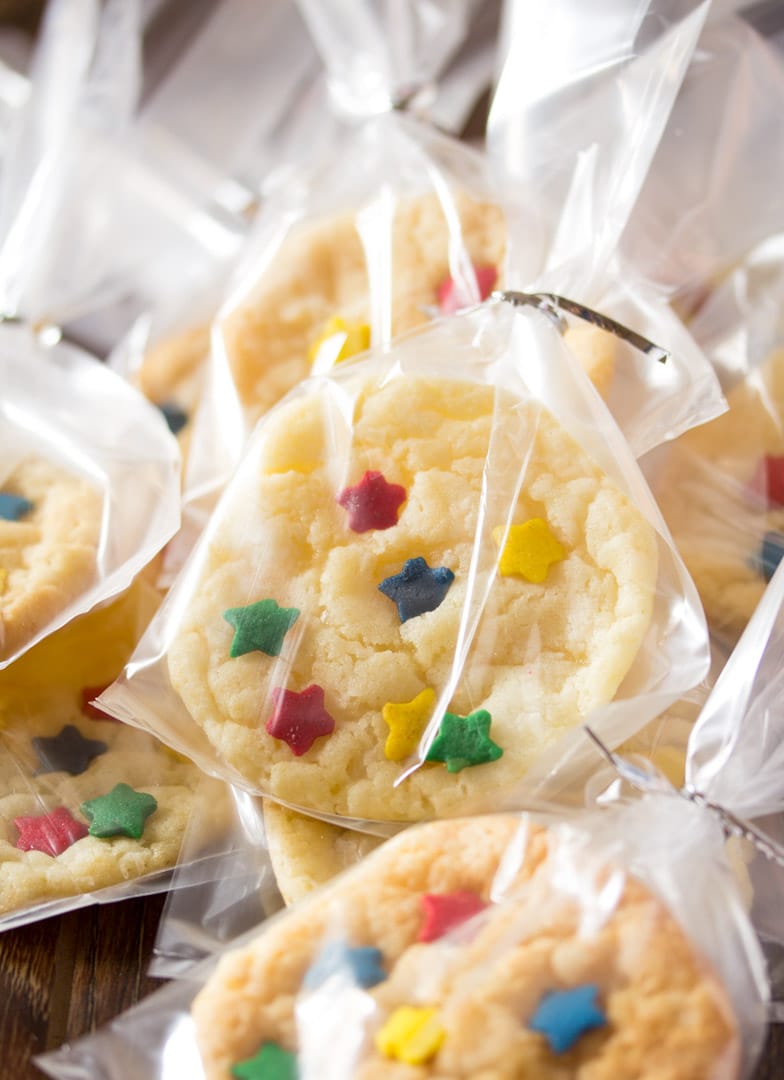 Check out below for the basic recipe for cake make cookies, and a collection of delicious cake mix cookies!
Enjoy the cookieliciousness! 🙂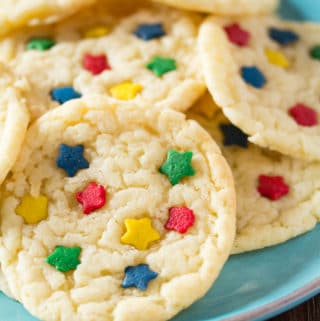 Cake Mix Cookies
Learn how to make cookies from cake mix. Craving for cookies, but don't feel like baking them from scratch? Worry not, with my simple tutorial learn how to make cookies from cake mix - you can try any flavor combination you want!
Print
Pin
Rate
Ingredients
1

box

cake mix

(dry ingredients only)

1/2

cup

vegetable oil

2

large

eggs

1/2

cup

mix ins
Instructions
In a bowl mix together the cake mix, vegetable oil and eggs. Then gently fold in the mix ins. The cookies pictured above are made from white cake mix and I used the colorful star sprinkles as the mix in.

Chill in the fridge for about 30 minutes to 1 hour (or upto 4 days). This is an optional step, but I've noticed that the chilled cookie dough is easier to scoop out and also it allows the cookies to spread less while baking.

Once ready to bake the cookies, preheat the oven to 350 F and line a baking sheet with a silicone baking mat or parchment paper. Note: the silicone baking mat helps in less spreading of the cookies.

Scoop out the cookie dough and bake for about 10-12 minutes. The cookies are ready to be taken out of the oven when the edges are slightly firm but the middle is still soft and squishy.

Let the cookies cool on the baking sheet for 10-15 minutes before removing them to a cooling rack.

Cake mix cookies can be stored up to 1 week in an airtight container.
Nutrition
Calories:
70
kcal
|
Carbohydrates:
1
g
|
Protein:
1
g
|
Fat:
7
g
|
Saturated Fat:
6
g
|
Cholesterol:
23
mg
|
Sodium:
14
mg
|
Potassium:
9
mg
|
Sugar:
1
g
|
Vitamin A:
34
IU
|
Calcium:
4
mg
|
Iron:
1
mg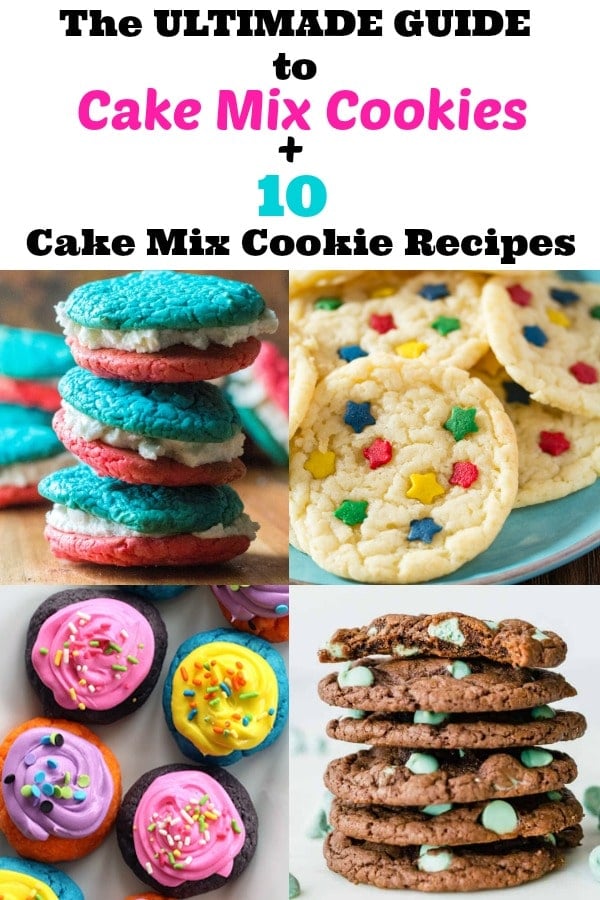 How to Make Cake Mix Cookies from Different Cake Mix Flavors
These pretty Red Velvet Crinkle Cookies are super easy and delicious. They're also perfect for Valentine's Day!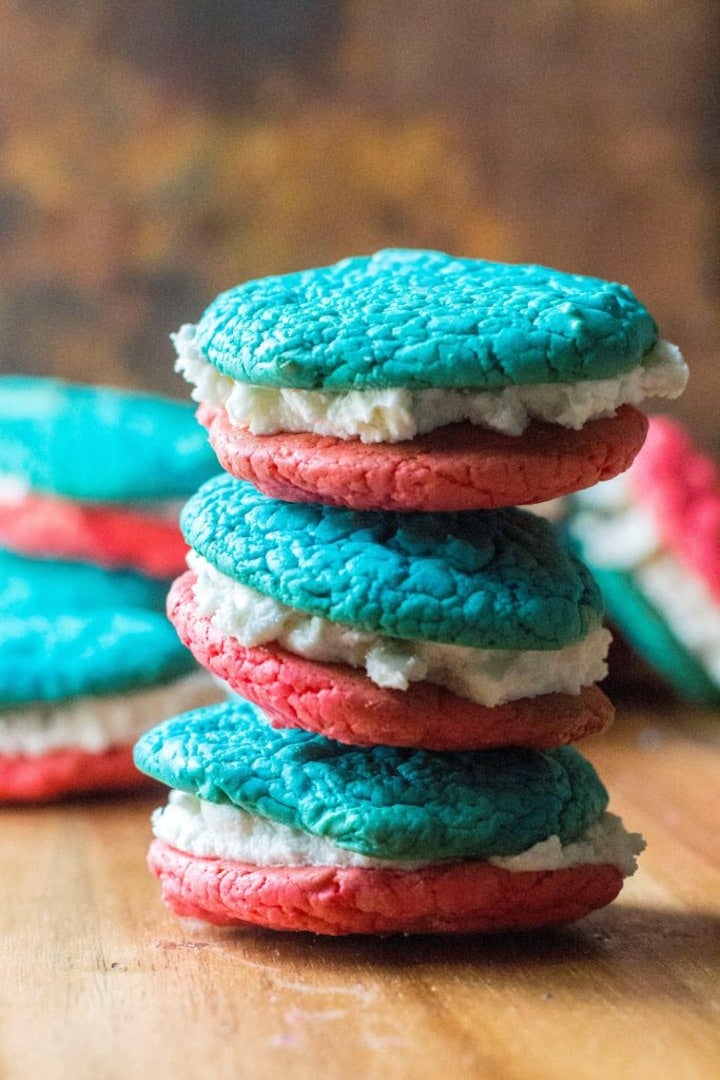 These 4th of July Cake Mix Cookies are a perfect and beautiful treat for all 4th of July festivities. And the buttercream frosting is an added delicious bonus!
How cute are these Spring Cake Mix Cookies? These cookies are perfect to make with little kids!
These Strawberry Cake Mix Cookies with chocolate chips are perfect for making with toddlers...not to mention how sweet and delicious they are! 🙂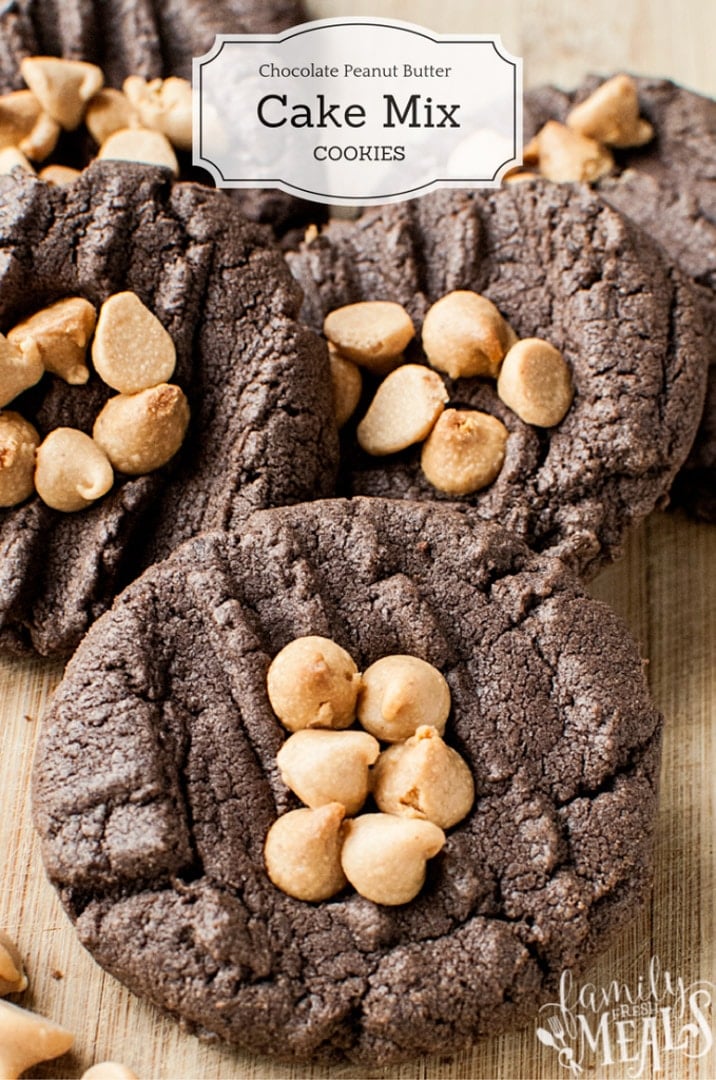 Chocolate and peanut butter is a combination made in heaven...I bet these cookies would be popular with everyone!
Super delicious Carrot Cake Mix Cookies are perfect for Easter celebrations!
We all love brownies right? And we all love cookies right? Well I just made you a brownie mix cookie recipe, you're welcome! 😀
Oreos stuffed inside easy cake mix cookies...ummm...welcome to heaven! 😀
These Peppermint Cake Mix Cookies are an easy and beautiful treat for winter festivities!
If you're a fan of chocolate and mint, then this Mint Chip Cake Box Cookies are definitely for you!