Create this easy boondi raita recipe using yogurt, vegetables, and delicious spices. This yogurt-based salad or dip recipe is made from chickpea flour fried balls and creates the perfect dish to serve with your main course such as Biryani or Matar Pulao.
Create this simple recipe in just 5 minutes and enjoy it any time of year. Your family with love this homemade yogurt recipe full of gram four balls! No need to run to the local Indian restaurant to enjoy this dish.
About this Quick Boondi ka Raita
Boondi Raita is a delicious side dish made from curd and boondi. Boondi is melt-in-your-mouth fried flour balls and is the key ingredient to this dish. Add spices and fresh herbs, and you have a delicious raita fit for an appetizer, meal, or side dish. Commonly served with Indian meals, this simple five-minute dish will leave your mouth watering for more.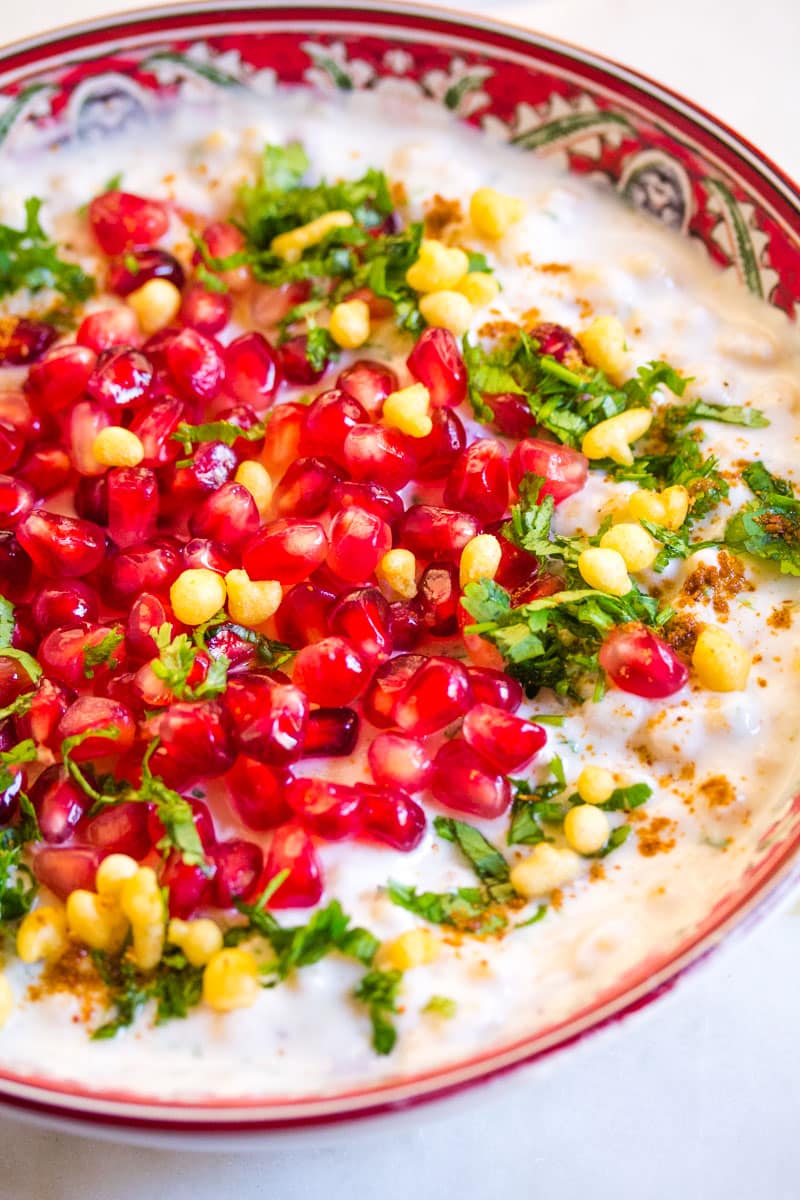 Why this is the Best Boondi Raita
Simple and versatile: This easy recipe is created in only five minutes. Just mix your ingredients and refrigerate them to enjoy. Serve it with various meals and dishes or brought as a fun appetizer for friends and family.
Delicious with almost any meal: The versatility of this dish makes it perfect for serving nearly every word. The creamy yogurt makes a great palette cleanser before the next course. Add it to everyday meals for tons of flavor and great texture.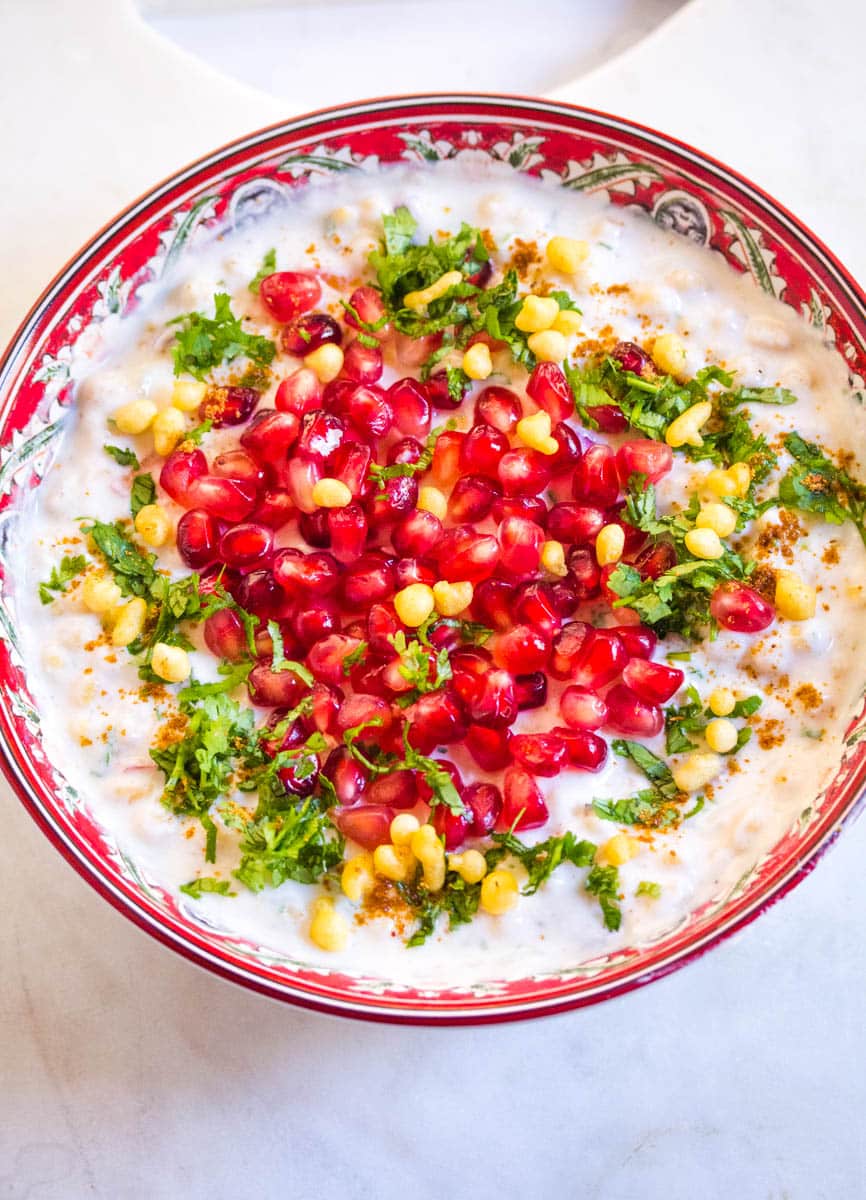 Ingredient Notes/Substitutions
Yogurt: Use regular or Greek yogurt based on your taste preference. Either works perfectly!
Chaat Masala: This is a powdered spice mix from South Asia. It is typically used to flavor chaat (savory snacks). Spice powders such as chaat masala add tons of flavor to a recipe and can be found at the Indian grocery store in your area.
Black Salt: Some recipes call for black salt, which adds a delicious tangy flavor to the recipe. It is an optional ingredient, so I have not listed it here. But if you have it on hand, it's a great addition to this raita.
Boondi: Use plain boondi or masala boondie based on your preference. If you use masala boondi, you may need to reduce the amount of chaat masala you add to your mixture. You will need about a cup of boondi.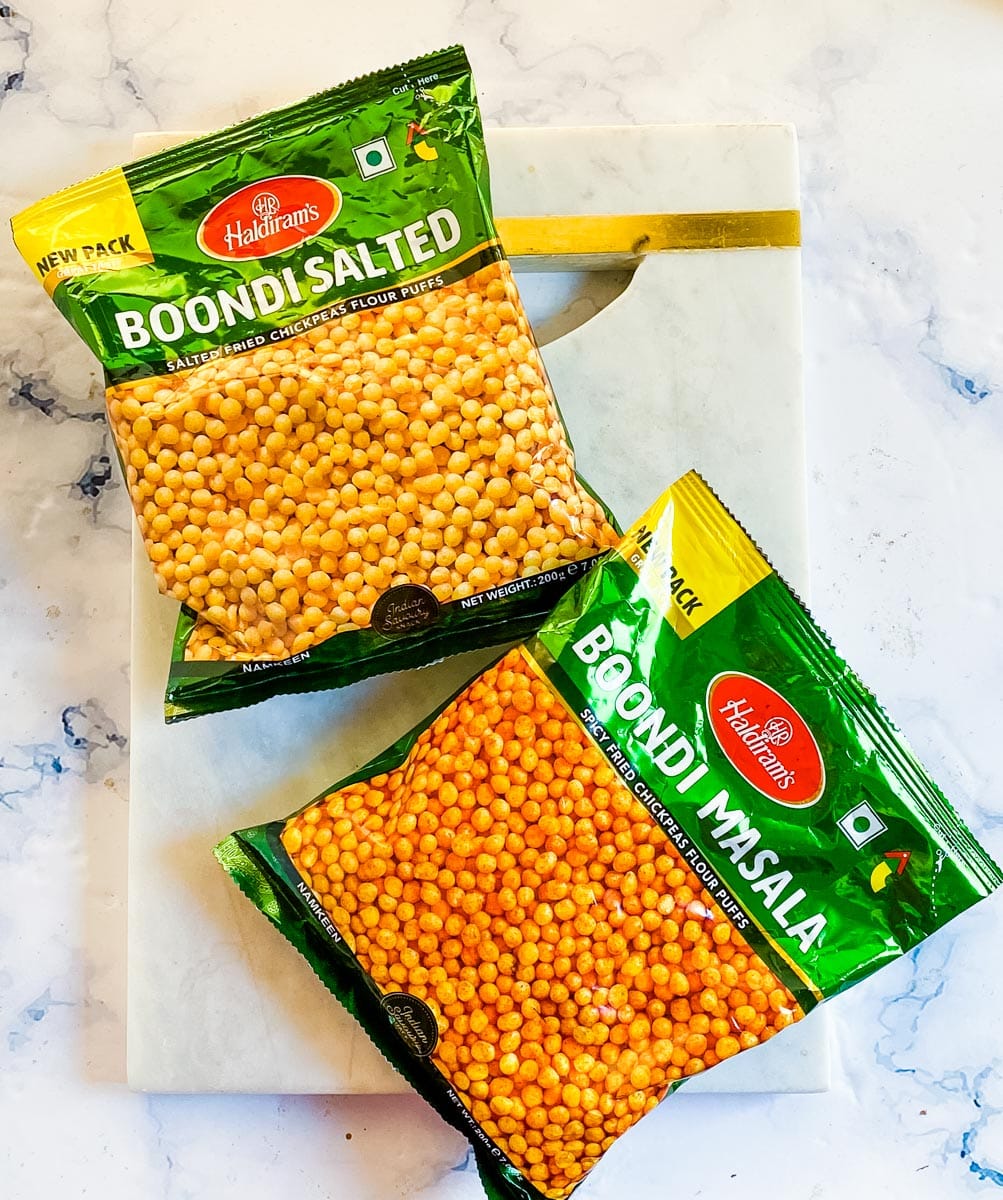 Milk: I prefer to use whole milk or milk with some fat, but any will work fine. Add a little more or less to reach the consistency of the raita you like.
Onion and Tomato: Chop your vegetables finely, so they blend well with the boondi and spices.
Pomegranate Seeds: Purchase pre-packaged pomegranate seeds or buy whole fruit to pit. When they are in season, pomegranates are relatively easy to open and get the seeds out of.
Green Chili: Instead of green chilies, you can substitute red chili powder for taste. I sometimes switch this up based on what I have on hand, but I prefer the green chili most.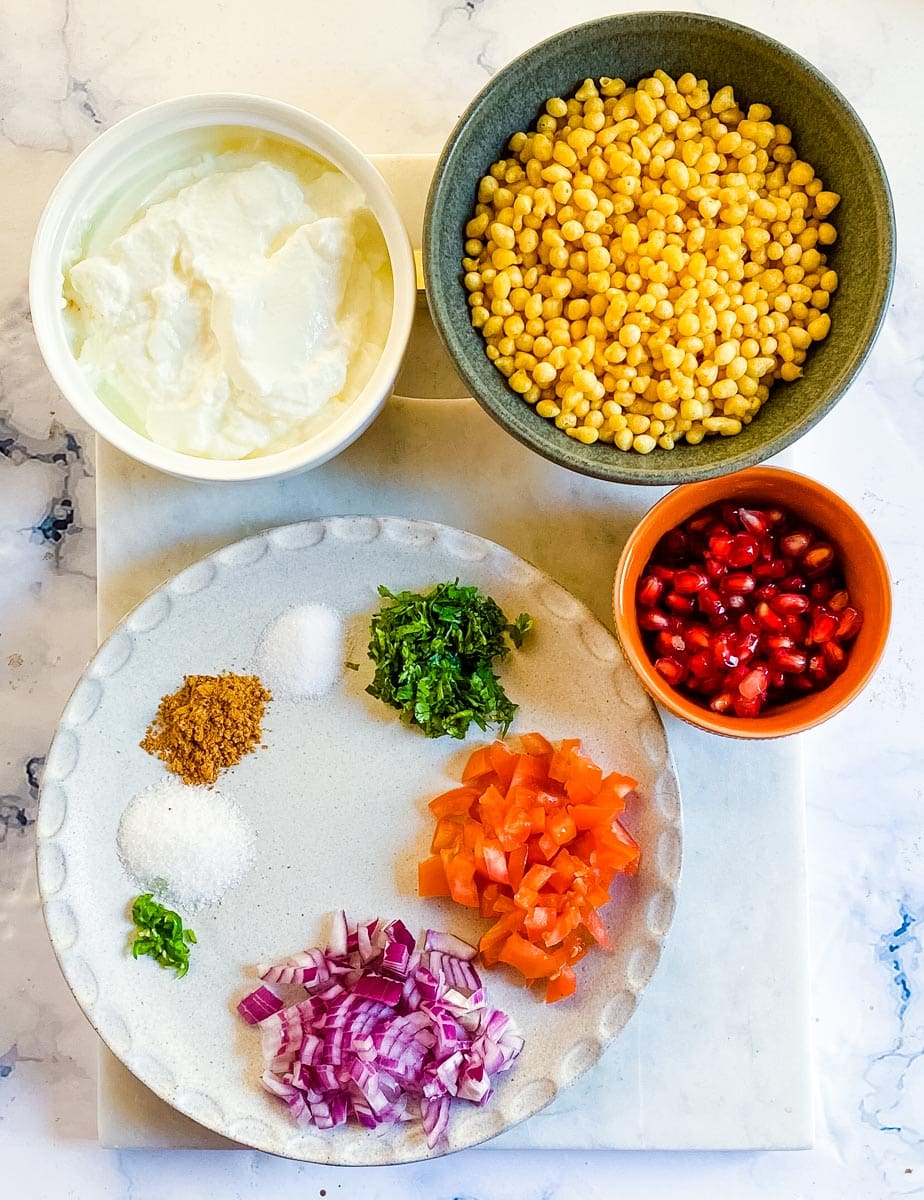 How to Make It
Combine your ingredients: In a medium-sized mixing bowl, combine yogurt, milk, chaat masala, salt, and sugar.
Whisk it all together: Mix your ingredients to ensure no lumps.
Add the veggies and spices: Add onion, tomato, green chili, and coriander. Mix well to combine.
Mix in your boondi: Add in the boondi and mix until well incorporated.
Add toppings: Top with pomegranate seeds and chopped coriander to make it delicious and beautiful.
Refrigerate: Place your mixture in the refrigerator for at least 30 minutes before serving your dahi boondi.
Helpful Tips / Success Tips
As the boondi raita sits in the fridge, the boondi may absorb some moisture from the mixture. To thin out your raita, add a splash of milk and mix it well.
Chop your coriander leaves for a fresher taste in your recipe. Add mint leaves if you like that flavoring as well!
Find all the ingredients you need at local Indian stores and enjoy this Indian cuisine.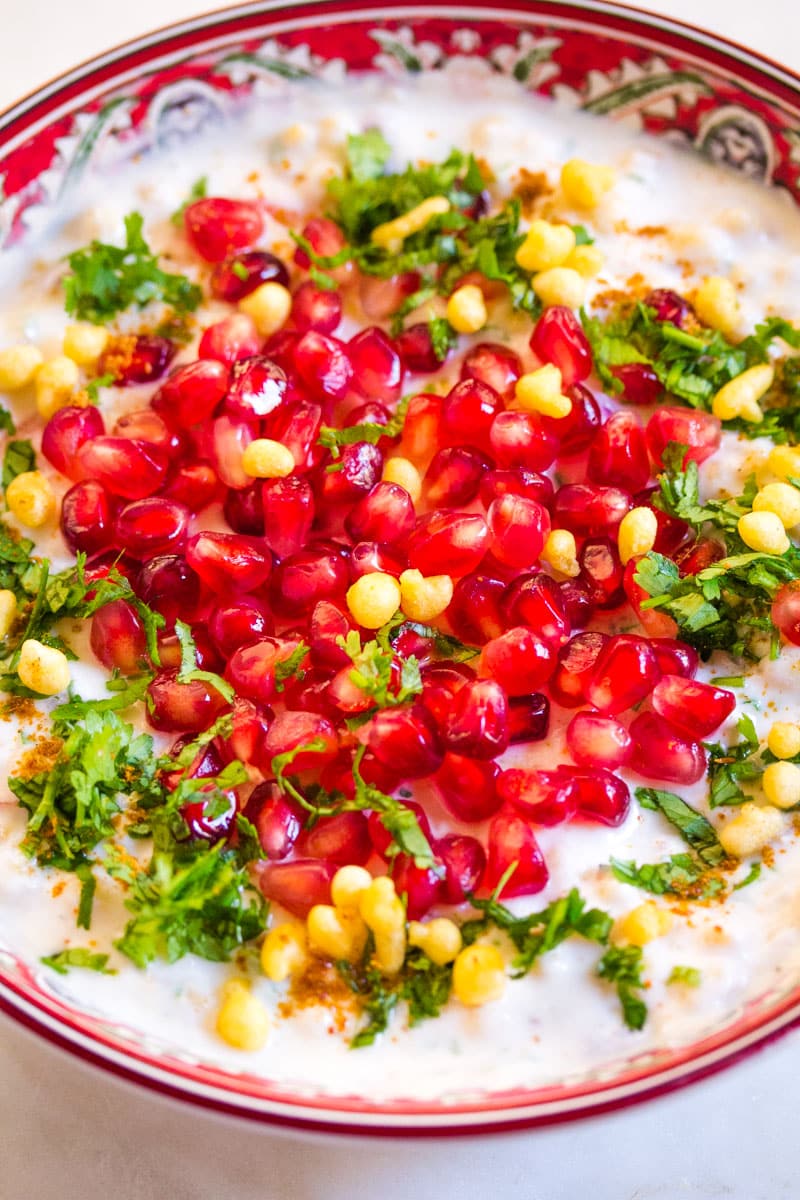 Recipe FAQs
What is boondi called in English?
Boondi is a delicious snack originating from India. It is made from fried chickpea flour and is a savory snack. It can also be sweetened and enjoyed as a dessert. This boondi is added to yogurt for a softer texture, but it can also be enjoyed fried for a crispy boondi.
Can I use Greek yogurt?
You can easily substitute any yogurt for this recipe based on your dietary needs. The spiced yogurt will taste essentially the same no matter what you use. I usually use plain yogurt over greek yogurt, based on what I can find in grocery stores.
What do I do if my consistency is too thick?
Suppose the yogurt you use produces a thicker consistency, water it down with a bit of warm water or milk. The boondi will likely soak up excess moisture while you refrigerate.
Serving Suggestions
Serve with main dishes such as Beef Biryani, Chicken Pulao, and Matar Pulao. It also goes well with appetizers such as Mutton Chops, Chapli Kabab, or Malai Boti Tikka.
Serve cold or at room temperature, and be sure to refrigerate after a while because of the milk-based products.
More Delicious & Easy Recipes
For the tastiest Raita recipes, try these deliciously simple dishes. They will quickly become your favorite raita recipes.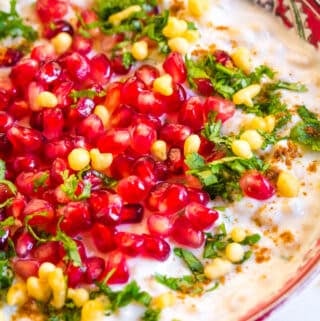 Boondi Raita
This 5 minute boondi raita is simple enough to make in your kitchen.
Print
Pin
Rate
Ingredients
2

cups

yogurt

½

cup

milk

1

teaspoon

chaat masala

1

teaspoon

salt

2

teaspoons

sugar

1

onion

finely chopped

1 to

mato

finely chopped

1

green chili

finely chopped

¼

cup

coriander leaves

finely chopped

1

cup

boondi

½

cup

pomegranate seeds

More chopped coriander leaves to garnish
Instructions
In a medium-sized mixing bowl, combine the yogurt, milk, chaat masala, salt, and sugar. Whisk to ensure there are no lumps.

Add the onion, tomato, green chili, and coriander, and mix to combine.

Now add the boondi, and mix well until incorporated.

Top with pomegranate seeds and chopped coriander.

Place in refrigerator for at least 30 minutes before serving.
Nutrition
Calories:
140
kcal
|
Carbohydrates:
18
g
|
Protein:
6
g
|
Fat:
5
g
|
Saturated Fat:
3
g
|
Polyunsaturated Fat:
0.2
g
|
Monounsaturated Fat:
1
g
|
Cholesterol:
20
mg
|
Sodium:
691
mg
|
Potassium:
402
mg
|
Fiber:
2
g
|
Sugar:
14
g
|
Vitamin A:
495
IU
|
Vitamin C:
11
mg
|
Calcium:
198
mg
|
Iron:
0.3
mg