Chapli Kabab, the famous street food from Peshawar, is the best kabab ever, period. Made with beef, whole spices, and tomatoes these kababs are juicy and bursting with flavor. Dip them in mint raita and enjoy with piping hot naans or poori.
Love street food recipes? Try these Mutton Chops, Chicken Seekh Kebab, Aloo Pakora, and Malai Boti.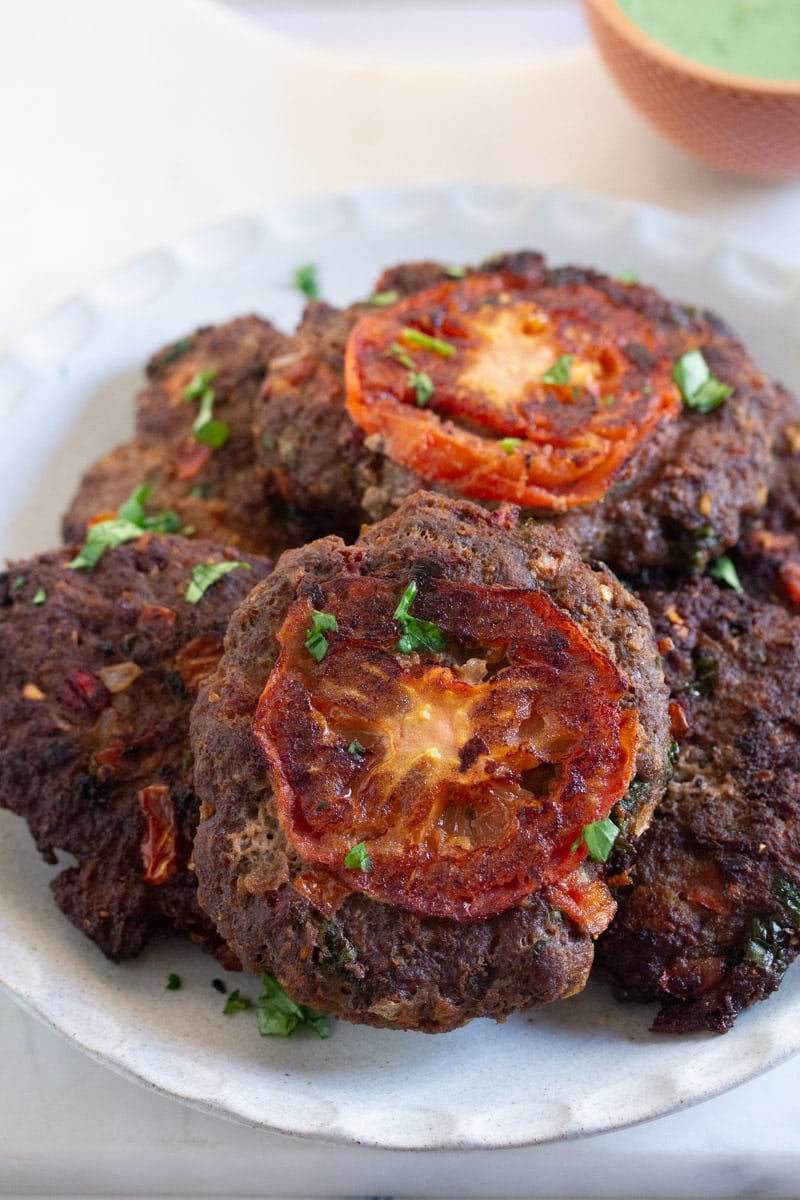 What are Chapli Kabab?
Chapli kababs originate from Khyber Pakhtunkhwa, a province in Pakistan. They are especially popular in Peshawar and Afghanistan and are larger than usual kababs. They are also called Peshawari kababs sometimes.
The name Chapli is derived from the Pushto word Chaprikh which means thin and flat.
What sets them apart is the use of delicious spices such as anar dana and crushed coriander seeds. But perhaps the biggest difference is that traditionally chapli kababs are fried in tallow which is a rendered form of beef or mutton fat.
This gives the kababs a delicious flavor and makes them exceptionally juicy.
They're traditionally huge in size and served with steaming hot naans (flatbreads) and chutney.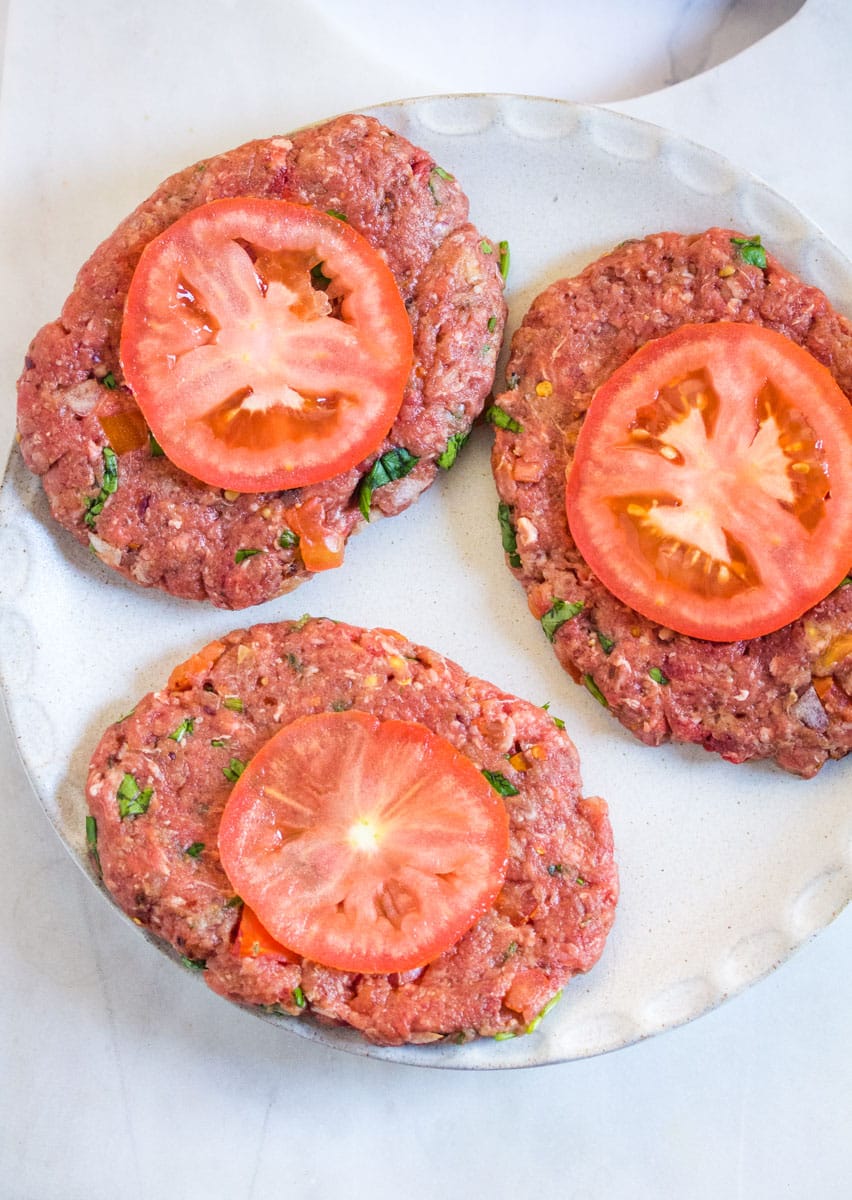 Why this is the Best Recipe for Homemade Chapli Kebab
Juicy ground beef: This recipe uses ground beef that is high in fat, with at least 25% of fat content. This makes for juicy, flavorful chapli kabab.
Whole spices: This recipe calls for a number of whole spices such as anar dana (dried pomegranate arils) and red chili flakes. Anar dana is what brings a distinct flavor to this kabab because of its the tangy and subtle crunch.
Easy: This is a simplified version of the original chapli kabab. However, don't worry we aren't compromising on the flavor here!
Ingredient Notes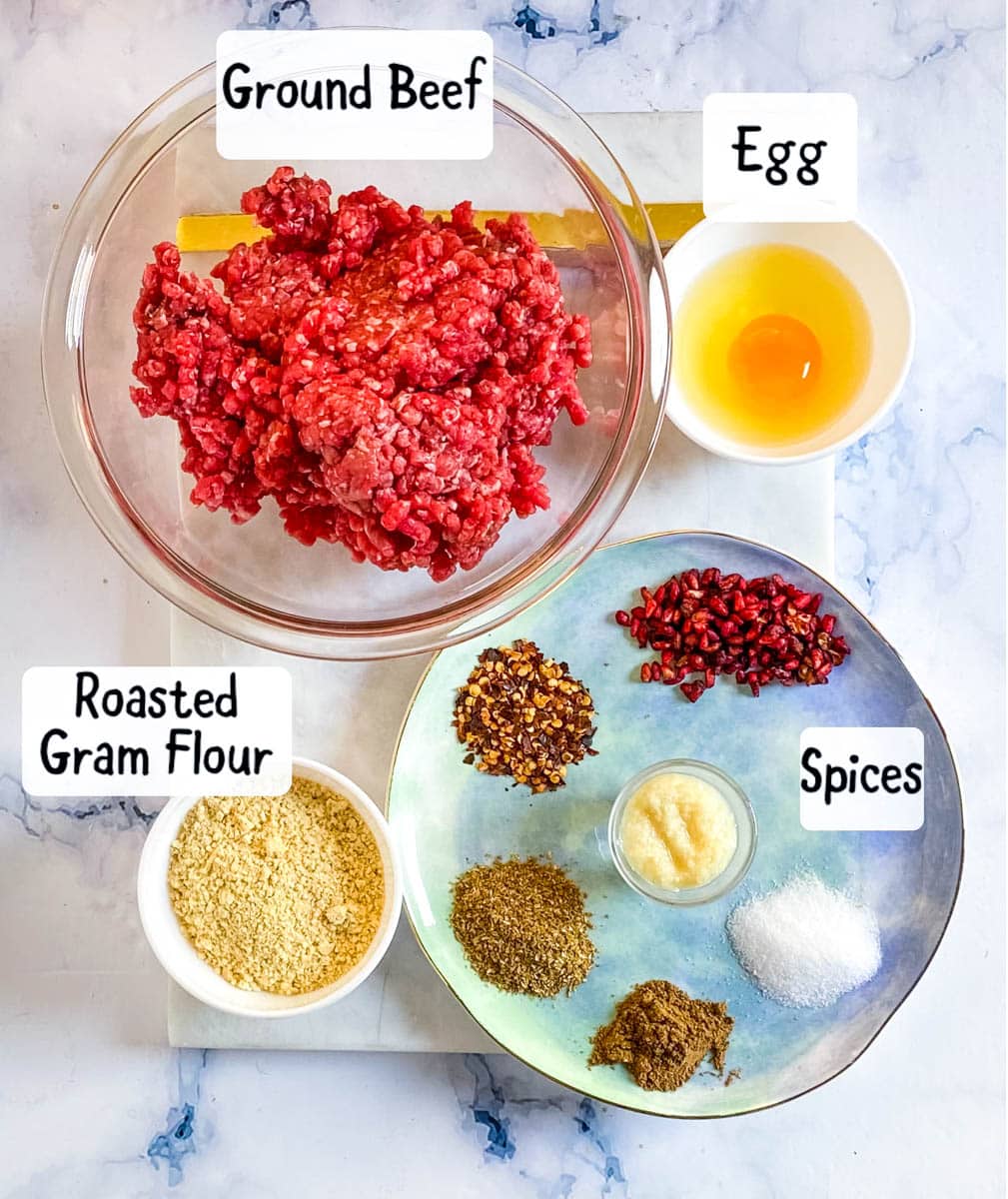 Ground beef: For the most flavorful kabab I highly recommend that you use ground beef with high-fat content. Some recipes call for adding beef tallow or bone marrow in the meat to make it extra juicy. However, this isn't always possible for home cooks like us, so just go for the juiciest ground beef you can find. You can also substitute with chicken mince or mutton.
Spices: You will need whole spices such as anar dana, coriander seeds, cumin seeds, red chili flakes, garam masala, and salt. Anar dana is easily available at Indian stores, however, if you can find it, the next best substitute is anar dana powder.
Egg: Eggs are a fantastic binding agent, and we need one here to do just that.
Roasted Gram Flour: You will also need about 1/2 cup of roasted gram flour or besan. While traditionally cornmeal is used to bind the chapli kabab, you can either use besan or atta or wheat flour.
Fresh cilantro: Also known as coriander, this adds a delicious and fresh flavor to the kabab.
Tomatoes: Added for juiciness, and pops of flavor. Take out the seeds before chopping the tomatoes into fine pieces.
Onion: This helps to make the kebabs juicier, but be sure to squeeze out the excess moisture after chopping the onion.
Green chilies: Chop finely to get it evenly dispersed throughout the meat. You can also remove the seeds if you want to reduce the heat level.
Ginger and garlic paste: You can use store-bought, or you can use my homemade version of ginger garlic paste.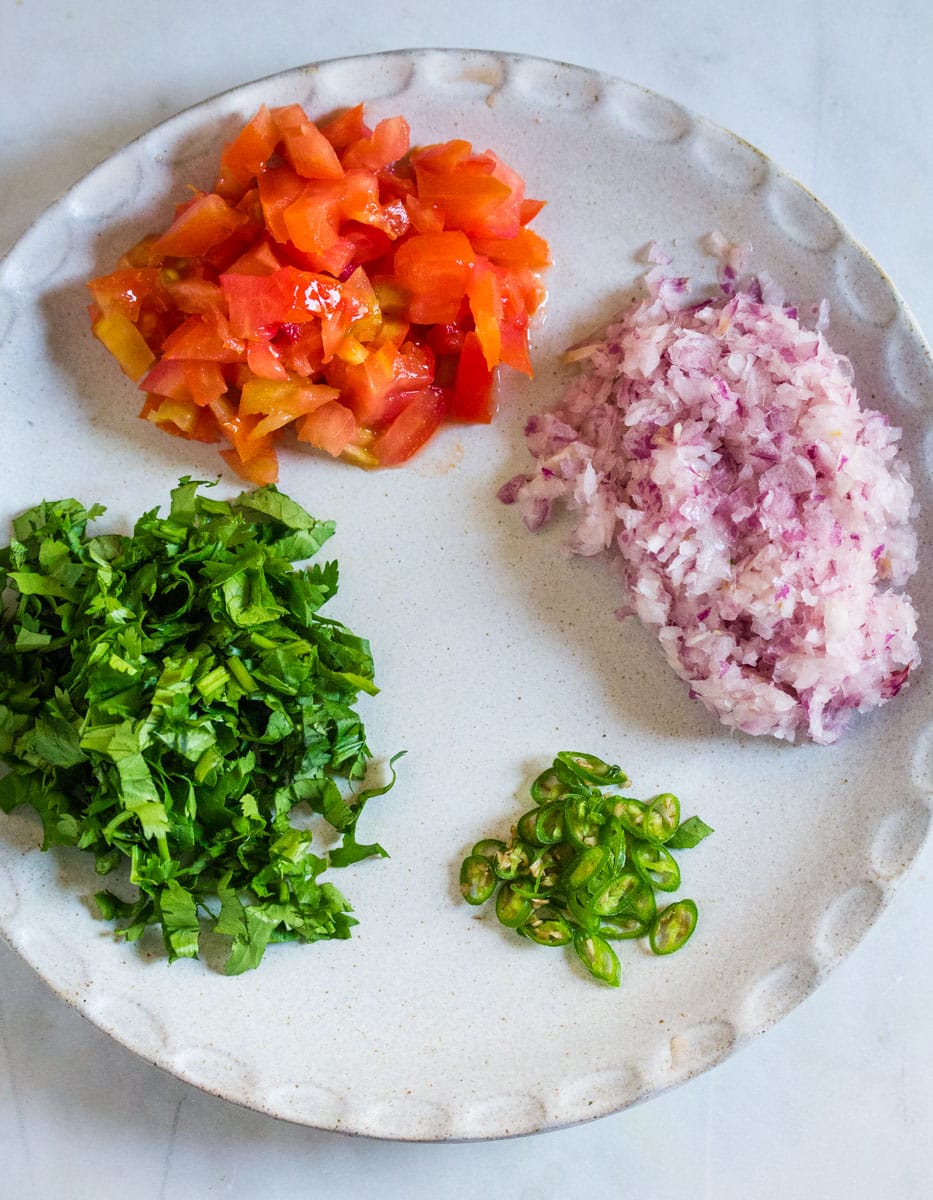 How to Make It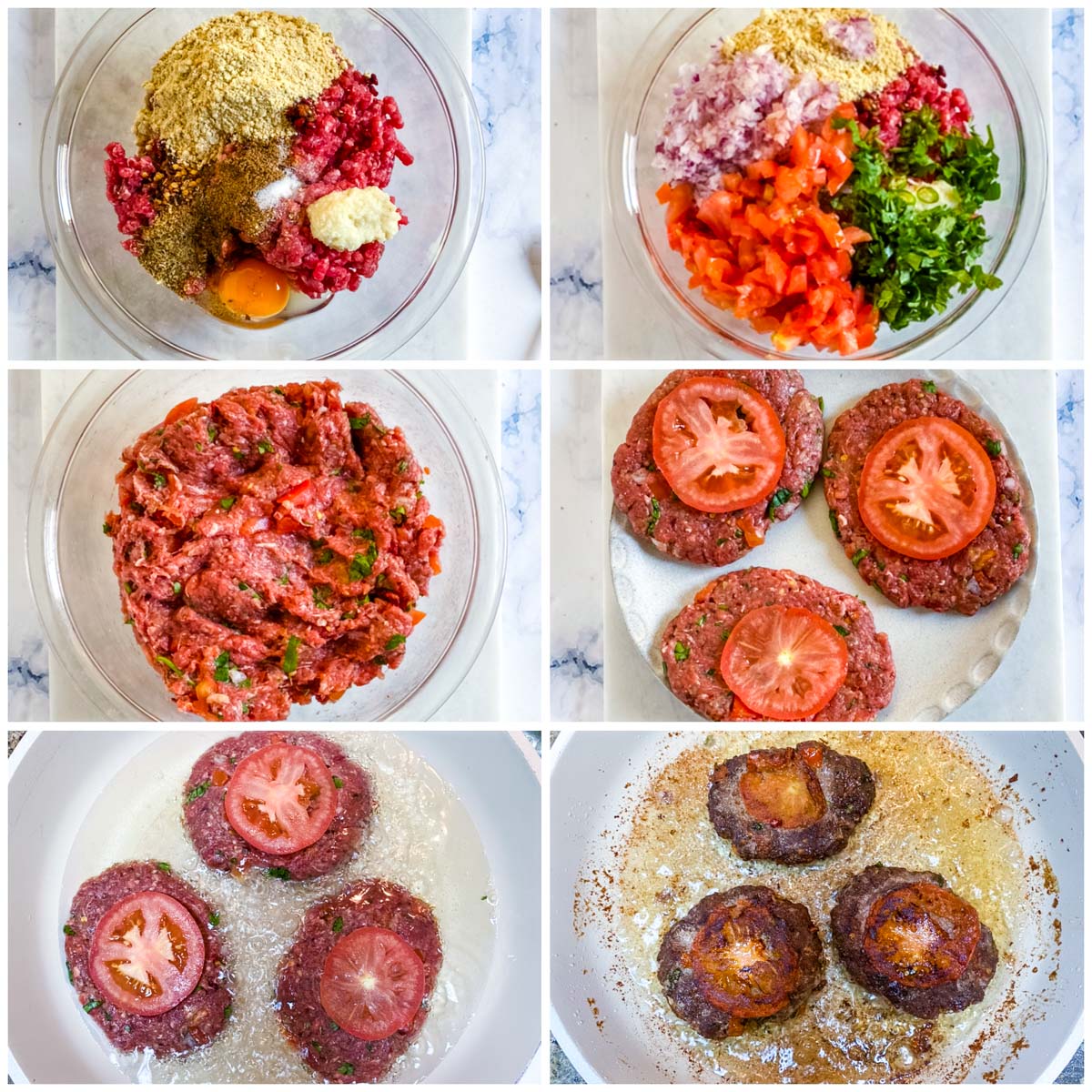 Prepare the spices: Start by grinding together the coriander seeds and cumin seeds. You can do this by placing them in a spice grinder or a coffee grinder. You can also grind them coarsely in a mortar or pestle.
Roast the Gram Flour: You will need to dry roast the besan in a small frying pan. Just place the besan on a frying pan, and roast for 3-4 minutes while stirring constantly on medium-low heat, until the color changes a bit and the besan gets fragrant. Remove from pan, and set aside to cool.
Prepare the fresh aromatics: Chop the tomatoes, onions, and fresh coriander. I like to chop the onion in my trusty chopper to get it chopped finely. Then I use my hands to squeeze out the excess moisture in the onion.
Make the Chapli Kabab Mixture: Add all the prepared ingredients to the ground meat in a mixing bowl, and mix well.
Knead: Using your fists, knead the ground beef mixture until it is homogenized and well-bound. If you feel the kabab mixture is still too soft, you can add a bit more roasted gram flour.
Shape the patties: You can make the patties as big or small as you want. I tried to imitate the shape of the original and formed them into flat oval shaped discs. Then I added a sliced tomato to each patty and pressed it lightly with my hands.
Fry the kababs: I used oil to fry the kabab, but the original kababs are fried in rendered fat. You can also add a bit of butter to the oil when frying.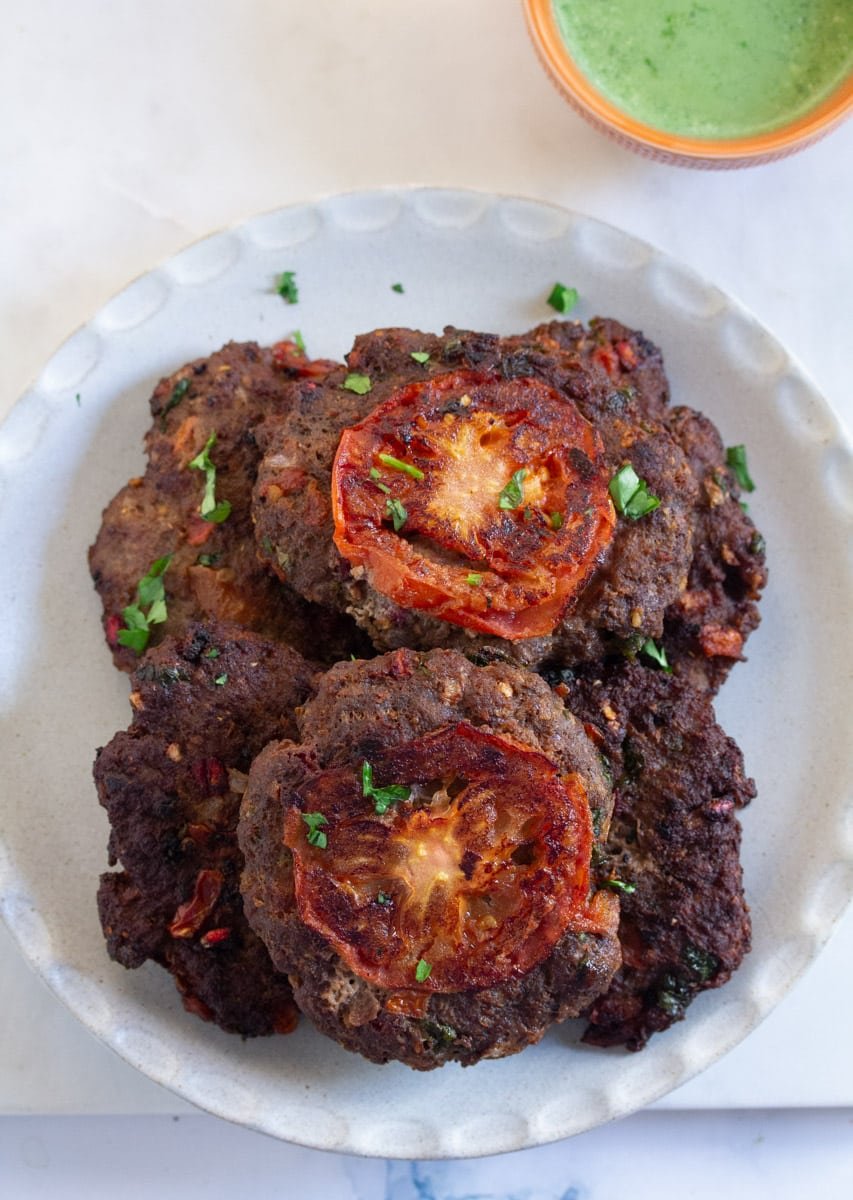 Recipe FAQs
Why do my chapli kabab break?
This could be due to excess moisture in the meat mixture. This can happen sometimes when you let it sit for a while, and the onion and tomatoes release moisture. To avoid this, you can use tomatoes without the seeds and squeeze the extra moisture from the onions after chopping.
What makes chapli kabab soft?
It is the high-fat content in the meat, that makes the kabab soft and tender.
How do I fix a too-moist meat mixture for my chapli kabab?
You can add more besan to help bind the meat together, just add 1-2 tablespoons and mix well. If the meat holds together, you can shape the patties.
Can I freeze chapli kabab?
I don't recommend freezing the uncooked patties, as upon defrosting the raw tomatoes and onions will release too much moisture, causing the patties to break. You can freeze the cooked kebabs, by placing them on a single layer on parchment paper. When frozen solid, transfer to a ziplock back and store for up to 1 month.
Serving Suggestions
Traditionally, chapli kabab is served wrapped in hot tandoori naans, with a fresh salad of onions and tomatoes, and a chutney for dipping.
However, I love to serve chapli kababs in every possible way. My favorite combination is to have them as a side with yellow dal, basmati rice, kachumber salad, and mint raita. Sounds like a lot of food, but you have to try it. It's a divine combination, I promise, and you can see it down below. That was my actual lunch!
You can also amp up your rice dishes with these chapli kabab, such as Chicken Pulao and Matar Pulao.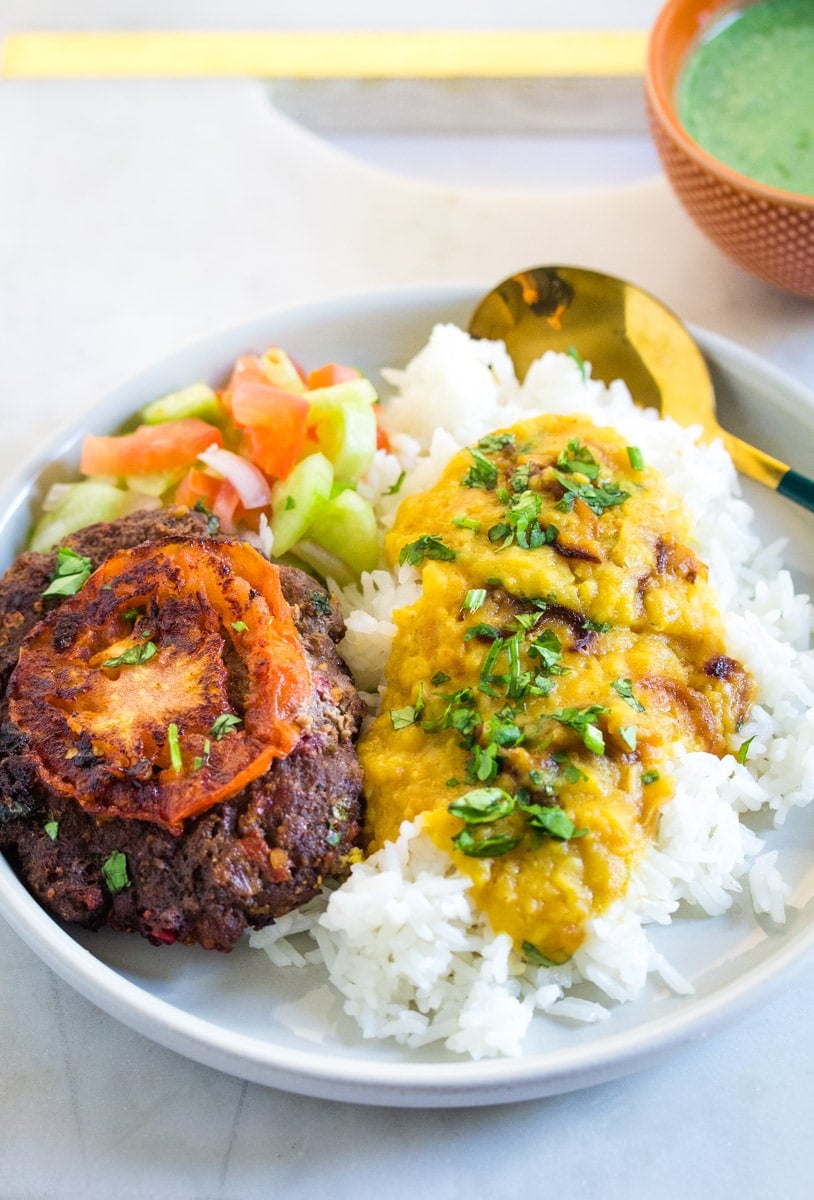 One of my other favorite ways to have these kababs is to make them into a chapli kabab burger! It's basically a Pakistani burger with all the bells and whistles. Add your favorite toppings such as mint raita and kachumber salad. You can even add cheese for additional yumminess.
Helpful Tips
Tip #1: Use ground meat with high-fat content. This makes the kababs juicy, and succulent. You can also add some bone marrow for that extra flavor, if you're able to find it.
Tip #2: Traditionally these kababs are fried in tallow oil which is hard fat obtained from buffalos. Ghee is a good substitute for this, if you want to get the closest possible flavor to the original.
Tip #3: Shape the patties bigger than you would like, as the kababs will shrink in size when being fried.
More Delicious Pakistani Snacks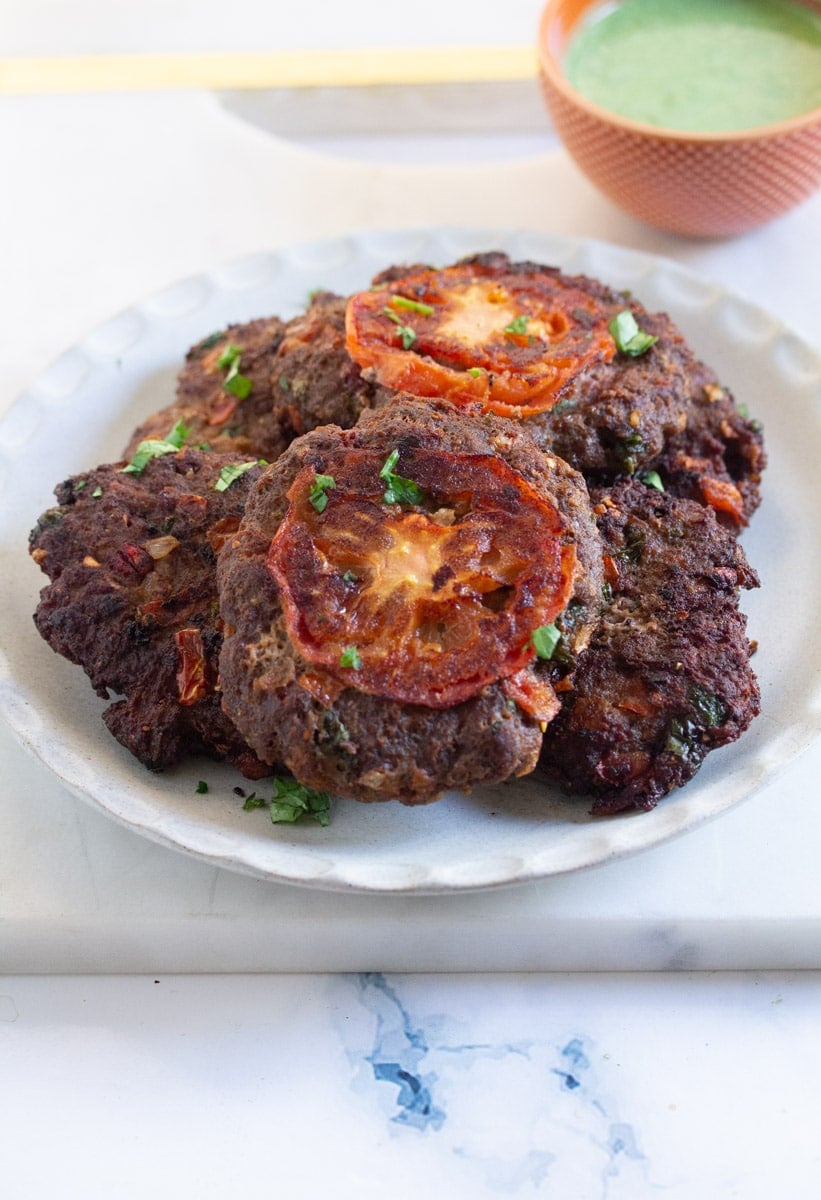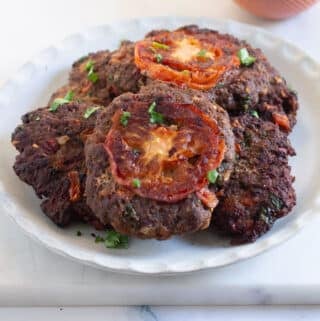 Chapli Kabab Recipe
These chapli kababs are juicy, tender and so flavorful with the addition of anar dana, crushed coriander and cumin seeds.
Print
Pin
Rate
Ingredients
1

kg

beef keema

1

tablespoon

garlic paste

1

tablespoon

ginger
Spice Mixture:
2

tablespoon

anar dana

or anar dana powder

1

teaspoon

red chilli flakes

1

tablespoon

coriander seeds

1

tablespoon

cumin seeds

2

teaspoons

salt

1/2

teaspoon

garam masala powder
Fresh Aromatics:
1

small tomato

seeds removed

1

green chilli

1

small onion finely chopped

excess moisture removed

1

handful of coriander
For Binding:
1/2

cup

gram flour

besan

1

egg
Optional
1 to

mato

sliced into rounds
Instructions
Prepare the Spice Mixture:
Place the coriander seeds and cumin seeds in a small spice grinder or coffee grinder. Grind until coarsley ground. You can also use a mortar and pestle to do this.

Mix with the rest of the spices: anar dana, garam masala powder, red chili flakes and salt. Set aside.
Dry Roast the Besan (Gram Flour):
In a small frying pan, roast the besan on medium low heat (while stirring) for 3-4 minutes. When the besan is fragrant and slightly darkened, transfer to small bowl and set aside to cool.
Prepare the Fresh Aromatics:
Slice the tomato, remove the seeds and chop into cubes.

Peel the onion, chop into quarters, and then using a chopper or small blender, chop the onion very finely. Squeeze the excess moisture with your hand. Discard the excess liquid.

Finely chop the fresh coriander leaves and green chili.
Prepare the Meat Mixture:
In a medium mixing bowl, add the keema.

Add the egg, roasted besan (gram flour), spices, tomato, onion, green chili, coriander, and ginger garlic paste. Mix well until fully combined.

Using your fist, knead the meat for 1-2 minutes until it is mixed completely and holds together.

If the meat mixture is too soft, you can add 1-2 tablespoons of additional roasted gram flour.
Shape the Kababs:
Taking medium sized balls of meat, flatten them into a flat oval shaped disc. Flatten the kababs with your hands, to achieve the desired shape and size.

Pro tip: The kebabs will shrink in size as they cook and release moisture. So make them slightly bigger than you would like.

Place on parchment paper.

Optional: You can add sliced tomatoes on each kabab and press it in gently with your hands, for extra flavor and juiciness.
Fry the Chapli Kabab:
Heat about 1-inch oil in a frying pan to medium-high heat.

Gently place the patties, and fry on each side for 3-4 minutes or until golden brown and cooked through. Be careful not to over cook the kababs, as they will become dry.
Notes
Ground beef: Use meat with at least 25-30% fat content. You can also use chicken mince or ground mutton.
Ginger garlic paste: Use homemade or storebought.
Anar dana: You can find this at Indian stores, and it is an integral flavor for this recipe. If you don't like the crunchy texture it adds to the kababs, you can grind it along with the coriander and cumin seeds.
Gram flour/Besan: Traditionally corn flour or cornmeal is used as a binding agent. However I always have besan in my pantry so that is what I used. You can also use atta or wholewheat flour.
Storage Instructions: You can store the cooked kababs for 2-3 days in the fridge. You can also stored the cooked kababs in the freezer for 1-2 months.
Nutrition
Calories:
385
kcal
|
Carbohydrates:
15
g
|
Protein:
38
g
|
Fat:
19
g
|
Saturated Fat:
7
g
|
Polyunsaturated Fat:
1
g
|
Monounsaturated Fat:
8
g
|
Trans Fat:
1
g
|
Cholesterol:
136
mg
|
Sodium:
938
mg
|
Potassium:
805
mg
|
Fiber:
3
g
|
Sugar:
6
g
|
Vitamin A:
520
IU
|
Vitamin C:
9
mg
|
Calcium:
59
mg
|
Iron:
5
mg