Ginger Garlic Paste is a staple in South Asian cooking. A lot of Indian and Pakistani recipes call for freshly ground ginger and garlic paste, but it's not always possible or convenient to make it every single time before cooking.
So today, I'm going to tell you how to make it at home, and also give you some tips on how to preserve and store it with natural ingredients.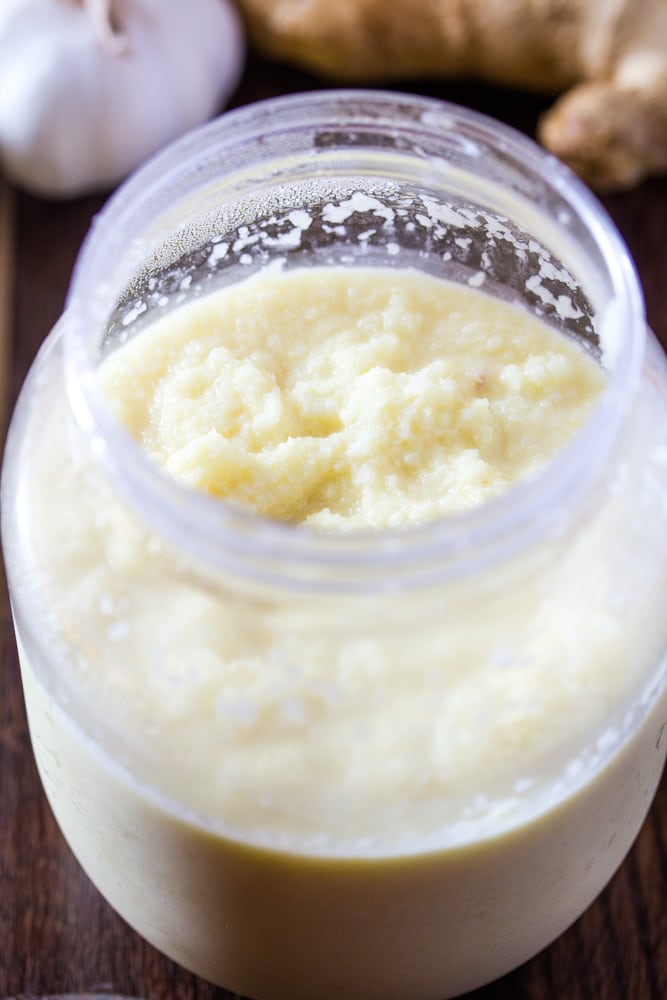 So What Exactly is It?
Ginger Garlic paste is quite literally a paste of freshly blended ginger and garlic. It's used in almost all of South Asian cooking, as it's use as a base of making curries, for example these Chicken Karahi and Easy Chicken Korma.
Ginger and garlic both have anti-inflammatory properties and also act as meat tenderizers. They also impart a delicious flavour to all curries, so it's always convenient to have a big batch at home!
Why Does It Change Color Sometimes?
Ginger Garlic Paste sometimes turns green in the presence of acid. However, I add a bit of natural preservative while blending it so that it does not change color.
How to Preserve It
I use vinegar, salt and a little bit of oil to preserve the ginger garlic paste I make. This way I can easily store it in an airtight container in fridge for up to 2 to 3 weeks.
How to Make It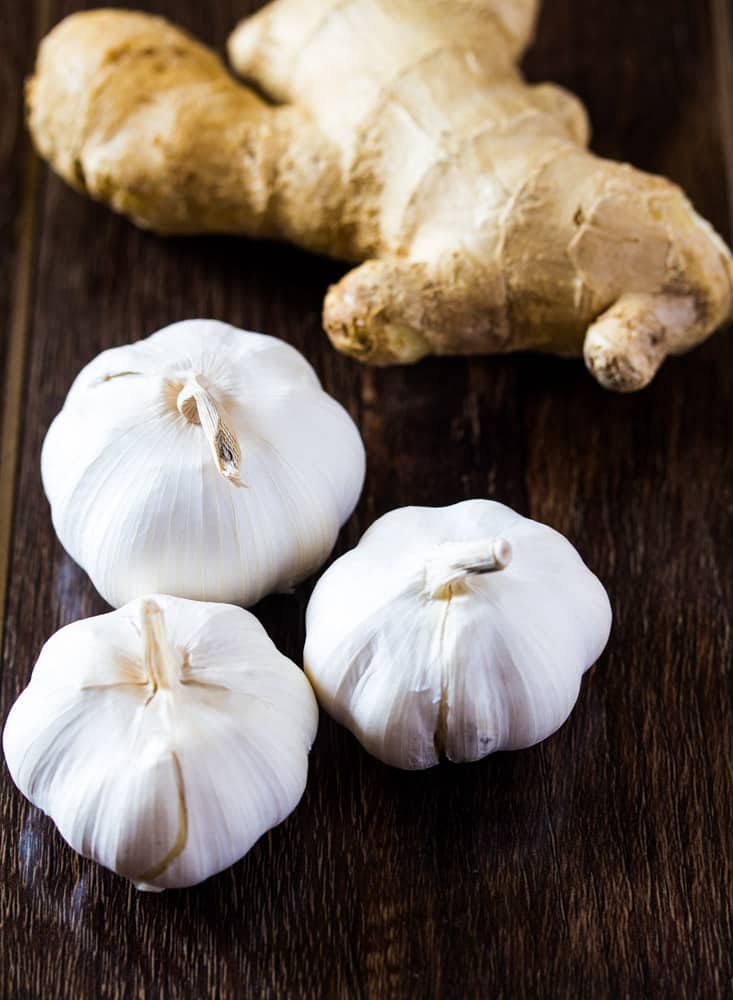 Just blend together ginger, garlic, vinegar and salt. Blend with a little bit of water until you have a smooth paste. Transfer to a jar, and cover with one tablespoon of oil. Store in the fridge.
And that's it. Super easy!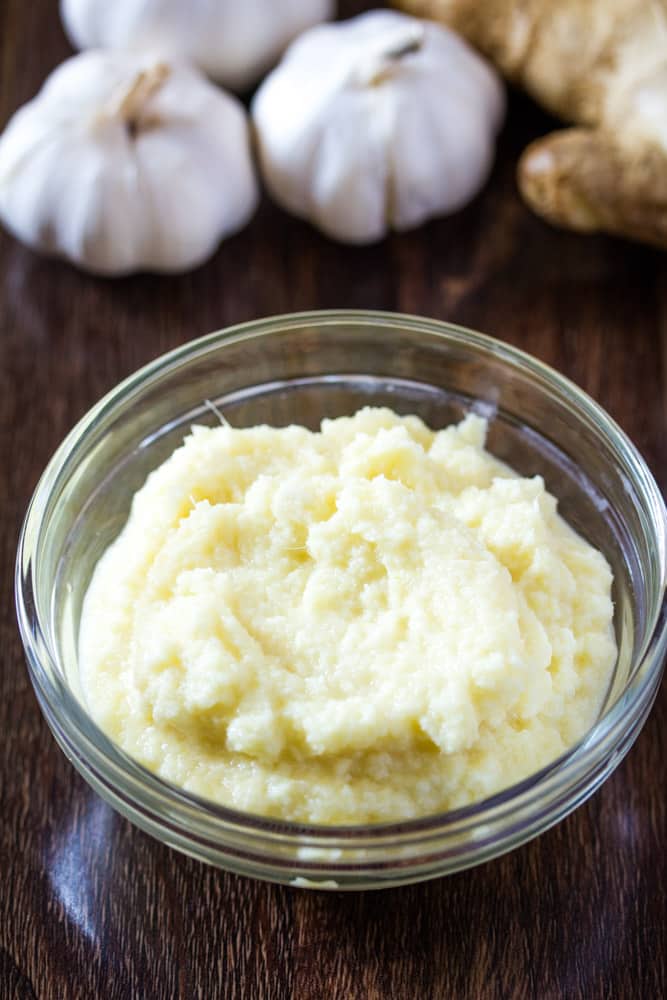 Storage Instructions
In the Fridge
To store the it in the fridge, simply transfer it to an airtight jar or container, and store in the fridge for up to 3 weeks. Always use a dry spoon to scoop out the ginger garlic paste.
In the Freezer
There are two easy ways to store it in the freezer.
The Ice Cube Method
Transfer the prepared paste to an ice cube tray, and let it freeze until solid. Then simply pop out the frozen cubes, and place in a ziplock bag and freeze up to months. Whenever you need to use it take one cube and add it to the curry as directed in the recipe. There's no need to thaw it.
Freezing on a Tray
Scoop out one tablespoon of ginger garlic paste each onto a tray lined with parchment paper. Freeze until solid, and then transfer to a ziplock bag.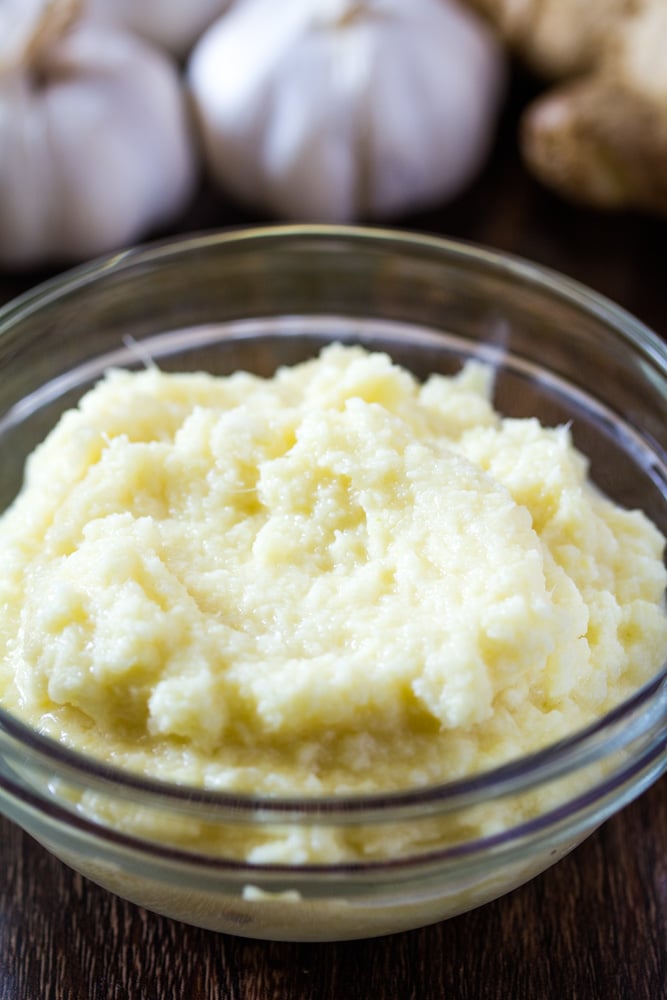 Some Recipes that Call for Ginger Garlic Paste
Aloo Keema - Easy Ground Beef Curry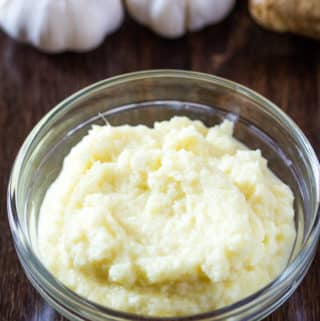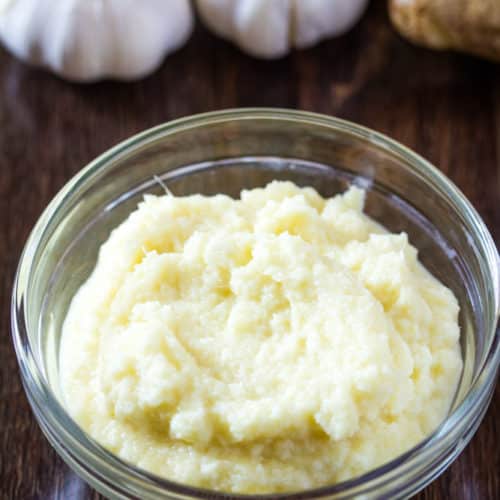 Ingredients
1/2

kg

ginger root

1/2

kg

garlic

1/2

tablespoon

oil

1

tablespoon

vinegar

1/4

teaspoon

salt

Water as needed
Instructions
Clean and peel the ginger. Chop into one inch pieces.

Peel and separate the garlic cloves.

Place all the ingredients in a blender, and add a splash of water or two.

Blend until a smooth, pale yellow paste forms.
Storing in the Fridge
Transfer in an airtight jar or container for up to one month.
Storing in the Freezer
Alternately, you can place the ginger garlic paste into ice cube trays and freeze. Once frozen, take out from the ice cube tray, transfer to a ziplock bag and store in the freezer for up to 1-2 months.
Storing in the Freezer without Ice Cube Trays
If you don't want to use ice cube trays, then you can measure out one tablespoons of the ginger garlic paste onto a freezer safe tray or plate lined with parchment paper. Freeze until solid, and then remove from the tray and place into a ziplock bag. Store in the freezer for up to 1-2 months.
Nutrition
Calories:
1210
kcal
|
Carbohydrates:
254
g
|
Protein:
41
g
|
Fat:
13
g
|
Saturated Fat:
2
g
|
Sodium:
732
mg
|
Potassium:
4080
mg
|
Fiber:
21
g
|
Sugar:
14
g
|
Vitamin C:
181
mg
|
Calcium:
985
mg
|
Iron:
12
mg