Chicken Karahi is an iconic dish in Pakistan, and for good reason. Made in a karahi (iron wok), bone-in chicken is cooked together with tomatoes and spices to make a finger-licking-good curry. Pair it with naan or rice, and you're all set for a great meal!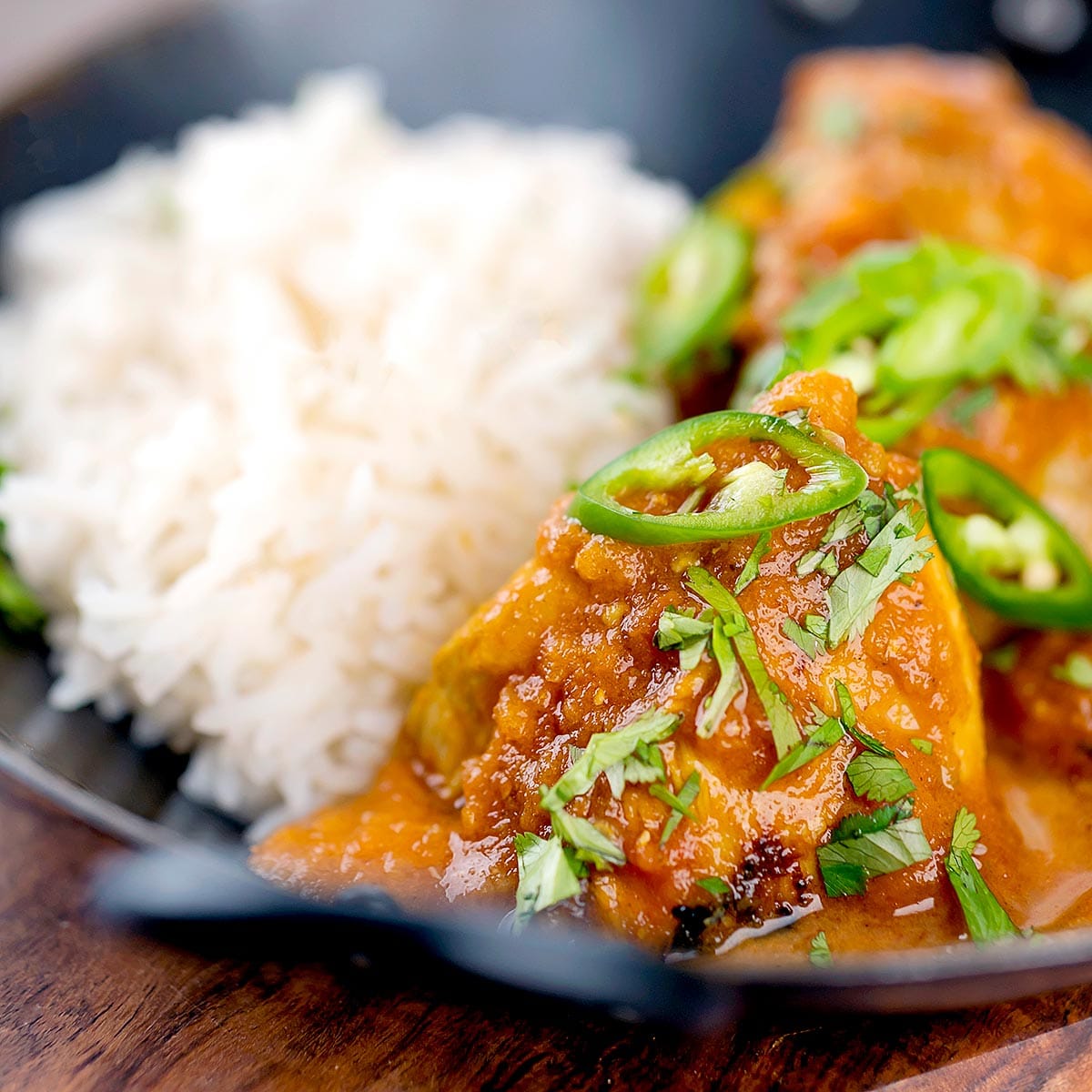 If you're from Pakistan / India, it's likely you've heard of chicken karahi. It is quite popular at dhabbas (small street side restaurants) and is made all over the country. If you love desi recipes, then do try this White Chicken Karahi and Beef Biryani (we get rave reviews on this one!).
I love, love, love chicken karahi. Not only for the flavor, obviously it's one of the best-flavored curries and you really do have to try it to know it. But also because it's so easy to make.
I remember coming home from long family road trips to the mountains, and my mom making this chicken karahi and daal with white rice, and to this day it's been one of my favorite food memories.
Why this Recipe works with Such Few Ingredients
Authentic Recipe: This is an authentic recipe and does not call for onions or capsicum (please NO capsicum, I beg you). Real chicken karahi the one that's made at dhabbas doesn't need onions. The tomatoes are the star here, and they need to be cooked down to develop the flavor of this karahi. This dish is not meant to have lots of masala or shorba. However, if you really do want to add onion to the dish, then I've made notes for it in the recipe card below.
No Water: One of the biggest mistakes that one can make with karahi is adding water. Water is not allowed here! The tomatoes have enough moisture, and will cook down, and will become awesomely delicious. You just have to be patient.
Spices: Okay this is where some people would not be happy. But I'm okay with this. In my recipe, I only add red chilli powder, turmeric powder, salt and sometimes I end the recipe with a sprinkle of freshly cracked black pepper. I know, I know, the general consensus is that add more spices, you'll get more flavor. But remember, here the tomatoes are the key ingredient and we need to let them shine. The spices are just there to elevate the flavor, not be the main star of the show.
Quick & Easy: This is such an easy recipe, with minimal ingredients, once you have the tecnique down I promise you, you'll put this karahi on your weekly rotation!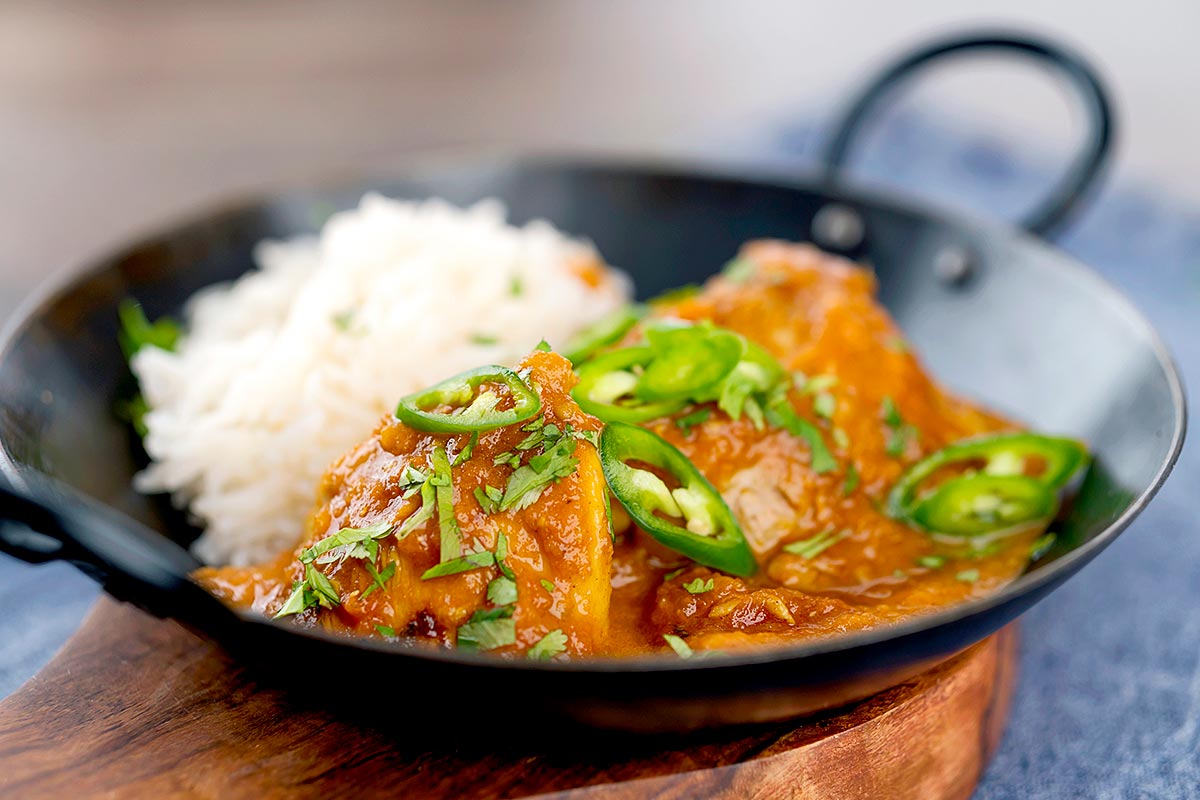 Ingredients You'll Need
Oil: The quantity of oil is key in tomato based curries. I recommend using 1/3 cup oil for health reasons, but if you prefer a karahi in which you can really visibly see the oil separated from they curry, then you can increase the quantity to 1/2 cup oil.
Bone-in Chicken: Chicken karahi is traditionally made with bone-in chicken cut into small size pieces (known as karahi cut). This is to make the chicken more flavorful and absorb all the flavors. However, you can easily swap with chicken breast or chicken thighs. I have fussy kids so sometimes I do a combination of boneless chicken thighs and chicken breasts cut into 2 inch chunks instead.
Tomatoes: Tomatoes are the key ingredient in this recipe, so use ripe and juicy tomatoes, for the best results.
Ginger garlic paste: Almost every South Asian curry calls for this, and you can either use the kind that comes in jars or make ginger garlic paste using my recipe for it. You can also use fresh garlic and ginger. Using fresh is highly recommended!
Spices: We're keeping it very easy in this simple chicken karahi recipe, so I use only red chilli powder, turmeric powder and salt as the spice base for this recipe. Sometimes I like to finish with cracked black pepper to add and extra kick.
Coriander & Green Chillies: The karahi is finished with lots of freshly chopped coriander and green chillies. If the tomatoes are the king in this recipe, then coriander and green chillies are the crown jewels! 🙂
Bonus Ingredients: Add a dab of butter and a teaspoon of dried fenugreek leaves (sukhi methi), to elevate the level of the karahi even further. However, these are optional ingredients and you can skip them without sacrificing the flavor.
How to Make Chicken Karahi Recipe
Cook the Chicken: Heat oil in a karahi or a heavy bottomed pot. Add the chicken and saute until it changes color to white. This will take around 3-4 minutes.
Now add the ginger garlic paste, and saute for another 2-3 minutes.
Add the spices, stir, and saute on high heat for 5-7 minutes or until the oil separates and is visible.
Now add the chopped tomatoes, and stir. Lower the heat to medium-low and cook for 15-20 minutes until the tomatoes have softened and cooked through.
After the tomatoes have cooked through, remove the lid, turn the heat to high and cook for about 10 minutes, while constantly stirring. This is called bhunnai and is crucial to develop flavor of the karahi. You'll know when the chicken karahi is ready when you see the oil separating, and the gravy will be bubbling and will have thickened in consistency.
When the karahi is ready, remove from heat, and garnish with copped coriander and green chillies. Cover and let the aroma absorb into the curry for a few minutes. At this point, you can also add a dab of butter and dried fenugreek leaves, if desired.
Serve with rice or naan. One of my favorite combinations is to make this daal, this chicken karahi and pair the both with this chana pulao. If you try it, do let me know in the comments how you liked it!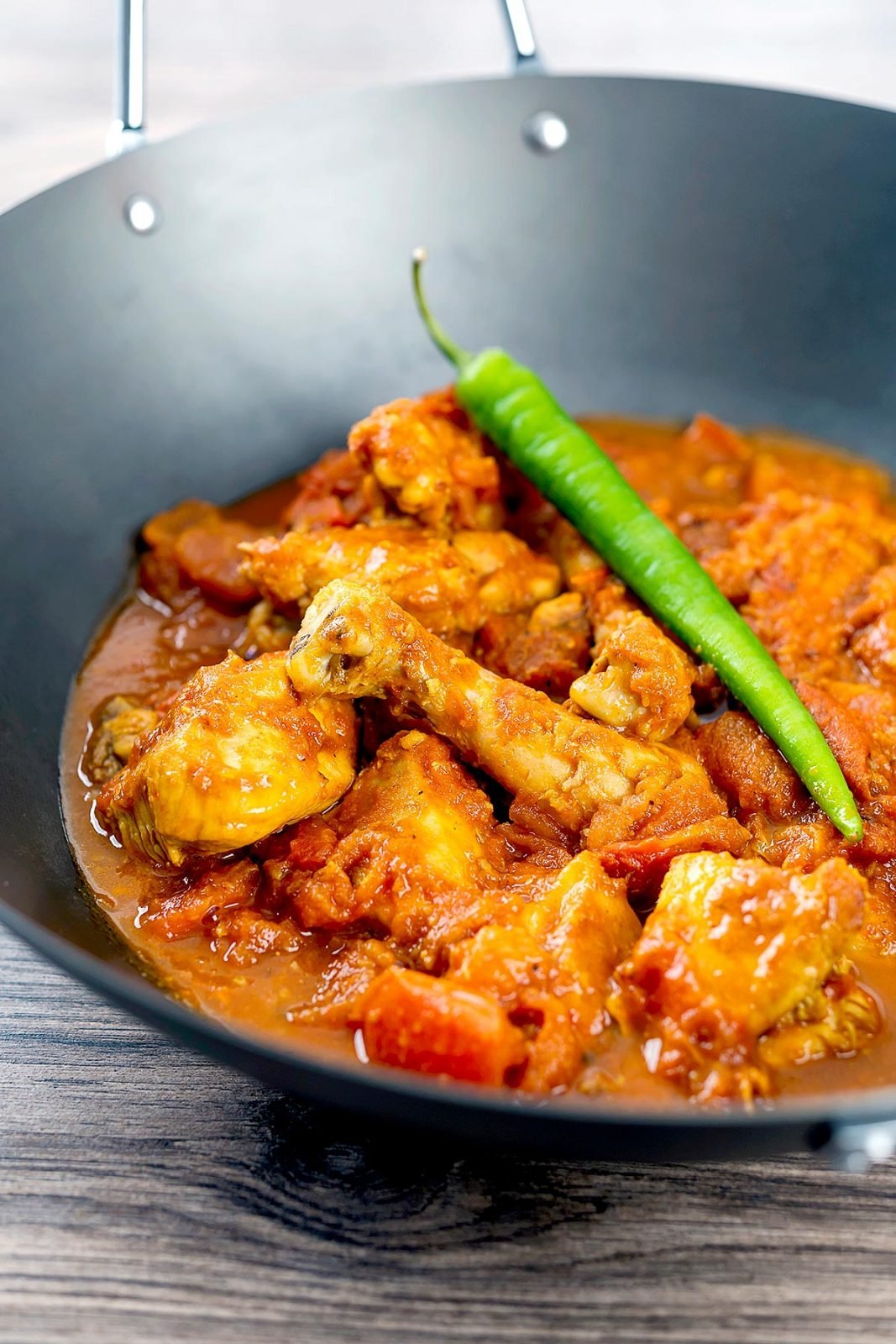 Expert Tips & Tricks
Meat Variation: Karahis can be made with other meats such as goat or lamb. The cooking time will of course vary.
Karahi cut: Chicken karahi gets its flavor from a smaller pieces of chicken. You can ask your butcher to cut a whole chicken into 14 pieces for an authentic karahi.
Blend the tomatoes: For ease of making, instead of chopping the tomatoes you can also blend them in to a puree form. They cook down faster this way, and you don't have to worry about the tomato skins not cooking and dissolving into the curry properly.
Ginger & Garlic: Use a small chopper to chop the ginger and garlic quickly, or use my homemade ginger garlic paste recipe to keep in the fridge for whenver you fancy making a curry!
Adjust Spice Levels: If you don't like spicy food, then remove the seeds from the green chillies to lower the spiciness of the dish. They'll still lend a delicious flavor to the karahi!
Frequently Asked Questions
Can I use a different pot if I don't have a karahi?
Yes and no. Authentic chicken karahi gets its flavor from being cooked in a big karahi. However, not everyone has a karahi, so you can definitely cook it in a large heavy-bottomed pot. I've had good success with cooking chicken karahi in my dutch oven too, as it retains heat really well.
What is Karahi cut?
One of the reasons chicken karahi is so flavorful is because the chicken is cut into smaller pieces: around 14-16 pieces.
Is Karahi spicy?
No, karahi is a mildly spiced dish with most of its flavor from tomatoes.
More Delicious Pakistani Chicken Recipes
Note: This recipe was originally published on Oct 12 2018, and has been updated for more detailed instructions, step by step pictures and a video!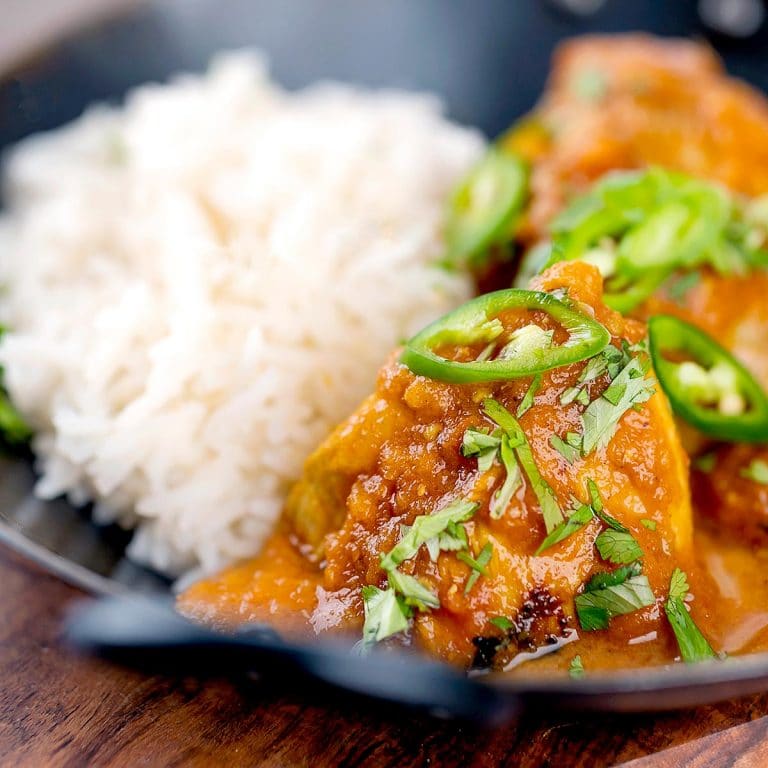 Easy Chicken Karahi Recipe
This authentic recipe for Pakistani Chicken Karahi, is cooked in spices and tomato gravy, and is full of flavor! This is the original recipe, with detailed tips and tricks to make the best karahi!
Print
Pin
Rate
Ingredients
1/3

cup

vegetable oil

1

kg

bone-in chicken

(I had my butcher cut up the chicken into 14 pieces)

1

tablespoon

garlic paste

1

tablespoon

ginger paste

1

teaspoon

red chilli powder

1/2

teaspoon

turmeric

1

teaspoon

salt

(or to taste)

6-7

large

tomatoes

(roughly chopped into chunks)

1/3

cup

cilantro/coriander

(finely chopped)

1

green chilli

(for garnish)

1/2

teaspoon

freshly cracked black pepper

(optional)
Instructions
In a large, heavy bottomed wok or pot heat the oil and add the chicken pieces.

Saute the chicken pieces for a few minutes (2-3 minutes) until the chicken changes color. Then add the garlic and ginger paste, and saute the chicken for another 2-3 minutes. 

Now add the spices (red chilli powder, turmeric and salt) and saute on medium high heat for 5-7 minutes or until the oil separates from the chicken. Keep stirring the chicken frequently during this step.

Add in the chopped tomatoes and stir. Then lower the heat to medium low, and cover the pot until the tomatoes have softened. This will take about 15-20 minutes. Stir the chicken a few times during this time, ensuring that the chicken doesn't stick to the bottom of the pot.

Once the tomatoes have softened, take off the lid and cook on high heat until the oil separates once again. This will take about 5-7 minutes depending on the heat of the stove. The key is to cook the chicken on high heat, while constantly stirring, until you see the oil separating.

Garnish with freshly chopped cilantro / coriander and green chilli. Sprinkle over cracked black pepper, if using. Serve with naan or white rice. Enjoy!
Notes
Oil: The quantity of oil can be increased up to 1/2 cup, which will help in faster searing (bhunnai) of the karahi. 
Chicken: Authentic chicken karahi uses smaller pieces of bone-in chicken. I had my butcher chop a whole chicken into 14 pieces. You can also use boneless chicken breasts or chicken thighs for this recipe. I highly recommend using boneless chicken thighs as they have more flavor and don't dry out as quickly as chicken breast. 
Ginger & Garlic: Use fresh, jarred or make some with my recipe for Ginger Garlic Paste to store in the fridge for whenever you want to make Pakistani and Indian recipes. 
Tomatoes: Use fresh, juicy and ripe tomatoes for this recipe, as it's the key ingredient here. You can also puree the tomatoes for faster cooking, or even use canned crushed tomatoes. 
Green chillies: I like to use serrano or Thai chillies, but you can use any of your choice. 
Black pepper: This is optional, but I highly recommend it, as it adds that extra kick and flavor to the recipe. 
Nutrition
Calories:
292
kcal
|
Carbohydrates:
6
g
|
Protein:
17
g
|
Fat:
22
g
|
Saturated Fat:
11
g
|
Cholesterol:
64
mg
|
Sodium:
232
mg
|
Potassium:
492
mg
|
Fiber:
2
g
|
Sugar:
4
g
|
Vitamin A:
1301
IU
|
Vitamin C:
22
mg
|
Calcium:
26
mg
|
Iron:
1
mg