Achari Chicken is a bold and tangy chicken curry recipe originating from India and Pakistan. It is made with chicken, tomatoes, yogurt, and pickling spices.
It is a delicious chicken curry that isn't as complicated as it sounds, in fact it's a truly dump-and-go recipe. Serve it with naan, paratha, or white basmati rice to complete the meal.
Here are some more curry recipes that you will enjoy: Chicken Jalfrezi, Chicken Karahi, Dragon Chicken, Chicken Manchurian, Aloo Palak, and Mutton Karahi.
What is Achari Chicken?
The word achari is derived from Achaar, which translates to pickle in English, and is inspired by the flavor profile of Indian Pickles.
The chicken is cooked in pickling spices which gives a tangy (achari) flavor to the chicken. This recipe is also called Achar Gosht and can be made with other kinds of meat such as beef and mutton.
Why this Recipe Works
Easiest Recipe Ever: Even though this recipe calls for several spices, it really is an easy dish to make. Everything goes into the pot at the same time and is cooked for 30 minutes to cook the chicken and infuse the flavors. All of the amped up flavor comes from the achari masala spice mix in this recipe.
Authentic: Traditionally you also make a pickling spice mixture for the stuffed chilies, but that is a very simple step and also optional. The Achari Chicken will still taste delicious even if you skip the stuffed chilies step.
No Marination: The best part of this recipe is that there are no separate steps and no marination involved. It's basically a dump-and-go recipe, and that's why it's so brilliant!
Bonus Advantage: Also, this has to be my favorite reason for this recipe: no chopping onions, because we don't use any!
Ingredients You'll Need for the Curry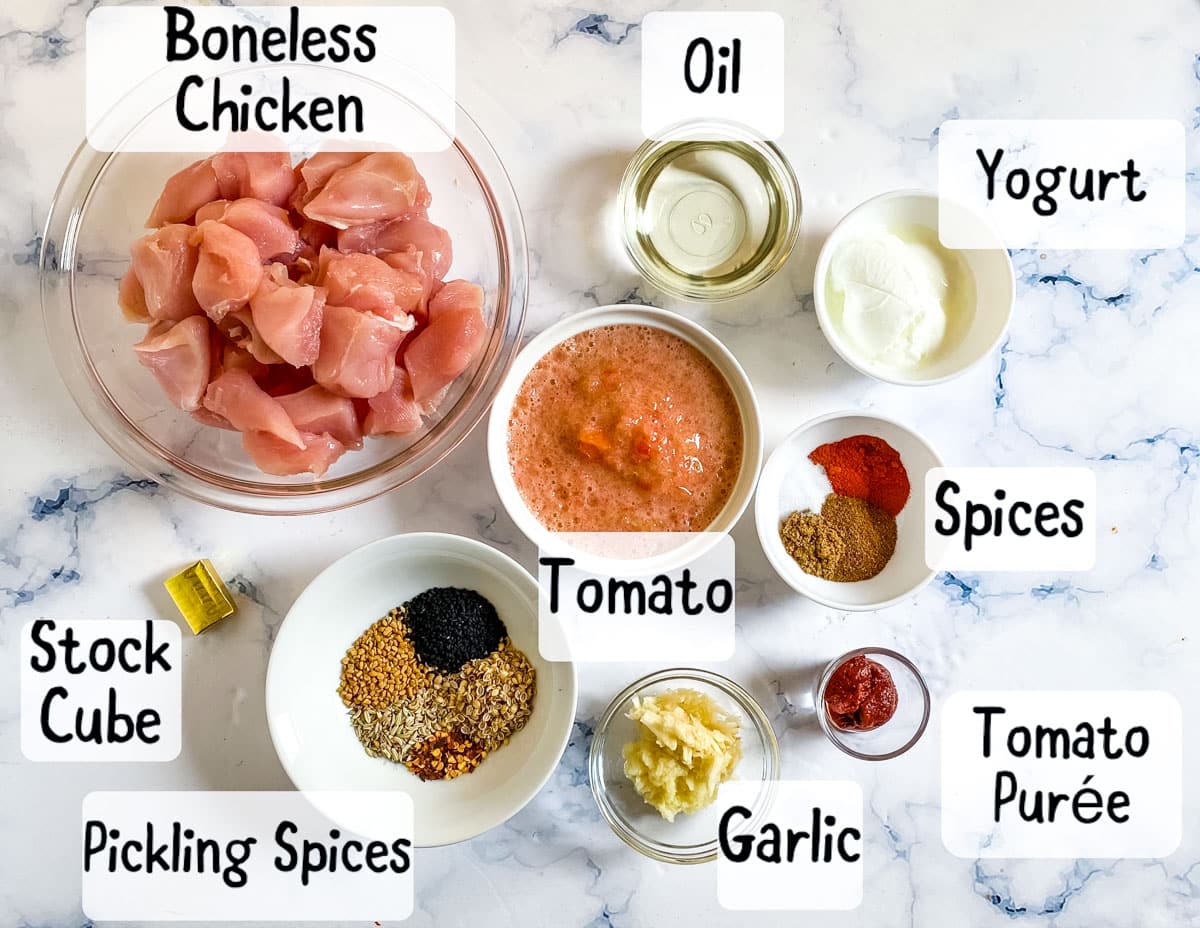 Boneless Chicken: I like to use boneless chicken breasts cut into bite-sized pieces for this recipe. However, you can also use chicken with bones or boneless chicken thighs.
Oil: Any neutral flavored oil will work in this recipe. Some recipes call for mustard oil, but since it requires an extra step of smoking the mustard oil before using it, I just prefer to use vegetable oil.
Yogurt: A crucial ingredient for achari chicken, this adds a tangy flavor to the recipe. Use plain yogurt.
Ginger garlic paste: Use the jarred kind for convenience or if you want you can use this homemade ginger garlic paste.
Tomato puree (or paste): Adds color and amps up the flavor of the curry.
Fresh tomatoes: Instead of chopping the tomatoes, I like to use a small blender or chopper to puree the tomatoes. This helps them cook faster, and also you don't end up with tomato skins floating around in the curry.
Pickling spices: fenugreek seeds (methi dana), nigella seeds (kalonji), fennel seeds (saunf), and crushed red chili flakes.
Powdered spices: Kashmiri lal mirch powder (this is a mild chili powder mainly added for its bright red color), coriander powder, and chaat masala.
Chicken Cube: Not used traditionally, so this is an optional ingredient. However, I find that it helps elevate the overall flavors of the curry, and gives it a more restaurant-style taste.
Ingredients for the Pickling Spice Stuffed Green Chillies: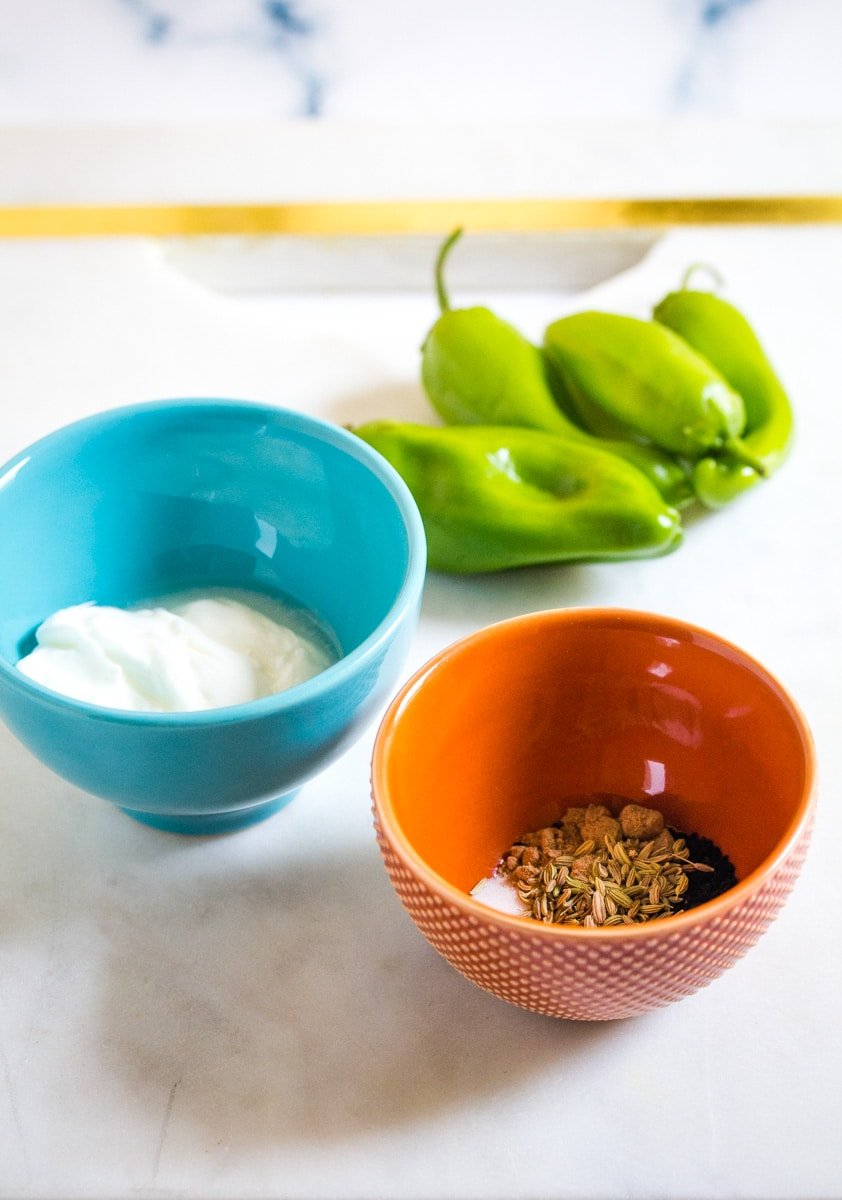 Green chilies: If you want to stuff the chilies, try to find big fat green chilies at the grocery store, so that they can be easily stuffed with the pickling spice mixture (see how to do this down below).
Pickling spices: 1 tsp of cumin powder, 1 tsp fennel seeds, 1 tsp nigella seeds, and 1 tsp mango powder. If you don't have mango powder, you can substitute it with chaat masala.
Yogurt: You only need 1-2 tablespoons of yogurt.
Filling the Green Chillies with the Pickling Spice Mix (optional step)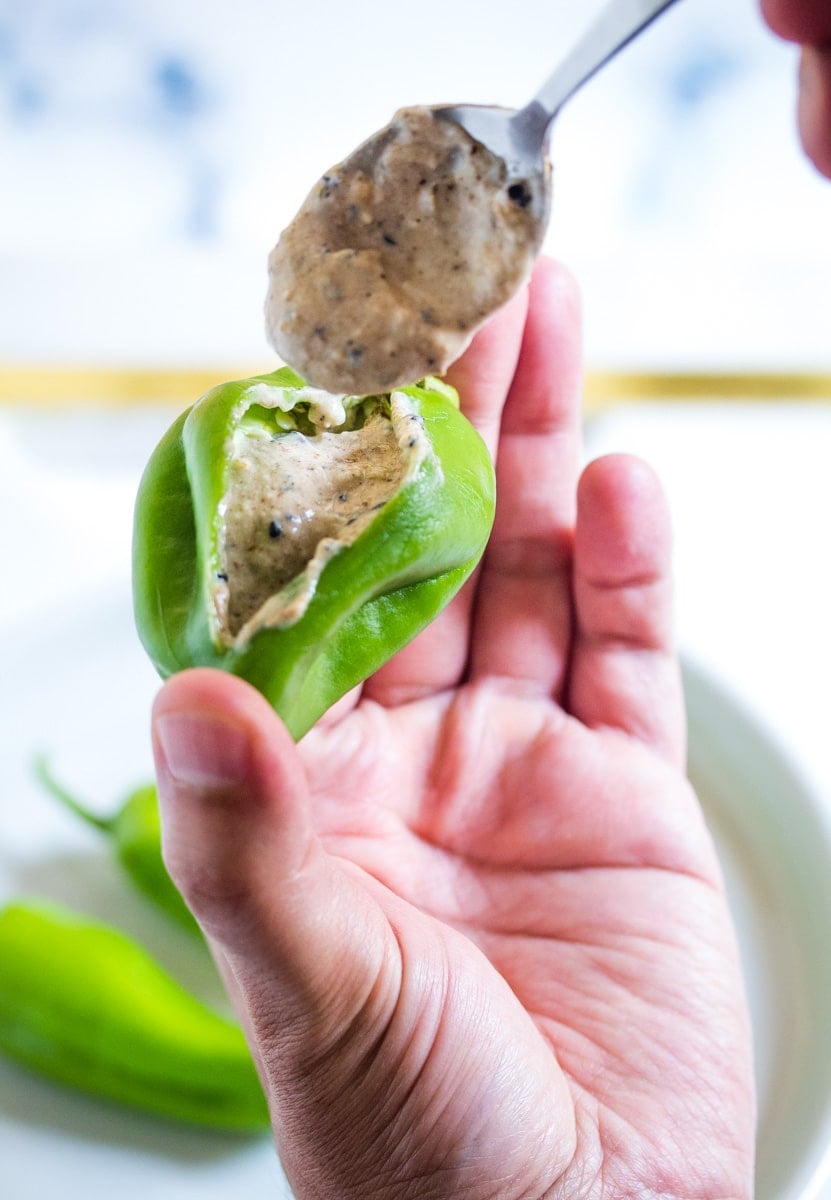 Wash the green chillies and pat them dry with kitchen towel.
With a sharp knife, slit the green chillies lengthwise in the middle but not all the way through, to create a pocket.
Mix together the pickling spices and yogurt to form a thick filling.
Using a small teaspoon fill the green chilies with this mixture, and set aside.
How to Make Achari Chicken / Achar Gosht

Making this chicken achar is as simple as literally 1,2,3! This is probably the easiest curry recipe on my blog!
In a large pot or skillet, add all the ingredients except the green chilies and pickling spice mixture.
Mix well, cover, and cook for 20-25 minutes on medium heat, or until the chicken is cooked through and the oil has risen to the surface of the curry. While the chicken is cooking, you can stuff the green chilies with the pickling spice mixture, as shown above. Note: this is an optional step and can be skipped.
Remove the lid, and add the green chilies on top of the chicken. Cover and cook for another five minutes. Your achari chicken is now ready to be served!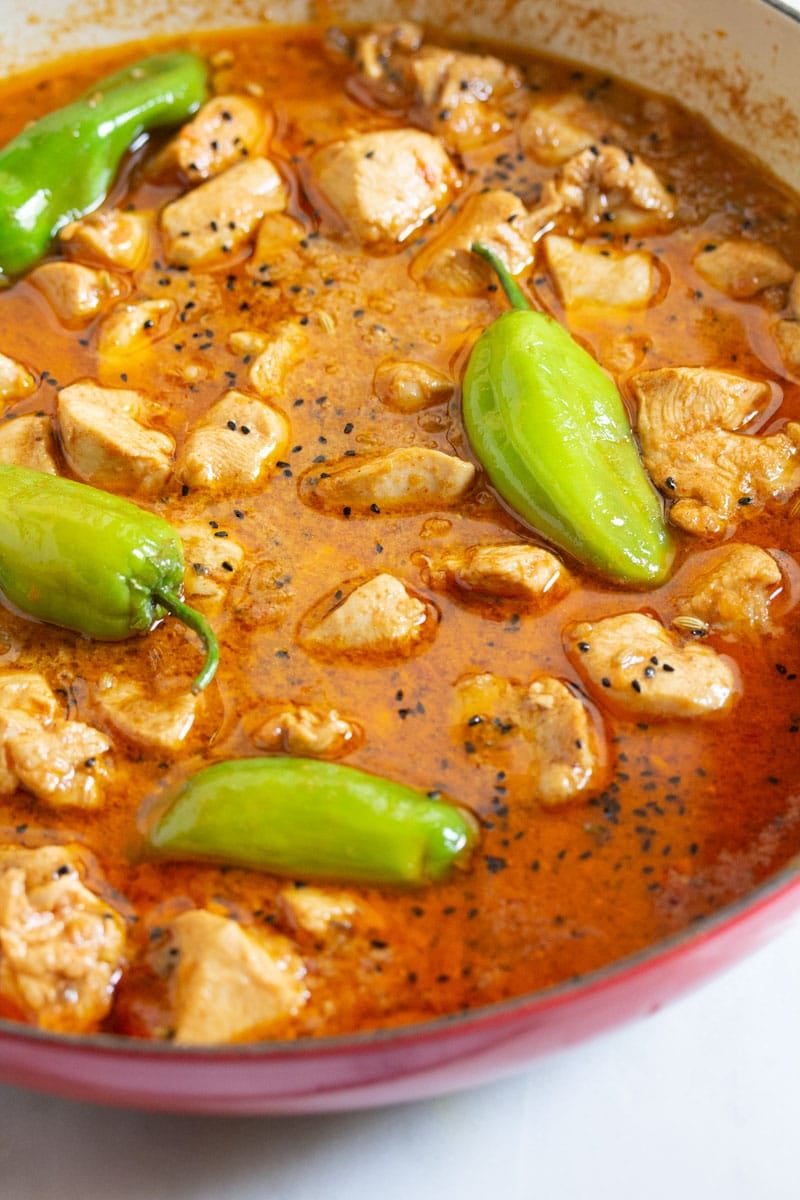 Helpful Tips
More Protein Options: You can make this recipe with bone-in chicken pieces or boneless chicken thighs. You can also use mutton.
Double the Pickling Spices: When you are putting together the pickling spices, you can double the recipe to save some for the next time you make this achaar chicken.
Recipe FAQs
Is achari chicken spicy?
Achari Chicken isn't spicy as such, but the flavour profile is the same as Indian pickle or achar which is more tangy than spicy.
What does Achari chicken taste like?
As it is heavily spiced with Indian pickling spices, the dominant flavor is that of Indian pickles.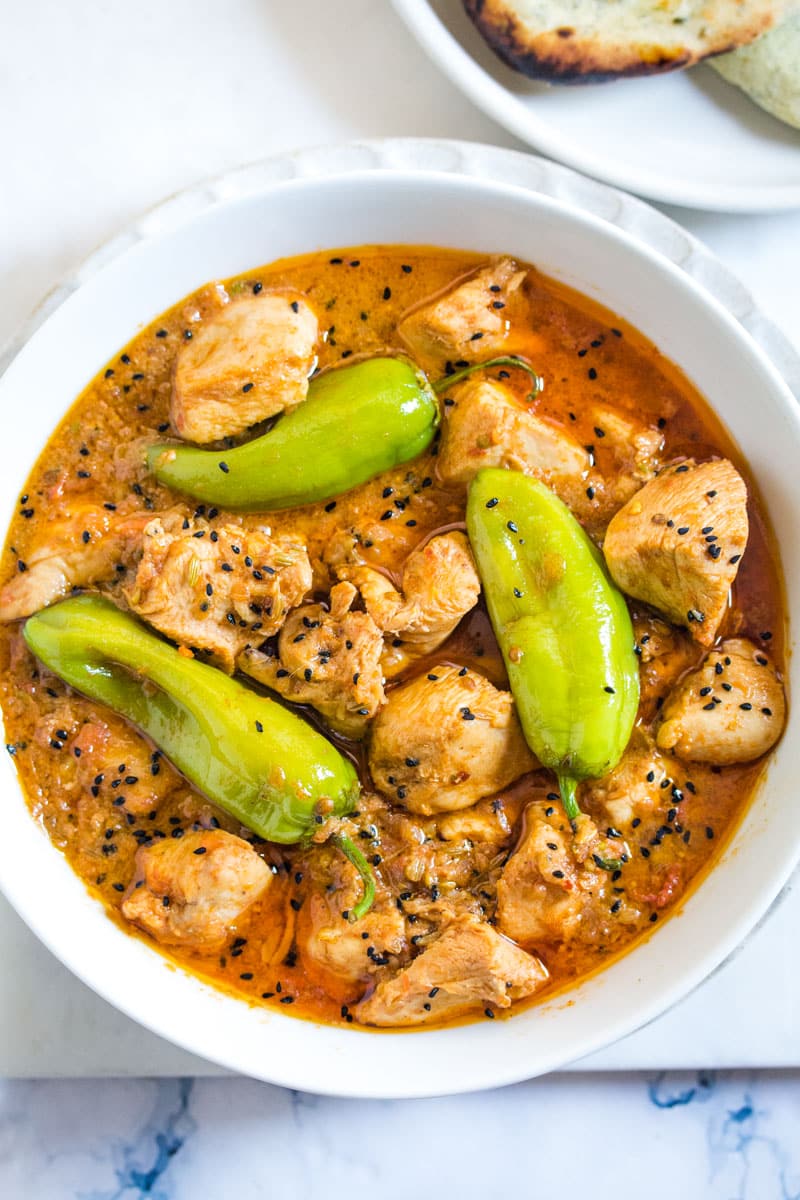 Best Side Dishes for Achari Chicken Curry:
I do hope you try this Achari chicken recipe, it really is a delicious and unique recipe. If you do try it, let me know in the comments below! 🙂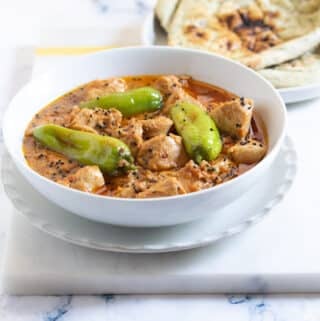 Achari Chicken (Achar Gosht)
This Achari Chicken is a delicious, tangy curry made with pickling spices, tomatoes, yogurt and stuffed chillies. It's ready in under 30 minutes and perfect with paratha or naan!
Print
Pin
Rate
Ingredients
For the Chicken Curry:
1/2

cup

oil

1

kg

chicken breast

2 pounds

1

tablespoon

Kashmiri lal mirch

1

tbsp

coriander powder

1

tbsp

chaat masala

1

chicken cube

1

tablespoon

fennel seeds

1

tablespoon

nigella seeds

1/2

tablespoon

crushed red pepper

1

teaspoon

freshly crushed whole coriander seeds

1

teaspoon

salt

1

teaspoon

fenugreek seeds

methi

1/4

cup

of yogurt

1

tablespoon

ginger garlic paste

1

cup

pureed tomatoes

1

teaspoon

tomato puree or paste
For the Stuffed Chillies:
4-5

big green chillies

1

teaspoon

cumin powder

1

teaspoon

fennel seeds

1

teaspoon

mango powder

1

teaspoon

chaat masala

1

teaspoon

kalonji

nigella seeds

1

tablespoon

yogurt
Instructions
Heat oil in a large skillet or pan. Add the chicken and the rest of the ingredients into it.

Mix well, cover and cook on medium heat for 10 minutes.

While the chicken is cooking, wash the chillies and slit lengthwise to create a pocket for the pickling spice mix.

Mix the yogurt and spice mix, to make a filling for the chillies.

Using a small teaspoon stuff the chillies with the spiced yogurt.

After the chicken has been cooking for 10 minutes, remove the lid and add the stuffed green chilies on top.

Cover with the lid, and cook for another 10 minutes or until the chicken is cooked through.

Remove from the heat, and mix the achar gosht and green chillies.

Serve with naan, pratha or steamed basmati rice.
Notes
Chicken: I liked to use boneless chicken cut into bite-sized pieces. You can also use bone-in chicken or even chicken thighs.
Oil: Sometimes this recipe is made with mustard oil, but to use mustard oil you need to first smoke it. To avoid this extra step I like to use vegetable oil.
Stuffed Chillies: This is an optional step, and can be easily skipped to make the curry even simpler to make.
Storage: You can store this chicken curry for up to 3-4 days in the fridge in an airtight container.
Nutrition
Calories:
402
kcal
|
Carbohydrates:
7
g
|
Protein:
37
g
|
Fat:
25
g
|
Saturated Fat:
3
g
|
Polyunsaturated Fat:
6
g
|
Monounsaturated Fat:
14
g
|
Trans Fat:
0.1
g
|
Cholesterol:
109
mg
|
Sodium:
862
mg
|
Potassium:
759
mg
|
Fiber:
3
g
|
Sugar:
3
g
|
Vitamin A:
478
IU
|
Vitamin C:
10
mg
|
Calcium:
57
mg
|
Iron:
2
mg