This Dragon Chicken is a popular Indo-Chinese recipe that's very delicious and so easy to make at home too. Crispy fried chicken strips are coated in a delicious, sweet, spicy combination of sauces. Full of mind-blowing flavors, this recipe is sure to be a hit with your family!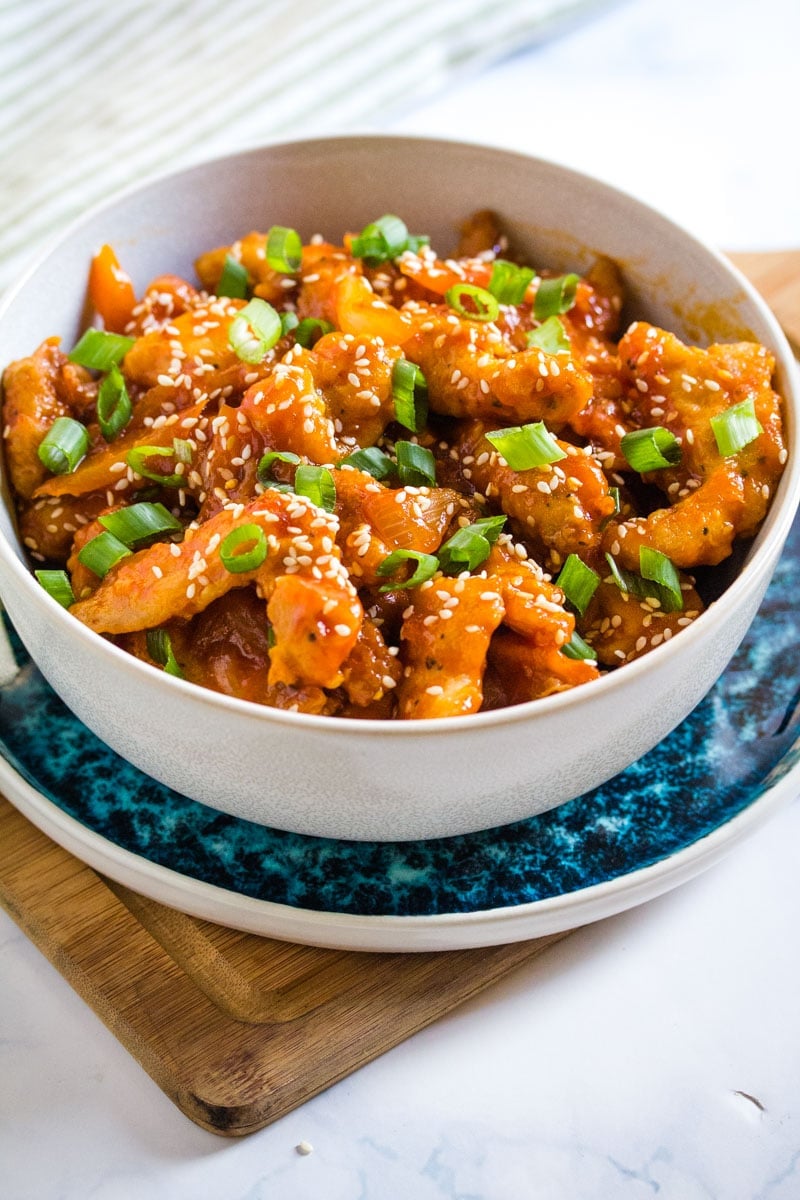 I love Indo-Chinese recipes, and some of my favorites are Chicken Manchurian, Chicken Shashlik, Hot & Sour Soup, and this delicious Gobi Manchurian!
Jump to:
Restaurant Style Dragon Chicken
And my latest favorite is this delicious Dragon Fire Chicken recipe. Why do I love it so much? Well, we are talking about crispy chicken strips coated in a finger-licking-good sauce.
The dragon sauce is the star of the recipe here if I'm being honest. To make this delicious sauce we use a combination of ketchup, chilli garlic sauce and sriracha, and I know that sounds like a lot of sauces, but once they cook down and thicken, the flavor is absolutely is fantastic! And let's be honest, deep-frying anything makes it just that more delicious.
P.S. You can adjust the amount of sriracha if you don't like lots of spice. And if you do like lots of spice, you can even add red chilli flakes to the sauce.
Why this Recipe Works
Easy & Ready in 30 Minutes: This Chinese Dragon Chicken is an easy recipe, and is ready in just 30 minutes, making it a perfect weeknight meal. And the best part is that you can make it in only one pan or skillet.
Perfect Balance of Sweet & Spicy: We use a combination of sauces in this recipe, to achieve the perfect balance of sweet and a little bit kick of spice. You can also adjust the amount of spiciness or sweetness according to your taste.
Crispy Chicken: In the batter we use a combination of all purpose flour, corn flour, and an egg white to make that crispy chicken. If you love crispy fried chicken, also try these Crispy Breaded Chicken Cutlets.
Ingredients You'll Need for Dragon Chicken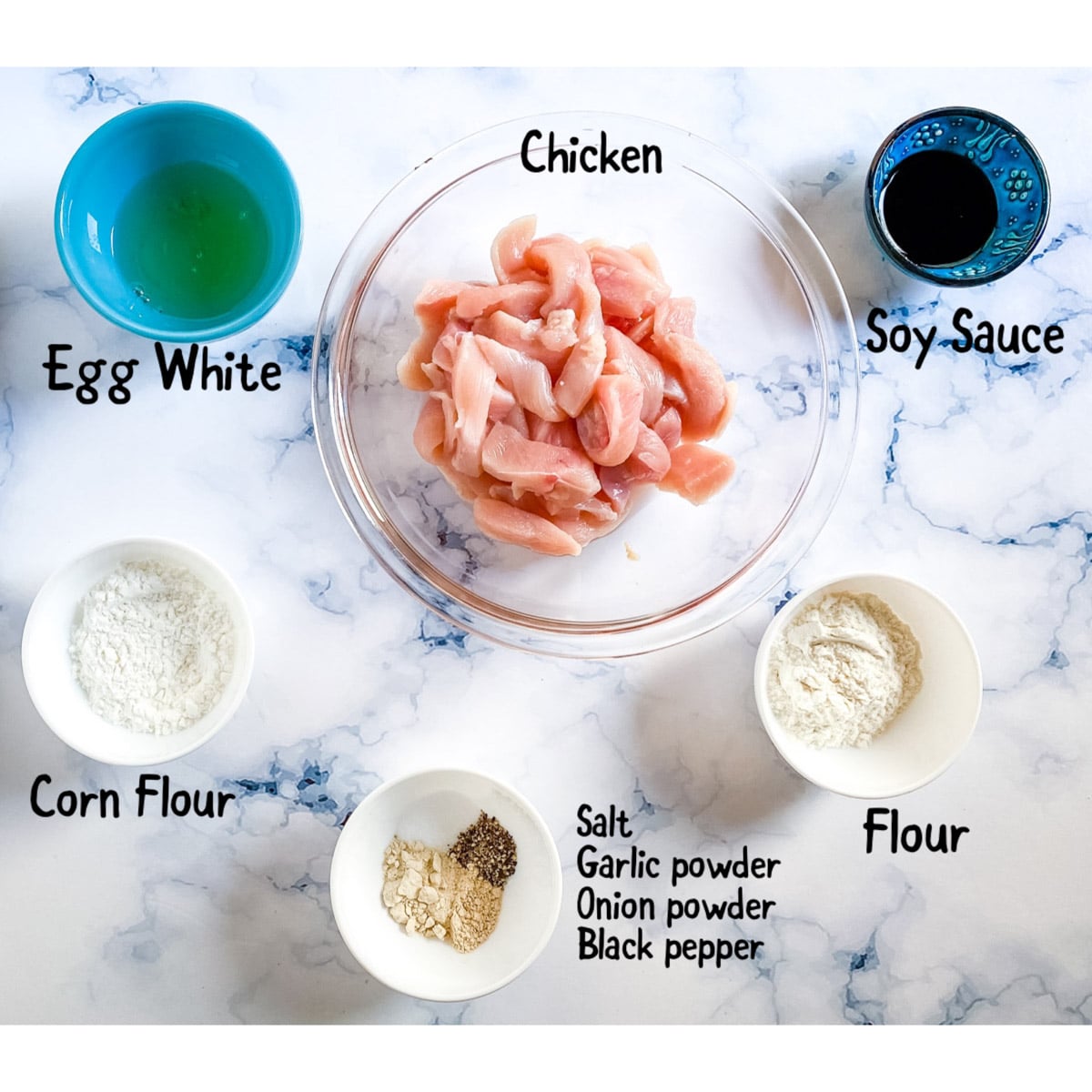 Boneless Chicken: Cut the chicken into thin strips. Strips cook faster, and they are more crispy too when fried. You can also use chicken thighs cut into cubes.
Corn flour & Flour: Using a combination of both yeilds for a crispy coating on the chicken.
Egg white: Instead of using a whole egg, we use one egg white for the batter. Egg whites ensure for lots of crispiness when the chicken is fried.
Soy Sauce: I use regular soy sauce, but you could also use dark soy sauce.
Seasonings: Salt, black pepper, garlic powder and onion powder. Garlic and onion powders deliver so much flavor to the marination of this chicken. If you don't have them on hand you can also use a bit of minced garlic and minced onion.
How to Make the Crispy Chicken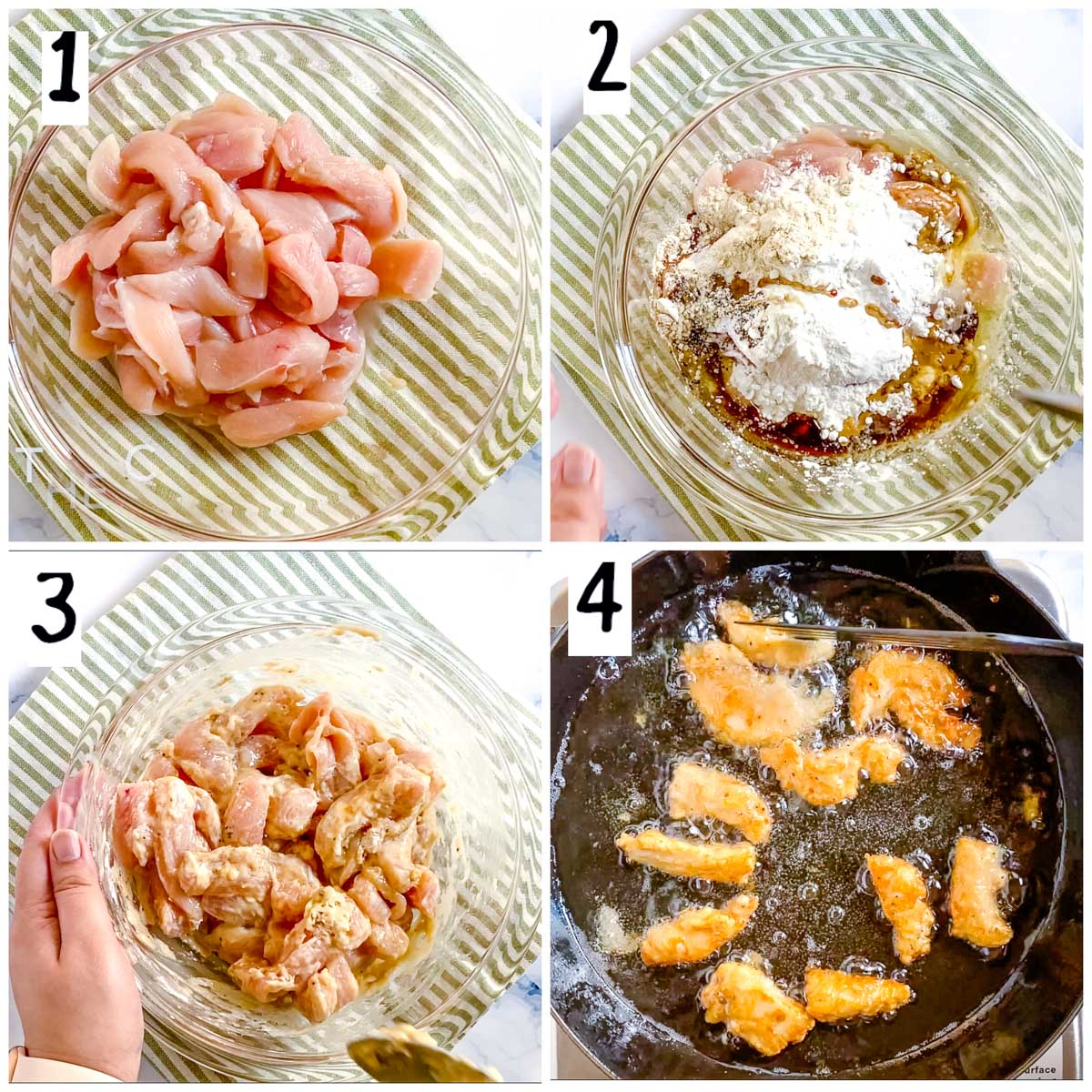 Prepare the Chicken: Cut the chicken breasts into strips, and place in a mixing bowl.
Make the Marinade: Add all the marination ingredients to the chicken: all purpose flour, cornstarch, egg white, soy sauce, and seasonings.
Marinate: Mix well and marinate for at least 30 minutes or overnight in the fridge.
Fry the Chicken: Heat oil in a skillet, and add the chicken. Fry on both sides for 2-3 minutes each until golden brown. Remove from the skillet, and set aside while you make the sauce.
What You'll Need for the Sweet & Spicy Sauce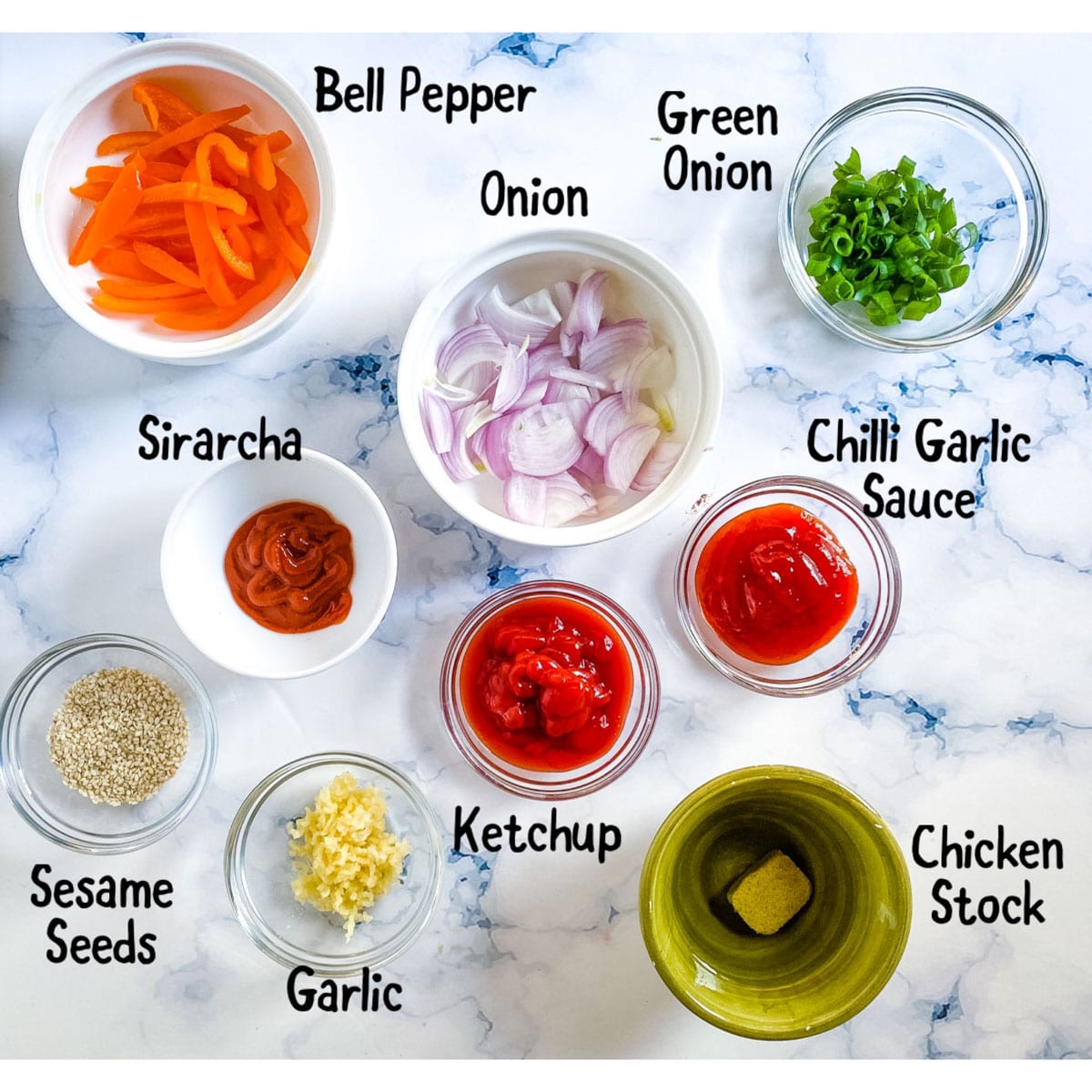 Sauces: I use a combination of tomato ketchup, chilli garlic sauce, and sirarcha sauce. It's the perfect combination of sweetnees and spiciness. You can also add red chilli flakes if you like a bit more kick.
Onion: Use a thinly sliced onion to add more crunch and flavor to the recipe.
Bell Pepper: I used orange bell pepper because that's what I had on hand, but I would highly recommend using a green bell pepper if you have it. Green bell peppers have a stronger, and distinct flavor which is amazing in Indo-Chinese recipes.
Garlic: Four cloves of garlic, and I know that's a lot but it adds a lot of deliciousness and flavor to the sauce. I recommend using freshly minced garlic, but in a pinch you can also use jarred garlic paste. If you love the flavor or ginger you can also add some ginger-garlic paste.
Chicken Stock: I use a chicken stock cube which I dissolve in about 1/2 cup of water. This adds another note to the sauce and rounds up all the flavors very nicely.
Green onions & sesame seeds: garnish the dish with these two ingredients to add a nice crunch and texture and of course make it look oh so tempting! Serve it with some delicious fried rice and dynamite shrimp to complete the meal.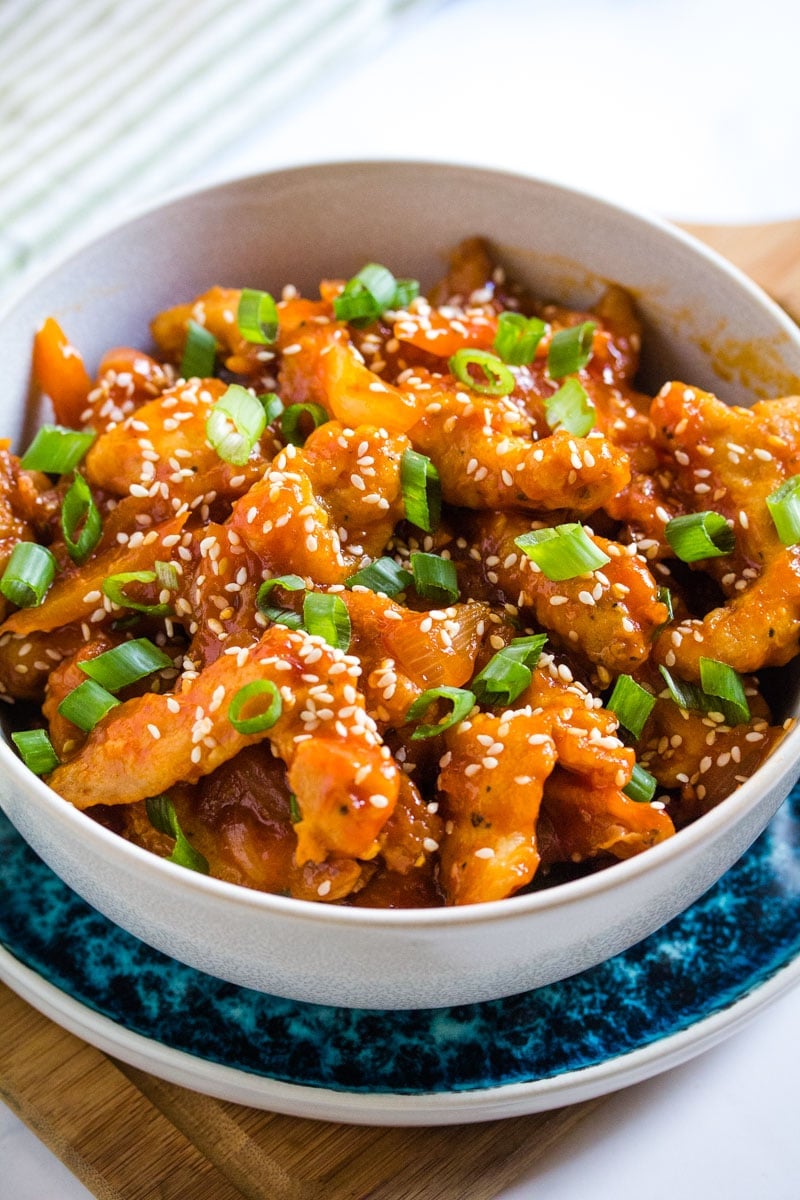 Make the Dragon Sauce Recipe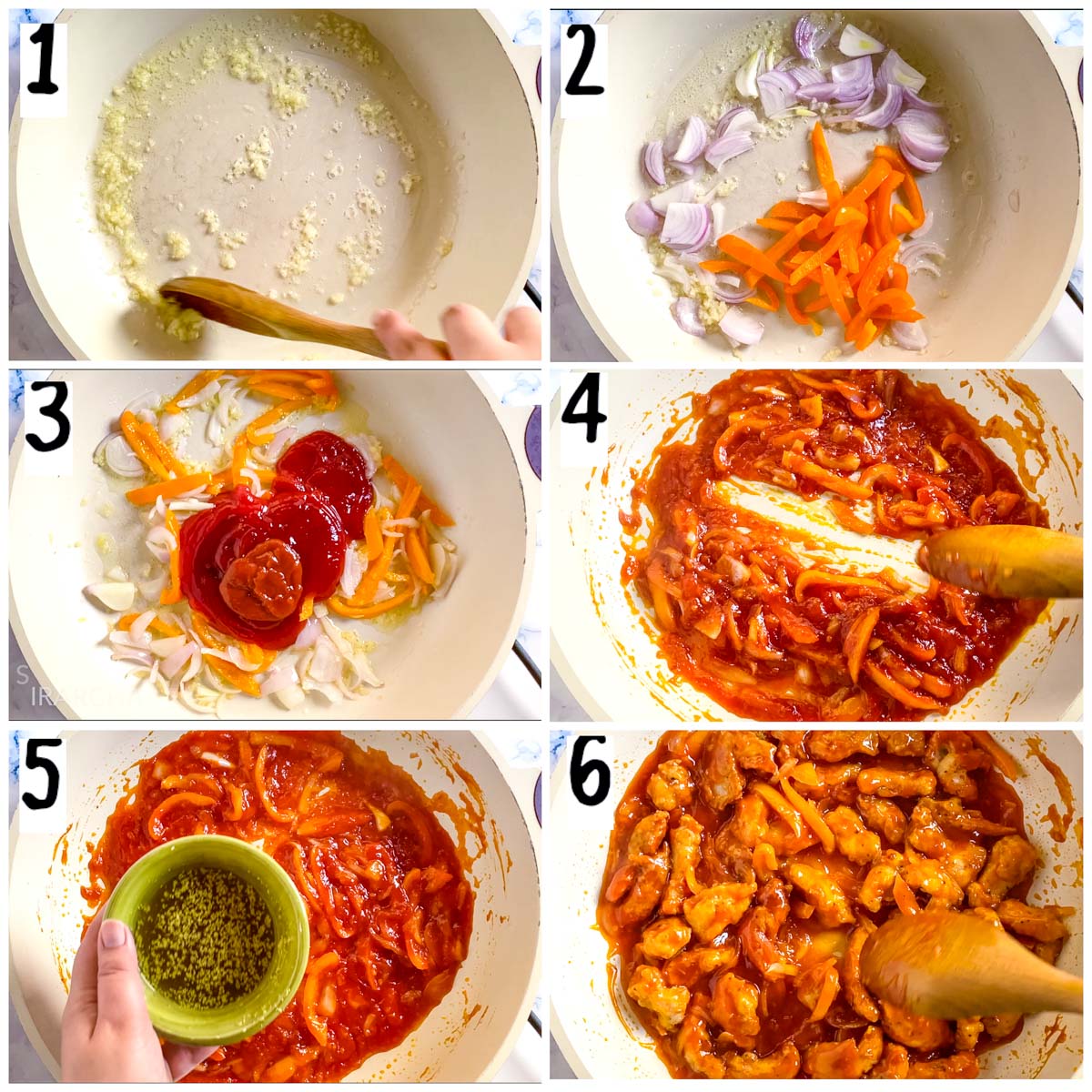 Heat the oil in a separate skillet, and add the garlic. Saute for about 20 seconds or until fragrant.
Add the onions, and saute for 1-2 minutes.
Then add the orange bell pepper, and stir fry for 3-4 minutes until both the onion and bell pepper (also known as capsicum) have softened.
Now add the ketchup, the chilli garlic sauce, and the sriracha sauce. Mix and cook for 3-4 minutes on medium high heat until the sauce has thickened and is bubbling.
Add the chicken stock, stir, and cook for 2-3 minutes until the sauce has slightly thickened.
Then add the cooked chicken, stir, until well coated.
Top with sliced spring onions and sesame seeds. Serve immediately!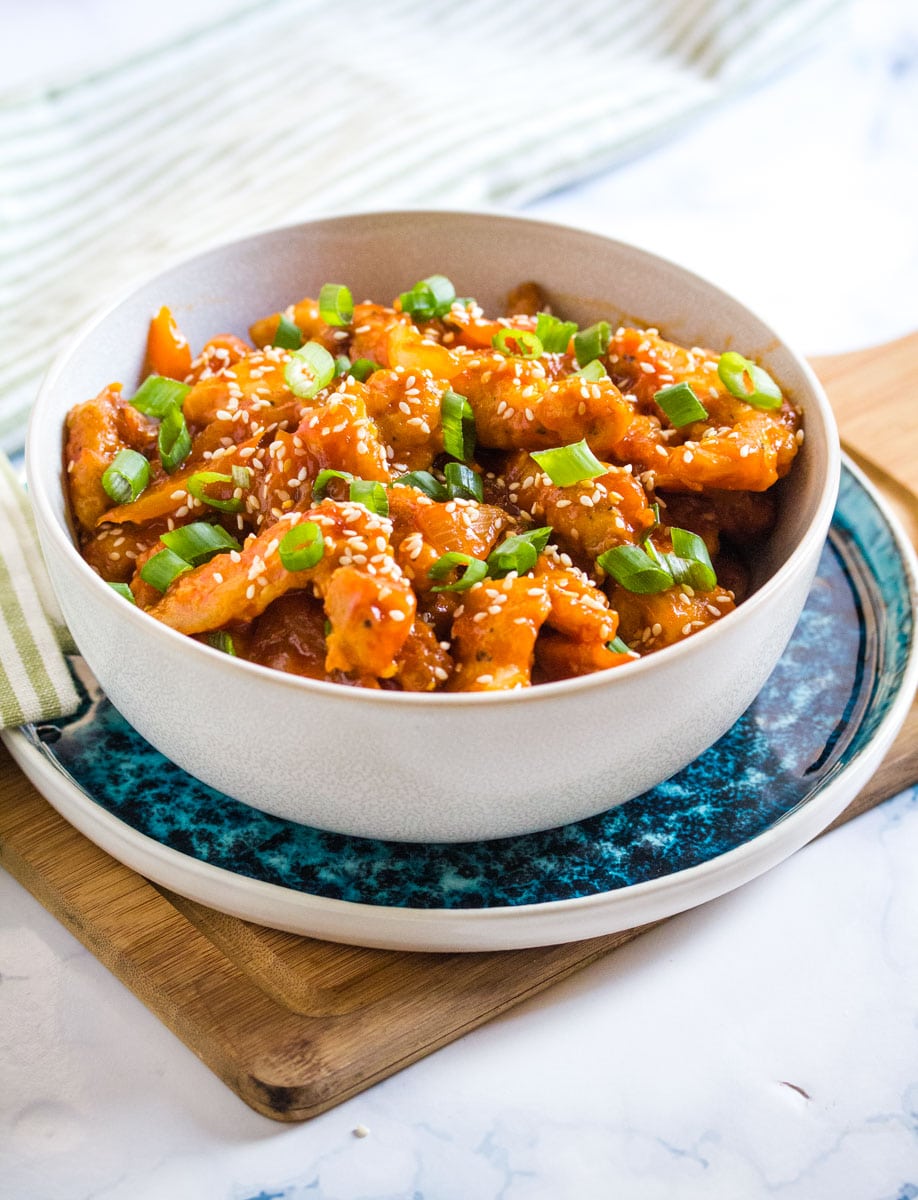 Expert Tips
Use a sharp knife to thinly slice the chicken. This results in faster cook time and lots of crispiness!
Egg white = more crispy chicken. We only use egg white in the batter because egg yolk has more fat content and thus can soften the coating. Find the easiest way to separate the egg yolk from the whites here.
Easy way to slice green onions: I find the easiest way to slice green onions is to use kitchen scissors. So much faster and easier than using a knife!
Add cashew nuts for extra crunch: Some variations of this Dragon Chicken recipe also call for cashew nuts. If you want to add them, simply stir fry them with the bell peppers until golden brown.
Recipe FAQs
How to Store Dragon Chicken.
Dragon chicken is best enjoyed immediately. However, you can definitely store it in the fridge for 1-2 days. Just note that the chicken won't remain as crispy.
Can I add more sauce to the recipe?
Yes, increase the quantity of the chicken stock from 1/2 cup to 1 cup. If the sauce becomes too thin, you can also add a little bit of cornflour to thicken the sauce.
Can I bake the chicken?
Yes, instead of frying the chicken you can bake the chicken as well. Just place on a foil-lined baking sheet, add the chicken pieces and bake at 200 c until golden brown from both sides.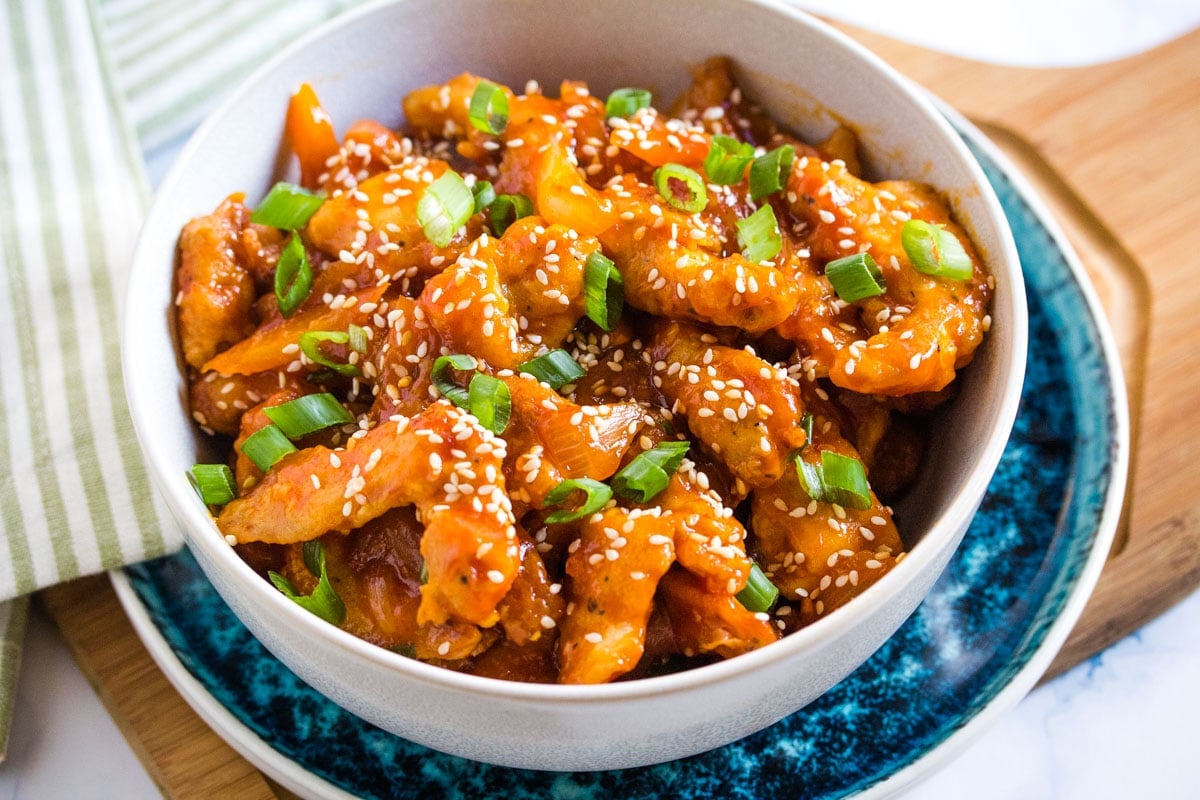 More Delicious Indo-Chinese Recipes
Ingredients
For the Chicken:
450

grams

chicken

cut into strips

3

tablespoons

all purpose flour

3

tablespoons

corn flour

1

egg white

2

tablespoons

soy sauce

1/2

teaspoon

salt

1

teaspoon

freshly cracked black pepper

1

teaspoon

garlic powder

1

teaspoon

onion powder

Oil for frying
For the Sauce:
2

tablespoons

oil

4

garlic cloves

1

medium onion

finely sliced

1

bell pepper

sliced

1/2

cup

ketchup

1/2

cup

chilli ketchup

2

tablespoons

sriracha sauce

1/2

cup

chicken stock

Green onion

Sesame seeds
Instructions
Marinate the Chicken:
Place the chicken in a mixing bowl, and add all the marination ingredients except the oil.

Mix the chicken until well coated.

Cover, and marinate for at least 30 minutes or overnight.
Fry the Chicken:
Heat 2 inches of oil in a skillet, and add the marinated chicken pieces one by one.

Fry on each side for 2-3 minutes or until golden brown on both sides.

Remove, and place on kitchen paper lined plate. Set aside.
Make the Sauce:
In a separate skillet or pot, heat the oil.

Add the garlic and saute for 20-30 seconds until fragrant. Do not let it brown.

Add the sliced onion and saute for 1-2 minutes.

Then add the bell pepper and also saute for 2-3 minutes, until softened.

Now add the ketchup, chilli garlic ketchup, and sriracha sauce.

Mix well and cook on medium high heat for 3-4 minutes until the sauce is bubbling.

Now add the chicken stock and stir for 3-4 minutes, or until the sauce has slightly thickened.

Add the chicken, mix until fully coated with the sauce.

Garnish with sliced green onions and sesame seeds.

Serve immediately with white rice or veggie rice.
Notes
Ingredient Notes & Substitutions:
Chicken: Cut the chicken into strips for lots of crispiness, but you can also cut it into 1 inch cubes. 
Egg white: Using only an egg white instead of a whole egg results in a more crispy coating, because the yolk has a higher fat content and can contribute to softness in the batter. 
Garlic powder & Onion Powder: these add an amazing flavor to the chicken, but can be skipped if you don't have any. 
Bell pepper: I used orange but I recommend green bell pepper for best results as it adds a different flavor to the recipe, and looks prettier against the reddish color of the chicken!
Chilli garlic sauce: I used Maggi chilli garlic sauce but you can use other brands as well. It's sweet and tangy with just a hint of spice. 
Sriracha Sauce: You can try substituting with sambal oelek, but I have not tried it in this recipe. 
Chicken Stock: I use a chicken stock cube and dissolve it in to 1/2 cup of water. 
Nutrition
Calories:
295
kcal
|
Carbohydrates:
25
g
|
Protein:
13
g
|
Fat:
16
g
|
Saturated Fat:
3
g
|
Polyunsaturated Fat:
4
g
|
Monounsaturated Fat:
8
g
|
Trans Fat:
1
g
|
Cholesterol:
41
mg
|
Sodium:
820
mg
|
Potassium:
373
mg
|
Fiber:
2
g
|
Sugar:
10
g
|
Vitamin A:
1173
IU
|
Vitamin C:
48
mg
|
Calcium:
30
mg
|
Iron:
1
mg