Paneer Manchurian is a delicious vegetarian Indo-Chinese recipe that's very easy to make and perfect to pair with my Easiest Ever Veggie Rice. It's even great served as an appetizer!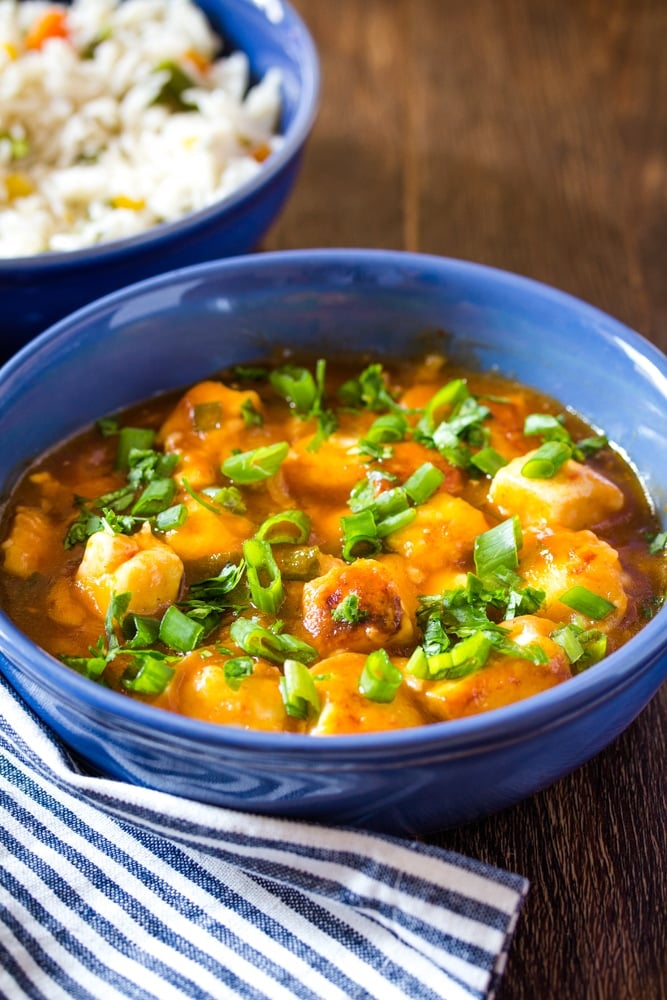 So I'm a little Manchurian obsessed these days. I've already shared two delicious Manchurian recipes here on the blog: Chicken Manchurian and Gobi Manchurian.
I thought it's time now to share another favourite Manchurian recipe of mine, Paneer Manchurian!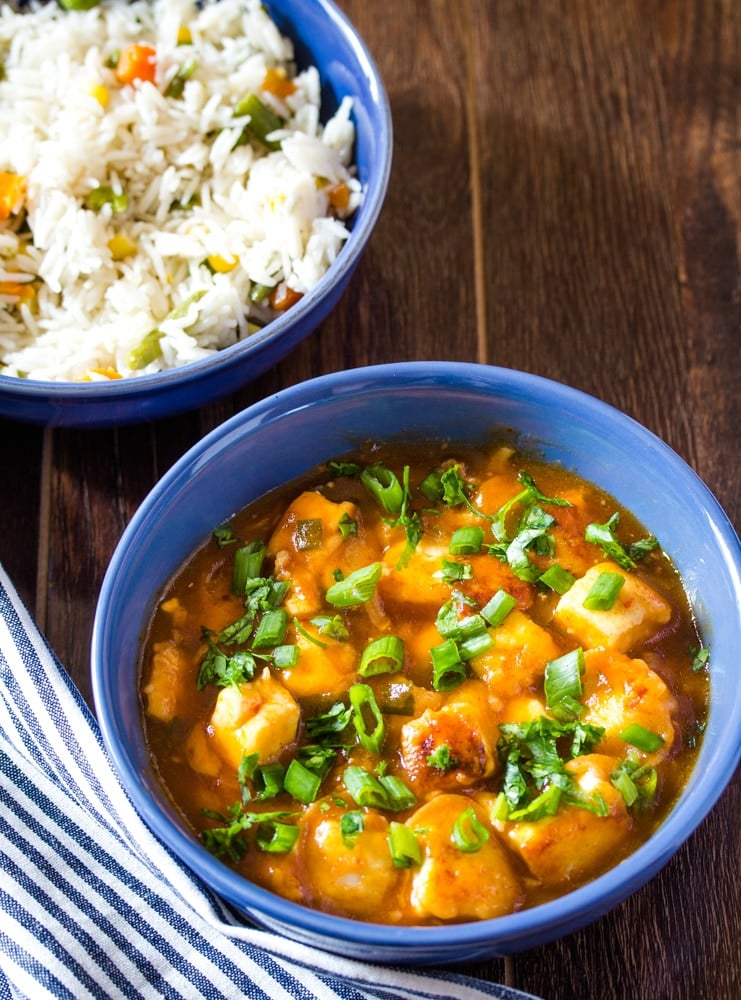 But first, let's talk about how yummy paneer is and how it's a great vegetarian option.
What is paneer? It's cottage cheese, which is a cheese made from the curds of skimmed milk. It's super healthy too btw!
Anyway, let's be honest here, Manchurian is all about the sauce and basically we just need vessels to carry the sauce into our mouths, be it crispy chicken, or golden fried cauliflower or delicious fried paneer cubes!!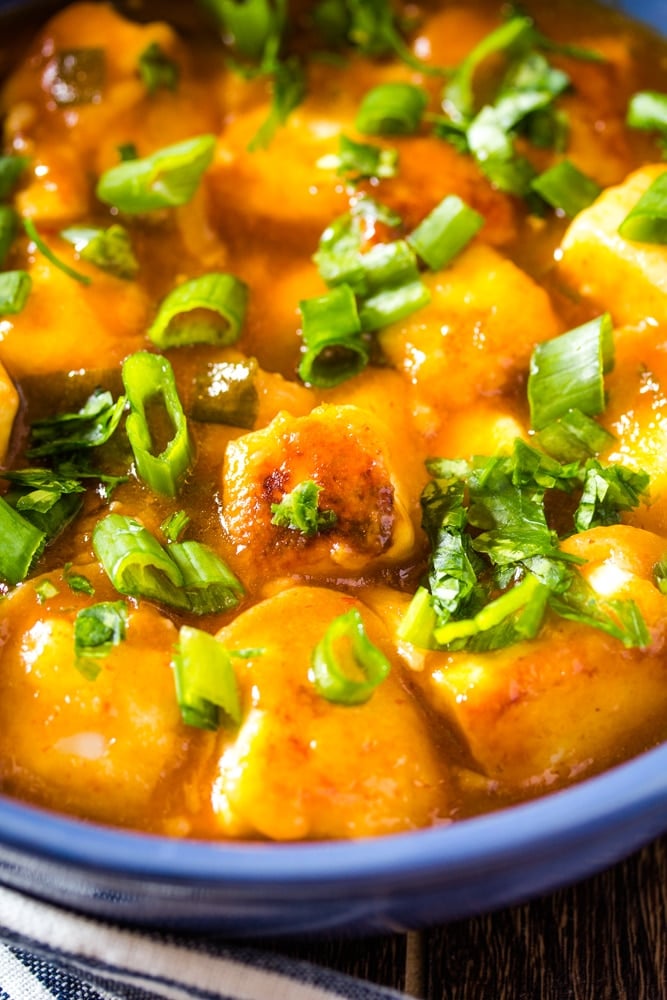 There's something super addictive about Manchurian sauce…it's a little sweet, a little tangy and a little spicy. My kind of sauce, I tell you.
Add fried paneer cubes to this delicious sauce, and you've got a delicious recipe which is ready in literally 30 minutes. Now that truly is my kind of recipe…fast and delicious!
Manchurian sauce is a delicious sweet and tangy sauce made with ketchup, soy sauce, chilli garlic sauce and green onions. Some people add green capsicum to Manchurian sauce but authentic Manchurian sauce doesn't have capsicum in it. I make it without capsicum too.
Manchurian sauce can be paired with protein or vegetables such as chicken or cauliflower. Its used to coat fried pieces of protein or vegetables or in this case paneer cubes.
How Do To Make It
If you're familiar with my Chicken Manchurian or Gobi Manchurian recipes, you'll know that we start by frying chicken pieces or gobi florets coated in a cornflour batter. We do the same here for the paneer cubes, dip them in batter and fry them until they're crispy golden brown.
Then I make the manchurian sauce, and toss the fried paneer cubes in the sauce.
And that's it!! (For full recipe, scroll down to the recipe card please).
More Delicious Recipes
Chicken Chowmein with Rainbow Vegetables
Chicken Teriyaki with Vegetables
I do hope you try this delicious Paneer Manchurian recipe with literally the Easiest Ever Veggie Rice!
Enjoy!!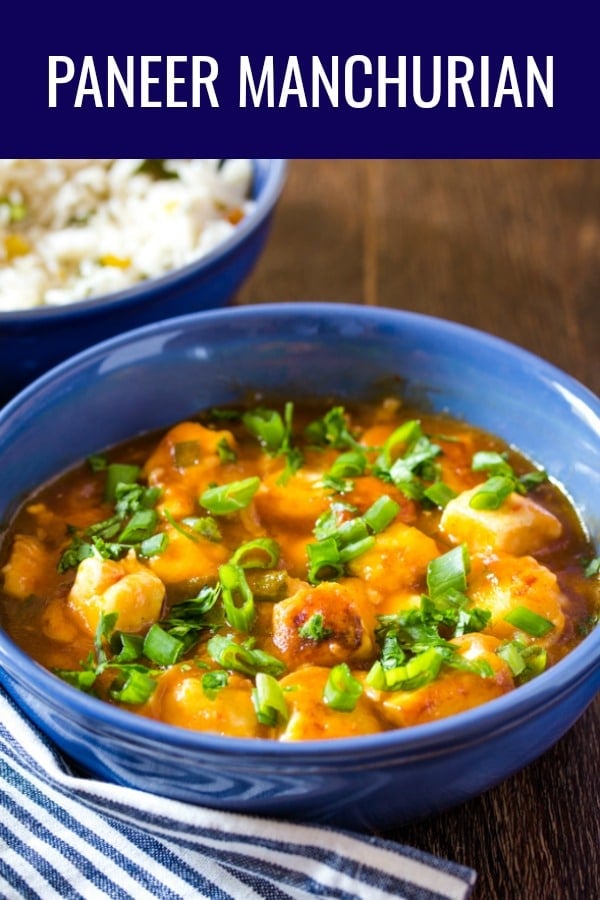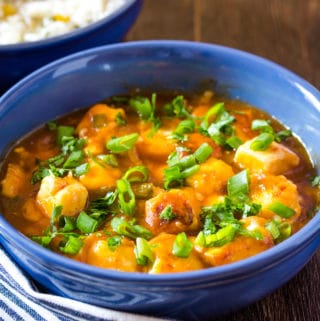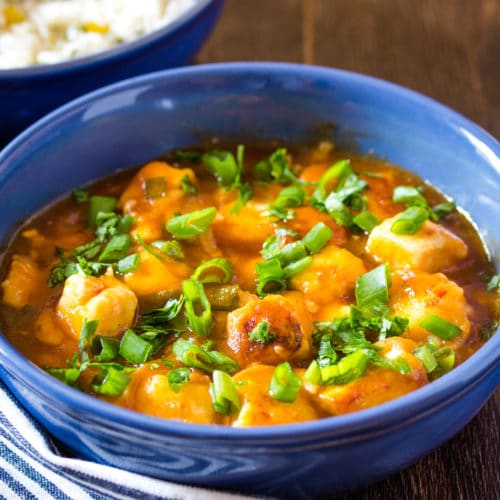 Paneer Manchurian
Paneer Manchurian is a delicious vegetarian Indo-Chinese recipe that's very easy to make and perfect to pair with my Easiest Veggie Rice Ever. It's even great as an appetizer!
Print
Pin
Rate
Ingredients
For Frying the Paneer
200

grams

paneer or cottage cheese

1/4

cup

plain flour

4

tablespoons

cornflour

Salt to taste

1/2

teaspoon

red chilli powder

1/4 to 1/2

cup

water for making the batter

Oil for frying

about enough to fill 1/2 inch of a small fry pan
For the Manchurian Sauce
2 

tablespoons 

oil

1 

tablespoon 

crushed garlic

1 

tablespoon 

crushed ginger

1/4 

cup 

finely chopped green onion

1/4 

cup 

ketchup

1 

tablespoon 

soy sauce

2 

tablespoons 

red chilli sauce

1/2 

teaspoon 

sugar

1 

teaspoon 

cornstarch

2 

tablespoons 

water
Instructions
Make a batter for dipping the paneer by combining the flour, salt, red chilli powder, and water. The batter should be runny, but not too thick or thin.

Dip the paneer cubes into the batter, and fry on medium heat until golden brown on all sides. Frying the paneer will take about 2-3 minutes on each side.

Transfer the fried paneer on kitchen paper to drain the excess oil. Set aside.

Making the Manchurian sauce:

Heat oil in a wok, and add the garlic and ginger and fry for about 30 seconds.

Then add the green onions and fry for another 30 seconds.

Add all sauce ingredients except the cornstarch and water.

Cook for a minute or two until the sauce starts to thicken and bubble.

Dissolve the cornstarch in the water and add it to the sauce and keep stirring until it becomes thick.

Toss in the fried paneer and mix so that the Manchurian sauce coats the fried paneer evenly.

Serve immediately with garlic fried rice.
Nutrition
Calories:
228
kcal
|
Carbohydrates:
27
g
|
Protein:
8
g
|
Fat:
10
g
|
Saturated Fat:
1
g
|
Cholesterol:
9
mg
|
Sodium:
601
mg
|
Potassium:
170
mg
|
Fiber:
1
g
|
Sugar:
9
g
|
Vitamin A:
293
IU
|
Vitamin C:
5
mg
|
Calcium:
59
mg
|
Iron:
1
mg