Chinese Chicken Corn Soup is a super delicious and easy creamy soup that's perfect to warm up with on cold winter evenings. It's made with chicken, creamed corn and egg. Also known as egg drop soup.
Looking for more Chinese inspired recipes? Check out my super popular recipe for Chicken Manchurian.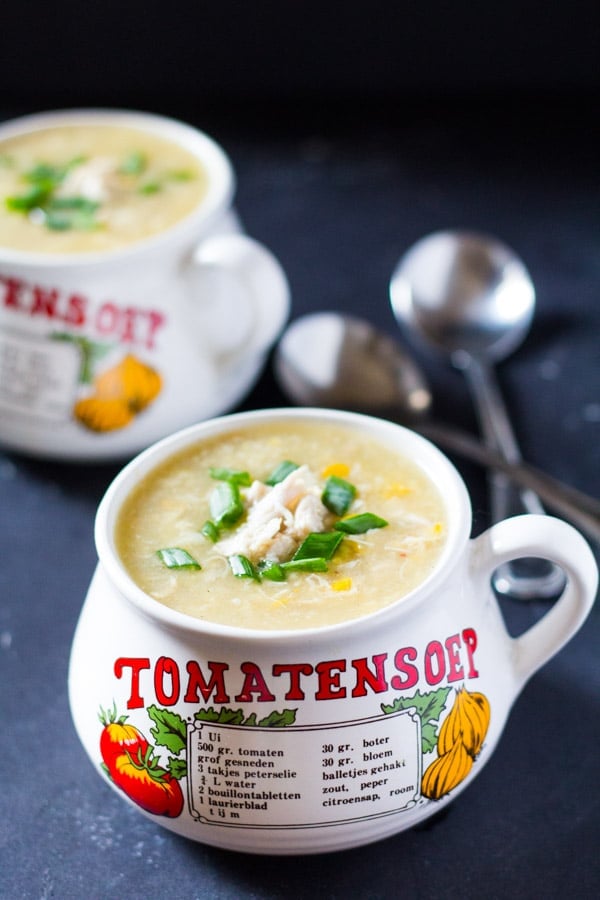 So this easy Chinese Chicken Corn Soup is quite delicious to make and is so easy that you won't believe it. It's made in pretty much all Pakistani and Indian homes, and I'm guessing everyone has different ways of making it, as it is with such popular recipes.
Everyone has their own touch to add to this soup, and that's what I like about these recipes because while they're all generally the same each family adds their own unique touch and taste to it.
How Do You Make Egg Rivels?
See those white thread like strands in the chicken corn soup? Those are called rivels (or rivlets) and they're a signature feature of chicken corn soup. They're also super easy to make! Also try this Instant Pot Red Lentil Soup.
When the soup is completely cooked and thickened with cornstarch, we add a whisked egg and keep stirring the soup. The hot chicken corn soup causes the egg to cook quickly but in rivels. And there you have it, a delicious protein packed chicken corn soup! 🙂
My mother has been making this Chicken Corn Soup from as long as I can remember. And it's one of the easiest recipes I've ever made!
Family recipes are the best, aren't they? I mean I suppose it's because of all those childhood fond memories attached with the food you've grown up eating.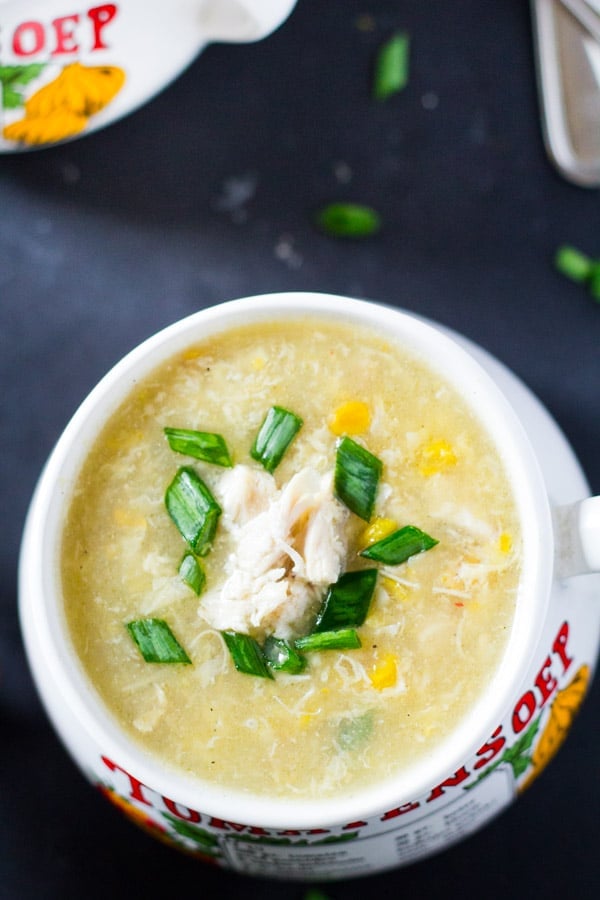 So basically everything is made in one pot (yay!) and there's no chopping involved in this recipe (double yay).
How to Make It
1.) The chicken is cooked in water for about 30 minutes or so. This step makes the chicken broth or base for the soup, and also cooks the chicken through. It is important to use bone in chicken for this step, as it is crucial to make the stock / base of the soup.
2.) Once the chicken is cooked through, take it out and shred it into pieces. Set aside.
3.) Now all you have to do is flavor the soup with a few seasonings such as garlic powder, ginger powder and salt and pepper. This is why is this soup requires no chopping because we're using these flavorful seasonings. But if you want, you can by all means use freshly chopped ginger or garlic - just make sure they are finally chopped or minced so that you don't get pieces of ginger or garlic while eating the soup. At this point you will also add some soy sauce and white vinegar to further flavor the soup.
4.) Now add in the shredded chicken and creamed corn, and thicken the soup with cornstarch. Finally it's time to add in a whisked egg which is what will create the rivulets which Chicken Corn Soup is so famous for. The egg will also help thicken the soup.
5.) And now here's the best part, the guide on how to make Chicken Corn Soup is over, and all you have to do is serve it in bowls and eat up! 🙂
Oh and look who's here...my tiny helper! 🙂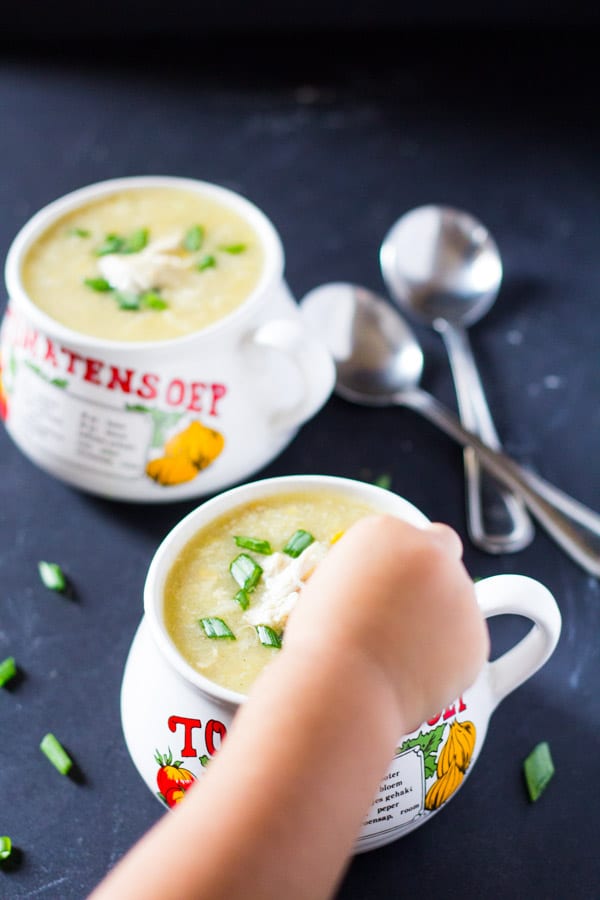 Served with warm garlic bread fresh from the oven, and doused with lots of soy sauce and vinegar, that's the way we like it at our home! 🙂 Enjoy!!
Looking for More Delicious Indian and Pakistani Recipes?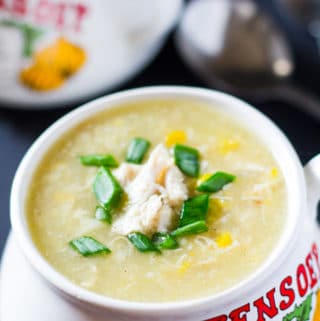 How to Make Chicken Corn Soup
This easy and delicious recipe shows you how to make chicken corn soup in just a few simple steps with pantry ingredients!
Print
Pin
Rate
Ingredients
1

full chicken

1000 grams - cut into pieces, bone in and skinless

6

cups

water

2

tablespoons

soy sauce

2

tablespoons

white vinegar

1

teaspoon

garlic powder

1/2

teaspoon

ginger powder

1

can

420 grams of creamed corn

Salt and pepper to taste

2

teaspoons

cornstarch mixed with a splash of water

this is for thickening the soup

1

egg

whisked
Instructions
Place chicken in a large pot and pour in the water. Simmer on medium low heat for about 30-40 minutes. The chicken will be cooked and the stock for the soup will be ready.

Remove chicken from the pot, letting the stock remain in the pot. Add soy sauce, white vinegar, garlic powder, ginger powder, salt and pepper and creamed corn and let come to a boil. Shred the chicken and add it to the soup.

Now add the cornflour water mixture and keep stirring until the soup has thickened. Do not worry if you thicken the soup too much by accident, you can just add a bit of water (like half a cup) to thin out. And if it's not thick enough to your liking you can add a bit more of cornflour/water mixture until the soup's consistency is to your liking.

Now add in the whisked egg slowly, while continuously stirring. The egg will cook in seconds and you will be able to see rivulets of the egg.

Take off heat and serve.
Nutrition
Calories:
353
kcal
|
Carbohydrates:
2
g
|
Protein:
30
g
|
Fat:
24
g
|
Saturated Fat:
7
g
|
Cholesterol:
147
mg
|
Sodium:
536
mg
|
Potassium:
323
mg
|
Fiber:
1
g
|
Sugar:
1
g
|
Vitamin A:
261
IU
|
Vitamin C:
2
mg
|
Calcium:
30
mg
|
Iron:
2
mg