Chicken Manchurian is a delicious and popular Indo-Chinese recipe that is made with crispy fried chicken and a spicy, sweet, and sticky sauce. Read on to learn how to make my easy Chicken Manchurian recipe at home. 
Love fusion Chinese recipes? Try these delicious recipes: Dragon Chicken, Paneer Manchurian, Gobi Manchurian, and Chinese Chicken Corn Soup.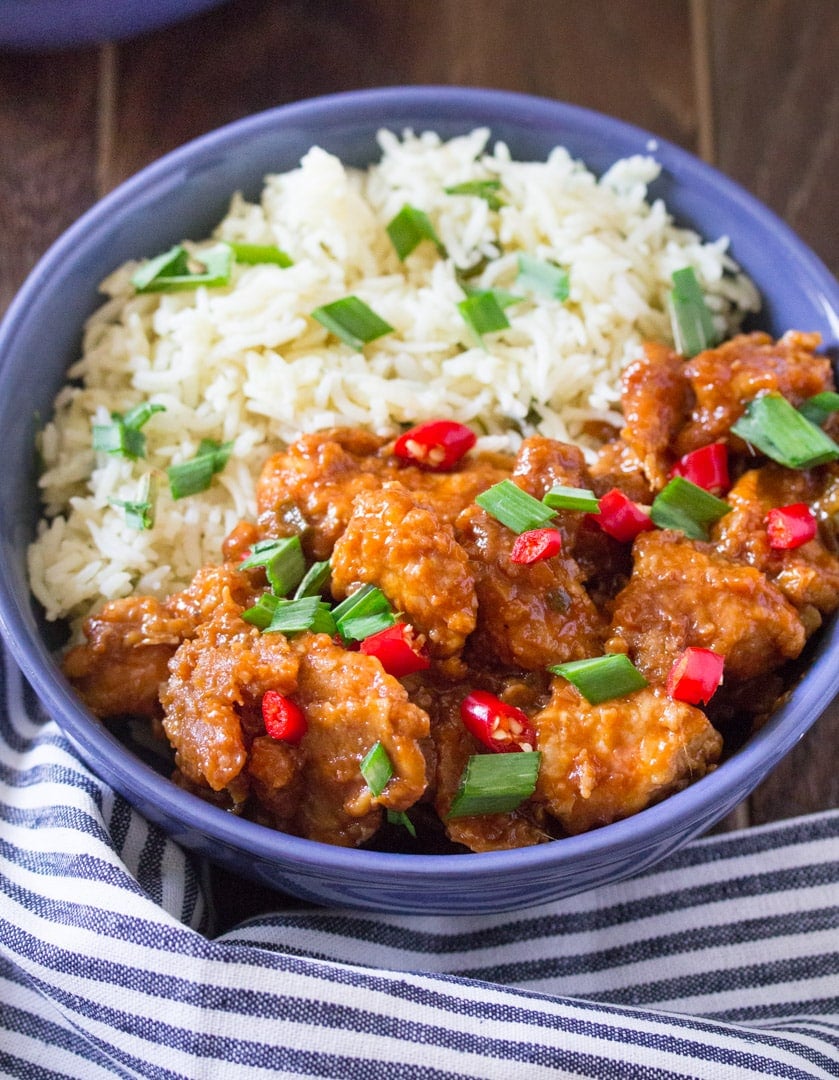 This dish has risen to popularity for good reason. If you have ever tried Chicken Manchurian, you know how absolutely addictive it can be! Golden brown nuggets of boneless chicken are tossed in a divinely tangy sauce and served over rice.
It is pure comfort food at its finest, and I'm pleased to show you how to make it at home. Love crispy food? Try these Crispy Breaded Chicken Cutlets with Creamy Garlic Pasta.
Jump to:
What is Chicken Manchurian?
Chicken Manchurian consists of crispy-coated boneless chicken pieces served in a spicy, tangy brown or red sauce. Despite the name, Chicken Manchurian is an Indo-Chinese recipe popular in Indian & Pakistani restaurants and bears little resemblance to Manchu or Chinese cuisine.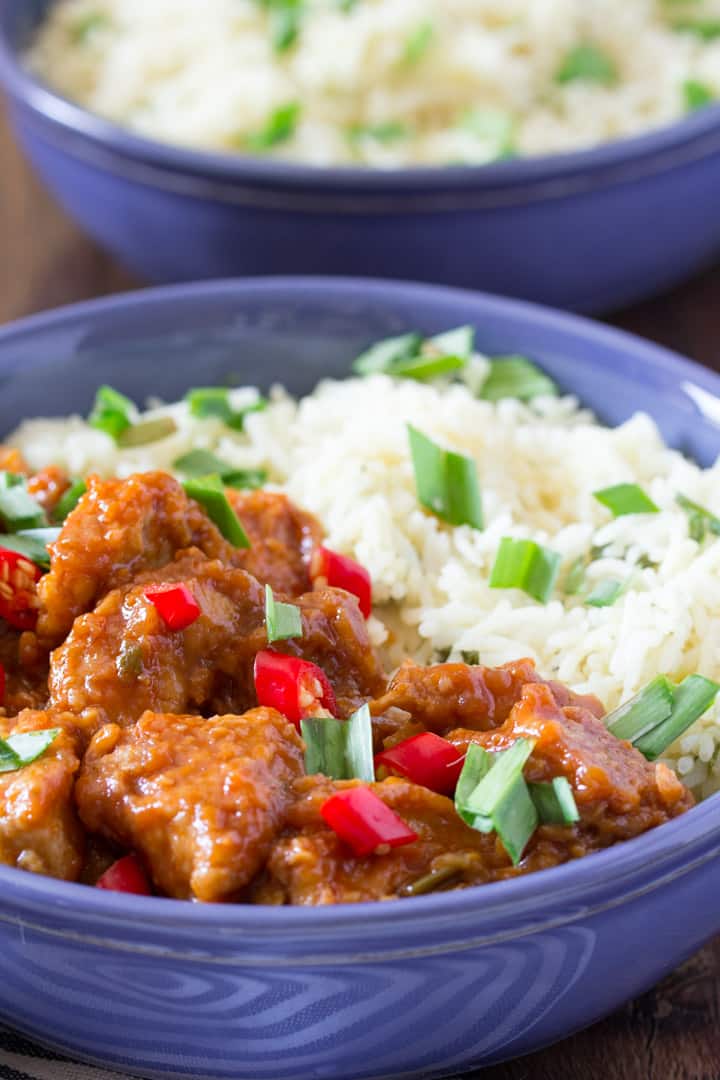 The addictive Manchurian sauce is made up from sweet ketchup, umami soy sauce and, sometimes, chili garlic sauce. It's always garnished with green onions. And it's always super delicious 🙂
Some recipes call for capsicum (a.k.a. green bell pepper), but you should omit it for a truly authentic chicken Manchurian. The resulting sauce is piquant and syrupy, with a perfect balance of flavors.
When you get Chicken Manchurian at a restaurant, its typically served as a bright red sauce that is often tinted with red food colouring. One bonus of making your own Chicken Manchurian at home is that you can omit the food coloring and stick to pure flavor. As you can see from the photos, it is still a bright and beautiful dish!
Why this Recipe Works
Flavorful: This restaurant-style Chicken Manchurian tastes just like the one you get at your favorite takeout place.
No deep frying: While traditionally the chicken is deep fried at restaurants, this recipe calls for shallow frying which is easier and healthier!
Super easy: This is as easy as Indo-Chinese dishes get. There are only two components of this recipe: the crispy fried chicken and the Manchurian gravy.
Ingredients You'll Need
For the Crispy Chicken:
Egg: To help bind the batter to the chicken.
Soy Sauce: To add a little saltiness and flavor to the batter.
Corn flour + all-purpose flour: The cornflour helps to make the chicken really crispy when fried.
Salt and pepper
Chicken breasts: I like to use 1-inch chicken breast pieces but a good sub here would be boneless and skinless chicken thighs cut into cubes.
For the Manchurian Sauce:
Ginger & Garlic: These two are the base flavors of this sauce. Use freshly crushed ginger and garlic.
Spring onion: Finely chopped, this adds a delicious flavor to the sauce.
Tomato Ketchup: While not a traditional ingredient, ketchup is what adds the sweet and tangy flavor to the sauce and is the key flavor here.
Soy sauce: To add saltiness and umami.
Red Chili Sauce: Use your favorite red chili sauce here. I like to use Sriracha sauce for this recipe.
Sugar: To balance out the flavors.
Cornstarch slurry: To thicken the sauce so that it coats the chicken pieces.
How To Make It
This recipe basically has two components: crispy battered chicken and sweet Manchurian sauce.
To Make

Crispy Battered Fried Chicken:
First, you start by making a batter for the chicken - mix corn flour, flour, salt, pepper, and one egg to make the batter. We also add soy sauce and ginger garlic paste for added flavor.
Whisk the ingredients together vigorously with a fork. There should be no clumps whatsoever. Now pour the batter over your chicken and toss until all pieces are well covered.
Heat your oil in a heavy-bottomed sauté pan. You can test to see if the oil is hot enough to proceed by dripping a small bit of batter into the pan. It should start to sizzle and cook immediately.
When the oil is hot enough, spread out your coated chicken pieces in a single layer. It is important to not crowd the pan, so work in batches if you must. On medium-high heat fry the chicken 2-3 minutes, until golden brown and lightly crispy. Flip and repeat on the other side.
Who needs gold when you can have this perfect golden chicken??? Lol 😀
When the chicken is cooked to perfection, use a slotted spoon to remove it from the pan. Place it on a plate lined with paper towels to drain any excess oil. Now it's time to make your yummy sauce.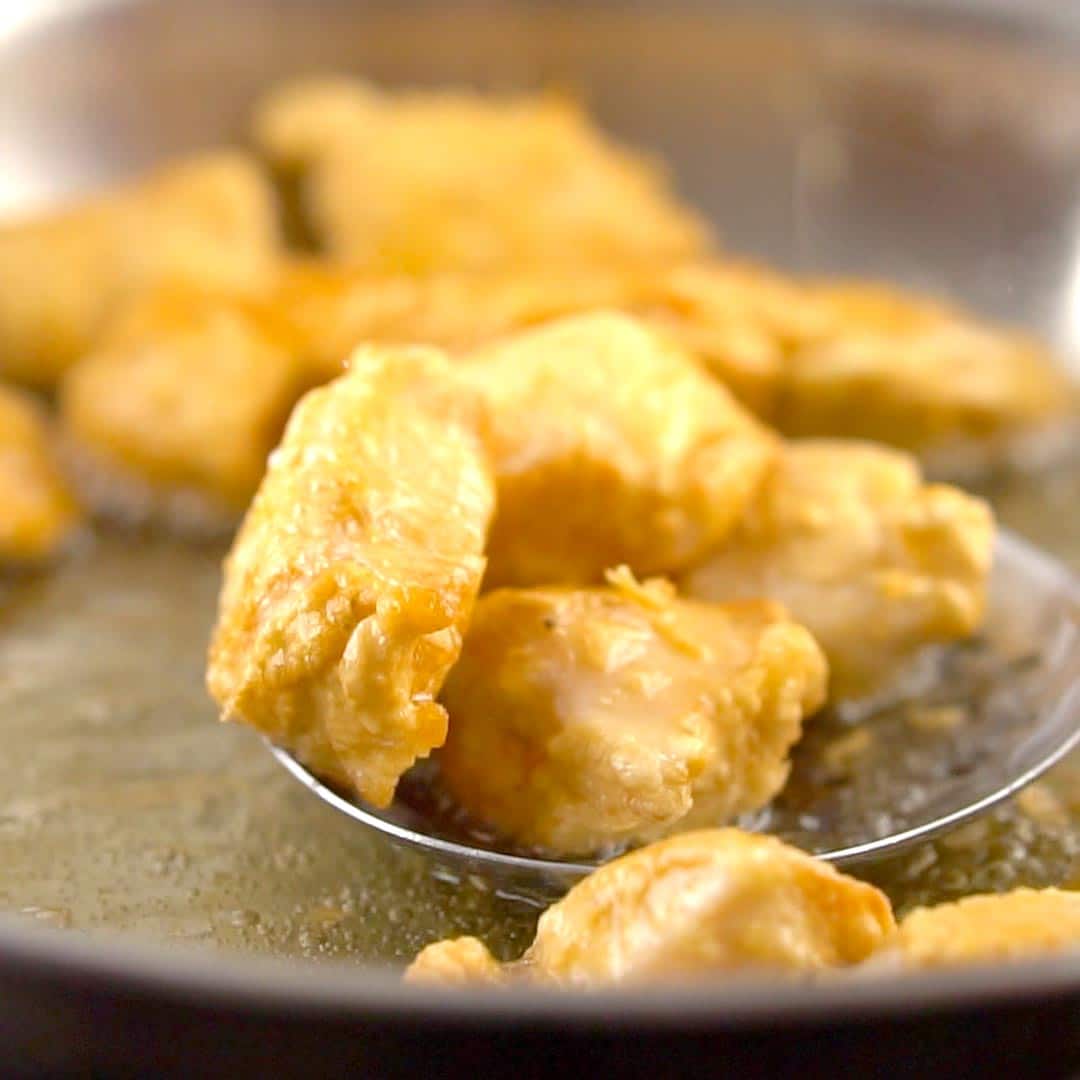 To Make

Manchurian Sauce:
The sauce for Manchurian Chicken is primarily made from ketchup, chili garlic sauce (optional), soy sauce, and chopped green onions (aka spring onions). You may also add cubed onions and green capsicum (bell pepper), but I usually don't add either.
Heat the oil in a wok over medium heat. Sauté the garlic and ginger until fragrant, about 30 seconds. Add in the green onions and cook another 30ish seconds, until the onions begin to wilt.
Add in all remaining sauce ingredients except the cornstarch and water. Stir everything together and cook for a minute or two, until the sauce becomes thicker and begins to bubble.
While your sauce is cooking, combine the cornstarch and water in a small bowl. Whisk thoroughly to combine into a slurry.
Once your sauce has begun to bubble and thicken a bit in the pan, drizzle in your cornstarch slurry. Stir the sauce vigorously with a wooden spoon to incorporate everything, and cook for another minute or so. The sauce is ready when it is thick enough to coat the back of your spoon.
How to Assemble Chicken Manchurian
You've made it to the home stretch! All that is left to do is combine your crispy, golden chicken nuggets and your delicious sweet, spicy, and sour Manchurian sauce.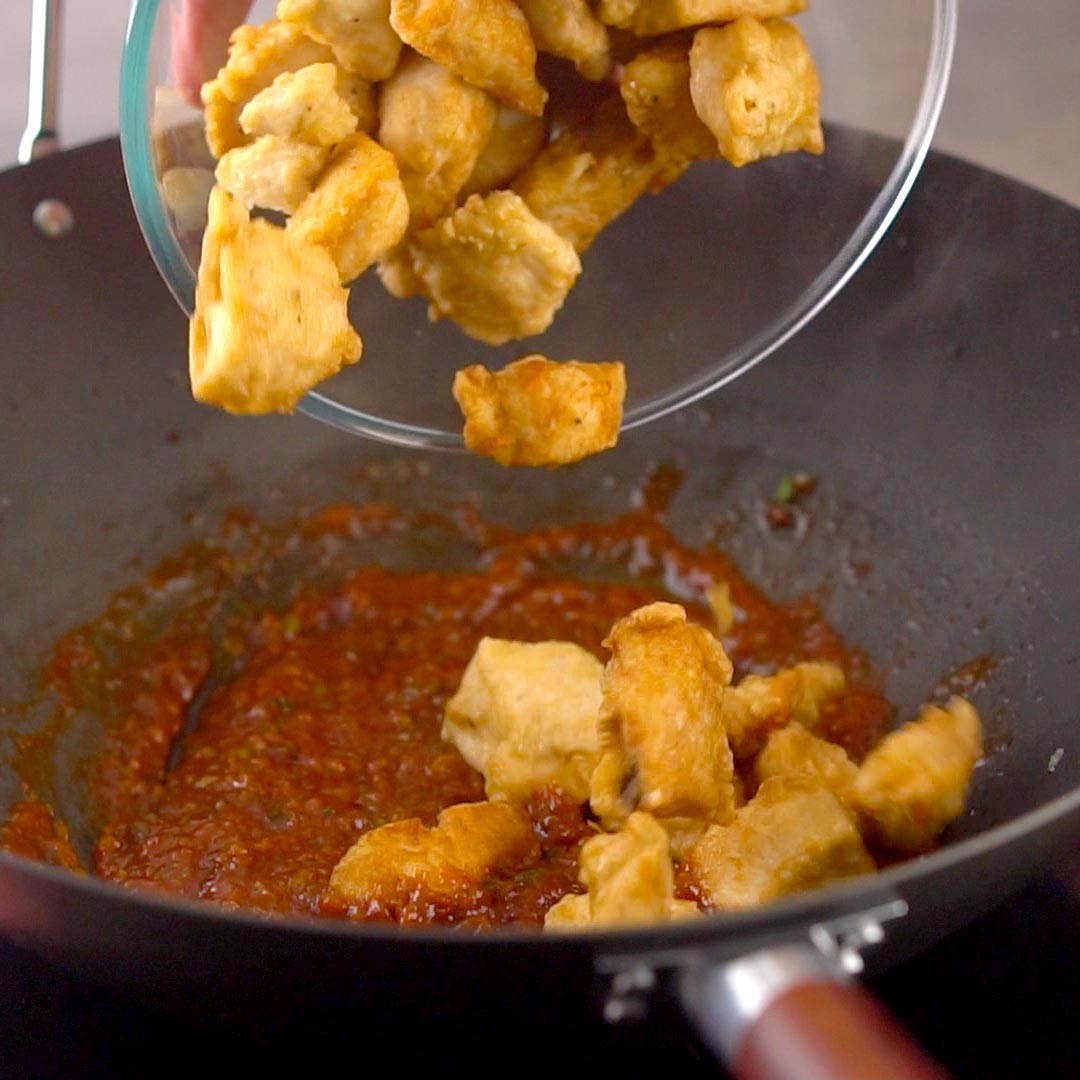 Add the chicken to the wok with the sauce. Fold to incorporate, being careful not to knock off all of your prize-worthy coating. Serve immediately!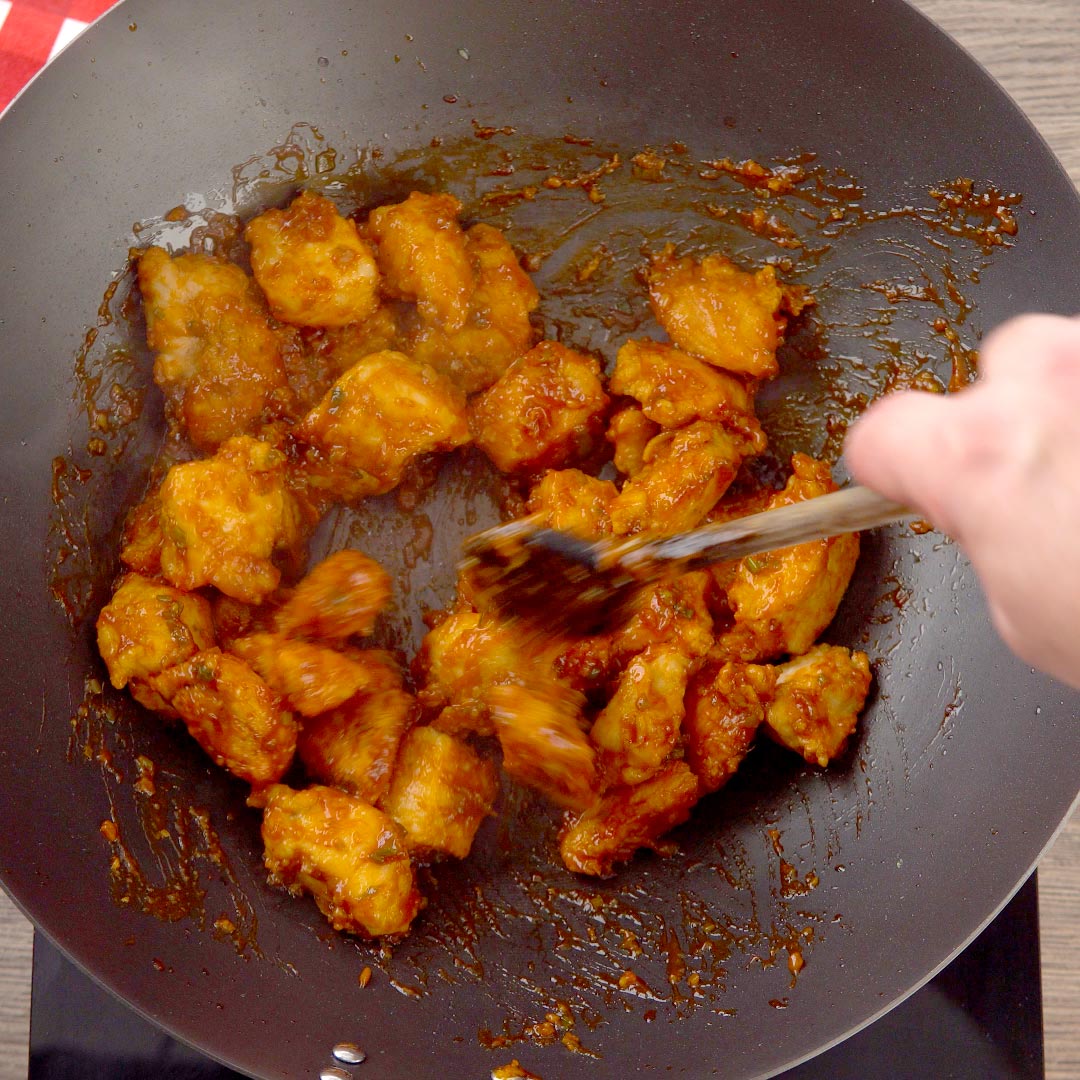 Expert Tips:
Be sure to not overcook the chicken. Since the chicken breast is cut into bite-sized pieces, it will cook very quickly. 2-3 minutes on each side should be enough cooking time.
If you have time, marinate the chicken for 30 minutes. This lets the flavors infuse together.
This Chicken Manchurian is on the dry side and does not have much of a gravy. If you would like gravy, add 1/2 cup of chicken stock with the other sauce ingredients. Then use a cornstarch slurry to thicken it to your liking.
Frequently Asked Questions:
How should I serve Chicken Manchurian?
In our family, we love to eat this sticky-spicy-sweet delicious chicken over garlic rice or egg fried rice. I also highly encourage you to sprinkle it with some fresh sliced green onions for a bit of bite, and, if you like spicy foods, some fresh sliced chilis. Feel free to add a drizzle of sriracha or chili crunch to the final product if fresh chilis aren't on hand.
That said, feel free to serve this yummy chicken dish however you like! If you're opting to live a lower carb lifestyle, serve it over cauliflower rice instead. I also won't judge you one bit if you decide to eat it straight from the pan.
I'm not much of a chicken person... any suggestions?
Although the most popular version of this dish is Chicken Manchurian, there are other variations of this famous Indo-Chinese recipe.
If you are vegetarian, try making either Gobi Manchurian (using cauliflower florets instead of chicken) or Paneer Manchurian (subbing in the iconic Indian cottage cheese in place of chicken).
You can also opt to make this delicious recipe using fish, prawns or even mutton. I do hope you try this super delicious and easy recipe, regardless of what you use as the base!
Can I make this dish ahead of time?
Due to the nature of the batter, Chicken Manchurian is best served immediately. While you can refrigerate leftovers for up to three days, the chicken is likely to become soggy.
If you must save leftovers, I recommend keeping the sauce and the chicken bites separate. You can reheat the fried chicken in a toaster oven or air fryer, then microwave the sauce and toss to coat. Enjoy! 🙂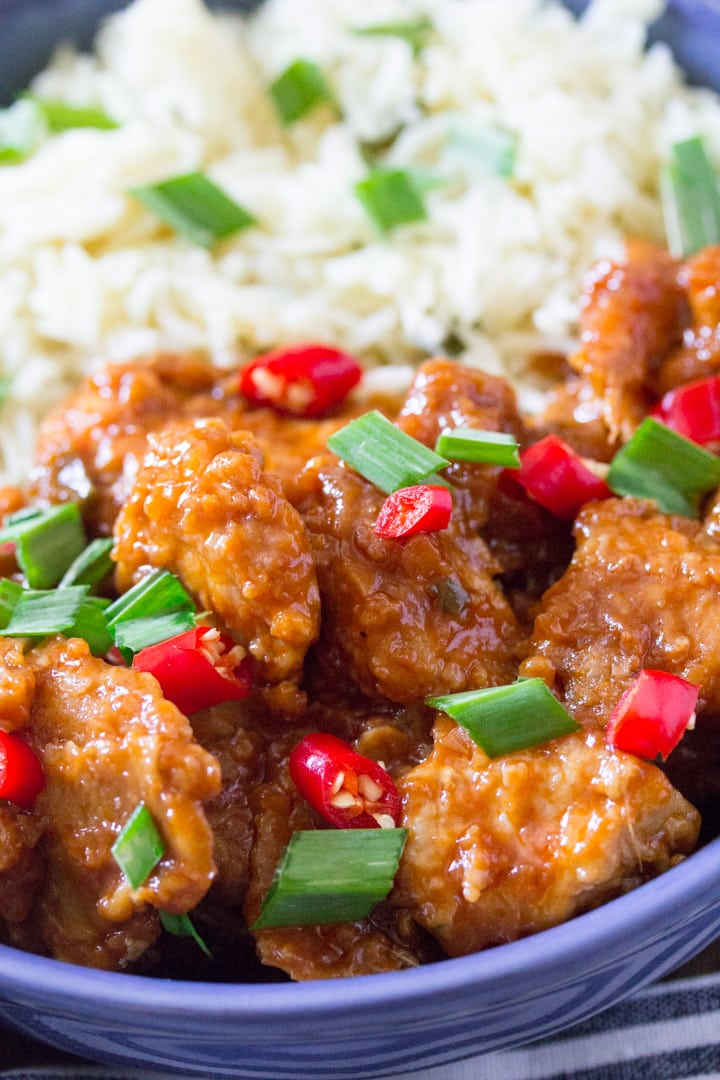 Looking for more dinner inspiration? Try these delicious recipes: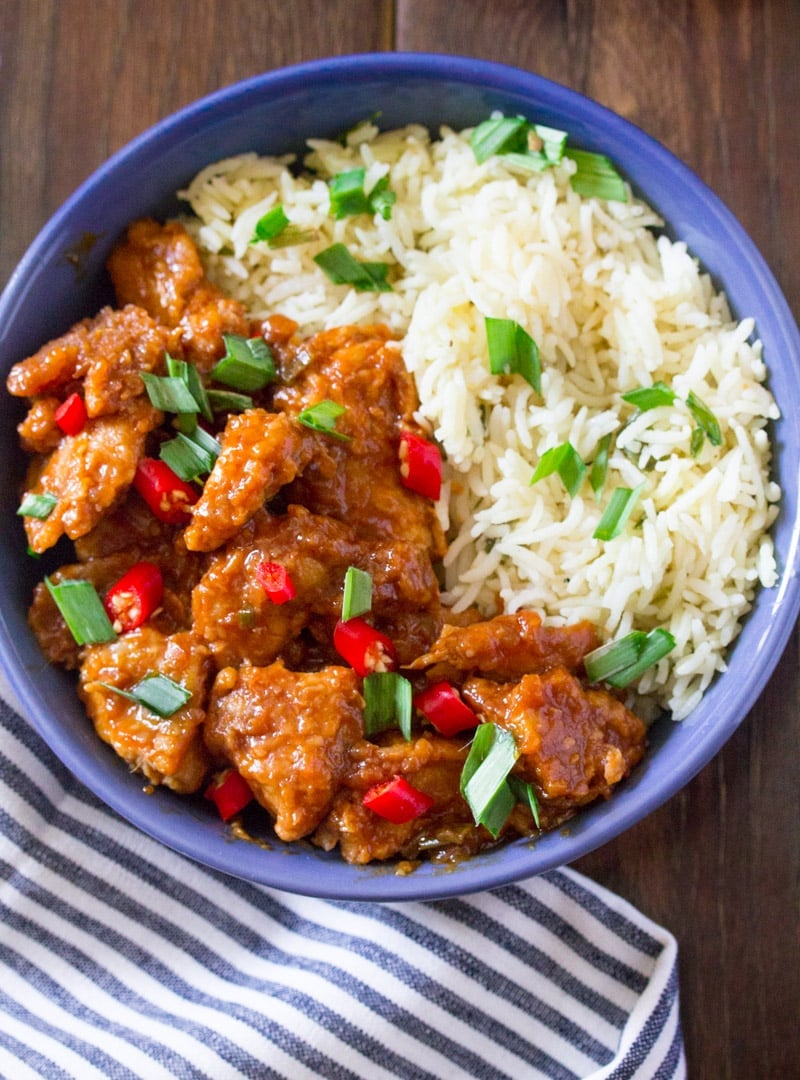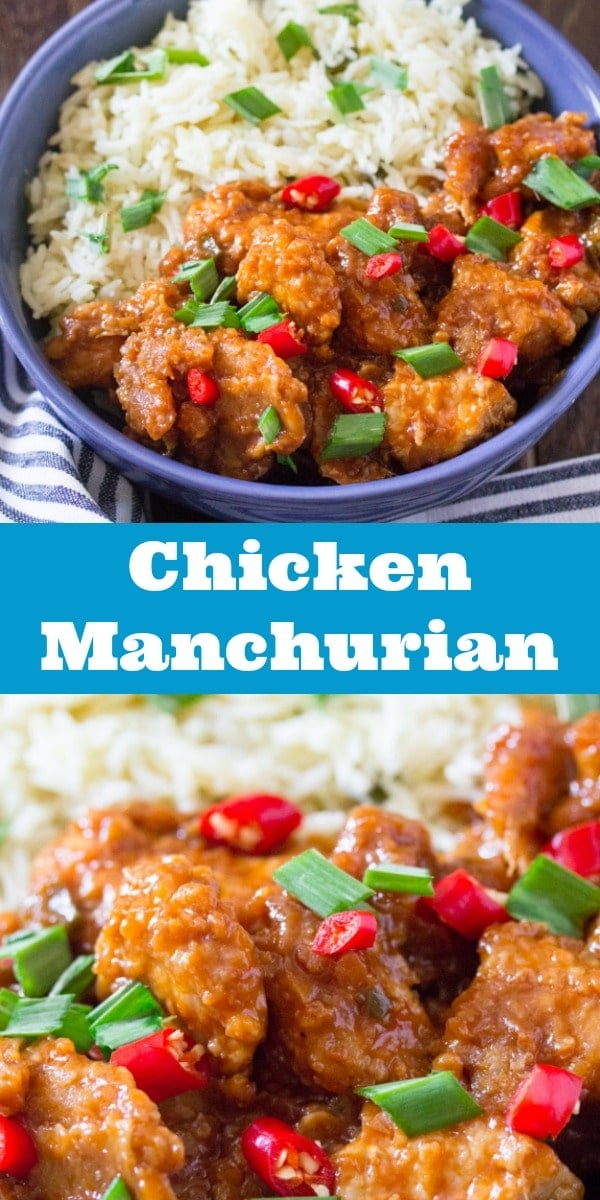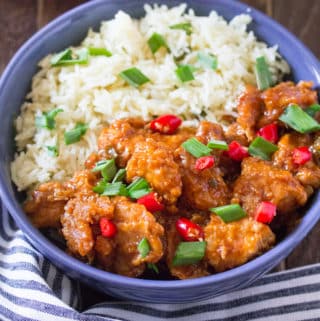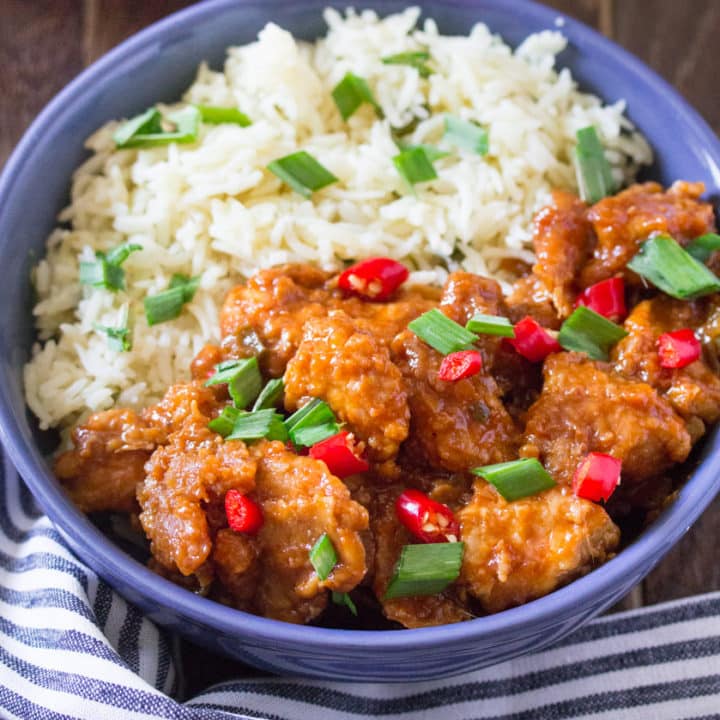 Chicken Manchurian Recipe
Chicken Manchurian Recipe is a delicious popular Indo-Chinese recipes that is made with crispy coated chicken and a spicy sweet sauce that is to die for.
Print
Pin
Rate
Ingredients
For the Chicken
1

egg

1

tablespoon

soy sauce

4

tablespoons

cornstarch

2

tablespoons

all purpose flour

Salt

Pepper

2

large chicken breasts - chopped into 1 inch cubes

skinless & boneless

1/2 - 1

cup

oil
For the Manchurian Sauce
2

tablespoons

oil

1

tablespoon

crushed garlic

1

tablespoon

crushed ginger

1/4

cup

finely chopped green onion

1/4

cup

ketchup

1

tablespoon

soy sauce

2

tablespoons

red chilli sauce

1/2

teaspoon

sugar

1

teaspoon

cornstarch

2

tablespoons

water
Instructions
For the Chicken:
Heat oil in a frying pan.

Combine all the batter ingredients and mix well. Add the chicken boneless pieces and coat well.

Fry the chicken boneless pieces until golden brown and cooked through. Transfer to kitchen paper to drain excess oil. Set aside.
For the Manchurian Sauce:
Heat oil in a wok, and add the garlic and ginger and fry for about 30 seconds.

Then add the green onions and fry for another 30 seconds.

Add all sauce ingredients except the cornstarch and water.

Cook for a minute or two until the sauce starts to thicken and bubble.

Dissolve the cornstarch in the water and add it to the sauce and keep stirring until it becomes thick.

Toss in the fried chicken and mix so that the sauce coats the chicken well.

Serve with garlic butter (pictured) or egg fried rice.
Notes
Partially freezing the chicken will make it easier to cut into cubes.
Due to the nature of the coating, this dish is best served immediately. Leftovers can be kept for up to 3 days, however, the coating will not retain its crispiness.
Nutrition
Calories:
1043
kcal
|
Carbohydrates:
21
g
|
Protein:
27
g
|
Fat:
95
g
|
Saturated Fat:
8
g
|
Cholesterol:
113
mg
|
Sodium:
873
mg
|
Potassium:
517
mg
|
Fiber:
1
g
|
Sugar:
8
g
|
Vitamin A:
233
IU
|
Vitamin C:
4
mg
|
Calcium:
20
mg
|
Iron:
1
mg