My name is Wajeeha, and I'm a garlic lover. I'm the kind of person who will find every opportunity to add garlic to my recipes. Except not to sweet stuff like these super soft & chocolatey cookies and this to die for Lindt Italian hot chocolate obviously. I may be obsessed with garlic, but I'm not pure crazy.  A few days ago I shared my recipe for Garlicky Chicken Nuggets which are super easy and fast to make. No breading involved. Isn't that awesome? Now let's talk about this Crispy Lemon Chicken with Creamy Garlic Penne Pasta.
And today I want to share with you another garlicky dish that will blow your mind. This is a restaurant style dish with a base of creamy garlic penne pasta which takes like 5 seconds to make.
And then there's the star of the dish, the glorious lemon & garlic chicken which is coated in breadcrumbs and lightly pan fried.
This dish is ready in 30 minutes and you don't even have to dress up to go out (this is especially for parents of toddlers who want to eat at a restaurant but can't take said toddler out in public because of fierce tantrums).
Oh and guess what? The pasta is super creamy, but there's no actual cream in the pasta sauce. Isn't that awesome?  And the chicken is fried in very little oil, so that's even more awesome. You're welcome.
Now if you don't like a lot of garlic in your food, then you can reduce the amount of garlic.
But if you're a garlic lover like me, then you will absolutely love this dish. Now go onto the kitchen, only 30 minutes between you and this delicious restaurant style meal.
Random Thoughts on Garlic & Vampires: I feel sorry for vampires because they cannot enjoy the delicious flavor that garlic brings to any dish (I mean if vampires actually do exist and are allergic to garlic). I wonder if Bella from Twilight misses garlic bread? I wouldn't have given up garlic bread (or anything garlic) in place of shining like a million diamonds in the sunlight. Was it worth giving up garlic for an eternal life, Bella?
Yeah, if you've been reading this blog for awhile, you must know I'm slightly weird. Sorry, not sorry.
Here are a few handy tips to making the perfect Crispy Lemon Chicken with Creamy Garlic Penne Pasta:
1.) Let's talk about the chicken first. It needs to be breaded with bread crumbs and fried in very little oil. However, you need to make sure the heat isn't too high or else the bread crumbs will burn. The quantity of oil used also depends on how wide and deep your pan is. If it's a smaller pan, you'll obviously need less oil…but if it's a wider pan then you'll need a little more oil for the frying.
2.) Now let's talk about the sauce! This sauce is basically a white sauce but the flavor is amped up with loads of garlic. Quickly fry the garlic in butter and then add the flour and cook for 1-2 minutes until the floor isn't raw anymore. Then slowly add in the milk and chicken stock together, while whisking continuously. Keep whisking until the sauce becomes thick and silky. Whisking is important so that the sauce remains smooth and no lumps form. I've learned this the hard way, so don't stop that whisking! 🙂
3.) This pasta is best served immediately because the pasta tends to soak up the sauce pretty fast.
I do hope you try out this easy Crispy Lemon Chicken with Creamy Garlic Penne Pasta because it is finger licking good! 😉
Happy garlicking!
Looking for more delicious dinner recipes?
Crispy Baked Chicken Tenders with Garlic Mayo Bbq Sauce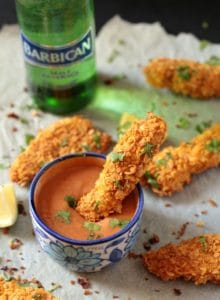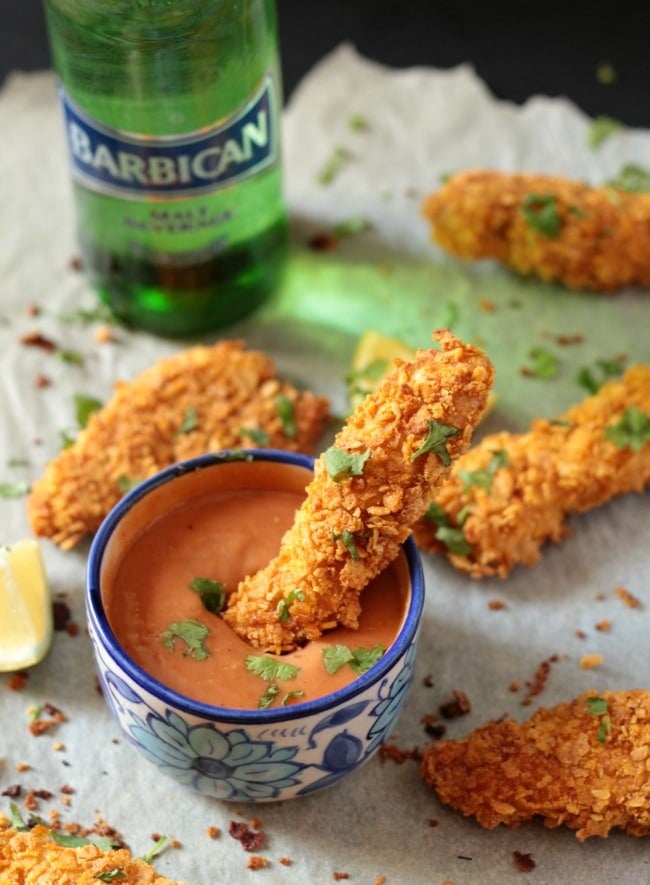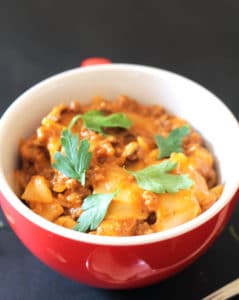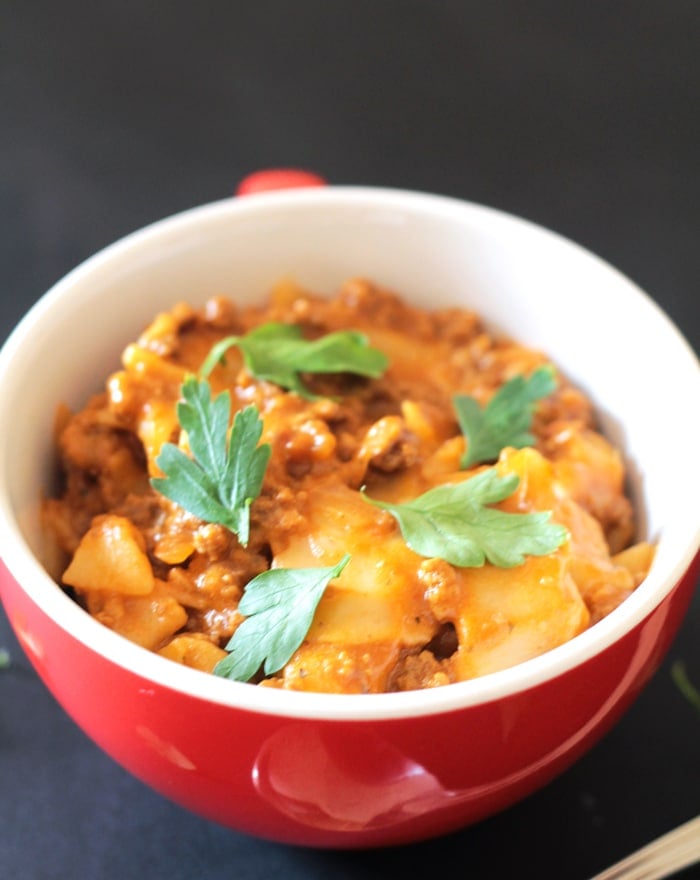 How to Make Crispy Delicious Falafel at Home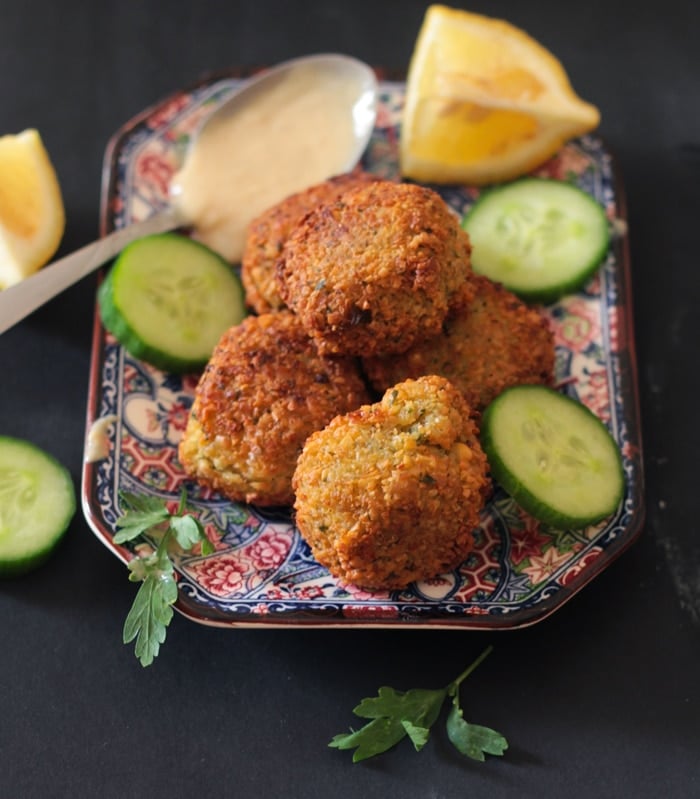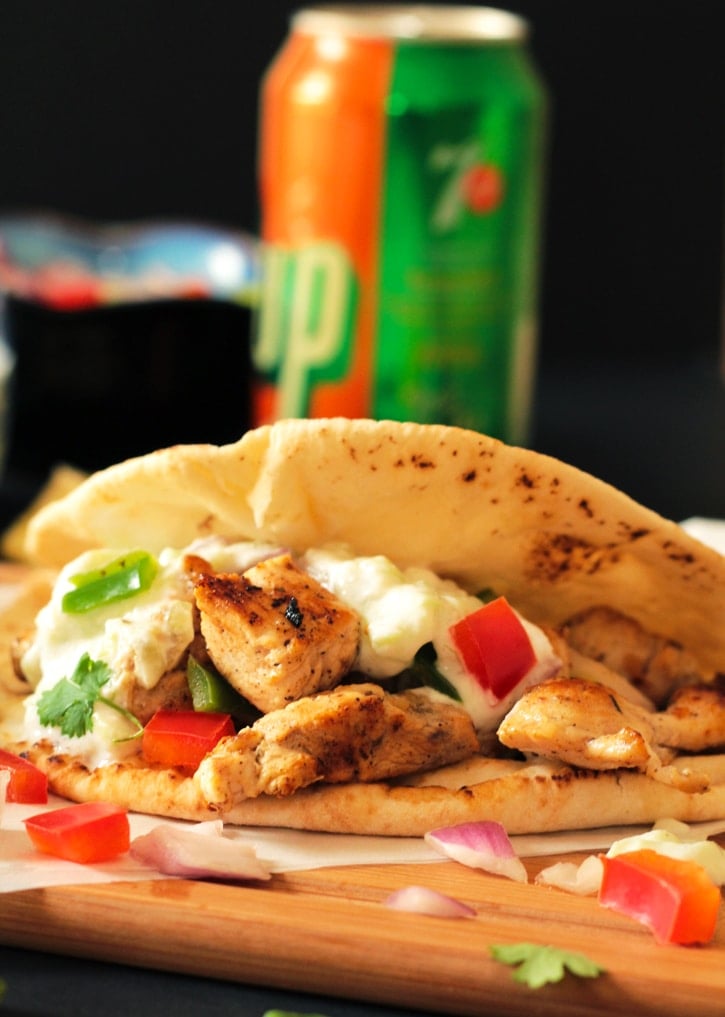 Crispy Lemon Chicken with Creamy Garlic Penne
A restaurant style dish of lemony crispy chicken paired with an easy creamy garlic penne pasta. No heavy cream added to the pasta sauce, and very little oil needed to fry the chicken!
Ingredients
FOR THE CHICKEN MARINADE:

250

grams

skinless boneless breast chicken

halved

2-3

tablespoons

fresh lemon juice

1

garlic clove

minced

1

teaspoon

salt

1/2

teaspoon

black pepper

1/2

teaspoon

dried oregano

FOR THE BREADING OF THE CHICKEN:

2

eggs

lightly whisked

1

cup

all purpose flour

or as needed

1/2

teaspoon

salt

A pinch of black pepper

1-2

cup

dried breadcrumbs

or as needed

1-2

tablespoon

oil

See notes

FOR THE CREAMY GARLIC PENNE PASTA:

4

tablespoon

butter

4-5

garlic cloves

minced

4

tablespoons

all purpose flour

1 1/2

cups

milk

1/2

cup

chicken stock

see notes for substitute

1

teaspoon

salt

1/2

teaspoon

black pepper

1

tablespoon

chopped parsley

optional

300

grams

penne pasta

cooked according to the package instructions
Instructions
MARINATION OF THE CHICKEN:

Marinate the chicken breasts in all of the marinade ingredients. Marinade for 5-10 minutes.

BREADING & COOKING THE CHICKEN:

Place the flour, eggs, and breadcrumbs in three separate shallow dishes.

Season the flour with salt and pepper.

Dip each chicken breast in flour, lightly shaking the excess flour. Gently dip in the egg wash and then coat with breadcrumbs. Repeat until all chicken breasts are coated with breadcrumbs.

Heat oil in a frying pan, and fry the chicken breasts until golden brown (for about 2-3 minutes on each side or until cooked through).

CREAMY GARLIC PENNE PASTA:

In a medium sized pot heat butter on medium high heat and saute the garlic for a few seconds.

Add the flour and stir for about a minute.

Slowly add in the milk and chicken stock, stirring constantly, to avoid lumps forming in the sauce.

Once the sauce has thickened, season it with salt and pepper.

Add the cooked penne pasta and mix until coated with the sauce.

Serve pasta with crispy lemon chicken fillet and garnish with chopped parsley or coriander.
Notes
Amount of Oil: I used a nonstick frying pan, so did not need to use a lot of oil to fry the chicken. However, if using a pan that's not nonstick then you may need to add more oil.
For the Chicken Stock Substitution: If you don't have chicken stock on hand, just dissolve half a chicken stock cube in 1/2 cup of hot water and add this to the sauce instead. I used a Knorr chicken cube.