Crispy chicken lovers from all over the world, it's time to rejoice! These Crispy Baked Chicken Tenders with Garlic Mayo BBQ Sauce are to die for you, I tell you.
Okay, so I was one of those people. You know those people, who are like chicken tenders/nuggets can never be baked AND crispy delicious.
I was Team Fry through and through.
I scrunched up my nose in disdain when I saw pictures of baked chicken tenders and nuggets on Pinterest, with claims of holy crispiness without a drop of oil.
Enter these Crispy Baked Chicken Tenders with Garlic Mayo BBQ Sauce.
How was it possible? Surely they must be exaggerating, I thought to myself.
Of course, until I made these Crispy Baked Chicken Tenders, that is. And then dipped them into this Garlic Mayo BBQ Sauce.
And thus I converted and became a part of Team Baked & Healthy.
Now we can have our chicken tenders, and eat them too. Okay maybe that's not the exact quote, but you know what I mean right?
These Crispy Baked Chicken Tenders are seriously so good, you won't be able to stop at one crunchy bite, and before you know it it...they'll be finished. Also try these quick and delicious Crispy Breaded Chicken Cutlets.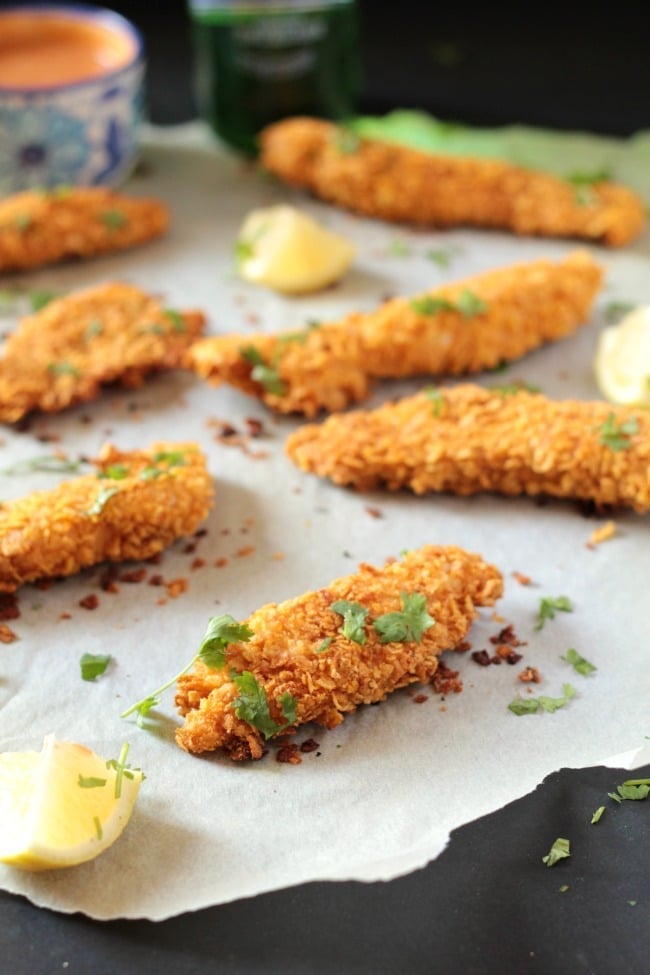 Okay, so now let me make the big reveal as to why these chicken tenders are so crispy without a drop of oil.
It seems magical, but I promise there's no complicated magic involved in making these chicken tenders.
However, there is a magical ingredient, okay maybe not magical...but you know what I mean. It is probably in your kitchen pantry right now.
You probably have them for quick breakfasts.
I'm talking about plain cornflakes. Yes! Just plain corn flakes. Humble, plain, yet super crunchy.
The ones that you have with milk early in the morning. Yup those plain old good cornflakes.
And this is how these crispy baked chicken tenders were born by being coated with crunchy cornflakes.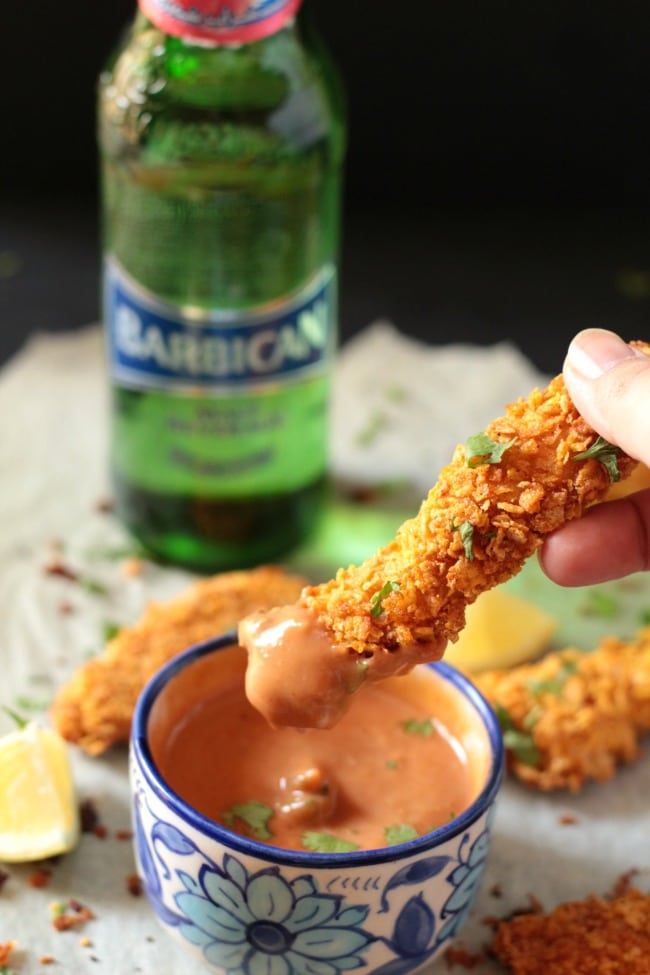 After having these chicken tenders, I don't think I'm ever going back to Team Fry. I mean why would I, with all that oil and un-healthiness?
Not that I'm know for being an extremely healthy eater, as is evidenced by these Nutella Stuffed Cookies and Golden Oreo Salted Caramel Mini Cheesecakes. Hehe.
I'm just all about flavor you know, whether healthy or not. Although I do prefer to eat healthy over unhealthy.
Okay, so let's talk a little bit about how these crispy beauties are made:
1.) So as I said above, these chicken tenders are crispy because they are coated with cornflakes. But we don't just use any plain old cornflakes.
Well, we do. But we also add a ton of flavorful seasonings like garlic powder and paprika.
2.) It's also important to pound the chicken breasts a bit before cutting into strips, so that they cook evenly in oven.
I just cover the chicken breasts with a piece of foil, and lightly pound with a rolling pin. This is also a good exercise if you need to vent out, but that's neither here or there. Lol.
3.) Now usually I hate setting up a dredging station for when I'm making chicken nuggets or tenders. But in this case it's necessary for getting that crispy exterior especially since there's no oil to help the tenders crisp up.
One useful tip for dredging stations is to use one hand for the dipping in the dry ingredients and the other hand for dipping in the egg.
4.) The Garlic Mayo BBQ sauce is optional, but it is SO easy and SO delicious that ketchup or any other condiment don't stand a chance. 😛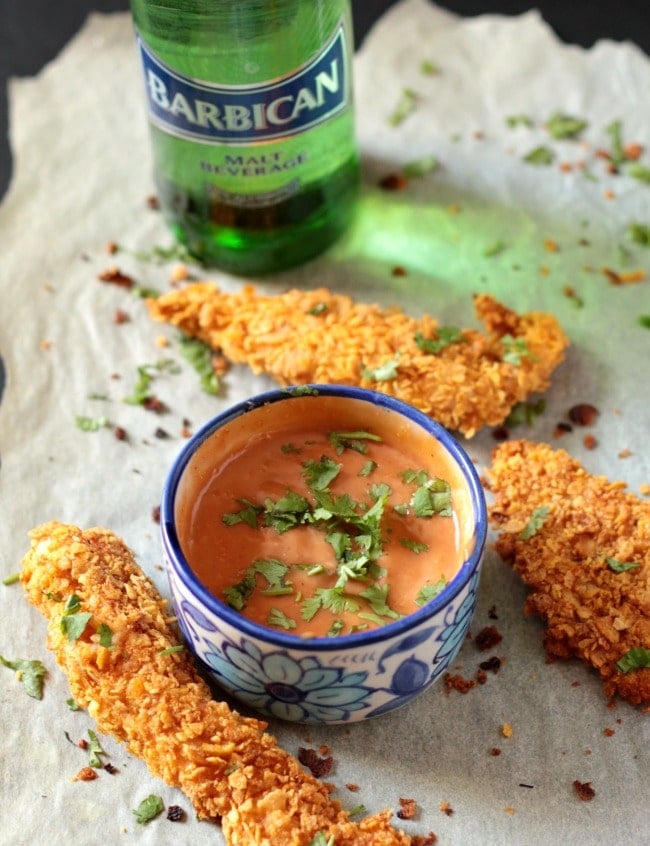 And boy oh boy, these chicken tenders have lots of flavor and lots of crispiness going on. I guess now I'll be one of those people claiming crispy baked chicken tenders on Pinterest.
And I promise you, we are not crazy or exaggerating.
Chicken tenders can be really crispy without all the frying and oil. Yay for oven fried recipes! 😀
Oh did I tell you? The Garlic Mayo BBQ Sauce is also super delicious, and so easy to make. Okay maybe I did tell you this above. Lol.
But do try it. Although at your own risk, because it's addictive and you'll never be able to stop dipping the chicken tenders into the sauce.
I apologize in advance for making you an oven fried chicken tender addict if you try this recipe. But you won't regret it, I bet. 😛
You've been warned. 😉 Lol.

Looking for more delicious chicken recipes?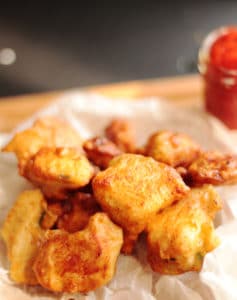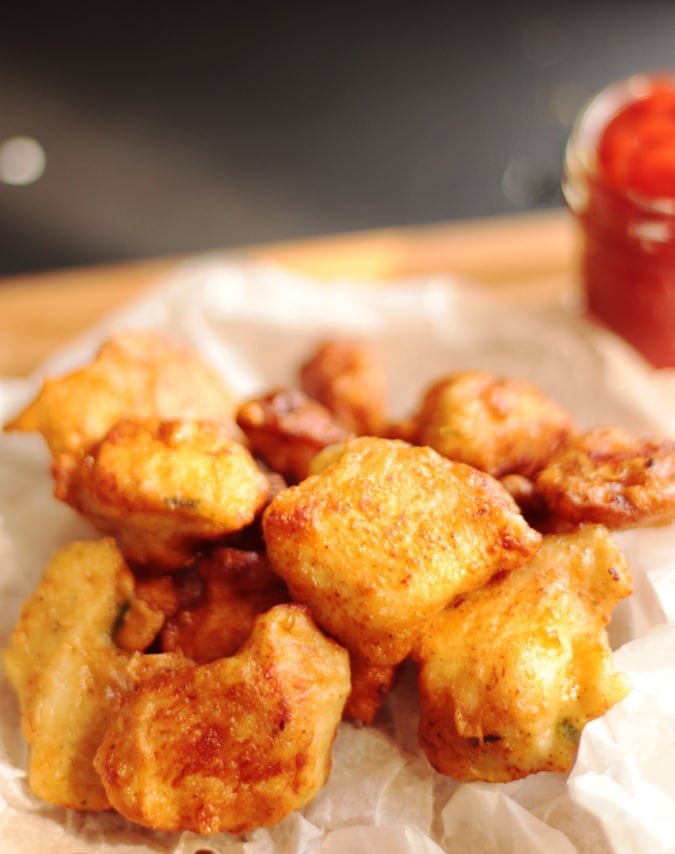 Crispy Lemon Chicken with Creamy Garlic Penne Pasta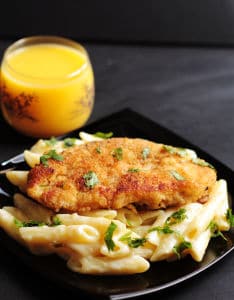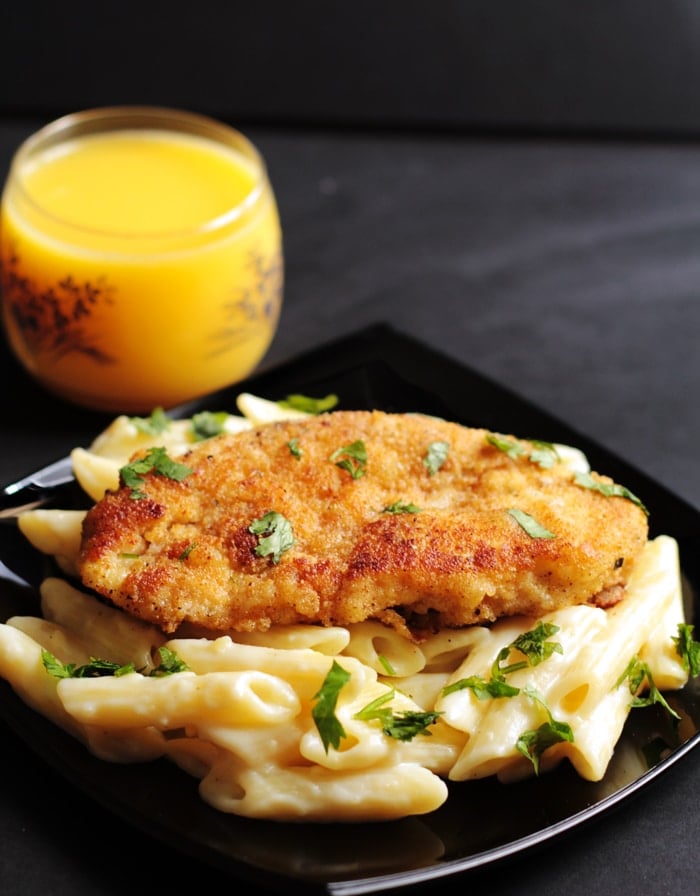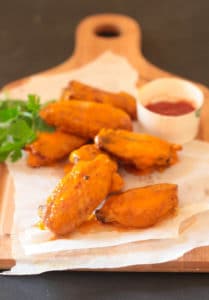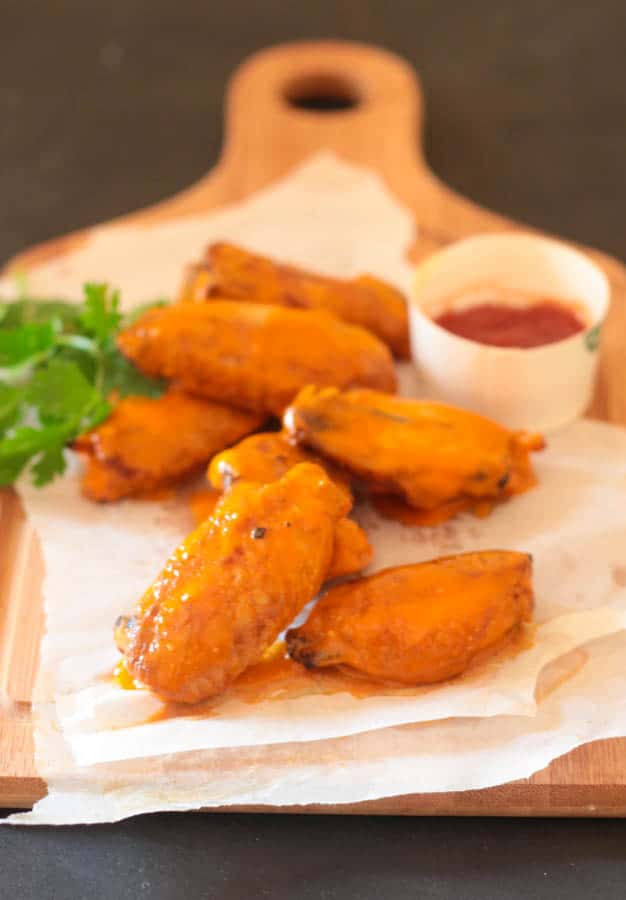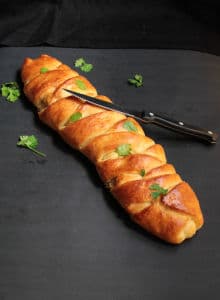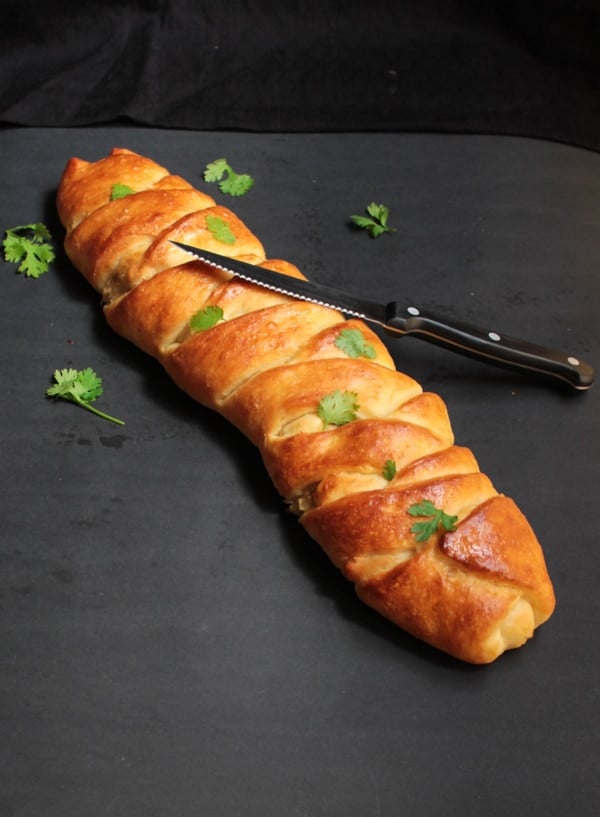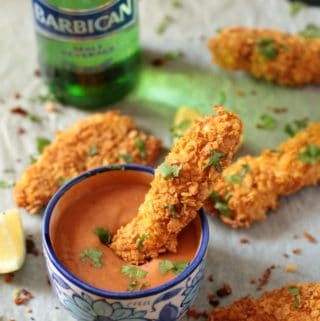 Crispy Baked Chicken Tenders with Garlic Mayo BBQ Sauce
These Crispy Baked Chicken tenders are so crunchy and delicious, not to mention healthy. They are great to dip in a homemade garlic mayo bbq sauce, and perfect for kids and adults alike.
Print
Pin
Rate
Ingredients
For the Crispy Baked Chicken Tenders

500

grams

boneless chicken breast

4-5

cups

of plain corn flakes

2

teaspoons

salt

2

teaspoon

paprika

1

teaspoon

black pepper

1

teaspoon

garlic powder

1

egg

(lightly whisked with a tablespoon of water)

2

cups

all purpose flour

For the Garlic Mayo BBQ Sauce

1/2

cup

BBQ sauce

2-3

tablespoons

mayonaise

1

teaspoon

garlic powder

Salt and pepper to taste
Instructions
Preheat oven to 400 F (200 C). Line a large baking sheet with parchment paper. Set aside.

Lightly pound the chicken breasts so that they are flattened and cut into long strips. I covered the chicken breasts with foil and used a rolling pin to lightly pound on the chicken breasts until they were of equal thickness. Set aside.

Add the cornflakes and seasonings (salt, pepper, paprika, and garlic powder) into a food processor and pulse 4-5 times until the cornflakes have broken down but there are still some big pieces. Pour into a medium sized bowl.

Set up a dredging station. Place the flour into a medium large shallow bowl, and next to it set the whisked egg in a shallow bowl, and then finally the bowl which contains the crushed cornflakes.

Lightly dredge each chicken strip into the flour and then dust the extra flour. Dip in the egg mixture and coat completely, and then let the excess drip off. Finally dredge in the cornflake mixture making sure it is generously coated. Place each chicken strip on the prepared baking sheet when it is coated.

Once all the chicken strips are coated with the cornflake mixture and placed on the baking sheet, place the baking sheet into the preheated oven.

Bake for 15-20 mins. Flip the chicken after 10 minutes to ensure even baking. Baking times may vary. To ensure chicken is cooked cut through a thick chicken tender to see if it's cooked through.

Take out of oven and transfer to a serving dish.

For the Garlic Mayo BBQ Sauce

Mix all the ingredients until combined.

Serve the chicken tenders with the garlic mayo bbq sauce.
Nutrition