Hi! I'm Cherri, the imaginary food lover that my author (Wajeeha) has dreamed up of as the main character of her series Confessions of a Foodie. I love food. Especially chocolate, maybe a bit too much. So go on, read below my latest culinary adventures: Golden Oreo Salted Caramel Mini Cheesecakes.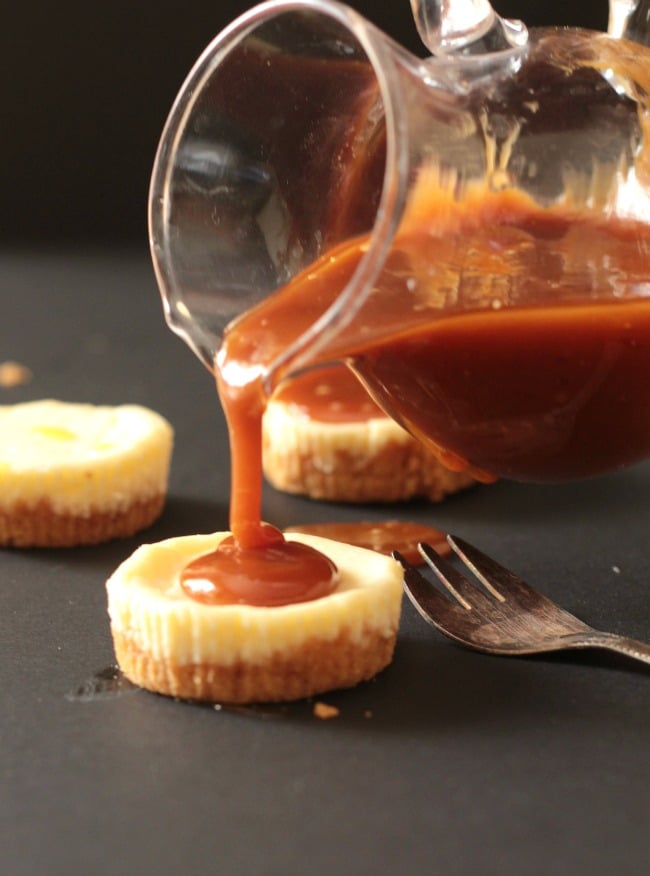 So, remember the Homemade Golden Salted Caramel I made a couple of days ago? It's this one, and OMG it really does have magical healing powers. So after I had a few spoonfuls of it, as Nana recommended in her recipe diary for Nicola (you can read more about that here), I decided I needed to be practical, and grown up and not actually eat the whole batch of the salted caramel sauce by the spoon. So I decided to do the practical thing, and make these Golden Oreo Salted Caramel Mini Cheesecakes to be topped with the salted caramel. I was just being mature and reasonable you know.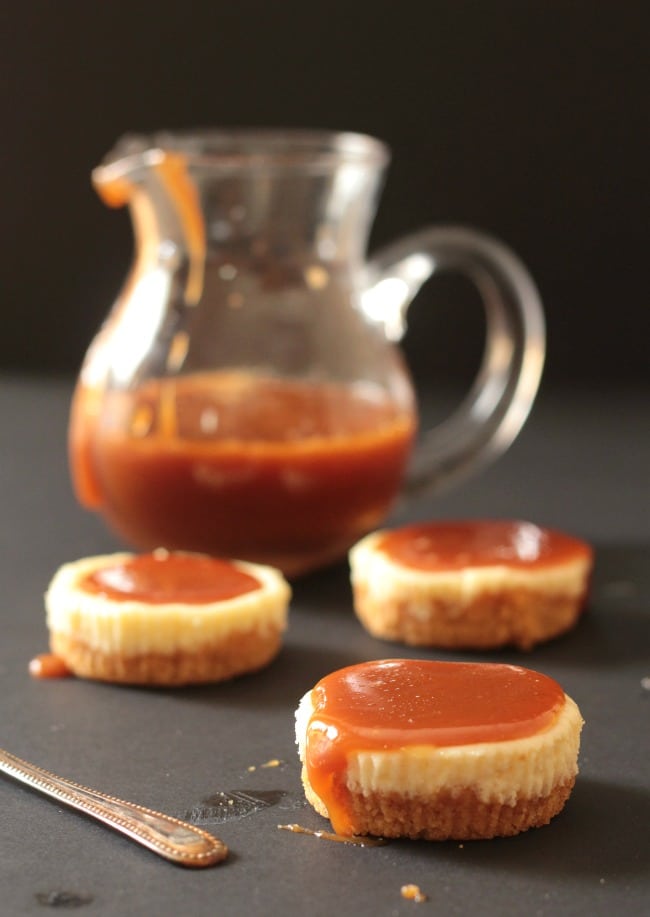 So initially I wanted to go the usual route of a graham cracker crust, but I didn't have any at home. What I did have was a pack of Golden Oreos, so I decided to use those as the cookie crust, and OMG it was life changing, I tell you, life changing. The cheesecake filling was super easy to make, just softened cream cheese, yogurt, sugar, a couple of eggs and good old vanilla extract. I have to tell you, these mini cheesecakes are dangerously easy to make, and dangerously addictive. I couldn't stop at one. But that's okay right, since they are so adorably tiny.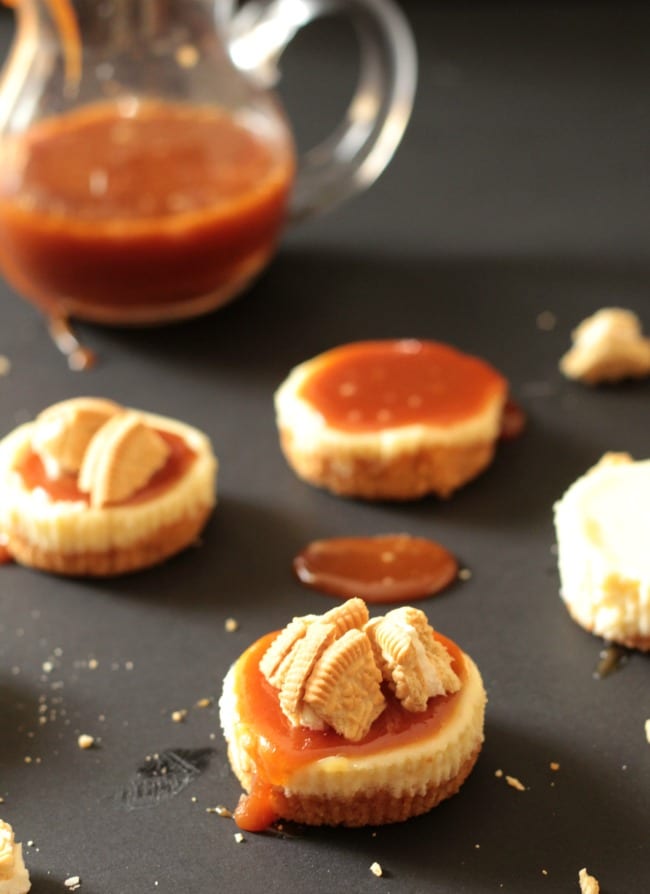 Also, so you know how I'm a self confessed chocolate addict? And these mini cheesecakes have no chocolate at all? Doesn't matter, because they might have just cured my chocolate addiction. For a couple of days, at least. So if you're a chocolate addict like me and want to reduce your chocolate consumption, try these mini cheesecakes. Lol. I say that as if they're a healthy alternative to chocolate, but I didn't say healthy did I? I just said these cheesecakes are a good way to get rid of your chocolate addiction, although why anyone would want that I probably won't understand ;). Don't blame me though, if you develop a mini cheesecake addiction after you taste one of these. You've been warned. Haha. 😉
Okay, so I gotta go now. Have to clean up the kitchen (read: spend hours reading Nana's diary).
Love,
Cherri.
This recipe uses a batch of my Homemade Golden Salted Caramel...find it here.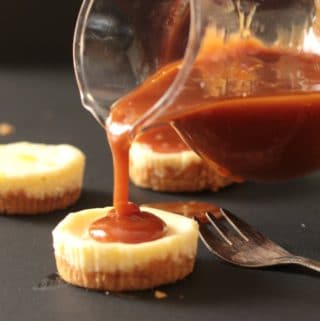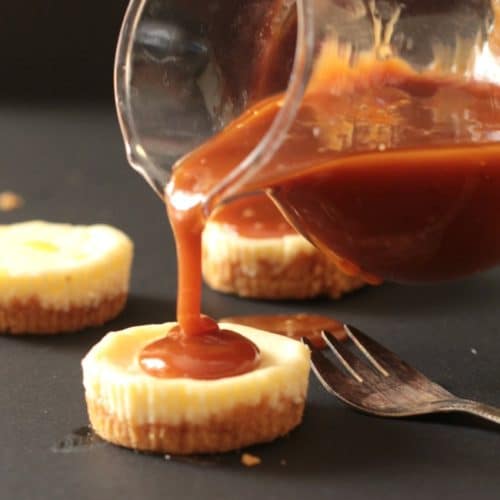 Golden Oreo Salted Caramel Mini Cheesecakes
These Golden Oreo Salted Caramel Mini Cheesecakes are tiny bites of deliciousness! They're also very easy and quick to make! Perfect for gatherings and feeding a large crowd.
Print
Pin
Rate
Ingredients
For the Golden Oreo Cookie Crust

18

whole Golden Oreos

1/4

cup

melted unsalted butter

For the Cheesecake Filling

16

oz

full-fat cream cheese - should be softened to room temperature

3/4

cup

granulated sugar

1/4

cup

yogurt

room temperature

2

eggs

room temperature

1

teaspoon

vanilla extract

For topping

1

batch of homemade golden salted caramel

Extra Golden Oreos for topping

this is optional
Instructions
Preheat oven to 350F/175C degrees. Line two cupcake pans with 18 muffin cases.

For the Golden Oreo cookie Crust: Pulse the whole Oreos in a food processor or blender until they resemble fine crumbs. Pour in the melted butter and pulse a few times until the crumbs start to bind together. Fill each muffin case with 1 tablespoon and press down gently until it covers the entire base of the muffin case. This should be enough for 15-18 muffin cases. Bake in the oven for 15 minutes and put aside once done.

For the Cheesecake Filling: In a medium bowl, using a handheld beater, beat the cream cheese until smooth on medium speed, scraping down the sides as needed. Once the cream cheese is smooth, add in the yogurt and sugar and beat on medium speed until incorporated, about 1-2 minutes. One by one, add the eggs and beat on slow speed after each egg goes in. Scrape down the sides of the bowl as needed. Finally beat in the vanilla extract.

Spoon the cheesecake batter into the crusts until nearly full. Bake each pan for 20-23 minutes. The centers will be slightly jiggly which is fine. The cheesecake centers might have also risen up and will deflate as they cool down. Remove the mini cheesecakes from the oven and allow to cool at room temperature for 1 hour. Store the cheesecakes in the fridge and cool for at least 2-3 hours.

Before serving, top each mini cheesecake with salted caramel and crushed pieces of Golden Oreos. These cheesecakes can be stored in an airtight container up to 4-5 days in the fridge.
Find the recipe for the Homemade Golden Salted Caramel here.
Looking for more delicious desserts?
Ooey Gooey Nutella Stuffed Cookies