Hello! So glad you stopped by, this Triple Chocolate Banana Bread is amazing and it's seriously so amazing that I wanted to introduce my brand new fictional blog series - Confessions of a Foodie with this chocolate indulgence that you can have for breakfast without feeling guilty - because it's bread. Okay, can we just pretend that it's healthy since it has bananas in it? Please? Okay great, I knew you'd agree. 🙂 Today I'd like to introduce you to Cherri, the fictional 20 something foodie I've dreamed up of. And she's also one of the characters of Confessions of a Foodie. Her name is pronounced like the ruby red fruit cherry, not cheri the French word for darling. She hates it when someone calls her that. 😉 Hope you enjoy the first post in this new series! 🙂
***
Look, this banana bread, it all started innocently enough. It was a Monday, the most dreaded day of the week. And I was up at 5 am because I forgot to write my marketing paper, which was due in like 2 hours & 7 minutes. I know, I know, you're thinking: so why didn't you write the paper over the weekend Cherri?
Well, I'll let you know that I was busy. Very busy in the kitchen, cooking up a storm and spending the rest of my time on Pinterest scouring for new recipes. Ahem.
After writing half of the paper, I realized I was starving. And that's not good for the brain right, like how else was I supposed to think straight if I wasn't energized enough? I needed breakfast. Breakfast is the most important meal of the day, you know, it's been proved by science and all. Actually, in my opinion all meals of the day are important, and snacks too. And chocolate ice cream. Okay, I digress.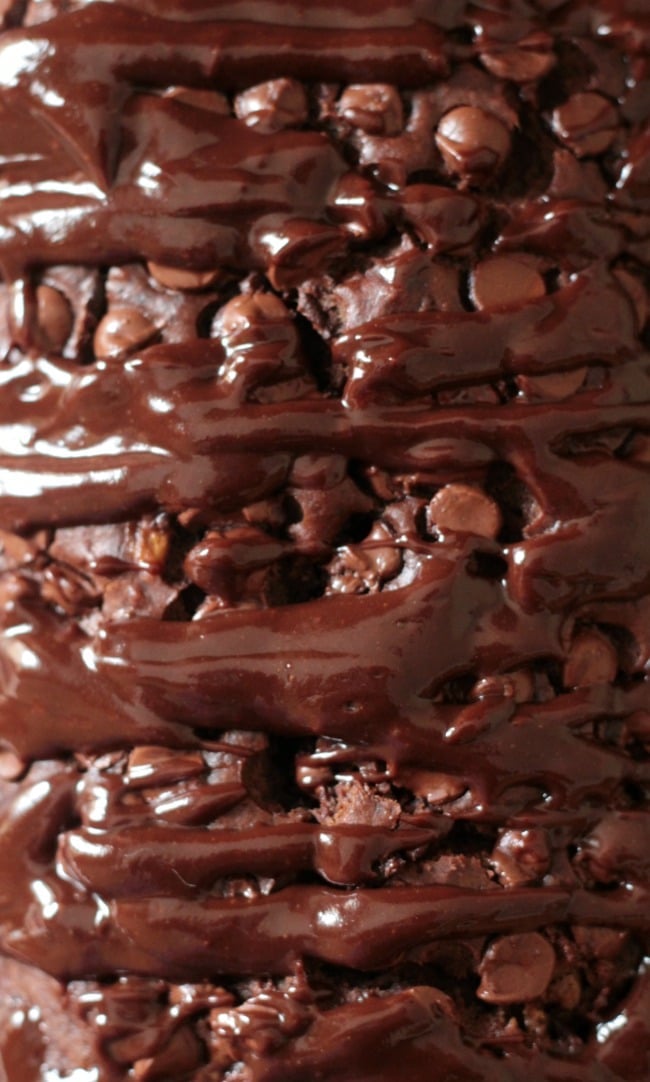 So I opened the fridge, and stood there thinking of what to make for breakfast. Eggs, oatmeal, toast? And then my eyes landed on the poor, sad looking overly ripe bananas. I had to save them from the trash. I decided to whip up a quick banana bread and finish my paper while the bread baked.
As I took out the usual ingredients - flour, eggs, butter, sugar - my eyes landed on a bag of Hershey's semi-sweet chocolate chips. Hey, how about I add some chocolate chips to the banana bread, I thought to myself. And some cocoa powder while I'm at it. I can make a double chocolate banana bread, chocolate and bananas are great for energy after all, right? Right.
And then I decided to Google double chocolate banana bread. That's when it all happened. It's all Google's fault, I tell you. I'm not responsible for this outrageously chocolatey banana bread. This chocolate over indulgence in the morning, that pairs perfectly with a strong cup of freshly brewed coffee. Because the first recipe that came up was this, not a double but Triple Chocolate Banana Bread, and I fell in love at first sight. That's all. I don't think I'm ever going back to Regular Old Banana Bread. Like ever. Chocolate really does make everything better.
And the triple dose of chocolate paired with sweet bananas - well, it helped me write my paper and survive another Monday of classes. And that's why I believe with my whole heart that chocolate is good for you. Or maybe that's what all chocolate addicts say. 🙂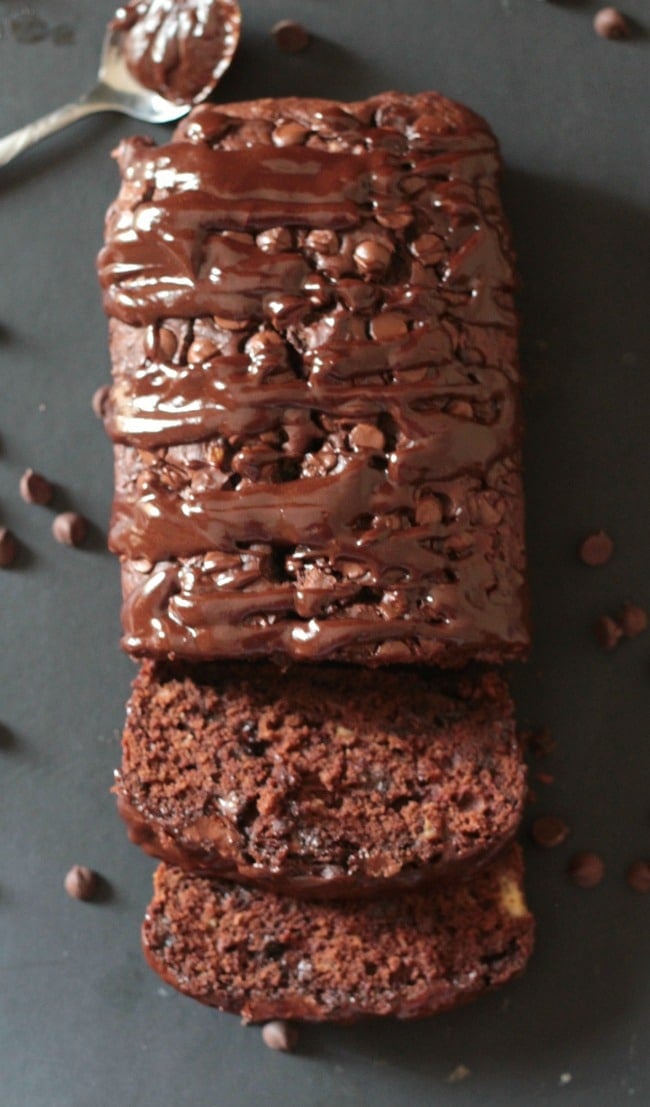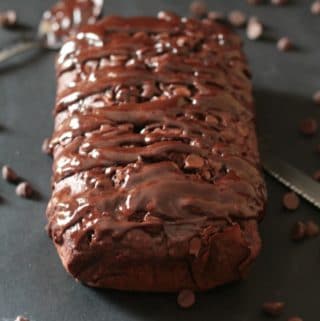 Triple Chocolate Banana Bread
This easy banana bread is outrageously chocolatey with three kinds of chocolate that go into the recipe. It's a perfect twist of the regular banana bread that is for sure to please all the chocolate lovers out there!
Print
Pin
Rate
Ingredients
For the Banana Bread

1 1/2

cups

flour

1/2

cup

cocoa powder

1

teaspoon

baking soda

1/2

teaspoon

baking powder

1/2

cup

melted butter

1/4

cup

brown sugar

1/2

cup

white sugar

2

eggs

3

medium bananas

mashed

1/2

cup

chocolate chips

For the Chocolate Glaze

1/4

cup

whipping cream

2

tablespoons

brown sugar

packed

1

teaspoon

butter

1/2

teaspoon

vanilla

6

tablespoons

chocolate chips

2-3

tablespoons

warm milk

1

teaspoon

instant coffee granules
Instructions
For the Banana Bread

Preheat oven to 175 C/ 350 F degrees.

Line a 9x5 inch loaf pan with parchment paper.

Mix flour, cocoa powder, baking soda and baking powder in a medium bowl. Set aside.

Combine the melted butter and sugars until incorporated. Mix in the eggs and mashed bananas. Pour the wet ingredients into the dry ingredients, mix until just combined. Add the chocolate chips and mix until incorporated.

Bake 50-60 minutes.

For The Chocolate Glaze

Heat whipping cream and brown sugar in a small saucepan over medium heat until brown sugar has dissolved and tiny bubbles start to form on the edges. Stir in vanilla and butter until melted and turn off heat. Dissolve the instant coffee granules into the warm milk, and add this mixture to the saucepan. Add chocolate chips but do not stir, and let sit for 1-2 minutes.

Mix the chocolate chips until fully incorporated. Cool completely and drizzle over bread.
Recipe adapted from Spend with Pennies.
Looking for more chocolate goodies? Here you go:
Ferrero Rocher Stuffed Chocolate Cupcakes with Chocolate Ganache Frosting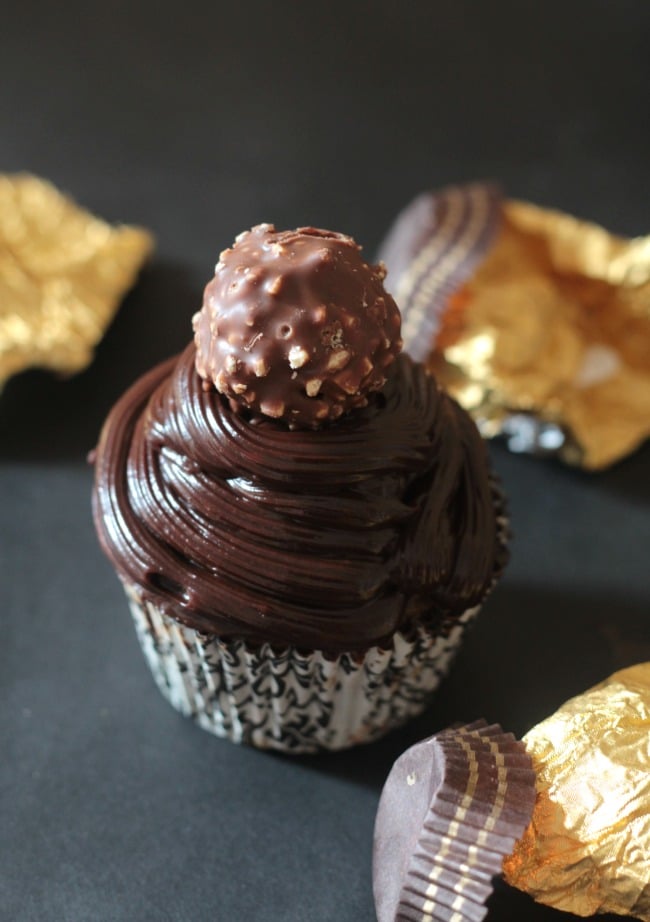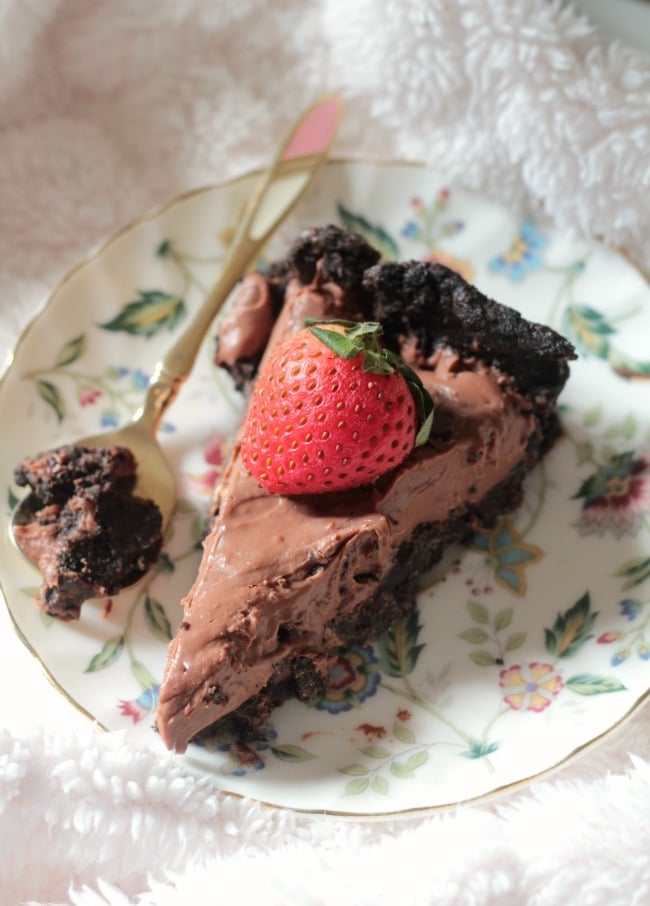 Hershey's Kisses Chocolate Stuffed Pancakes