This No Bake Dark Chocolate Tart. It is divine. If I could, I would write a poem just for this chocolate tart. But I'm no Robert Frost, sadly. Let's just say that this is what love would taste like, if we could taste love, that is. Can you tell I'm on a chocolate high? Please ignore my literary skills. Lol.
But seriously, it does taste like love. The crust is made from Oreos, dark chocolate and butter. I repeat, Oreos, dark chocolate and butter. We are off to a great indulgent start.
P.S. This crust, despite being made of Oreos doesn't as such taste like Oreos. It tastes fancy. Like you slaved hours over it, when in reality you just blitzed the whole thing a food processor and spread it in a tart tin.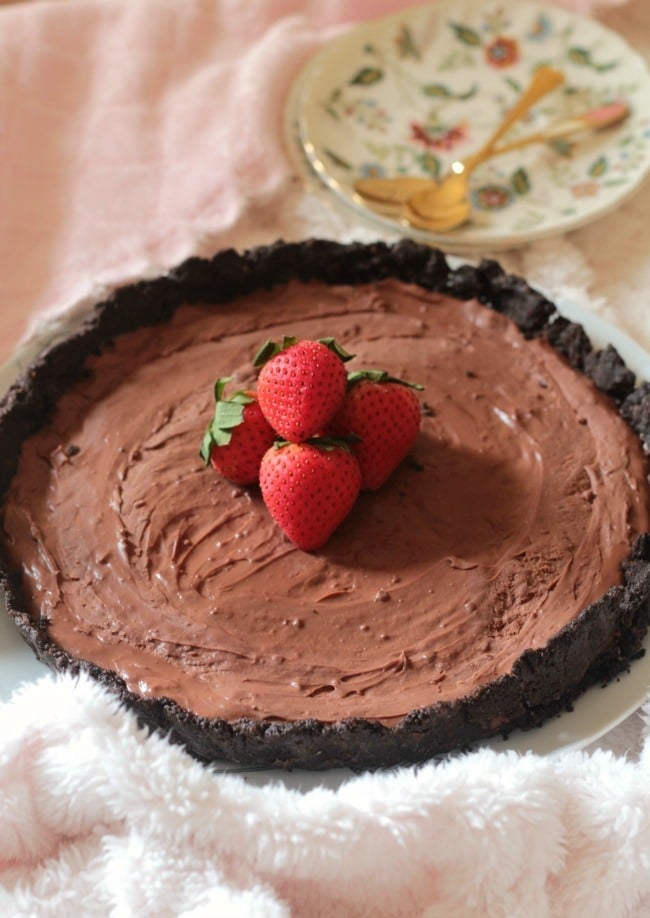 The filling is divine too. It's smooth and silky. It's luscious and dark. It's the ultimate dream come true for a chocoholic like me. And you. So let's do this before the chocolate rehab people are here to take us down with barley soups and black bean brownies. The horror.
Honestly, and I'm not joking here, this will make you look like a Chocolate Goddess/God to whomever you serve it. And then they will be in love with you forever. Don't tell them how easy it is to make this chocolate tart, because then you'll just lose your hold over them. 😉
This tart is also fun to make. No rolling crusts and praying the crust doesn't break while placing on the tart tin. No baking blind in the oven. It's got Oreos in it people. Oreos. And dark chocolate. Do I really need to continue? Oh no, I forgot to mention, we're going to be using Lindt dark chocolate in this tart. In the crust and in the filling. OMG. Look let's just get this straight. If I were ever to be stuck on an island alone, and given only one thing to eat all my life, it would be this chocolate tart. Forever. And ever. That's how much I love it. And I'm sure that's how much you'll love it. It's love at first taste.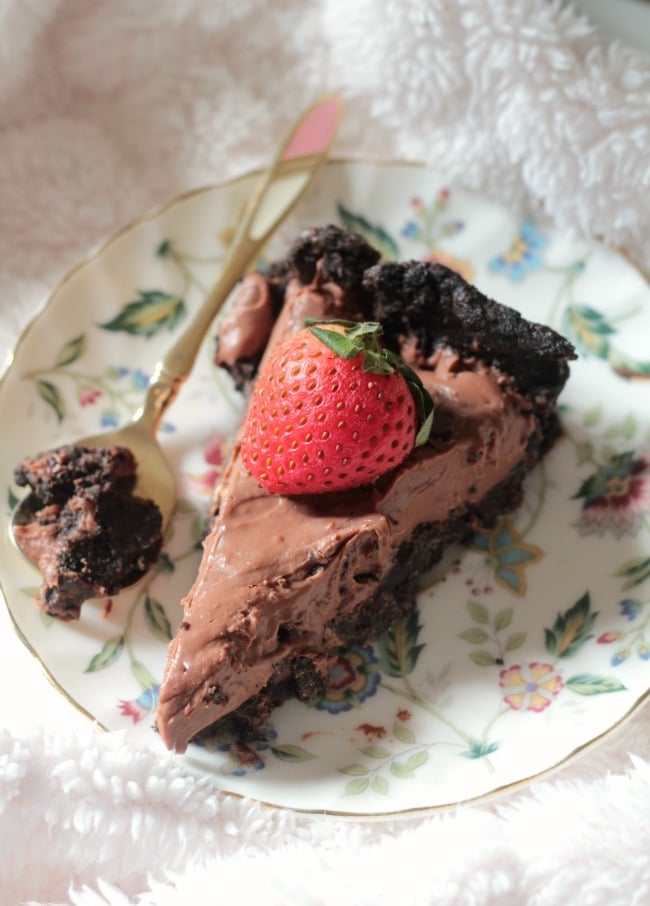 So go on, make this No Bake Dark Chocolate Tart for your loved ones. I daringly suggest serving it for breakfast in bed on Valentine's day, because seriously calories don't count on such days, and also because I'm sort of crazy and think that it's totally appropriate to have such indulgent desserts for breakfast. I'm a rule breaker. A rebel. Against the sugar haters and the cabbage lovers. Plus chocolate is good for you. And it'll make for one unforgettable breakfast. That's for sure.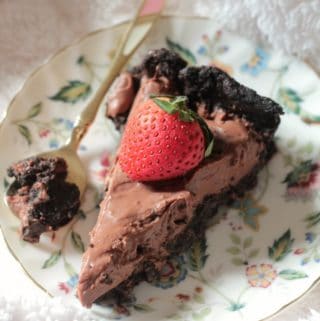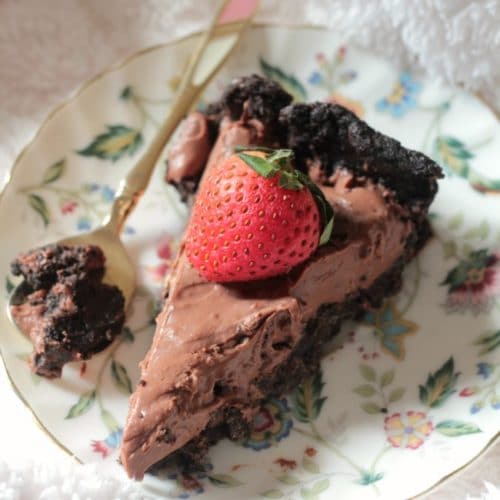 No Bake Dark Chocolate Tart
This delicious No Bake Dark Chocolate Tart is super easy to make, but tastes like heaven with its perfectly crunchy crust and silky smooth filling. Perfect for sharing with your loved ones on special occasions!
Print
Pin
Rate
Ingredients
For The Crust:

28

Oreo cookies

2

oz

50 grams bittersweet chocolate (min. 70% cocoa solids)

3

tablespoons

50 grams soft unsalted butter

Pinch

of Salt

For the Filling:

4

oz

100 grams bittersweet chocolate (min. 70% cocoa solids)

3

tablespoons

25 grams cornstarch

1/4

cup

60 ml whole milk

2

cups

500 ml heavy cream

7

tablespoons

50 grams unsweetened cocoa powder(sieved)

2

teaspoons

strong instant coffee powder

1/3

cup

75 grams superfine sugar

1

teaspoon

vanilla extract

or 2 teaspoons of imitation vanilla if using that

2

teaspoons

extra virgin olive oil

Pinch

of salt
Instructions
Start by roughly breaking the Oreos and chocolate into pieces. Add these pieces to a food processor and blitz until you have crumbs. Add the butter and salt and blitz again until the mixture starts clumping together.

In a 23 cm/5 cm deep tart tin (with a loose bottom) with your hands press the Oreo & chocolate mixture until the sides and the base are even. I found it was easier to do this by pushing the mixture in the centre of the tart towards the sides. This ensured that the mixture was spread evenly.

Place in the fridge for at least 2-3 hours.

For the Filling:

Finely chop the chocolate. Set aside.

Pour cornflour into the milk and mix well until combined.

In a medium sized saucepan, pour the heavy cream. Add the sieved cocoa, instant coffee powder, sugar, vanilla extract, olive oil and salt. Heat over medium heat while gently whisking so as to get rid of any lumps.

As soon as the chocolate has completely melted, take the saucepan off the heat, and add in the cornflour milk mixture and mix until smoothly incorporated.

Put the saucepan back on medium heat, and keep stirring with a wooden spoon until the mixture thickens. This will take about 10 minutes. Nigella suggests to take the pan off heat every few minutes so as to avoid bringing the cream to a boil.

The chocolate filling is ready when it becomes so thick that it coats the back of the wooden spoon, and if you run your finger through it the line should stay.

Pour the chocolate filling into a bowl or jug from which it is easy to pour. Cover with a wet piece of parchment paper and place in the fridge for about 15 minutes.

After 15 minutes pour the chocolate filling onto the Oreo crust and make sure it is evenly spread and smooth. Place in the fridge for overnight.

Take out of the fridge 10 minutes before serving, but make sure to take it out of the tart tin right away.

Both the filling and crust can be made 1 day ahead and leftovers can be kept for 4-5 days.
Recipe slightly adapted from Nigella Lawson.
Looking for more indulgent treats? Here you go: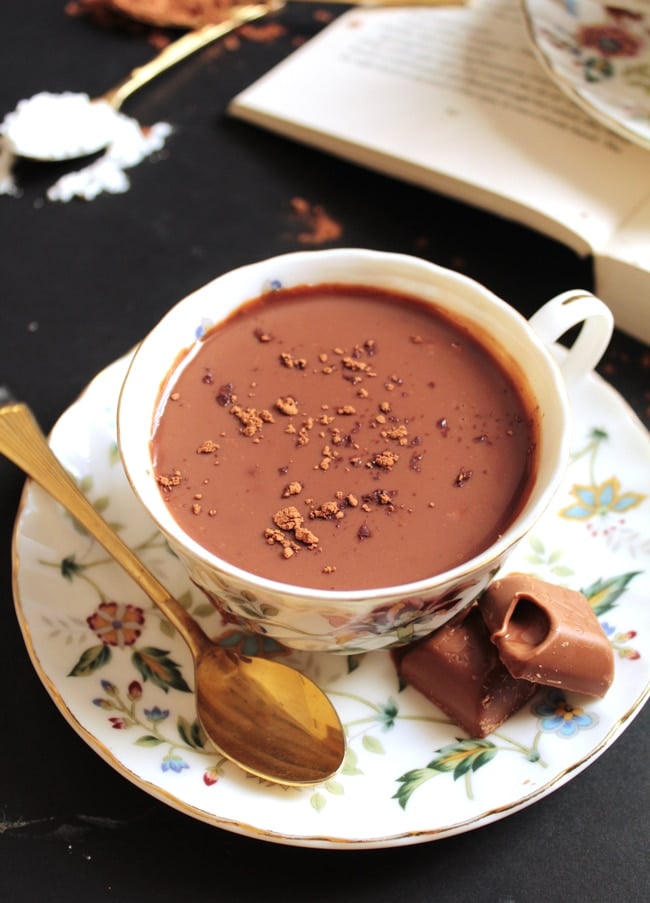 Hershey's Kisses Chocolate Stuffed Pancakes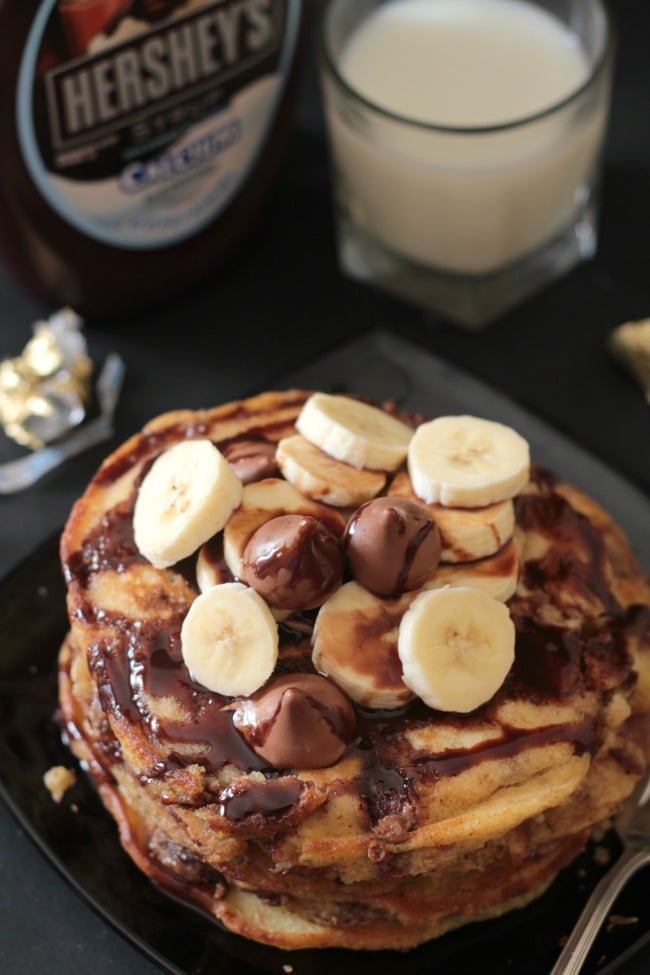 Ooey Gooey Nutella Stuffed Cookies