I like to do everything in an over the top manner. For example, look at this Juicy Chicken Burger with Fried Eggplant. I've stuffed it as much as I could. Here's a list of delicious things that I've stuffed it with:
1.) The burger patty is flavored with red bell pepper, oregano and paprika.
2.) Fried Eggplant Slices (cuz yum - it also adds a nice texture and depth of flavor).
3.) Tomatoes, lettuce and cheese (cuz no burger is complete without these three).
4.) Coriander Garlic Yogurt Dressing (it's delicious, refreshing and a nice change from other condiments).
5.) FRIES! FRIES!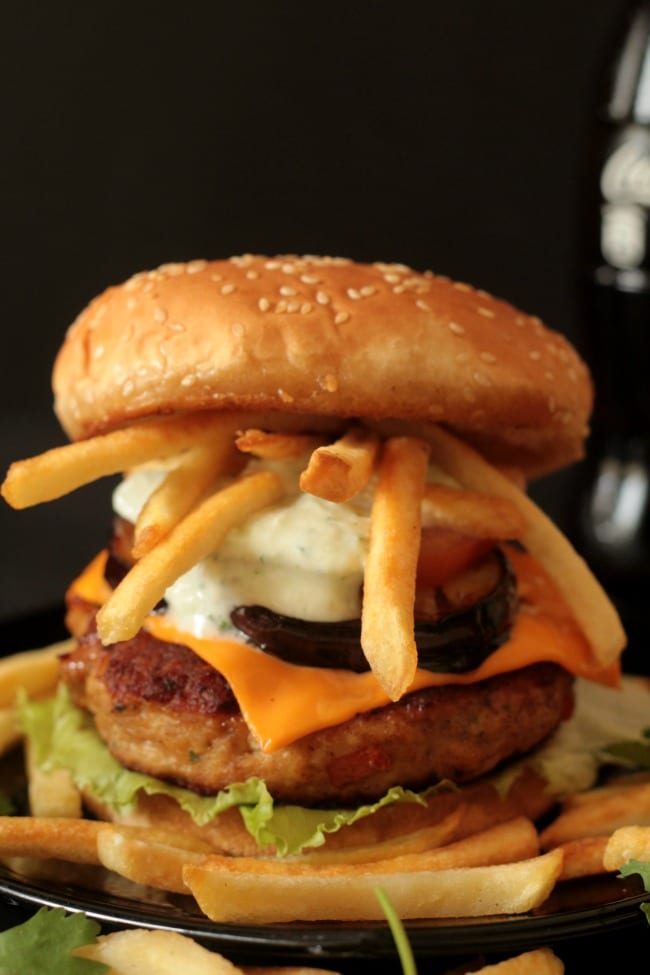 It may look like this is a burger that's high maintenance. It needs too much of this and that to be completed, but seriously this is one of the best chicken burgers I've ever had. The individual steps are very easy too. And when you take a big juicy bite of the burger, it will be all worth it. You'll get the juicy chicken patty, the soft toasty bun, the creamy garlicky dressing, the fried eggplant, melty cheese, and crispy lettuce with the juicy freshness of tomatoes. And fries too, if you opt to stuff your burgers with them. 😉
It'll be mind blowingly delicious. I promise.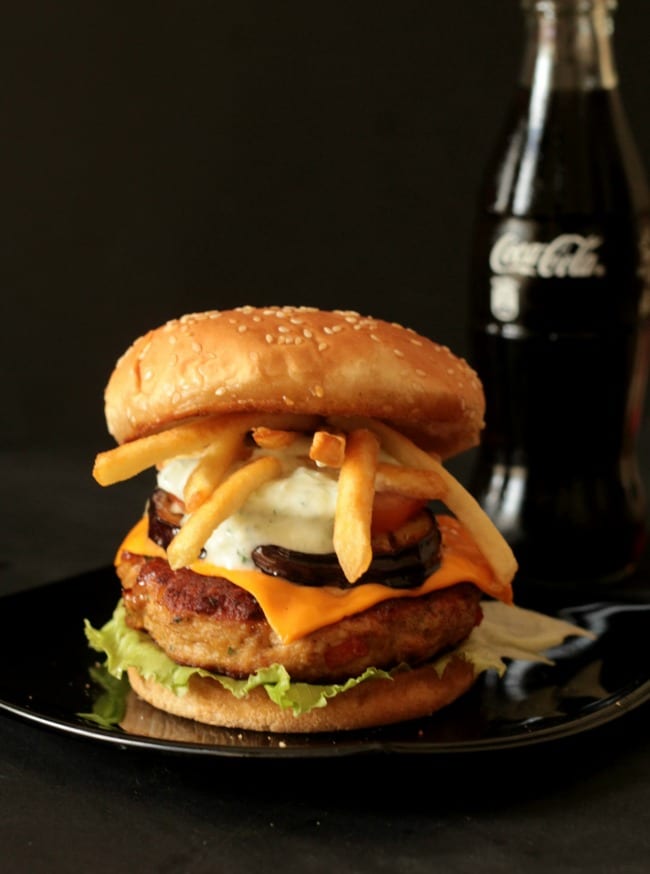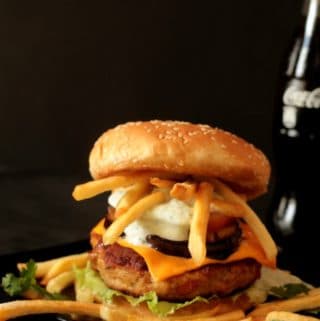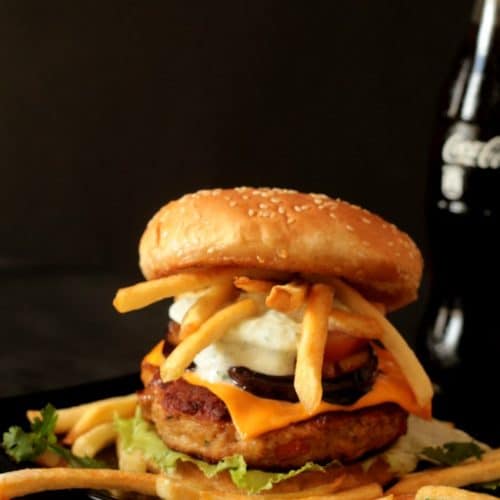 Juicy Chicken Burger with Fried Eggplant
These Juicy Chicken Burgers with Fried Eggplant are delicious and so easy to make too. Topped with crispy golden fried eggplant and a creamy coriander garlic yogurt dressing they're mind blowingly delicious!
Print
Pin
Rate
Ingredients
For the Chicken Patties

500

grams

minced chicken

1

medium onion

finely chopped

1

medium red bell pepper

finely chopped

1

tablespoon

oregano

1/2

teaspoon

paprika

1

teaspoon

salt

1

egg

Fresh breadcrumbs

I used 2 slices of white bread - and processed them in the food processor

For the Fried Eggplant:

1

medium eggplant

sliced in thin rounds (about 1/2 inch thick)

1/2

cup

oil for frying

For the Coriander Garlic Yogurt Dressing:

3

garlic cloves

1

cup

coriander leaves

1 1/2

cups

yogurt

Salt to taste

For Assembling the Burgers

Burger Buns

Lettuce leaves

Sliced tomatoes

Cheese

I used cheddar

French fries

I bought mine frozen and baked them
Instructions
For the Chicken Patties

Mix all the ingredients thoroughly and place in the fridge (covered) for 1-2 hours.

For frying the chicken patties: Shape them into medium thick patties (about the size of your palm) and place them into medium hot oil and fry until golden brown. It will take about 2 minutes on each side.

For the Fried Eggplant Slices

In a medium fry pan, heat oil on a medium high heat, and place the eggplant slices. Fry until golden brown, it will only take a few minutes. Place on kitchen paper to drain extra oil.

For the Coriander Garlic Yogurt Dressing

Pulse the garlic and coriander leaves in a food processor or chopper, until finely chopped.

Add this and the salt to yogurt and mix until combined.

Assembling the burgers

Toast the burger buns lightly in a fry pan.

Spread the coriander garlic yogurt dressing on both sides of the bun. Place the lettuce, then the chicken patty, top it with cheese, fried eggplant, tomatoes and fries if you wish.

Enjoy!
Looking for more delicious stuff?
Crispy Lemon Chicken with Creamy Garlic Pasta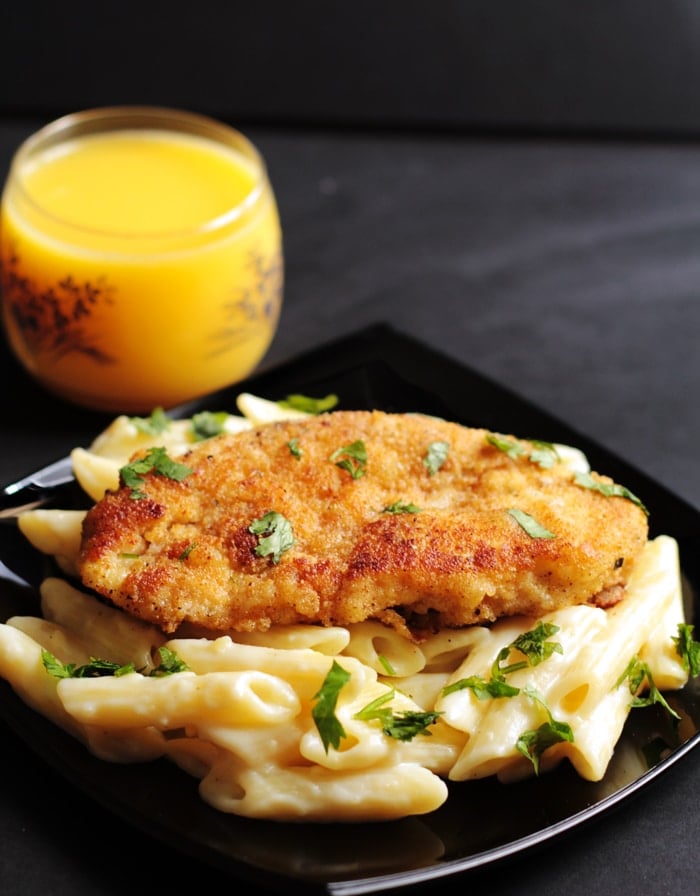 Spicy Chappli Kebab with Green Goddess Chutney