Living with a toddler has changed a lot of my life. These Crispy Baked Lemon Chicken Tenders are a result of living with a toddler, but I'll talk about these golden crispy delights in a moment. First I want to talk about toddlers, because I'm a stay at home mom, and I need to talk to anyone and everyone. If you're a stay at home mom, you know what I'm talking about.
Before having a toddler (yes, babies are easier, trust me) I used to be able to get up in the morning whenever I wanted (okay maybe my memory is a bit hazy but whatever) and make myself a leisurely breakfast and play with my cuddly snuggly baby. But now that she's transitioned into a toddler, things have changed. Actually things changed 3 years ago when my daughter was born, but babies are cute and snuggly babies who basically don't move a lot which is the key here. Not moving a lot. 3 year olds on the other hand are like a mini tornado which can cause massive destruction within a few seconds. And these tornados are most likely to occur when the climate in your home is clear (read: no sprawled toys everywhere). In other words calm before the storm aka clean before the toddler.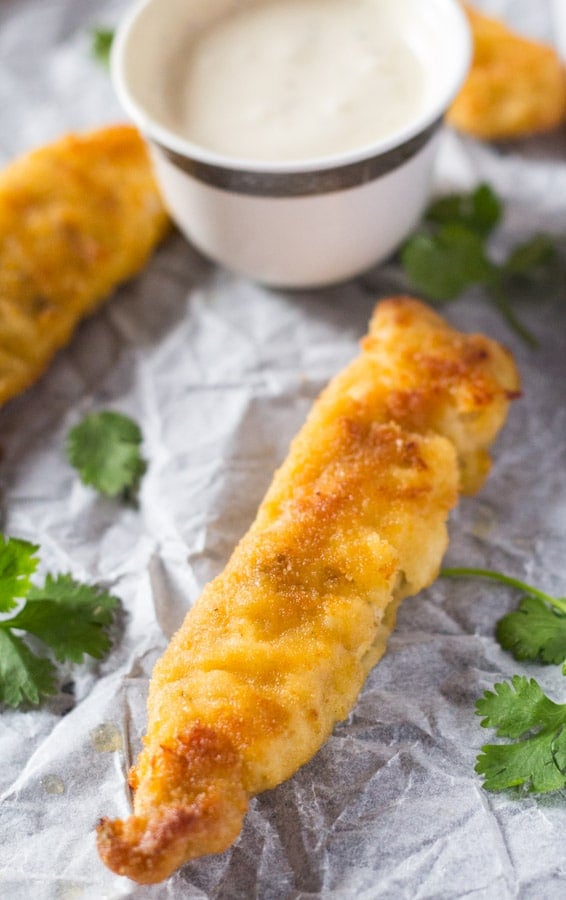 Quick Toddler Fact: Scientists have discovered that toddlers are the most sophisticated alarm clocks in the world. They have a complicated mechanism which allows them to wake up at exactly 6:03 am every morning, regardless of how late they went to bed last night.
They're also equipped with various waking up methods which are not limited to: emitting a high pitched bat-like screech, pinching you in the arm, or for extreme measures simply prying your eyes open with their little fingers.
And what's intriguing to know is that toddlers only do this with  their mothers, while allowing their fathers to sleep peacefully.
Okay so I totally made that up, and scientists have not discovered anything mentioned above. LOL.
But since I'm a mom to a toddler, I can totally attest to the fact that all of the above is very, very true and scientific. 😉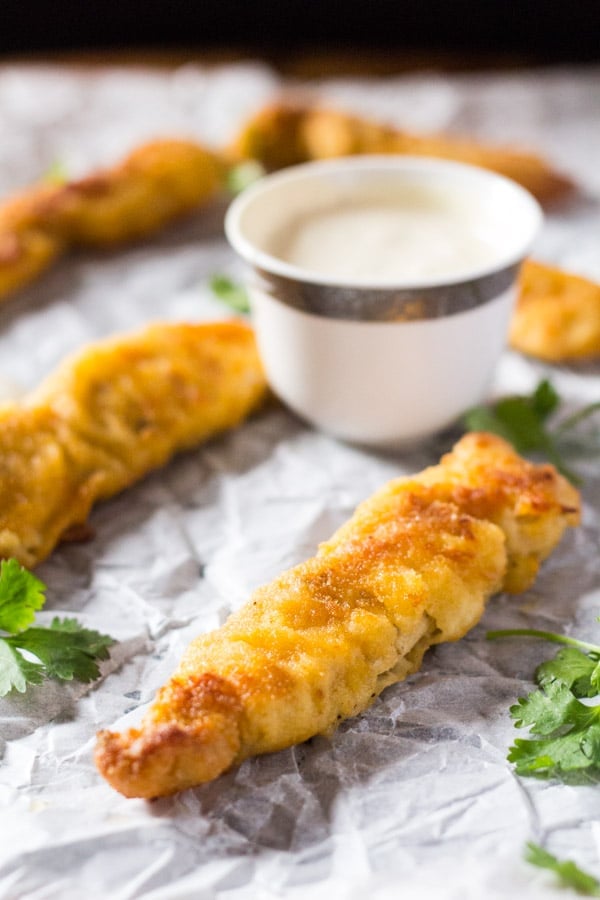 These Crispy Baked Lemon Chicken Tenders were something I made a few weeks ago, because I was desperate for my toddler to eat something. I mean, things got a bit tensed around here when said toddler demanded for a bowl of pasta, and then brushed it aside saying she didn't want it at all in the first place. Sigh. Sigh.
So then mumbling a few not very nice words under my breath, I went back to the kitchen, dejected (dramatic much? :P) and stood staring at the stove, trying to come up with something easy and kid friendly that my toddler would happily eat. And maybe even take to pre-school as a snack.
Since toddlers like eating with fingers because A.) They're too wild for the likes of forks and spoons B.) It's sensory fun for them (totally made this one up too) 😛 , I decided to make some sort of finger food.
As always, I didn't have a lot of ingredients on hand, because I'm terrible at doing grocery. Don't get me wrong, I love doing grocery shopping and making sure my kitchen is well equipped with all sorts of delicious ingredients. After all, I'm a food blogger. But going for grocery shopping with a toddler can be testing, and okay, sigh let's not talk more about this.
Anyway, I only had chicken breasts, lemon (I always have lemons no matter what - I guess because life is alway giving me lemons) and breadcrumbs. I decided to make a chicken tenders version of my very popular recipe Crispy Lemon Chicken with Creamy Garlic Penne Pasta. Sans pasta, because pasta had just been rejected by the toddler ministry at my home. Ugh, toddlers and their crazy tastebuds.
So the recipe is pretty much the same as my crispy lemon chicken, but I baked the chicken tenders instead of frying them, because baking is easier AND healthier. Have you ever tried to fry anything with a toddler hanging around in the kitchen with you? Please don't try at home. 😛
So I happily made these crispy baked lemon chicken tenders, and guess who ate them all up? My toddler! Until she decided the next time I made them for her, that her tastebuds no longer approved of these delicious lemon chicken tenders. Sigh.
But guess what? Toddlers will be toddlers with their crazy ever changing tastebuds, and I will always love these crispy baked lemon chicken tenders. And so will you, and hopefully your toddlers at least once or twice - their tastebuds can change on a whim!
Happy cooking! 🙂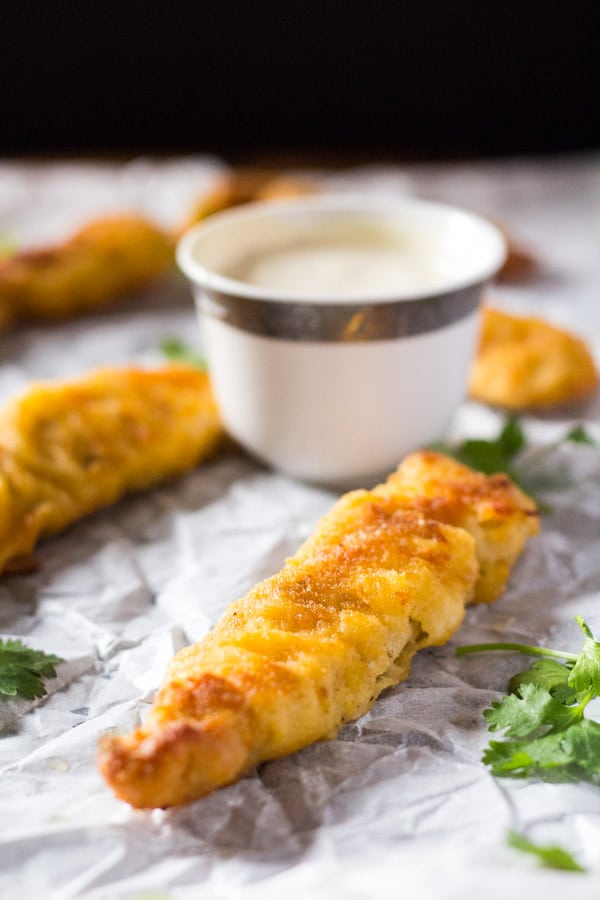 P.S. if your toddlers doesn't like these Crispy Baked Lemon Chicken Tenders, then you can try these Crispy Baked Chicken Tenders with Garlic Mayo BBQ Sauce! I wish you power, courage and luck in the hope that your toddler or whoever you share these chicken tenders with, will love them!  😉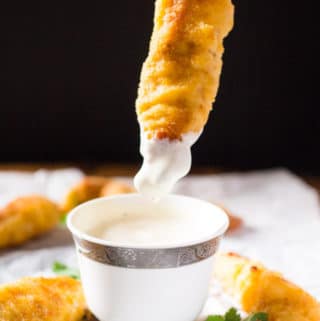 Crispy Baked Lemon Chicken Tenders
These Crispy Baked Lemon Chicken Tenders are truly crispy and so easy to make. Delicious and perfect for both kids and adults!
Print
Pin
Rate
Ingredients
For the Marination of the Chicken Tenders

500

grams

skinless

boneless chicken breasts (cut into long strips)

2-3

tablespoons

fresh lemon juice

2

garlic cloves

minced

1/2

teaspoon

dried oregano

Salt and pepper to taste

For the Breading of the Chicken Tenders

2

eggs lightly whisked

with a splash of water

1 1/2

cups

all purpose flour

2

cups

dried breadcrumbs

I used plain, but seasoned ones can be used

2 -3

tablespoons

oil

for baking the chicken tenders
Instructions
Combine all of the marination ingredients and pour onto the chicken tenders and mix until combined. Marinate for at least 20 minutes.

Preheat oven to 200 C. Prepare a baking sheet by lining it with parchment paper and then greasing it lightly with oil.

Assemble the breading station by placing the eggs, flour and breadcrumbs into three separate shallow bowls.

Take each chicken tender strip, and lightly dredge with flour, shaking the excess flour off. Then dip the chicken tender in the whisked eggs until coated. Shaking off excess egg, dip the chicken tender into the breadcrumbs and coat fully. Place on prepared baking sheet.

Continue the dredging process until all chicken tenders have been coated.

Bake for about 15-20 minutes. Flip the chicken tenders after 10 minutes to ensure even baking. Baking times may vary depending upon your oven. To ensure chicken is cooked, cut through a thick chicken tender to see if it's cooked through. Take out of oven and transfer to a serving dish.

Serve with ranch dressing or your choice of condiment.