Hi everyone! I'm back!!! Did you guys miss me? I hope you did, because I sure did! I love this little blog of mine, and for the past month I've been posting very sporadically because I was on holiday and now I'm terribly missing my daily routine of blogging and all things blog related and of course trying new recipes in my kitchen. So be ready, because I'm going to be posting lots of new recipes. Recipes to test this weekend include mini pizzas and soft batch pudding cookies! I LOVE my job! 😀 Okay, so let's talk about these Reese's Stuffed Chocolate Covered Ritz Crackers now aka the most addictive chocolate snack in the world.
I was actually meant to post these Reese's Stuffed Chocolate Covered Ritz Crackers way back in December, but I didn't because I was too busying holiday-ing. Is that a word? It is now, in my dictionary! 😉
So if you're a regular reader around here, you must know by now how much I love chocolate. And peanut butter. And the fact how delicious they taste together. Because chocolate and peanut butter are soul mates in the culinary world.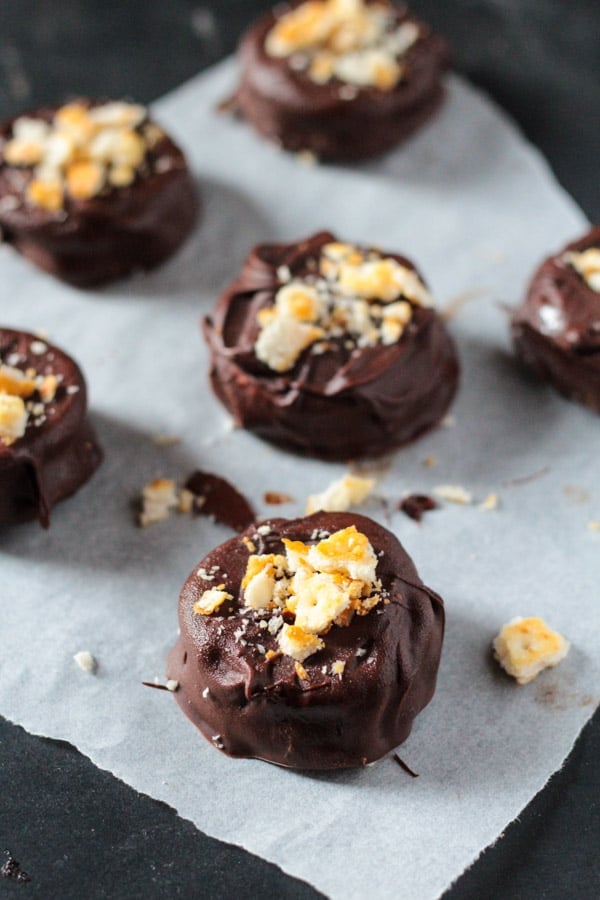 Chocolate + Peanut Butter = Love. That's the only equation you need to know. Okay maybe not, I mean there are more important equations in the world (hello, Algebra - although who uses Algebra in the real world, I'd really like to know) but it is the most delicious equation in the world for sure.
So now that we've established the fact that these Reese's Stuffed Chocolate Covered Ritz Crackers are deelicious, let me also tell you that these little bites of heaven are super easy to make as well.
Most recipes that I saw online while I was doing this very important research (chocolate is important to me) on how to make chocolate covered ritz crackers, I saw that most recipes called for spreading peanut butter between two crackers and then dipping the sandwich crackers into melted chocolate and calling it a day.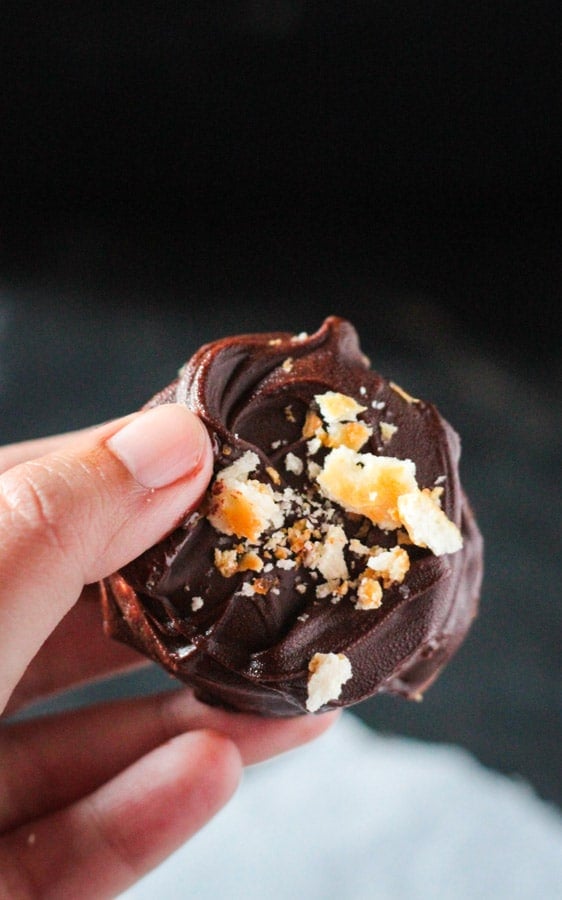 Which is all good and well and delicious, BUT then I didn't want to do the same thing. So I did what I do best, and that is add mini reese's peanut butter cups to the equation, because that's what I love to do. Lol. I love peanut butter cups and I'm always looking for ways to add them to my diet. 😛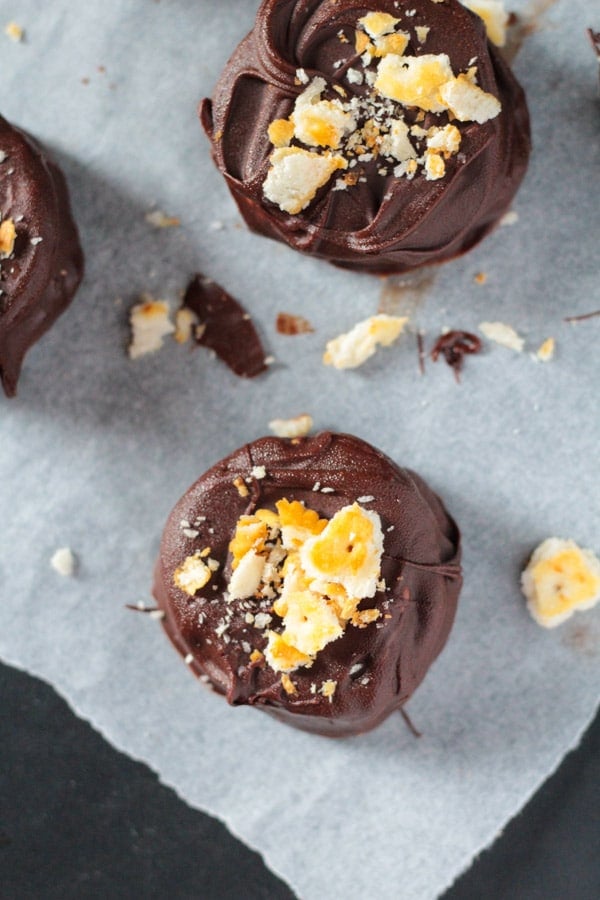 Okay let's get down to business (ahem, deliciousness, I mean). While these are super easy to make here are a few tips to ensure you don't encounter any problems on your journey to the deliciousness these Reese's Stuffed Chocolate Ritz Crackers are.
How to Make the Perfect Reese's Stuffed Chocolate Ritz Crackers
1.) Keep the oven temperature low, because we just want to slightly soften the mini peanut butter cups, not completely melt them.
2.) Once you take the tray out of oven after the mini peanut butter cups have softened, work quickly to cover them with the second cracker.
3.) This is optional, but I like to pop the stuffed ritz crackers into the refrigerator for 15 minutes or so before dipping them in chocolate. They firm up in the refrigerator and this makes it easier to dip them into the melted chocolate.
4.) I like to melt the chocolate with some butter in the microwave. Just be sure not to burn the chocolate by microwaving it for too long. I like to take it out at 5 second intervals and giving it a stir, so as to ensure the chocolate doesn't burn.
5.) This is a super simple and customizable recipe, so feel free to change it up however you want. You could stuff it with different kinds of chocolates like Hershey's Kisses or Rolos. You could dip in white chocolate or sprinkle with crushed nuts. Oh, the possibilities! 😀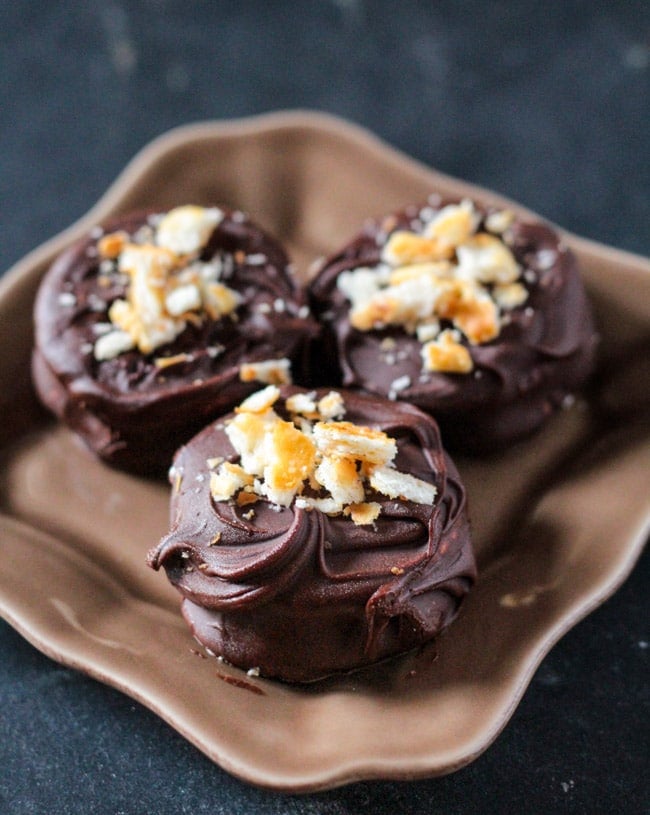 Hope you enjoy this recipe!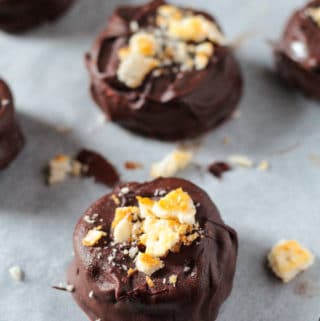 Reese's Stuffed Chocolate Covered Ritz Crackers
These Reese's Stuffed Chocolate Covered Ritz Crackers are delicious bites of chocolate, peanut butter cups and crackers. Perfect for parties and entertaining!
Print
Pin
Rate
Servings:
44
Reese's Stuffed Chocolate Covered Ritz Crackers
Ingredients
44

Ritz Crackers

22

Reese's Mini Peanut Butter Cups

unwrapped

2 1/2

cups

semi sweet chocolate chips

2-3

tablespoons

butter
Instructions
Preheat oven to 300 F /148 C and prepared a baking sheet by lining it with parchment paper.

Place 22 crackers on the parchment paper, bottom side facing up.

Place a reese's mini peanut butter cup onto the centre of each cracker.

Place in oven for 5-6 minutes until the reese's mini peanut butter cups have softened.

Remove from oven. Working quickly, cover each mini peanut butter cup with the second cracker and press gently until the the mini butter cup goes just to the edges. Place in fridge for about 15 minutes as this will help with the chocolate dipping process.

While the ritz crackers are cooling, melt the chocolate and butter in a microwave safe bowl at 5 second intervals. After every 5 seconds remove the bowl from the microwave and stir. Repeat until the chocolate has completely melted.

Remove the stuffed crackers from the refrigerator and using a fork dip each stuffed cracker into the melted chocolate and cover it completely. Place back on to the parchment paper.

Refrigerate to firm up the chocolate.