Happy Friday everyone! Since it's almost the weekend, I decided to post a wickedly indulgent recipe which you can enjoy for breakfast or a snack while you lounge about in your PJ's and watch your favorite series. Or you know, whatever your idea of a fun weekend is. As a stay at home mom of an almost 3 year old, that's definitely my perfect idea of a relaxing weekend: one of these Peanut Butter Frosted Baked Chocolate Donuts and a steaming cup of cardamom tea. But you can totally opt to pair these donuts with coffee, because everyone knows donuts and coffee are a match made heaven. Just as are chocolate and peanut butter.
If you've been following the blog regularly, you'll know that I've lately been posting recipes featuring peanut butter & chocolate recipes, like these Peanut Butter Chocolate Chunk Oatmeal Pancakes and Giant Chocolate Chip Cookie stuffed with Peanut Butter Cups. I've always loved this combination of creamy salty peanut butter with chocolate, but lately I've become a tad bit obsessed with this combination. What can I say? I want to have this combination all day long whether that's in the form of breakfast, or dessert or a mid afternoon snack.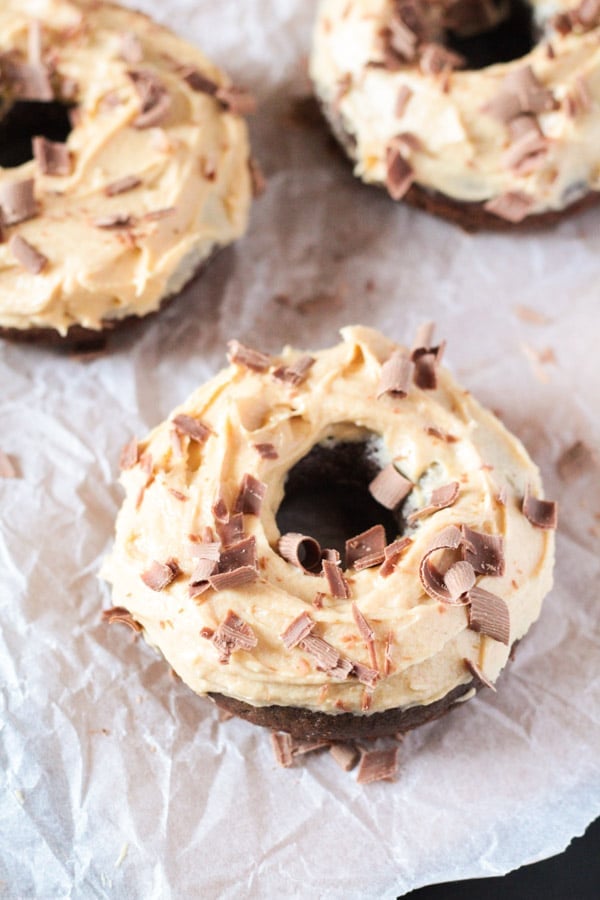 Now, coming to these donuts. These Peanut Butter Frosted Baked Chocolate Donuts are AMAZING! Sorry for yelling, but they really are that good. And guess what? Don't groan when you read the next sentence, okay? I know you're tired of me repeating myself like a parrot in each recipe, but these donuts are super easy to make! Like, even easier than driving the car to your nearest donut shop and buying that original glazed or Nutella stuffed donut you've been craving lately because for that you actually have to get dressed and look a bit presentable, because you know public *eye roll*. I know, I know, you must think what a liar I am to state for each and every recipe that I post, to be the easiest thing you'll ever make. But the one thing I don't do is lie. Seriously, I don't. Okay maybe I told my toddler that the monster took away all of the candy, when in fact I ate it while she was sleeping. Oops. Lol.
Okay, let's get honest here. I'm a mom to an almost 3 year old. I don't have the liberty to stand in the kitchen all day long making complicated fancy recipes, or deep frying donuts (as most traditional recipes call for) because I live under the rule of a toddler. Some of the rules that I have to follow are: listen to the demands of said toddler every 2 minutes or face the wrath of a screaming tantrum. Or not spend more than like 10 minutes in the kitchen, unless I want the TV room to be destroyed (aka toy tornado). So I honestly cannot afford to make complicated recipes, because as much as I would like to spend all day in the kitchen playing domestic goddess, I can't. Because firstly a domestic goddess has perfect hair all the time, and secondly domestic goddess's don't exist. Lol.
So these donuts are easy. You just make a simple batter, pop the donut pan in the oven and in 10 minutes you have delicious donuts. Of course I'd like to make a disclaimer here that these don't taste like traditionally fried donuts cos obviously. But they're still very delicious, especially with the peanut butter frosting which btw features cream cheese. Umm, hello delicious breakfast!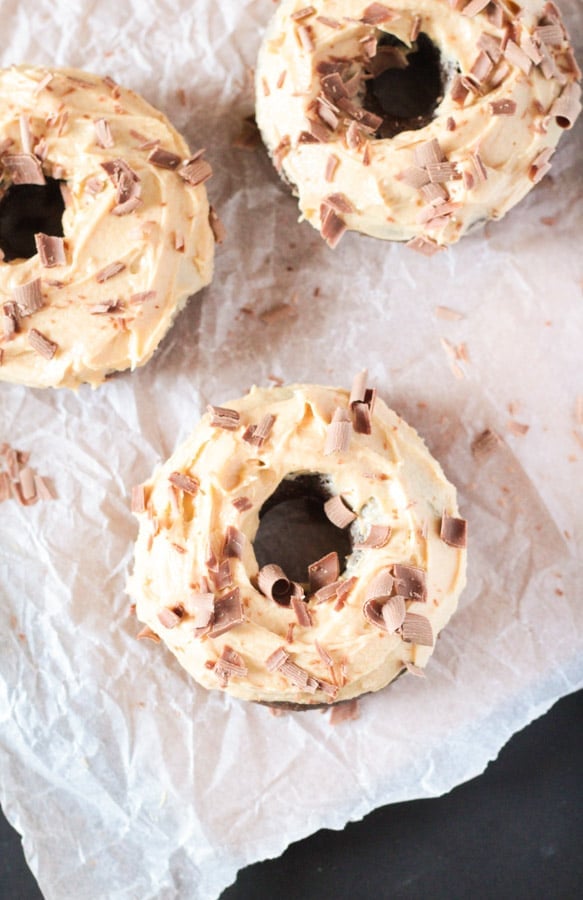 Okay, I gotta go now, my darling 3 year old is about to wake up from her afternoon nap, and then I'll have to do as she bids. Sigh.
Happy baking! 🙂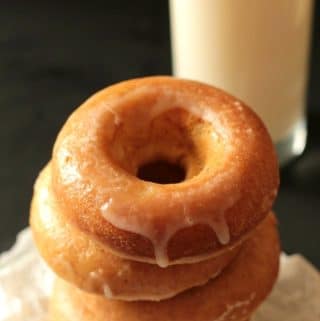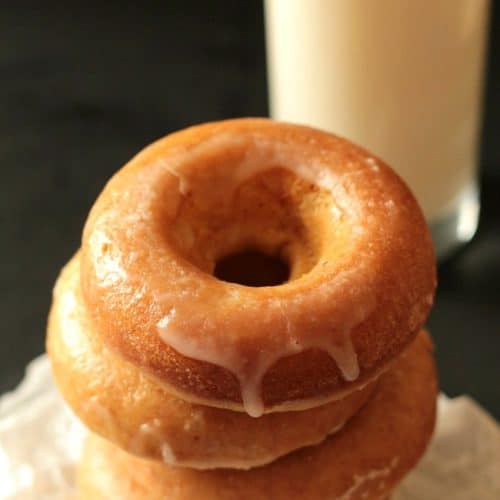 Peanut Butter Frosted Baked Chocolate Donuts
These Peanut Butter Frosted Baked Chocolate Donuts are so quick and easy to make and are perfect for an indulgent breakfast or snack.
Print
Pin
Rate
Ingredients
For the Chocolate Donuts

1

cup

all purpose flour

1/4

cup

unsweetened cocoa powder

1/2

teaspoon

baking soda

1/2

cup

buttermilk

see notes for substitution

1/2

cup

granulated sugar

1

large egg

2

tablespoons

melted butter

1

teaspoon

vanilla extract

For the Peanut Butter Cream Cheese Frosting

3/4

cup

peanut butter

4

tablespoons

butter

softened to room temperature

4

oz

cream cheese

softened to room temperature

1

teaspoon

vanilla extract

2

tablespoons

heavy cream

3/4

cup

powdered sugar
Instructions
For the Chocolate Donuts

Preheat oven to 350F. Prepare a donut pan by lightly greasing it. Set aside.

In a large bowl, whisk together the dry ingredients: flour, cocoa powder, baking soda, and salt.

In another bowl, mix the buttermilk, sugar, egg, butter, and vanilla until combined.

Add the wet ingredients to the dry ingredients and mix until just combined. Do not over mix.

Spoon the batter into donut cavities filling them about 2/3 of the way. Bake for 8-10 minutes or until a toothpick inserted into the donut comes out clean.

Remove the donut pan from the oven, and allow the donuts to cool in the pan for 10 mins. Transfer donuts to a wire rack to cool.

For the Peanut Butter Cream Cheese Frosting

Using a stand mixer (or a hand mixer) beat the butter until fluffy and light in color, about 2-3 minutes.

Add in the the softened cream cheese and beat until fully combined.

Next, add in the peanut butter and beat until combined.

Add in the vanilla and heavy cream and beat until combined.

Add half of the powdered sugar and beat until combined. Now add the remaining powdered sugar and beat again until fully combined. At this point you may add a bit more heavy cream to achieve the desired frosting consistency.

I used a simple tablespoon to spread the frosting onto the donuts and then decorated with chocolate shavings.
Notes
Buttermilk Substitution: Add 1/2-1 tablespoon of white vinegar OR fresh lemon juice to 1/2 cup of milk. Let stand for a few minutes until the milk looks curdled in appearance. Your DIY buttermilk is ready to be used in the recipe.
Looking for more indulgent breakfast ideas?
Classic Sour Cream Baked Donuts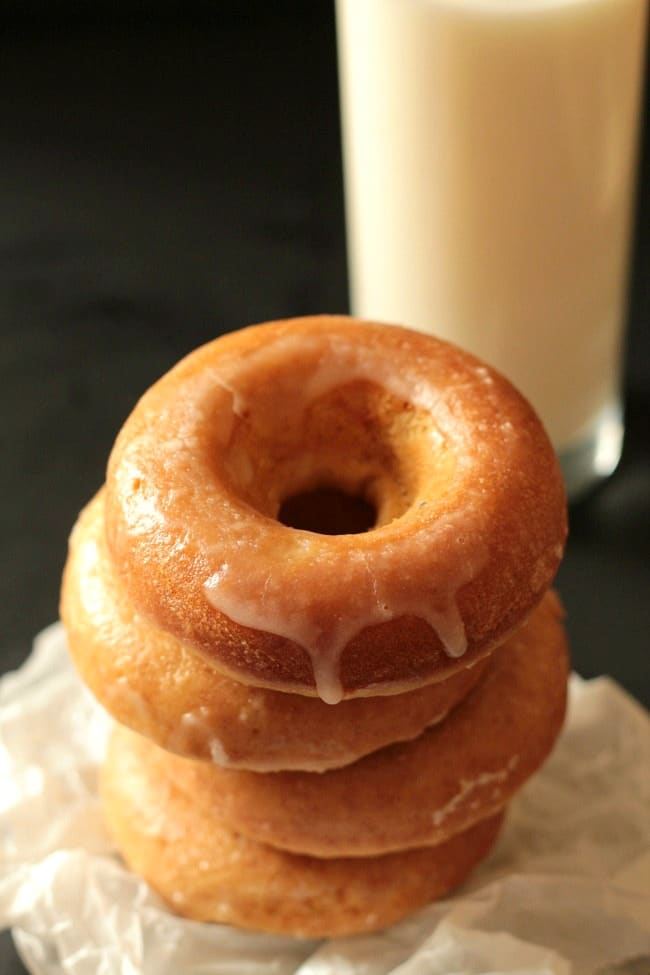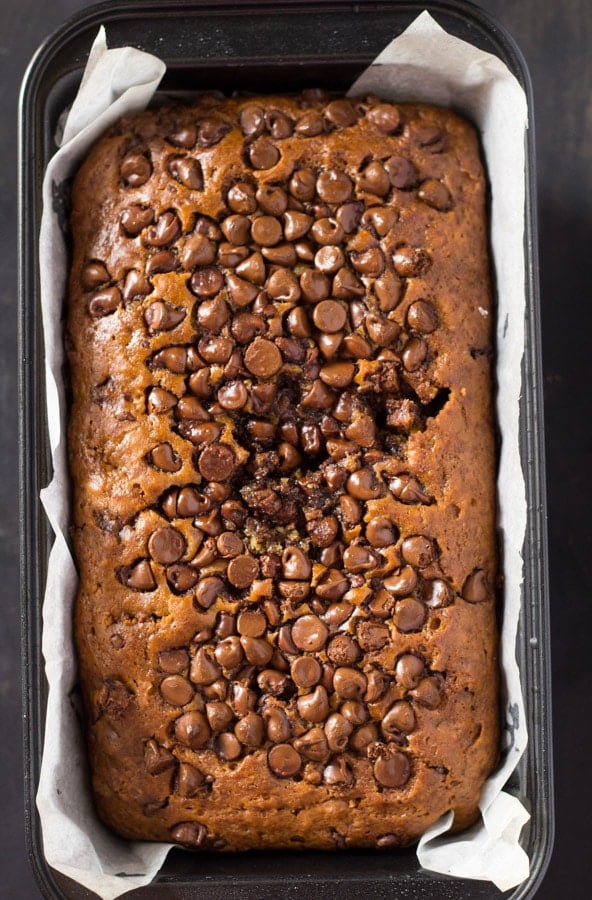 No Mixer Double Chocolate Muffins