Happy September, everyone! We're getting closer to fall season...cozy sweaters, orangey-red leaves, hot chocolate, Halloween, and of course lots of delicious food! And the very first recipe of this month is a super special one -  I'm sure it'll become one of your favorite breakfasts - Peanut Butter Chocolate Chunk Oatmeal Pancakes!!! Just look at all that melty peanut butter and those chocolate chunks. I sure would like to have these pancakes for breakfast everyday!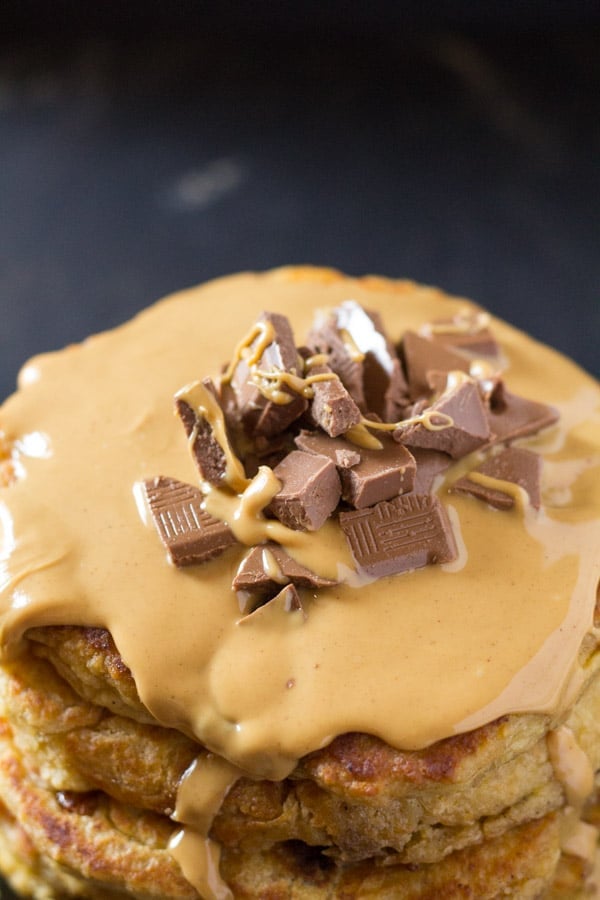 Summer has been good, but it's also meant not being as active on the blog as I should have been. I would like to say I had a lot of BBQs to attend, picnics spent in lush green parks, and splashy salty ocean water days at the beach - but sadly it's TOO hot to do all that in Bahrain, which is a small peninsula in the Middle East, in case you didn't know. 😉 So what did I do? Just pray away the never ending heat wave. Lol. No. Okay, okay it was just so hot that it made me lazy and I turned into a full fledge procrastinator.  And that's why I didn't post much on the blog. Well, I didn't become a complete procrastinator...I spent most of the time cooking up a storm for this month's recipes!
That's all changing from today, though. I'll be posting more regularly, I promise. I've got lots and lots of delicious recipes to keep you warm and well-fed through out the upcoming cooler months (yay - I love winter). There will be cheesy pastas (always), chocolatey desserts (of course), steamy soul-warming soups (bring out your coziest sweaters - okay maybe too early for that?), and lots of other goodies! I'm thinking of making a Harry Potter themed dessert for Halloween this year, and I'm so excited I can't choose whether I should go for Butterbeer or Chocolate Frogs? Or maybe both?! Let me know in the comment section if you're a Harry Potter fan like me! 🙂 Or want any to see any other Halloween treat!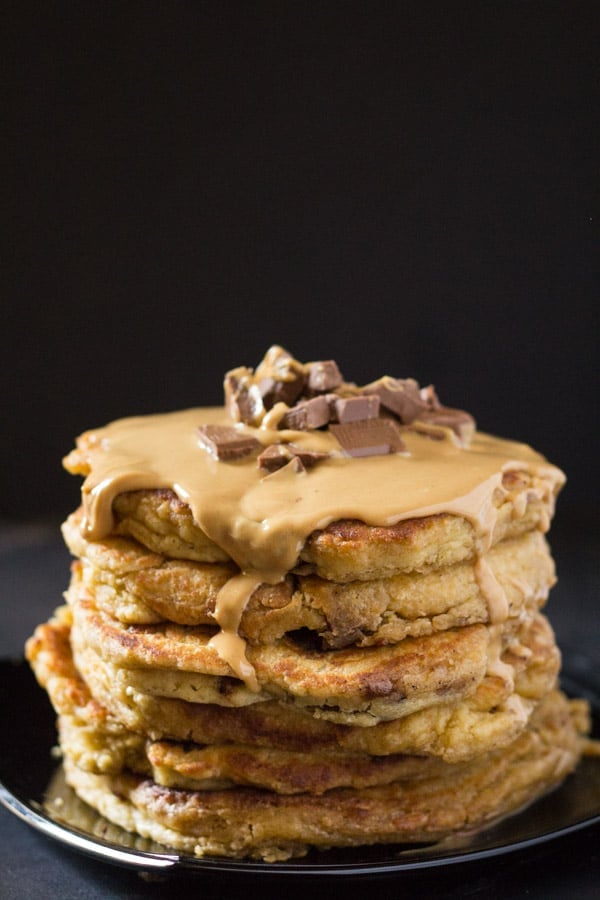 So let's talk about these pancakes. As always I went a little overboard with these pancakes by adding chocolate chunks to the oatmeal pancake batter and then drizzling lots of melted peanut butter on top of the pancakes. And that is how these amazing pancakes came in to being. Can I just say that these are one of the most delicious pancakes I've ever had? Dare I say, even better than the normal plain pancakes that we like to slather with butter and drown in maple syrup? I mean those classical pancakes will always have a special place in my pancake loving heart, but these pancakes with oatmeal in them are so delicious!
There are a lot of reasons why you should make these pancakes ASAP but here are few if you need some convincing:
1.) PANCAKES. Okay? Okay. Lol.
2.) Melted peanut butter in every single bite.
3.) Melty pockets of chocolate that are just heavenly.
4.) And the taste of oatmeal in these pancakes? Spot on!
I do hope you try these pancakes because you won't regret it. I swear!
Okay, I gotta go now and do some more cooking - a very chocolate chip cookielicious dish coming to the blog very soon. Stay tuned! 😉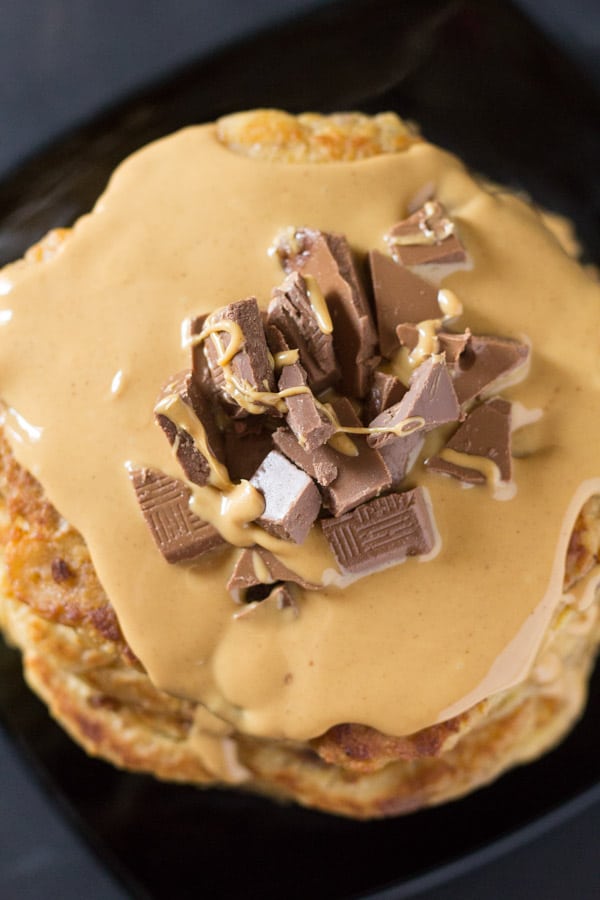 Peanut Butter Chocolate Chunk Oatmeal Pancakes
These Peanut Butter Chocolate Chunk Oatmeal Pancakes are perfect for weekend brunches. Light and fluffy, full of chocolate chunks and topped with melted peanut butter, your family will love these pancakes!
Print
Pin
Rate
Ingredients
2

cups

quick oats

see note for substitution

1/2

teaspoon

baking soda

2 1/2

cups

buttermilk

see notes for substitution

1

cup

flour

2

teaspoons

baking powder

Pinch

of salt

1

tablespoon

sugar

1/3

cup

oil

2

eggs

lightly whisked

1

cup

chocolate chunks

about 120 grams, plus more for topping

2 - 3

tablespoons

melted peanut butter for topping

Unsalted butter for cooking the pancakes

see notes.
Instructions
In a medium bowl, combine the oats, baking soda and buttermilk. Mix well until fully combined. Let stand for about 5 minutes.

In a separate bowl, combine the flour, baking powder, salt and sugar. Lightly whisk to combine.

Add the oil and whisked eggs to the oat buttermilk mixture, and mix to combine.

Add the dry ingredients (flour, baking powder, salt & sugar) to the oat buttermilk mixture and stir until fully combined.

Add in the chocolate chunks and gently stir until combined.

Melt about 1 teaspoon of butter on a griddle or skillet on medium high heat, and scoop about 2 tablespoons (normal kitchen tablespoons not the measuring ones) of pancake batter onto the griddle/skillet. Cook for 1-2 minutes, until you can see tiny bubbles on top of the pancake and gently flip. Cook on the other side for 1-2 minutes or until pancake is cooked through. Repeat until batter is finished.

Top with melted peanut butter and chocolate chunks.
Notes
Quick Oats substitute: with old fashioned oats. Just pulse the old fashioned oats in a food processor or blender briefly before using. Buttermilk substitute: Add 2 tablespoons of white vinegar to 2 1/4 cups of full fat milk and let stand for 5 minutes or until the milk is curdled. Butter: If using salted butter for cooking the pancakes, then omit the 1/2 teaspoon of salt in the pancake batter, as the pancakes might turn out to be too salty.
Recipe slightly adapted from The Girl Who Ate Everything.
Looking for more delicious breakfast ideas?
Condensed Milk Mocha Cold Coffee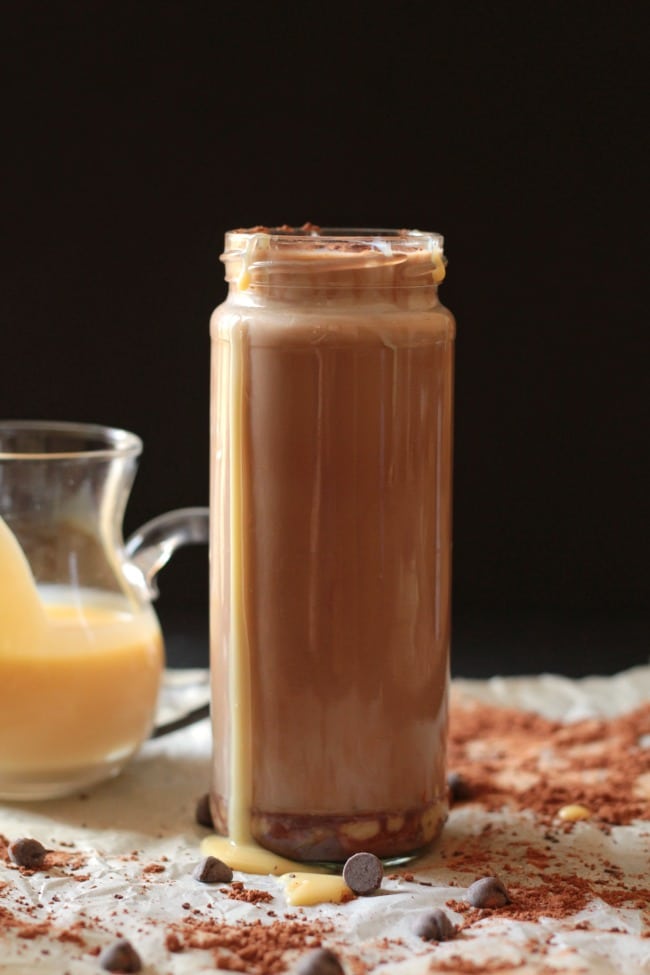 No Mixer Double Chocolate Muffins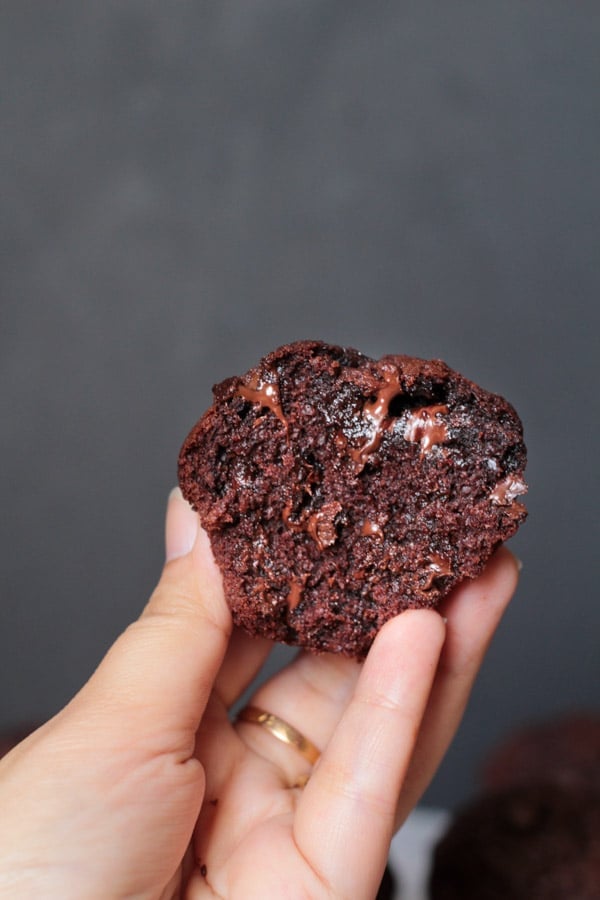 Hershey's Kisses Chocolate Stuffed Pancakes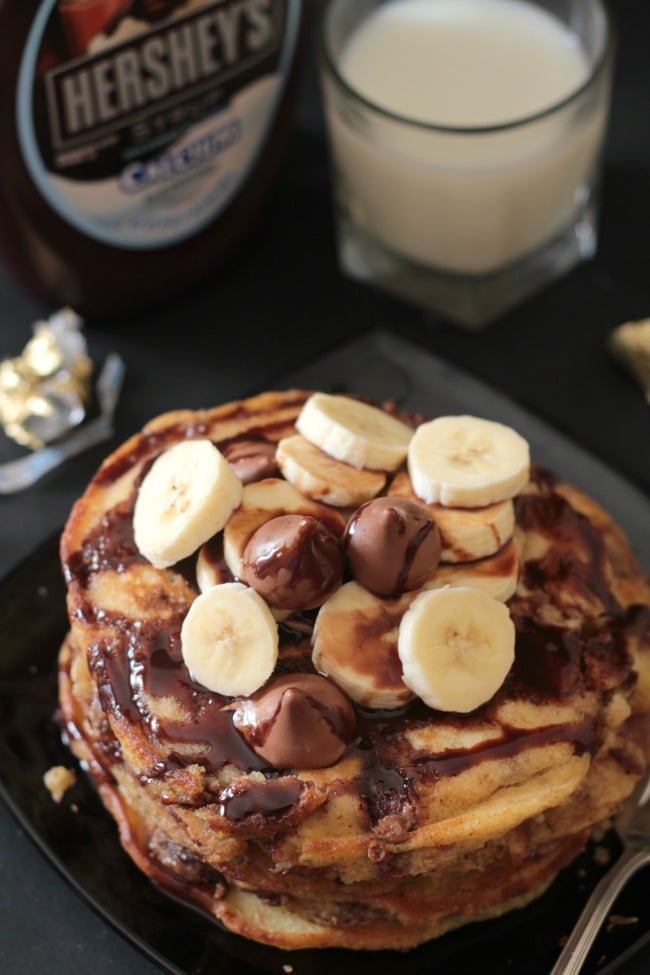 Classic Sour Cream Baked Donuts