So, it's been awhile since I shared a chocolate dessert on the blog, and I wanted to make up for that with this ridiculously over the top bursting with chocolate Reese's Triple Chocolate Bundt Cake. Okay, who am I kidding? I just posted a Chocolate Samosa recipe on Friday :p . BUT that was a respectable amount of chocolate in a dessert.
This Reese's Triple Chocolate Bundt Cake, however, let's just say that it's lost all sense of what is a respectable amount of chocolate allowed in a dessert. And let's admit it, the best kind of chocolate desserts are those that are practically just made of all chocolate, chocolate aaaannnd even more chocolate.
Wanna see all the kinds of chocolate that go into this cake? I made a step by step video for you! 🙂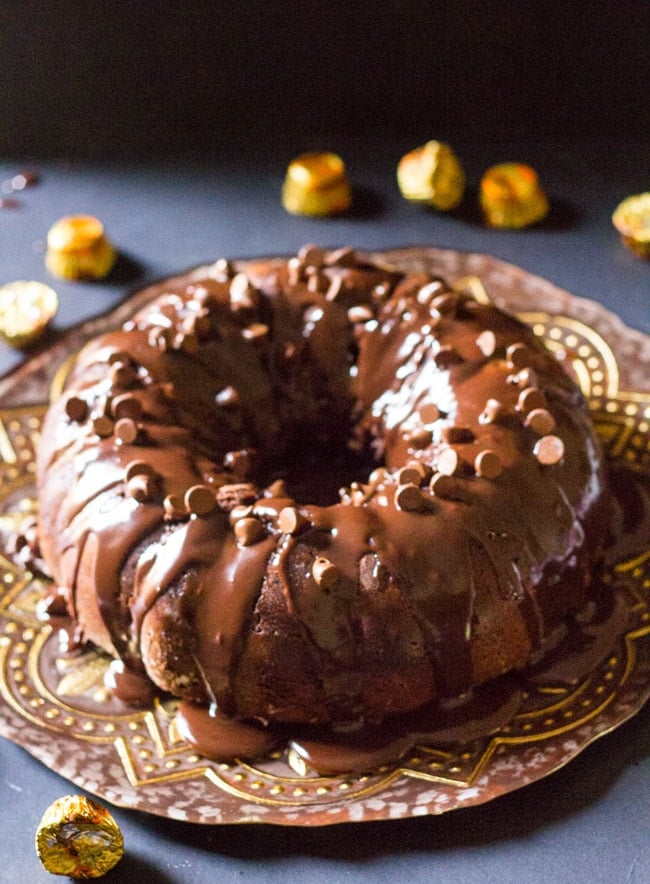 This Reese's Triple Chocolate Bundt Cake is super moist, it's rich with a deep chocolate flavor, and technically it has FOUR kinds of chocolate going into it: chocolate cake mix, chocolate pudding mix, mini Reese's and semi sweet chocolate chips. So make sure you have a cold glass of milk to serve with this over the top chocolate cake, because you'll need it, I bet. 😉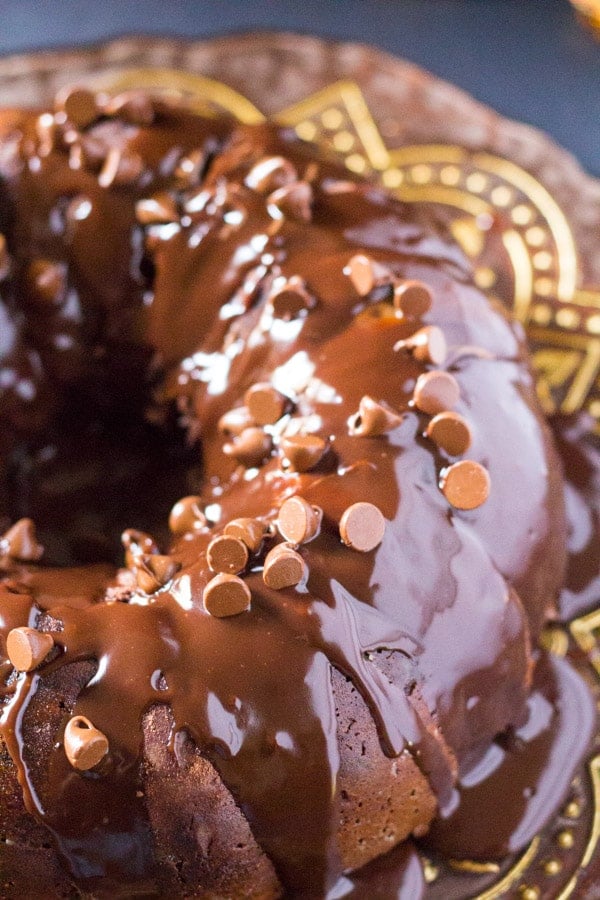 Okay, please don't think I'm mad or anything for going and adding so much chocolate to just one cake. Hear me out, first. This is the kind of chocolate cake that you find at dessert shops, quaint little cafes or coffee shops. It almost reminds me of Starbucks' Chocolate Lover's Cake, because it's VERY close to it in taste and texture. It's so full of chocolate flavor, and the chocolate pudding mix gives it a very moist texture to it. The mini Reese's add a nice chocolatey peanut buttery pockets in the cake and the peanut butter gives a little salty sweetness to the cake.
Then there's the ganache…I mean you could skip it, but why would you want to? I personally think this is what really makes the whole cake and you must make it because it's just so simple. And delicious, not to mention. And if you're impatient like me, and take out the cake from the pan while it's too hot and it cracks as a result, then this chocolate ganache is your saving grace. Simply pour it all over the bundt cake and no one will know what happened. 😉
This Reese's Triple Chocolate Bundt Cake is SO easy to make (ugh, I know I repeat the word easy like a parrot in each of my recipes, but it's true). There are however a few tips that I would love to outline for you as it would make the whole cake baking experience for you!
Tips to make the Perfect Reese's Triple Chocolate Bundt Cake:
1.) Make sure you grease the bundt cake pan very well. And then dust it with 1 teaspoon of flour or cocoa powder. This is to ensure that the cake does not get stuck when removing from the pan.
2.) Buttermilk is essential in this recipe, don't skip it. If you don't have buttermilk at home, just make the homemade version which is: 1 cup milk + 2 tablespoons white vinegar stirred together. Let this stand for 1-2 minutes until it appears curdled. Your buttermilk is ready to be used.
3.) This cake requires only the DRY mixes: a chocolate cake mix and a chocolate pudding mix. Do not use the ingredients listed on the back of the packages. Only the ingredients I've listed in the recipe card below are the ones that go into the batter.
4.) Make sure your eggs are room temperature as they are easily incorporated with the rest of the ingredients while making the batter. An easy way to quickly bring eggs to room temperature is to place them in hot water for 10 minutes or so.
5.) This is the most important tip: please wait till the cake is completely at room temperature before removing from the pan. I was in a hurry yesterday while filming the recipe video for this cake and as a result I took the cake out of the pan while it was very hot and it cracked a bit as you may notice in the video above. I also wanted to top the cake with more mini Reese's peanut butter cups BUT the cake was so hot that it melted all of the mini peanut butter cups and they were sliding down the chocolate ganache everywhere. It was a chocolate disaster, I tell you. Lol. So just be patient. 😉
6.) The chocolate ganache is very easy to make. But just make sure when you are heating the heavy cream and chocolate chips in the microwave, do it in 10 second intervals. So every 10 seconds stop the microwave and stir. This is to ensure that the chocolate doesn't burn. Chocolate is too precious to be burned after all. 😉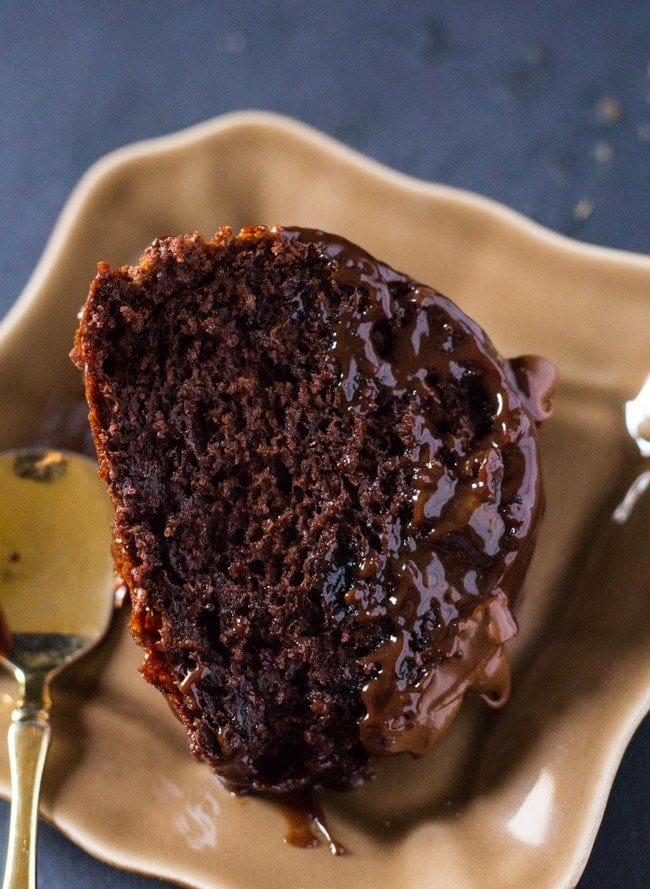 Okay so that's about all of the tips that I could think of to help you make the perfect Reese's Triple Chocolate Bundt Cake.
Okay I gotta go now, I deserve a slice of this Reese's Triple Chocolate Bundt Cake after writing such a long post! 😛
This Reese's Triple Chocolate Bundt Cake is part of the monthly recipe challenge I take part in with my blogger fellows in Yum of the Month (YOTM). Here are their bundt recipes for November:
Marsha from Marsha's Baking Addiction is the newest member of YOTM and she chose this month's theme of bundt cakes! Here's her fabulously delicious Cheesecake Swirl Chocolate Bundt Cake.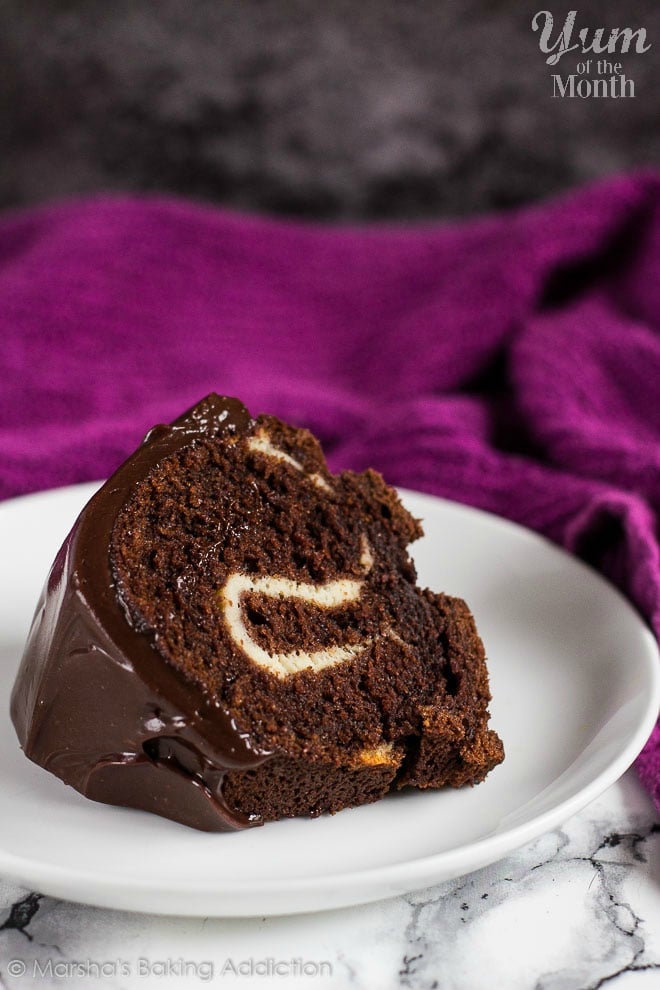 I'm loving this Persian Love Bundt Cake by my dear friend Shadi from Unicorns in the Kitchen!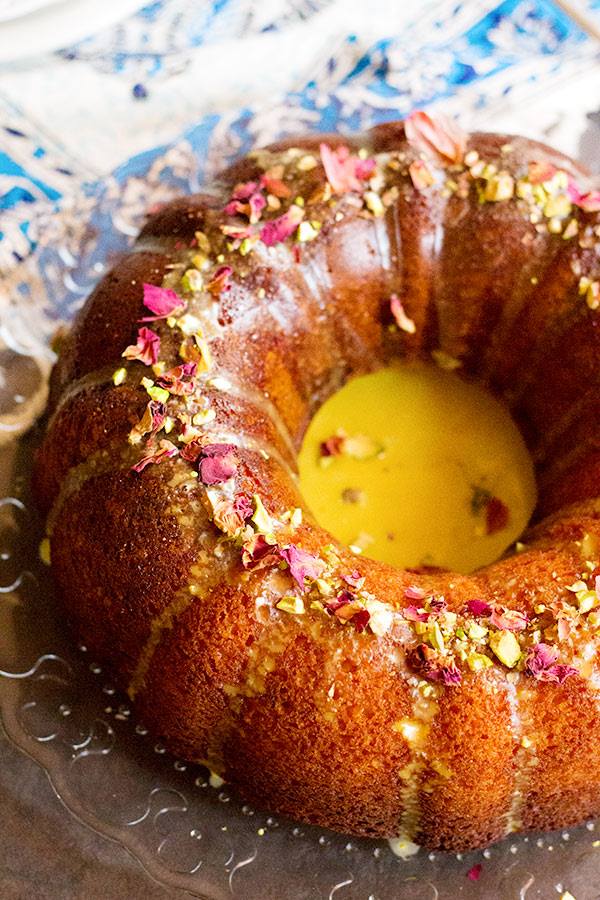 And here's a mouthwatering Brown Sugar & Pecan Bundt Cake from Michelle at Giraffes Can Bake. It's gluten free too!!
I'm loving these Mini Banana Bundt Cakes from Amy at Accidental Happy baker!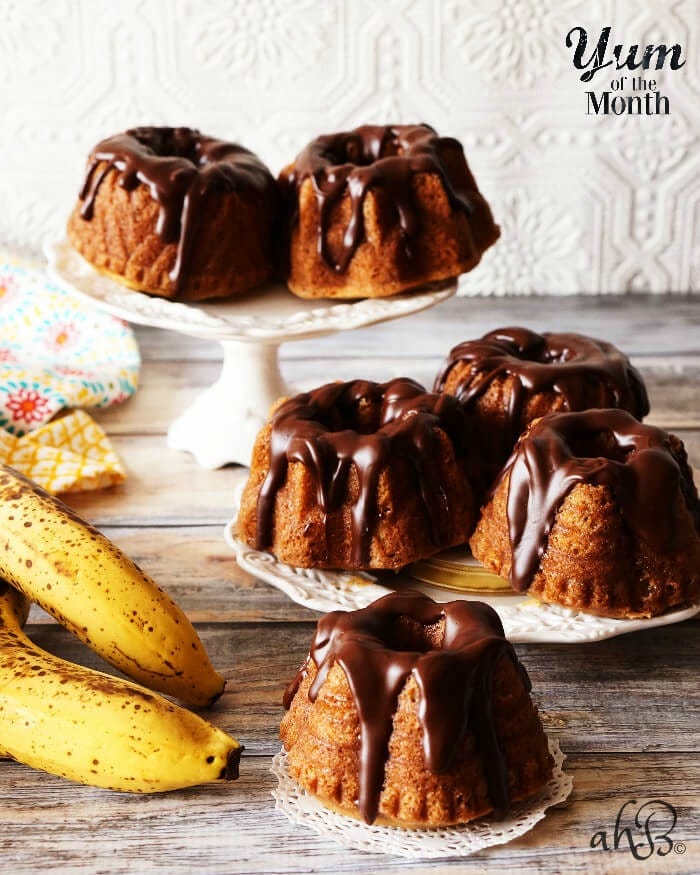 Triple Chocolate Bundt Cake with Reese's
This triple chocolate bundt cake stuffed with Reese's is so super moist, full of chocolate flavor and delicious. Made with cake mix and pudding mix it's super easy!
Ingredients
For the Cake:

1

15.25 ounce box chocolate cake mix

1

3.9 ounce box instant chocolate pudding

1

cup

buttermilk

see notes on how to make buttermilk at home

3

eggs

1/2

cup

water

1

cup

chopped Mini Reese's

For the Chocolate Ganache:

8

oz

semi sweet chocolate chips

I used Hershey's

1/2

cup

heavy cream

Extra Mini Reese's or chocolate chips for garnishing

optional
Instructions
Preheat the oven to 350 F / 176 C. Prepare a 10 inch bundt cake by greasing it well, and then dusting it with a teaspoon of flour or cocoa powder.

In a large mixing bowl, add all the ingredients for the batter except the Mini Reese's: chocolate cake mix, chocolate pudding mix, buttermilk, eggs, and water. I used a wooden spoon to mix all of these ingredients pretty thoroughly until they were fully combined. You can use a hand held mixer if you want.

Fold in the chopped Mini Reese's and then pour this batter into the prepared bundt cake pan. Bake for about 45-50 minutes until a toothpick inserted comes out mostly clean.

While the cake is baking, make the chocolate ganache. In a microwave safe oven, combine the chocolate chips and heavy cream. Heat in microwave in 10 second intervals, making sure to take out the bowl every 10 seconds and stirring through. This is to ensure that the chocolate won't burn. As the heavy cream heats, it will help the chocolate chips melt so this only takes about 30 seconds or so. After it's ready, set aside the chocolate ganache.

Once the cake is ready, remove it from the oven and let it cool for about 10-15 minutes in the pan. Run a butter knife slightly around the edges of the cake and also the middle hole. To take out the cake from the pan, place a large serving dish on top of the bundt pan, and then flip the pan upside down so that the cake comes out onto the plate. (see notes)

Drizzle with chocolate ganache, and garnish with Mini Reese's or chocolate chips if using.
Notes
For homemade buttermilk: Measure out 1 cup of milk, and add 2 tablespoons white vinegar to the milk and mix. Let stand for 2-3 minutes until the milk appears curdled. Your homemade buttermilk is ready to be used.
Removing the cake from the bundt pan: It is important to let the cake cool to room temperature in the pan. I took the cake out too soon (because I'm impatient and also wanted to make the video) and as a result it slightly cracked on the top. I was able to cover it with chocolate ganache, but I would suggest being patient and letting it cool completely before removing from the pan. I also suggest flipping it out directly on the platter or dish you want to serve the cake on, as it can be difficult to move the cake to another dish without cracking it.