Hello, coffee lovers of the world! As the weather gets warmer around the globe, I decided to introduce you to your new favorite morning drink. Now, I may sound like a cliched version of a stay at home mom (which I am lol) but I seriously cannot start functioning without coffee in my system in the morning. I've actually started getting up really early on school mornings, just so that I can have my coffee in peace before the rushing around begins. And I love this little ritual of mine. And these days, I've been getting my coffee fix through this deliciously refreshing Coffee Banana Smoothie.
I love coffee, and can pretty much have it in any form.
This is a very quick and easy smoothie, but it's packed with deliciousness and some protein too in the form of peanut butter. Instead of using ice cubes, I keep peeled frozen bananas in my freezer. Just pop in one frozen banana with the rest of the ingredients and you've got a smooth, ice cold coffee, that will perk you up with just one sip and get you ready for the rest of the day.
There's not much to say about this Coffee Banana Smoothie, except that it's really yummy, and easy and ummm, and…okay this is a smoothie…I don't have much to say about it…except make it if you're a coffee lover!!!
Now let's talk about the pictures of this Coffee Banana Smoothie. These were difficult to take.
The whipped cream falls and melts everywhere, and basically I was racing against time to take these pictures because omg the whipped cream and chocolate syrup was dripping everywhere.
And of course this is actually too much whipped cream for one drink anyway, but I kinda went crazy. Sorry, not sorry. 😛
I might seem like a crazy lady by having added so much whipped cream to a relatively healthy Coffee Banana Smoothie, but have you ever tried to make a brown drink look pretty in pictures?
Unless you're a food blogger, I don't think you've had to try to do this impossible feat. And therefore, I had to add loads of whipped cream and chocolate syrup to at least make it look nice and tempting for you.
But I promise, the smoothie is actually quite delicious without all of the whipped cream and chocolate syrup. Of course, if you want you can add it, but I usually have this Coffee Banana Smoothie without all the extra sinful toppings. And I still absolutely love it!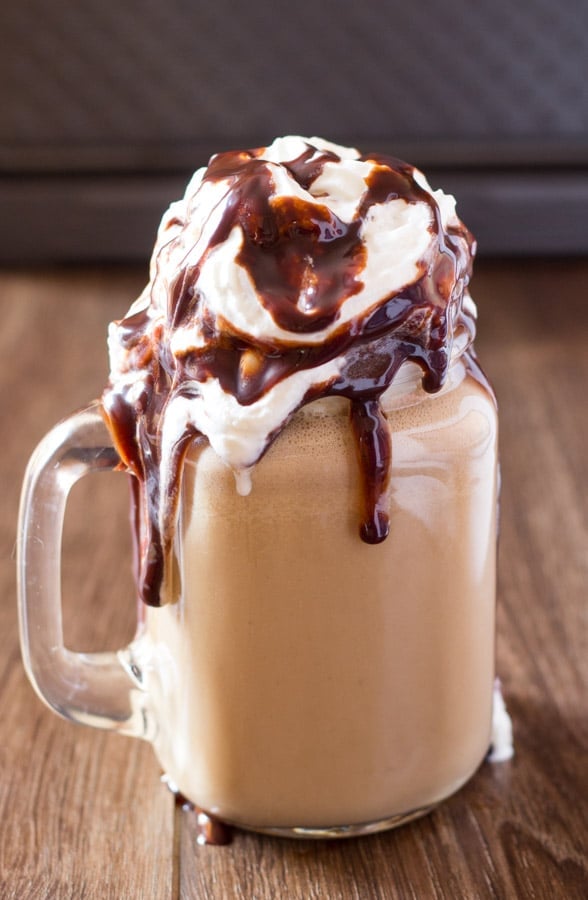 So if you're looking to get ready to start your mornings with a cold coffee drink as the weather gets warmer, I would highly recommend trying this super easy and delicious recipe for Coffee Banana Smoothie.
Enjoy! 🙂
Coffee Banana Smoothie
This Coffee Banana Smoothie is the perfect way to start your morning with coffee, banana and peanut butter! Packed with protein this is a refreshing drink.
Ingredients
1

cup

strong brewed coffee

1

banana

frozen

1

cup

milk

1-2

tablespoons

smooth peanut butter
Instructions
Place all ingredients in blender, and blend until all ingredients are combined.

Serve immediately.