This delicious Pakistani Sheer Khurma recipe is the perfect festive Eid ul Fitr dessert! Learn how to make sheer khurma with these step by step photos along with my best tips and tricks.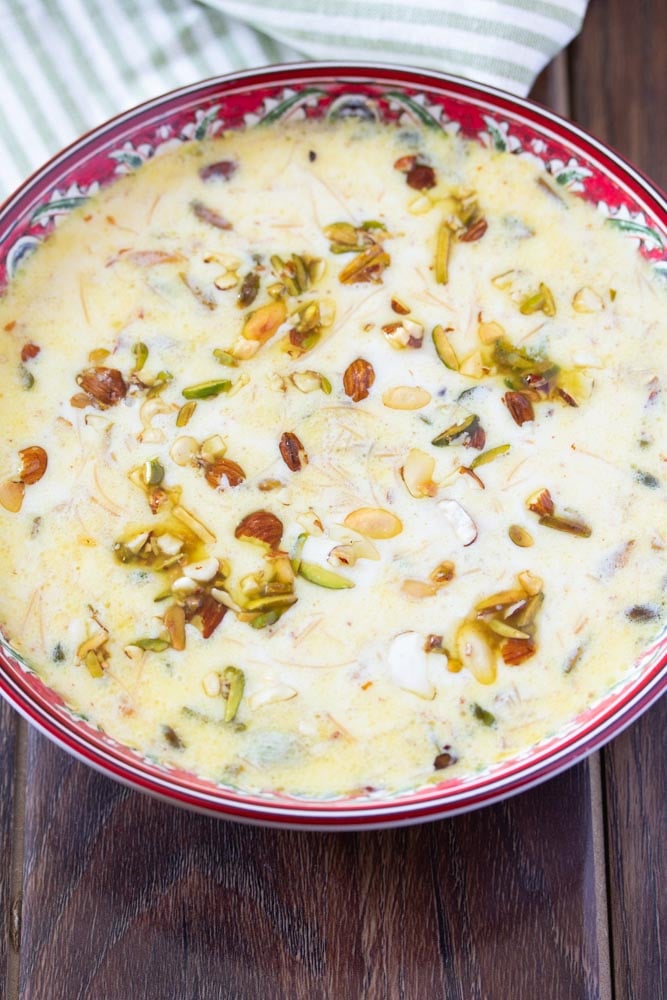 About this Recipe
There's something so special about Sheer Khurma, because of its association with Eid. It's usually made on the morning of Eid ol Fitr, and is eaten for breakfast after Eid namaz.
But you can also enjoy it any time of the year, and the good news is that my version is super easy to make! You only need a handful of sheer khurma ingredients, and can adapt it according to your taste.
Looking for more delicious desserts? Try this Gajar ka Halwa or Om Ali.
Why this Recipe Works
Easy: This sheer khurma recipe is simple to make and can be easily adapted to your taste. Traditional sheer khurma requires chuawaray (dried dates) and other ingredients such as chironji. I never have these ingredients on hand, and I'm sure not many people do. This recipe is just for you!
Quick: This is not a complicated recipe at all. It's typically ready quite fast, unlike other traditional desserts such as shahi tukda or rice kheer.
Secret Ingredient: I like to make sheer khurma with evaporated milk, an unlikely ingredient for this traditional dessert. It makes the dish so thick and creamy without having to cook it for a long period of time. You can also add khoya (milk solids) in place of this.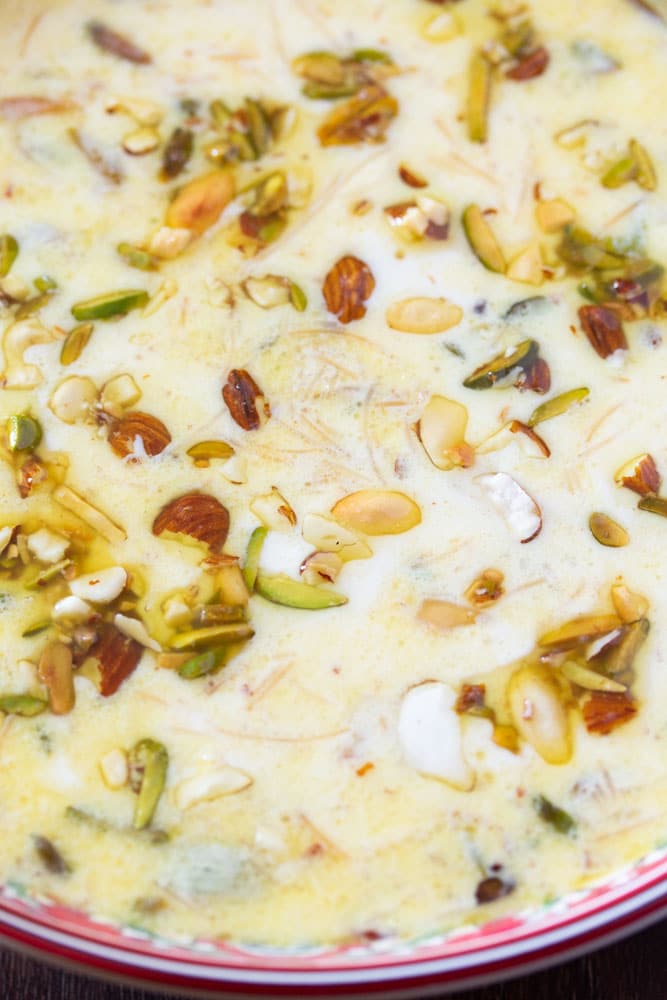 Ingredients You'll Need
Ghee: Traditionally this recipe calls for ghee, but you can also use butter as a fantastic substitute.
Nuts: Sheer khurma is typically made with a large variety of nuts and dry fruit. The good news is that you can totally use whatever you have on hand or enjoy. I used pistachios, cashews, and almonds.
Vermicelli: Use nylon vermicelli for the best results. This is typically longer and thinner than standard vermicelli.
Milk: This is a rich dessert, and I highly recommend you use whole milk for the best results. Using milk with low fat content will result in a less creamy result.
Cardamom pods: If you don't have any on hand, you can substitute with cardamom powder. The flavor is very potent, so use sparingly. A pinch of the powder should be enough.
Sugar: You can adjust the amount of sugar according to your liking.
Evaporated Milk: This is an optional ingredient, but adds a lot of richness to the sheer khurma. Once you try it this way, you'll never go back!
How To Make Sheer Khurma (Step By Step)
Step 1: Start by melting ghee or butter in a pot, and add the nuts.
Step 2: Roast for a few minutes until fragrant. Remove from pot, and set aside for later use.
Step 3: Add vermicelli to the same pot, and roast it for a few minutes until golden brown and nutty.
Step 4: Be careful not to burn the vermicelli, so keep stirring during this step.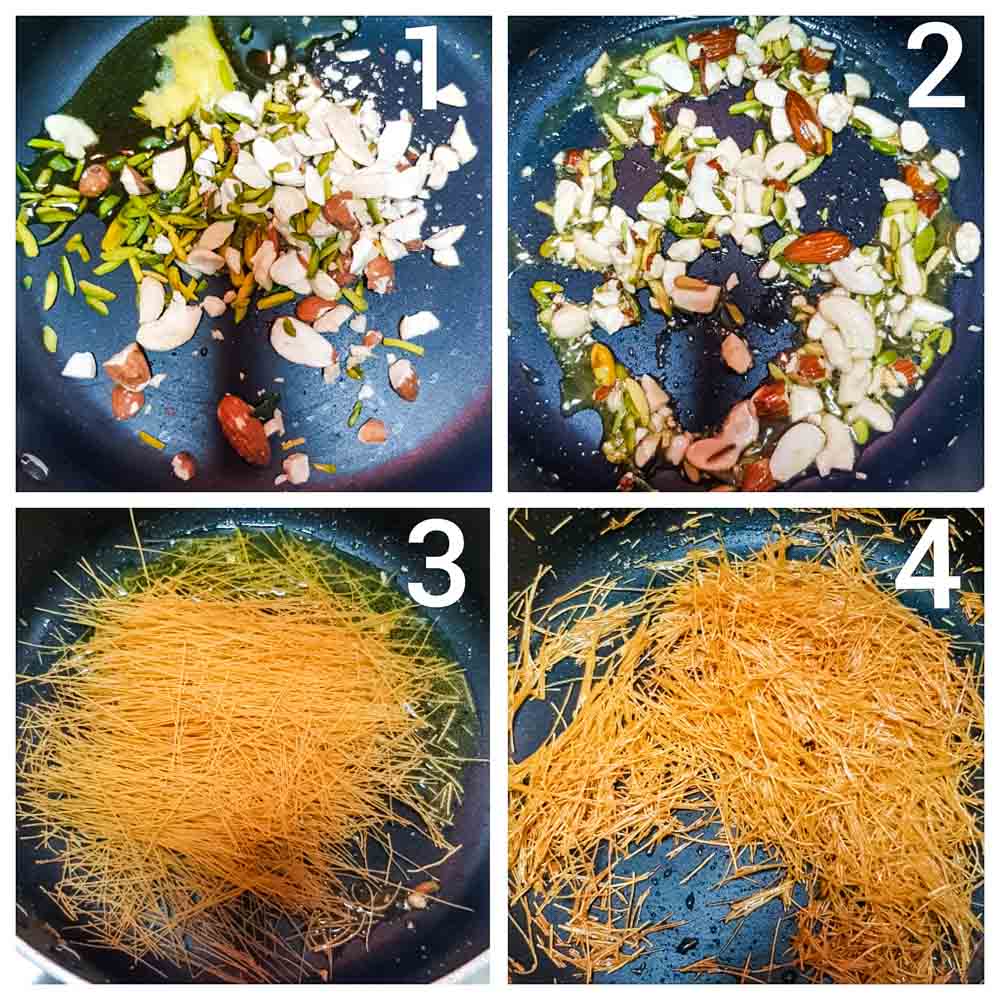 Step 5: Add milk and cardamom to the pot.
Step 6: Cook on medium heat for 10-15 minutes, while stirring.
Step 7: Add the sugar, and cook another 5-7 minutes, while stirring.
Step 8: Add the evaporated milk, and cook an additional 5 minutes until slightly thickened.
Step 9: Add the roasted nuts, and stir.
Step 10: Remove from heat, and serve warm or cold, depending on your preference.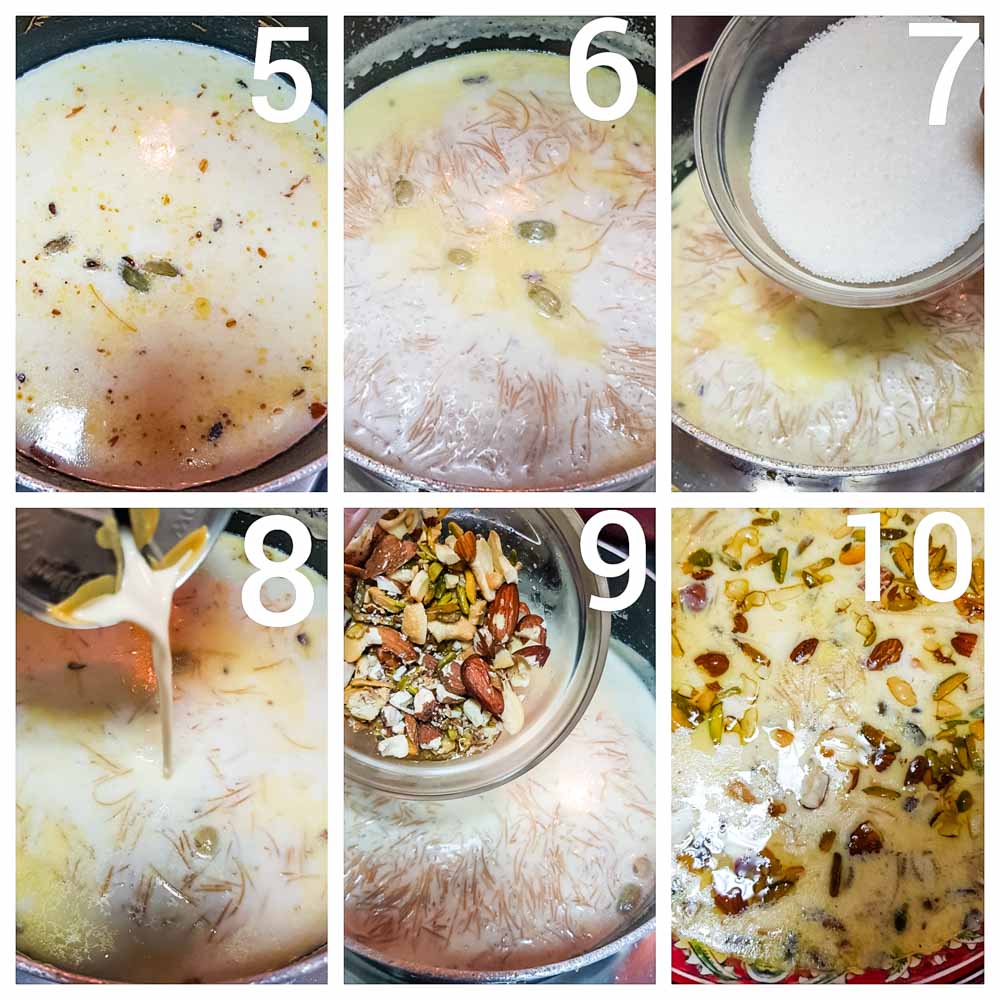 Tips & Tricks
Roast the nuts in ghee to release their flavor.
Use thin nylon vermicelli and roast it in plenty of ghee to make it nutty and aromatic.
Use full fat milk for a creamy sheer khurma.
If you want an extra indulgent sheer khurma then add some evaporated milk. Alternatively, you can use condensed milk too.
Recipe FAQs
What does sheer khurma mean?
Sheer means milk and khurma means dates in Persian.
Do you need to add dates?
This festive dessert is traditionally made with dates which are soaked in water overnight. I didn't have any on hand so skipped them. Alternatively, you may use normal dates as well.
Ghee or butter?
While traditionally this sheer khurma Pakistani recipe is made by roasting the nuts and vermicelli in ghee, butter is a great alternative.
Which assorted nuts should you use?
I like to use a mix of almonds, cashews and pistachios. Raisins are a great addition too, and you can add them at the end with the rest of the nuts. No need to toast the raisins.
Is sheer khurma eaten warm or cold?
Traditionally, it's eaten warm but is also really delicious eaten cold too.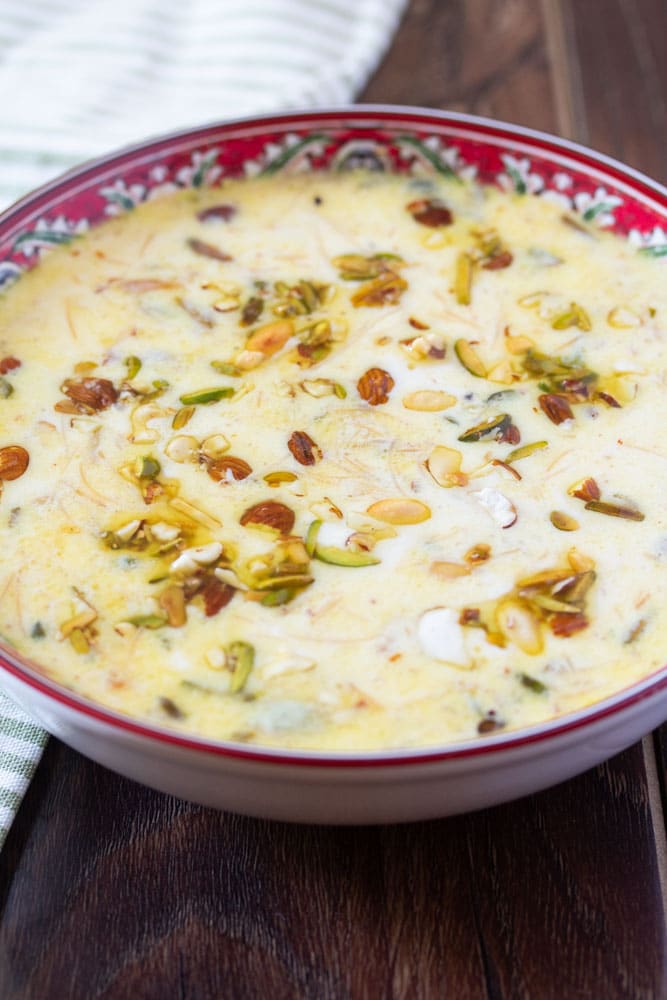 Hope you enjoy this festive and delicious recipe!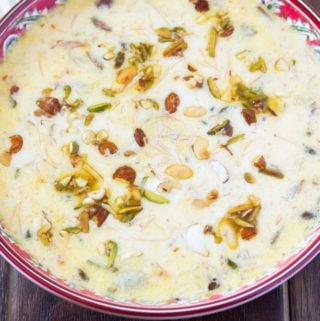 Sheer Khurma Recipe
Learn how to make delicious Sheer Khurma, the perfect festive Eid ul Fitr dessert. Step by step photos included with all the tips and trick to make it.
Print
Pin
Rate
Ingredients
1/4

cup

ghee or butter*

1/4

cup

assorted nuts*

1

litre full fat milk

1

cup

nylon vermicelli*

1/2

cup

evaporated milk*

2

green cardamoms

crushed

1/2

cup

sugar*
Instructions
In a medium sized pot, heat half of the ghee. Add the nuts, and saute for 2 minutes. Remove from pot and set aside.

Add the remaining ghee, and the vermicelli. Roast on medium heat for 2-3 minutes, until golden and fragrant.

Now add the milk with the cardamom pods.

Cook on medium heat for 10-15 minutes while stirring.

Add the sugar and cook another 5- 7 minutes. Finally add the evaporated milk and cook for an additional 5 minutes.

Remove from heat and transfer to serving dish.

Sheer Khurma can be eaten warm or cold. It will thicken upon cooling.
Notes
Ghee or Butter: Traditionally ghee is used for sheer khurma, but I feel it solidifies as it cools down, which leaves an after taste / texture. If you want to avoid this, then definitely go for butter. Assorted nuts: I use pistachios, cashew nuts, and almonds. You can also add chironji, dried dates (chuawaray) and raisins. Nylon Vermicelli: It's important to use thin nylon vermicelli, as that's the traditional way of making vermicelli. Normal vermicelli (which is thicker), is not an ideal option, but can be substituted in a pinch. Evaporated milk: Isn't used traditionally, but I like that it makes the sheer khurma thicker and creamier, without having to really cook the sheer khurma for a long time. It is optional however. Sugar: You may adjust the amount of sugar according to your desired taste.
Nutrition
Calories:
366
kcal
|
Carbohydrates:
63
g
|
Protein:
3
g
|
Fat:
11
g
|
Saturated Fat:
7
g
|
Cholesterol:
30
mg
|
Sodium:
114
mg
|
Potassium:
101
mg
|
Fiber:
1
g
|
Sugar:
23
g
|
Vitamin A:
61
IU
|
Vitamin C:
1
mg
|
Calcium:
78
mg
|
Iron:
1
mg
More Delicious Traditional Desserts: