Shahi Tukda or Shahi Tukra is an Indian bread pudding, which is made with golden fried bread soaked in a rich, saffron induced custard sauce. Its origins are from the Mughal era, and it quite literally means 'piece of royalty', indicating the richness of this Indian / Pakistani dessert. Learn my way of making Shahi Tukda, which is quick and easy, but also super delicious!
So just a few days ago I posted a recipe for Indian Chicken Korma, which also originates from the Mughal era which was known for its rich and indulgent food.
What Exactly Is It?
The reason why this dish is called Shahi Tukda (also spelled as Shahi Tukra), is because it's basically GOLDEN FRIED BREAD dipped in a thick and luscious saffron induced custard sauce.
I mean, YUM! It's also topped with slivered pistachios. So we're basically talking about a dessert that's full of royalty.
How can anyone go wrong with golden fried bread? OMG.
And if you're going to lecture me about how bad fried bread is, then umm, we can't be friends. Lol. Just kidding. Maybe.
This recipe is traditionally made by frying the bread first, then soaking it with a sugar syrup and then topping it with rabri (thickened milk).
However, I'm not one for doing so much work in the kitchen when I could be using that time to be watching Netflix. So I make this recipe by skipping the sugar syrup and instead of using rabri, I use custard. This is probably the fastest recipe you'll ever find for this decadent dessert.
In Pakistan and India it's usually served on festive occasions such as Eid. Oh and that saffron? It lends a heady aroma to the custard sauce, which is difficult to resist.
Want to try other Pakistani / Inidan recipes? Here are a few:
How to Bloom Saffron?
There are several methods to blooming saffron, but I like to just infuse a few strands of saffron in warm milk. It imparts a lovely color and aroma to the Shahi Tukda.
So I hope I've convinced you to try this rich, royal dessert. And don't worry too much about the calories, since life is too short anyway. And it's okay to cheat once in a little while. 😀
Enjoy!
More Delicious Pakistani Desserts
Zarda Rice Recipe (Meethe Chawal)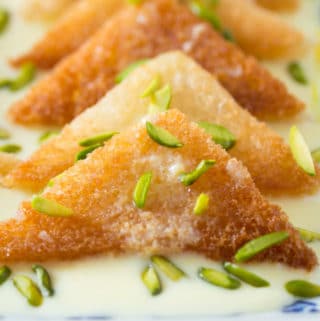 Shahi Tukda
Shahi Tukda or Shahi Tukra is an Indian bread pudding. It's made with golden fried bread, soaked in a rich, saffron induced custard sauce.
Print
Pin
Rate
Ingredients
For the Custard Sauce:
1

cup

prepared custard

2

tablespoons

milk

1/2

teaspoon

bloomed saffron
For the Bread:
4

slices

of bread cut into triangles

1/2

cup

oil for frying

Slivered pistachios for garnishing
Instructions
Mix the custard sauce ingredients and set aside.

Lightly fry the bread triangles until golden brown.

Arrange the fried bread on a serving platter, and pour over the saffron infused custard sauce, and garnish with slivered pistachios.

Chill in the fridge for a few hours, and then serve.
Nutrition
Calories:
414
kcal
|
Carbohydrates:
27
g
|
Protein:
6
g
|
Fat:
32
g
|
Saturated Fat:
4
g
|
Cholesterol:
37
mg
|
Sodium:
208
mg
|
Potassium:
207
mg
|
Fiber:
1
g
|
Sugar:
5
g
|
Vitamin A:
128
IU
|
Calcium:
145
mg
|
Iron:
1
mg