Learn how to make one of Pakistan's most famous desserts: Zarda Rice!! Zarda is a type of Pakistani / Indian sweet rice or as we sometimes call them meethe chawal. Zarda can be quite oftenly perceived as a finicky and difficult recipe to master, but trust me. It's not as hard as it seems, and I'm going to show you how to make delicious Zarda step by step with pictures today.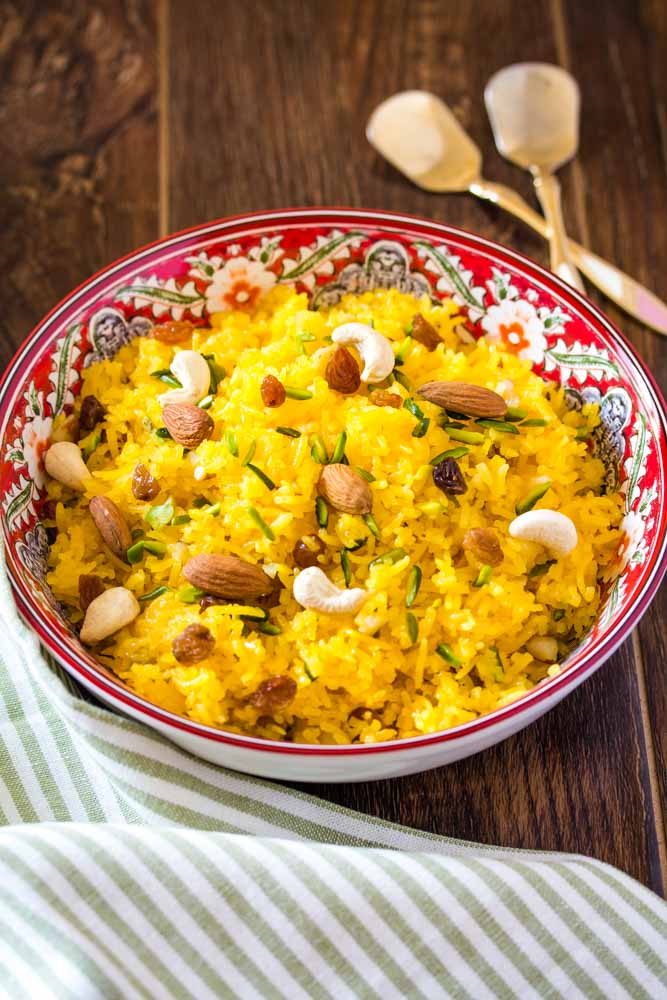 We love making our desi desserts at I Knead to Eat, and whether you're hosting a dawat, or making something sweet for Eid or just want to satisfy your desi sweet cravings, we are at your service. Would you like to try some Suji ka Halwa or Shahi Tudka? We also have a creamy helping of Kheer, if that's what you prefer. 🙂
First things first though, can we talk about how pretty this zarda looks? I love the bright sunny yellow and a sprinkle of delicious of dry fruit for added flavour and texture.
But Why is it Called Zarda?
Zarda like Shahi Tukda originated from the Mughal India era. The name Zarda is derived from the Persian word zard which quite literally means yellow. It is also said to be Mughal Emperor Shahjahan's favorite dish and was often made on his request.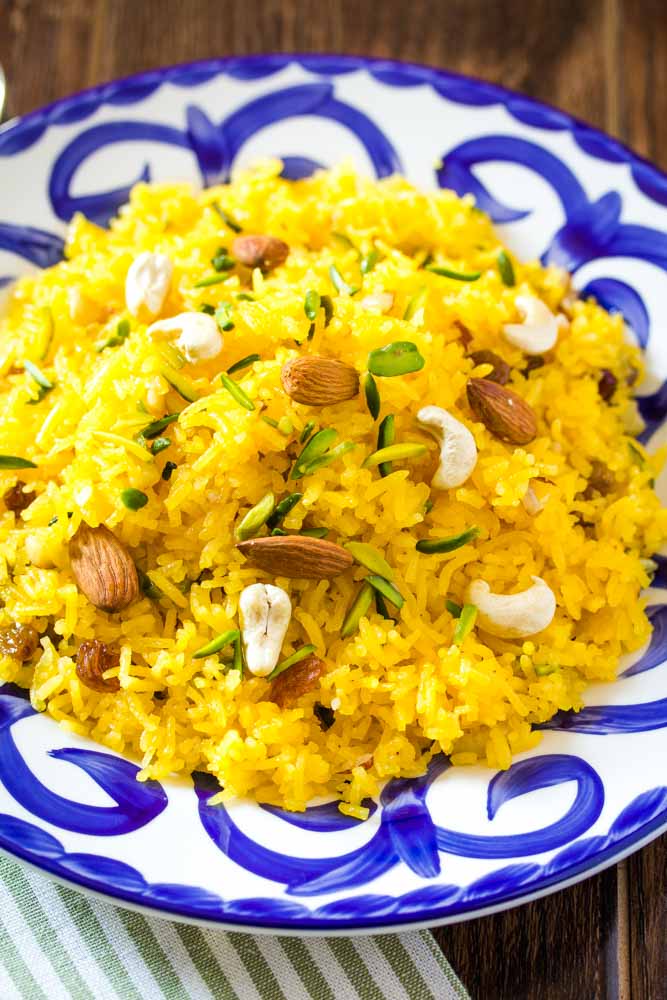 To be honest, I never liked Zarda as a kid. I mean, seriously who wants sweet rice. I mean it just sounds weird as a kid, right? But then, there are so many things I wouldn't touch as a kid that I love now (8 year old would never even taste karelay). But look at me now, loving Zarda and karelay. Omg, is the world ending? 
What Kind of Rice is best for Zarda Sweet Rice?
It's best to use Sella basmati rice, but I use regular long grain basmati rice and it works perfectly well in this recipe. However, if you do have sella rice then go for it when making Zarda.
What Kind of Dry Fruit is used in Zarda?
You can pretty much add any type of dry fruit in zarda. I like to add raisins, pistachios, almonds and cashew nuts. Some people also add khoya or mawa once the Zarda is cooked which also adds delicious flavour to the zarda.
Another variation of Zarda is Muntanjan, which is basically fully loaded zarda. Lol. It's made similar to Zarda but instead of using water we also add milk. And then you add all sorts of goodies such as dry fruit, khoya / mawa, colourful ashrafi, gulab jamun and ras gullas. Yummy yum!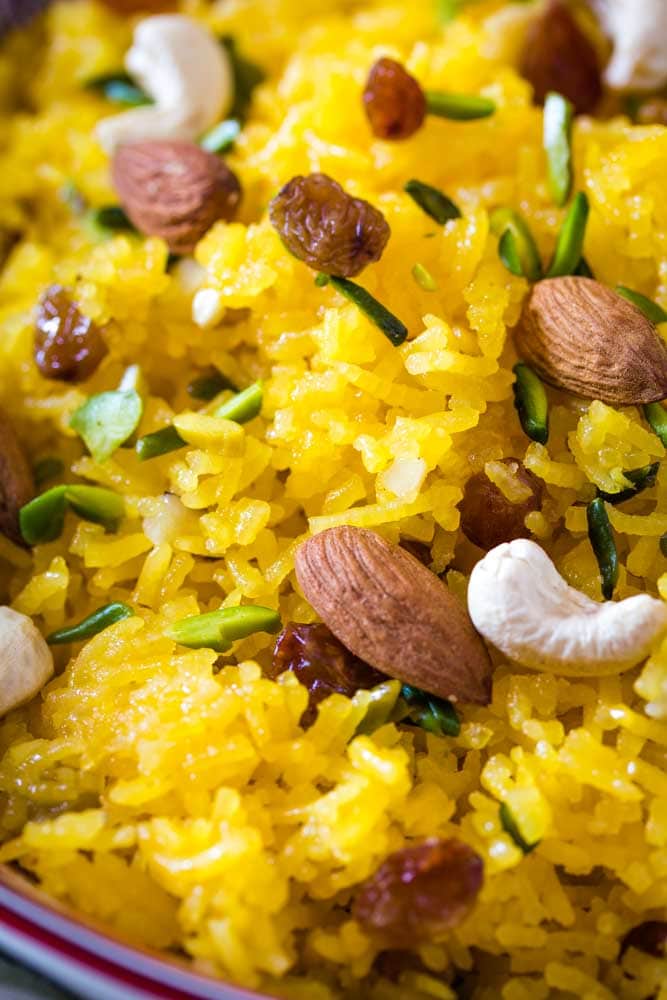 Anyway, let's talk about making this Zarda recipe. And btw as weird as it may sound, I actually like to sprinkle my Zarda with a little bit of milk powder, it just enhances the flavor. I feel like it kind of adds a khoya / mawa like taste to the zarda? Or maybe my tastebuds are just weird.
Okay, okay, I know you want the recipe. So let's talk about zarda…because talking about food (especially desserts) is what I do best!! 😀
How to Make Pakistani Zarda Rice aka Meethe Chawal
There are three simple steps to making Zarda Rice:
boiling the rice

making the chashni (sugar syrup), 

mixing the chashni and rice and then steam cooking it on low heat. 
Boiling the Zarda Rice
Boiling the rice is where it gets a little tricky and you have to be a bit careful. The key is not to boil the rice fully. In fact you only need to parboil the rice or cook it through about 3/4. Or as we say in urdu, aik kani chor ker boil karna.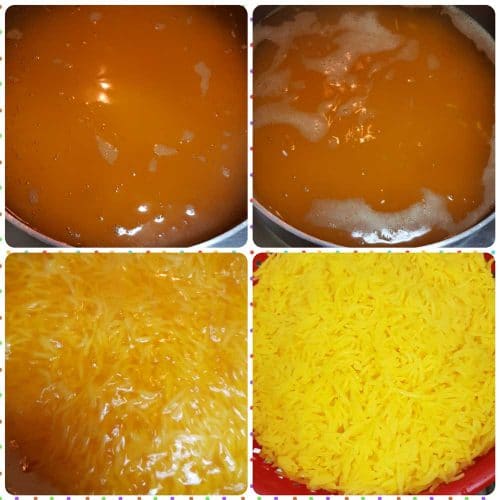 While we are boiling the rice, we add a bit of yellow food coloring. This is an optional step, but this is what gives the Zarda it's beautiful yellow hue. I used gel food colouring that I got from Wilton, but you may use Zarda rang if available or regular liquid food coloring. Some people use orange food color, but I prefer my Zarda to be a pretty yellow. 🙂
If you don't want to use food colouring, then you can use saffron to achieve that pretty yellow/orange color. Just dissolve saffron in a little bit of water and instead of using food color when boiling the rice, add the saffron. However, saffron has a strong flavor, so it will definitely add its flavour to the Zarda too.
Making the Chashni / Sheera (Sugar Syrup)
To make the chashni or sugar syrup, start by heating ghee in a pot. Add cardamom and clove and roast for a minute or so until fragrant.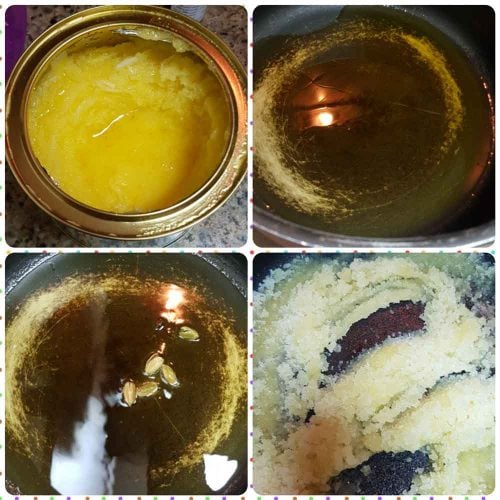 Now add the sugar and water. On medium heat, gently stir so that the sugar dissolves completely. Don't do this on high heat, as sugar burns really fast.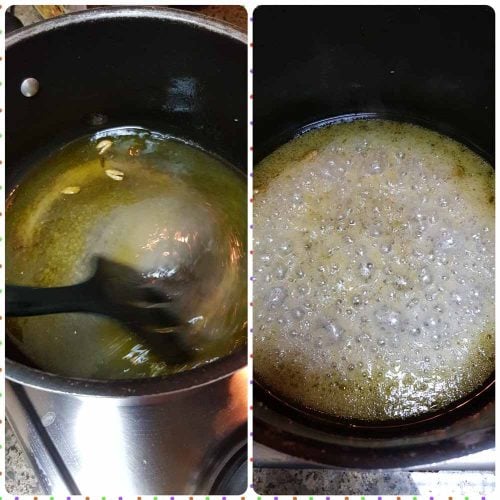 When the sugar syrup starts foaming, the chashni or sheera for zarda is ready.
Mixing the Zarda
Once the sugar has dissolved, add the rice and mix so that the sugar syrup coats the rice evenly.
Now add the raisins and mix again. Cover the pot with a lid for a few minutes.
Now add the nuts and mix again.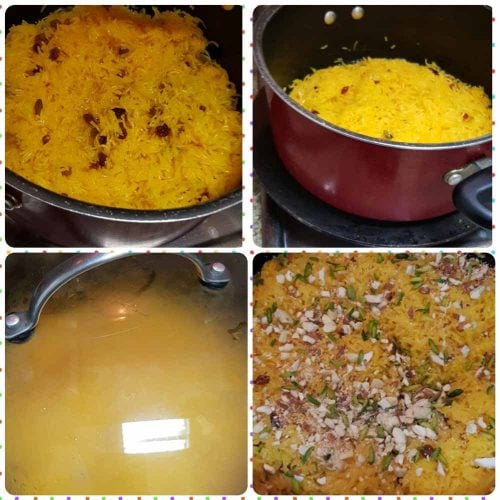 Reduce the heat to medium low, and place a tawa or a large frying pan on the stove. Then place the pot of the rice onto the tawa or frying pan. Steam cook (or as we say in Urdu dum per rakhna) for about 15-20 minutes or until the sugar has dissolved and cooked through.
Serve zarda with additional topping of nuts.
Tips for Making the Best Zarda recipe ever
1.) Do not fully cook the rice. It should be parboiled (al dente) or only cooked until 3/4 done.
2.) When making the chashni (sugar syrup) do it on medium low heat so that the sugar dissolves evenly and doesn't burn. When the sugar syrup starts foaming, the chashni is ready. 
3.) Zarda rice must be steam cooked for at least 15 minutes so that the rice cooks through and the sugar dissolves completely. Other wise the rice will become dry and stiff.
4.) Some people also add kewra essence at the very end when the Zarda rice is cooked, but I usually don't have any on hand so don't add it my zarda.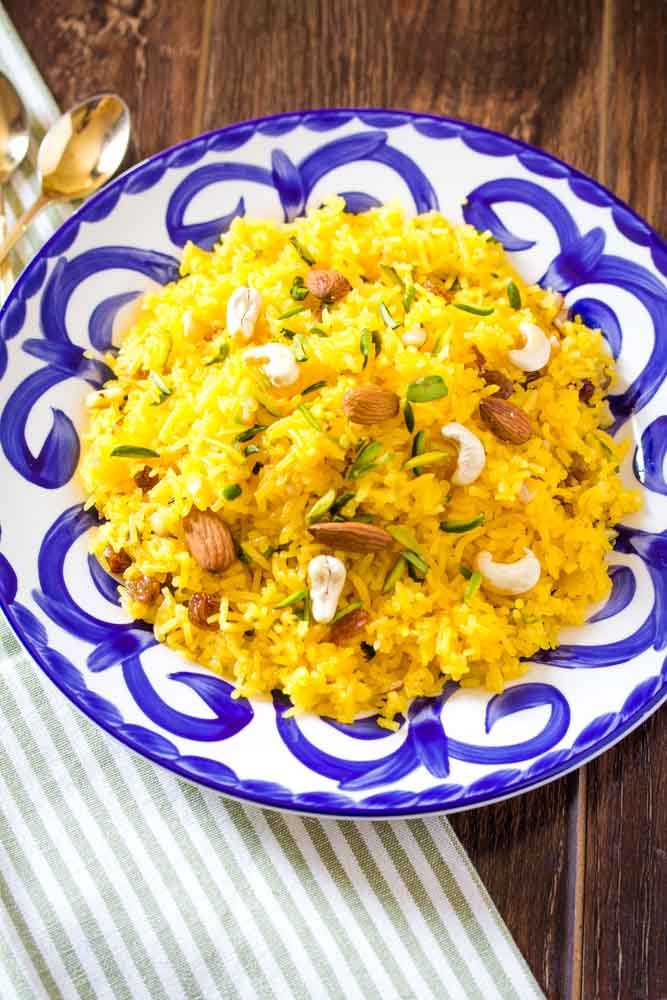 More Delicious Pakistani Desserts
Fruit Chaat - Simple Fruit Salad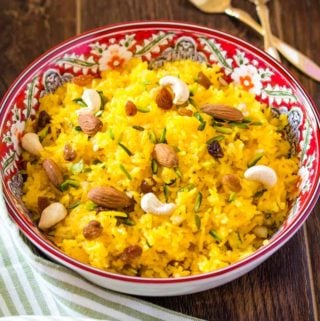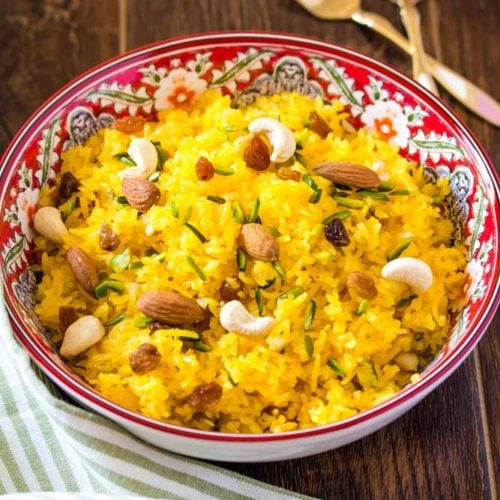 Zarda Rice Recipe
Learn how to make delicious Zarda rice, a famous Pakistani dessert, with my step by step guide with pictures!
Print
Pin
Rate
Ingredients
6

cups

water

1 1/2

cups

basmati rice

soaked for 30 minutes

Few drops of yellow food cooler

optional

2

tablespoons

ghee

4

cardamoms

1

clove

lavang

1

cup

sugar

1/2

cup

water

1/4

cup

raisins

1/2

cup

assorted nuts (I used slivered pistachios

roughly chopped almonds, and roughly chopped cashew nuts

More nuts and raisins for topping

if desired.
Instructions
In a large pot, bring the water to boil and then add the rice.

Mix in the yellow food color if using.

Cook until the rice is parboiled, about 3/4 cooked through.

Immediately strain the rice and set aside.

Now in the same pot (after draining the water), add the ghee.

Add the cardamom and clove, and let them roast for a minute or so, until fragrant.

Now add the sugar and water, and medium heat, gently stir until sugar has completely dissolved.

Once the sugar has dissolved, add the rice and mix so that the sugar syrup coats the rice evenly.

Add the raisins, mix and cover the rice for a few minutes.

Remove the lid, and add the rest of the nuts, and mix them thoroughly.

Now reduce the heat of the stove to low, add a flat tawa and place the pot on it. Cover tightly, and let the rice complete cooking on low heat for about 15-20 minutes.

This process of cooking in steam is called 'dum' and the timings may vary until the rice is fully cooked through. However, the rice does need to be on dum for at least 15-20 mins, because the sugar needs to be absorbed completely by the rice. If the rice is not steamed for the appropriate time, the rice will become hard.

Once the rice is cooked, serve it in a bowl topped with more crushed nuts.
Nutrition