Khoya, also known as Mawa, is a milk-based product with a taste and consistency similar to a cheese curd. This dish is popular in India and is known to add flavor & richness to many dishes!
Khoya is great for topping desserts such as Zarda and Gajar ka Halwa and is also used to make traditional sweets such as Barfi and Gulab Jamun.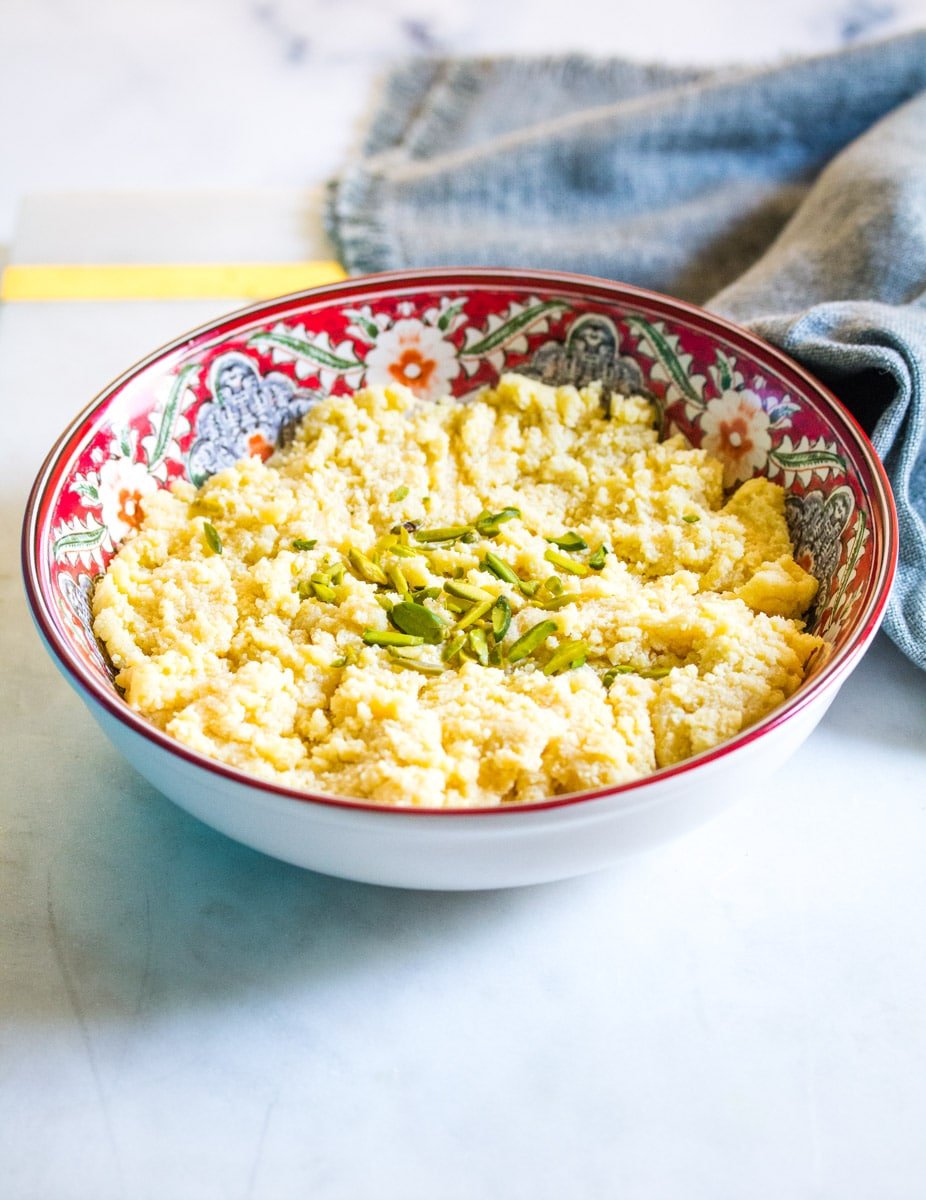 Jump to:
An Easy, Incredible Mawa Recipe
Have you ever had the opportunity to enjoy Mawa/Khoya? If you've tried it before and fully loved the taste of it, you can learn how to make it at home with ease so that you never have to go without it. Not only can you eat it on its own, but you can also add it to other recipes and use it as a special ingredient to bring more flavor to your meals. No matter how you eat it, you'll love the taste of this fresh, homemade recipe.
What Is Khoya?
Khoya, also known as Mawa, is a type of milk dessert with a taste and consistency similar to a cheese curd. It's a popular Indian dish full of flavor and commonly used in different recipes for added flavor and texture.
If you want to know how to make Khoya powder from milk powder, this recipe explains the process in detail, making it easier for you to get the hang of while preparing it at home.
Types of Mawa
There are three types of khoya, batti (rock), chickna, and daanedaar. Batti is hard and has the least amount of moisture and can be grated like cheese.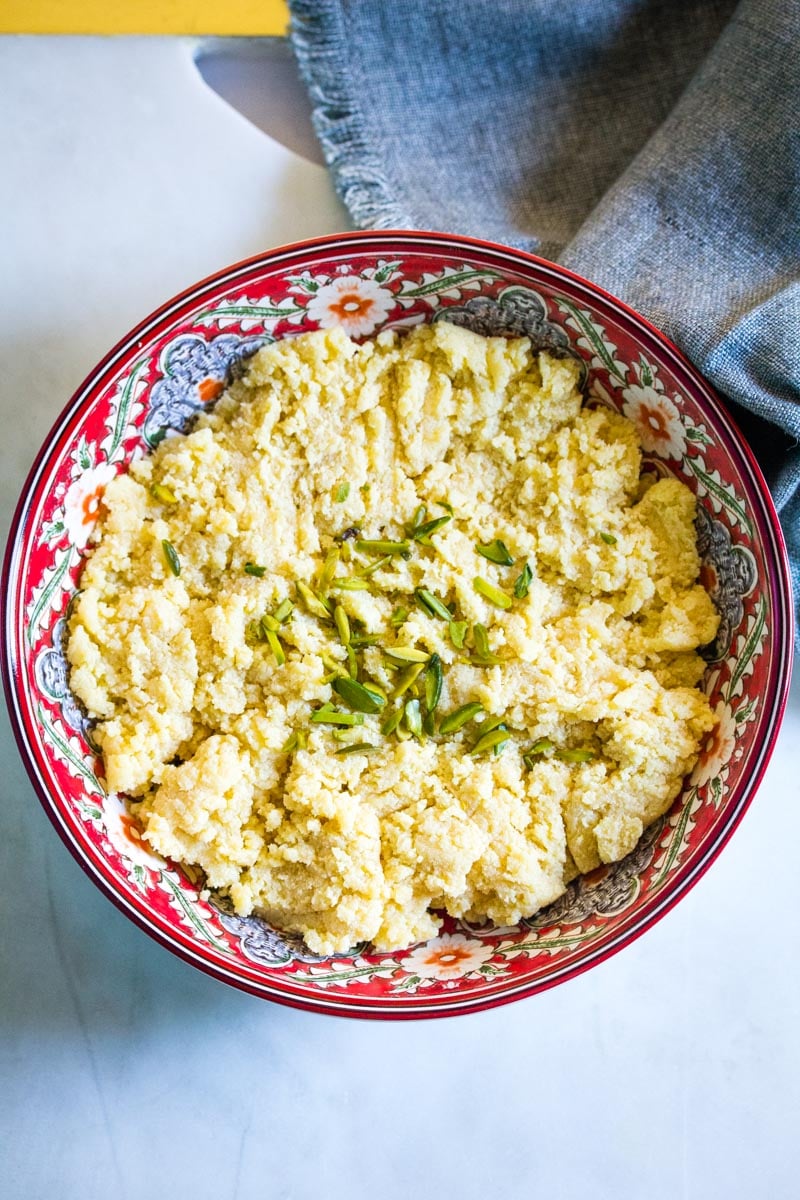 Why this Recipe Works
The original method for making khoya involves reducing the milk on low heat for several hours. When most of the moisture has evaporated you are left with milk solids. This is a time-consuming process, and since khoya isn't easily available everywhere, this recipe is perfect.
You only need two ingredients and a few minutes to make it in the microwave. And trust me, this khoya tastes exactly like the ones you can find at the halwai. Except it's super quick, hygienic, and delicious. I can eat khoya by the spoon but it's so versatile and can be used for many Indian and Pakistani desserts.
Milk Powder Recipe Ingredients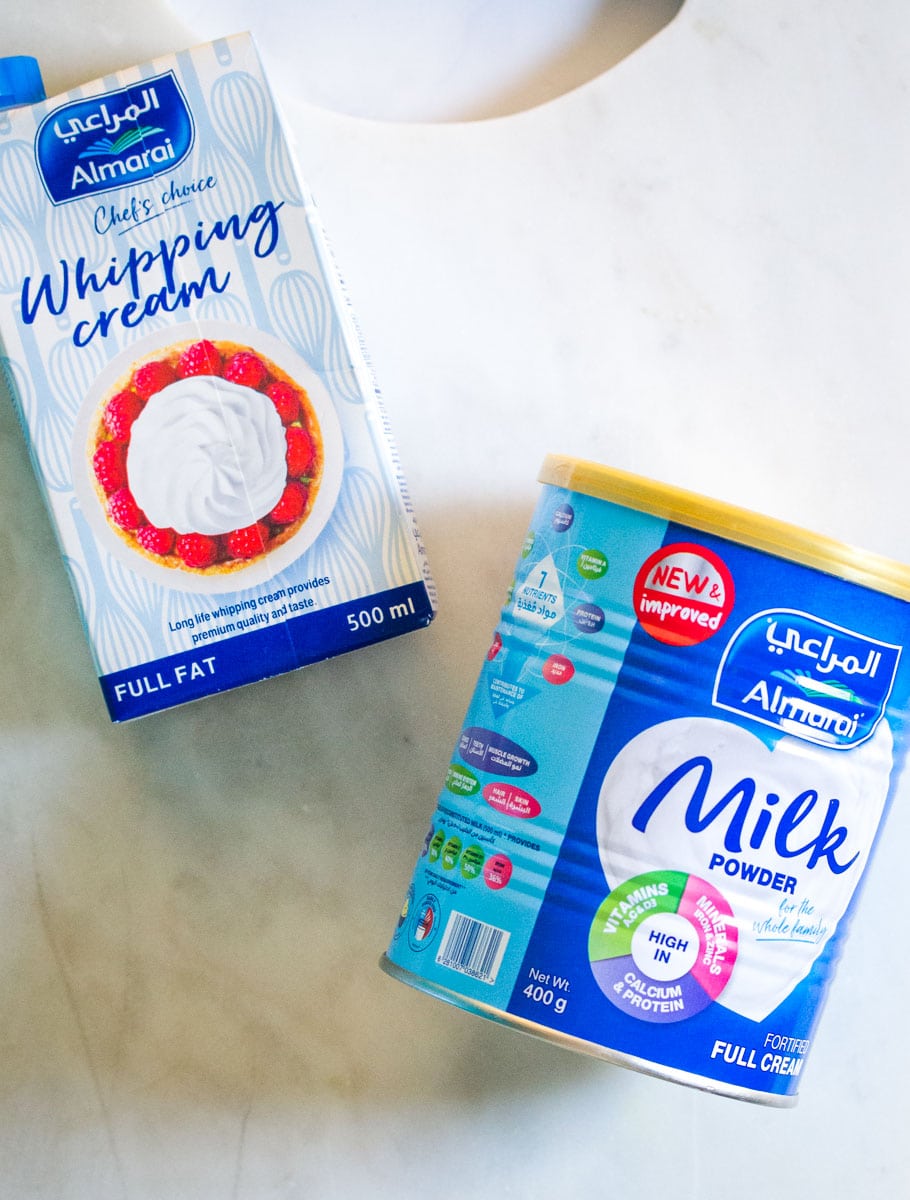 To make Mawa from milk powder, it's important to have the following ingredients:
Milk Powder - The milk powder is the star of the show. You should have no problem finding this ingredient at your local grocery store. If not, you can check a local Indian supermarket or order the powder online for this recipe.
Heavy Whipping Cream - Adding heavy whipping cream to the milk powder helps with its texture and consistency, but it also adds an incredible flavor to this dish, making it possible for you to enjoy the Khoya immensely.
Yes, you've read that correctly. You're only going to need two ingredients to prepare this delicious Khoya recipe at home.
How to Make it in 5 Minutes in the Microwave
To a microwave-safe bowl, add the milk powder and heavy whipping cream. Combine with a fork until fully incorporated.
Place in the microwave for 1 minute, remove and mix well with a fork. Repeat this 2 to 3 times.
By now most of the moisture will be gone, and the mixture will be forming clumps. Mix well and microwave for 30 seconds. Remove from the microwave, mix well, and repeat this process another 2-3 times.
When about 90% of the moisture is gone and you can see the surface is shiny, it means your khoya is ready.
What to Make with Khoya/Mawa
You can do a lot when you've prepared this curd-like dish with it. These are some of the meals you can add it to:
Khoya Paneer - This is a stew-like dish containing Khoya and other fresh ingredients, such as garam masala and kasuri methi. The Indian comfort food is amazing.
Gajar Ka Halwa - If you like bread pudding, you'll love this recipe. It's a carrot-based dish similar to bread pudding with a slightly sweet touch. It's great to serve as a dessert after a wholesome meal.
Mawa Gujiya - Another popular Indian treat, these baked or fried treats consist of the Khoya with golden raisins, cashew nuts, sugar, and a few other ingredients. It's another sweet, delicious treat worth making!
Zarda - If you love meethe chawal try this Zarda and top it with your homemade khoya.
Gulab Jamun
Barfi
Recipe Tips
While there's not much that can go wrong in this easy recipe, it's important to know not to microwave the khoya too much. If you do so, a lot of the moisture will evaporate leaving the khoa very hard and crumbly. It's still okay to use in traditional desserts such as halwa, but for other traditional mithai such as barfi or peda it won't be as suitable.
Use whole milk powder, not a tea whitener or low-fat milk powder. This recipe will not work out if you do so.
Frequently Asked Questions
What type of milk powder should I use in this recipe?
While you can use any brand, Almarai Milk Powder is a great option. I love it because of its great texture and flavor, making it enjoyable and easy to work with, but you can use whatever you have on hand. Nido is another great brand that will make it easy for you to prepare this recipe.
Is the powder the same as tea whiteners?
No, the milk powder isn't the same as tea whiteners, so make sure you're grabbing the right ingredient to use when preparing the Khoya.
What should I do if I don't have heavy whipping cream?
Because it's an essential ingredient in this dish, you can always prepare homemade heavy whipping cream by combining full-fat butter with whole milk. These ingredients work well together to create that heavy cream flavor and texture that you want and need to complete this recipe.
How to Store
You can keep the Khoya fresh and ready to eat by placing it in an airtight container and putting it in the fridge for up to 10 days.

You can also store it in the freezer. When stored in the freezer, it will remain fresh and ready to use for up to 15 days. Be sure to use an airtight container to keep it sealed and protected while frozen.



Now that you know how to make Khoya, you can prepare at home with ease and use it in different recipes, including comfort foods and desserts to share with loved ones.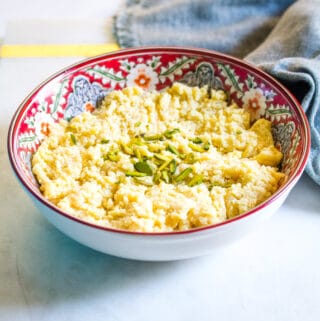 Ingredients
2

cups

milk powder

1

cup

heavy whipping cream
Instructions
In a microwave safe bowl combine the milk powder and whipping cream together. Mix well with a fork.

Place in microwave and heat for 1 minute.

Remove the bowl, give the mixture a good mix.

Microwave again for 1 minute, and then mix with a fork. Repeat this process one more time.

By now the mixture will have lost some of it's moisture and will be forming clumps.

Microwave in 30 seconds duration for 2-3 times. Mixing the mixture well in between each time.

When most of the moisture is gone and the khoya has a dry consistency, you can transfer it to a bowl and store for up to 10 days in the fridge.
Notes
Milk Powder: I used Almarai Milk Powder but you can also use other brands such as Nido with success. This is not the same as tea whiteners. Heavy whipping cream: Also known as whipping cream or thick cream.
Nutrition
Calories:
2079
kcal
|
Carbohydrates:
105
g
|
Protein:
74
g
|
Fat:
154
g
|
Saturated Fat:
97
g
|
Polyunsaturated Fat:
5
g
|
Monounsaturated Fat:
42
g
|
Cholesterol:
517
mg
|
Sodium:
1014
mg
|
Potassium:
3631
mg
|
Sugar:
105
g
|
Vitamin A:
5890
IU
|
Vitamin C:
23
mg
|
Calcium:
2492
mg
|
Iron:
1
mg