Try an impressively sweet and delicious dish that will remind you of bread pudding with this Gajar Ka Halwa recipe. The carrot-based dish is full of flavor and great to enjoy as a sweet treat with loved ones. In India and Pakistan, it's enjoyed as a winter specialty dessert topped with dry fruit and khoya.
Love these traditional desserts? Try these festive recipes Zarda, Sheer Khurma, and Besan ka Halwa as well!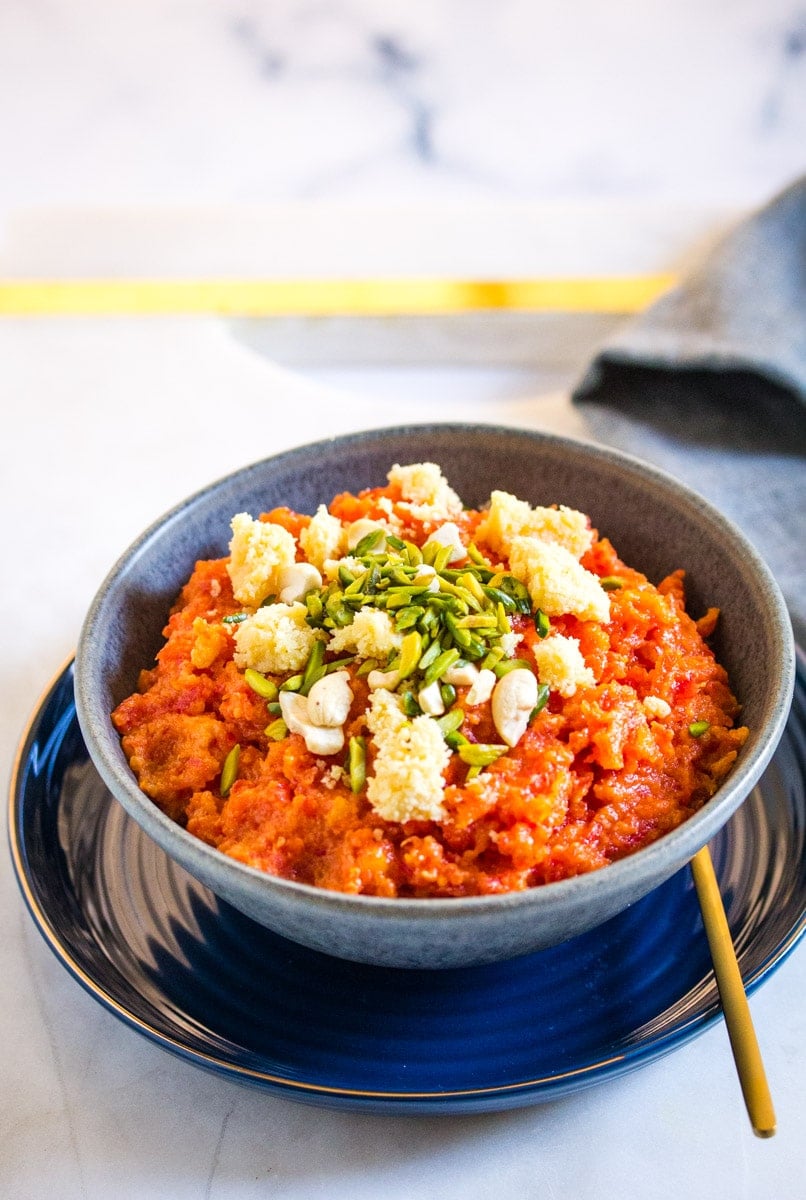 Jump to:
Homemade Carrot Halwa
If you've ever visited an Indian restaurant, you may have already tasted the Gajar Ka Halwa, also known as Carrot Halwa.
The sweet carrot-based dish has the perfect texture and is such a fulfilling treat.
Prepared with shredded carrots, milk, sugar, cardamom, and a few other ingredients, it won't take long for you to make this dish at home before serving it to your family and friends.
It's the perfect way to prepare something new, different, and delicious!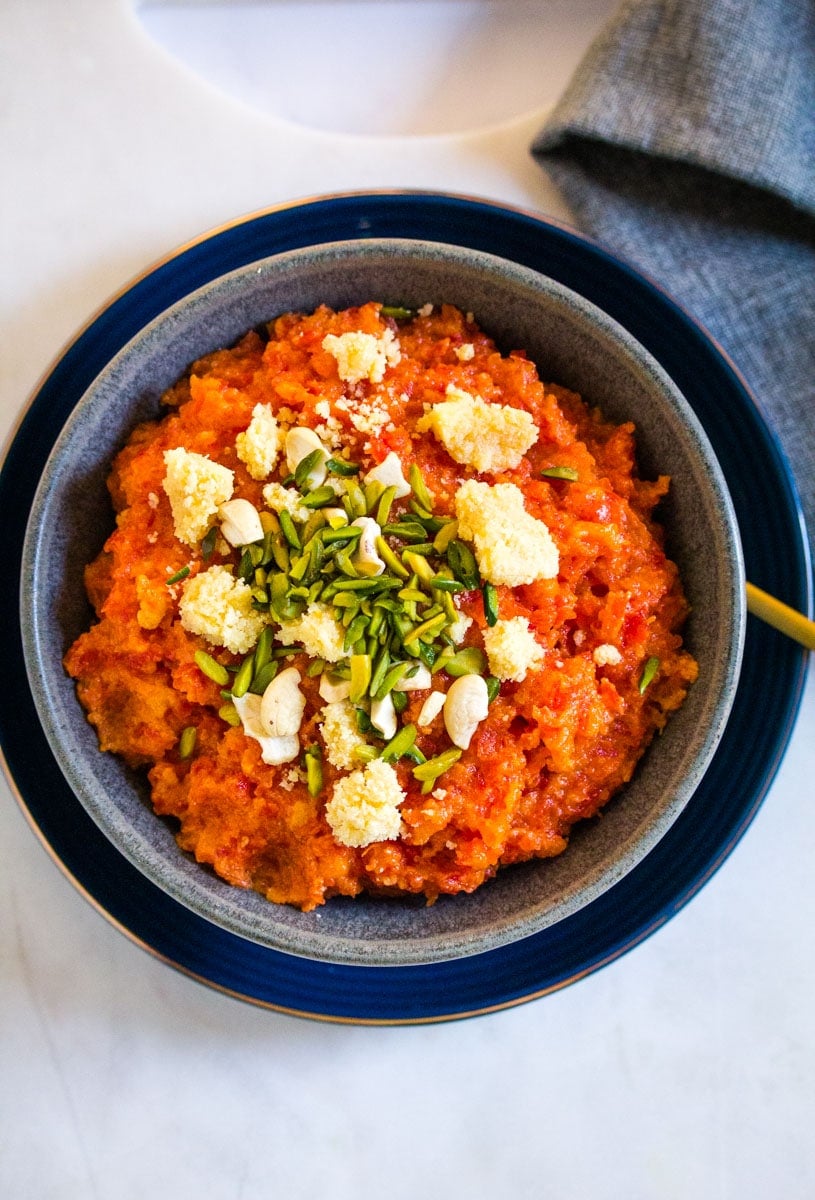 Why this Recipe Works
Quick Prep: Gajar Halwa is typically made with at least 1 kg of carrots (or more), and these are usually grated by hand using a box grater. This can be very tedious and time consuming, so the easier way to do this is by using a food processor with a grater or shredder attachment. It takes less than 5 minutes which cuts the prep time to almost nothing.
Cook Low and Slow: While we are cutting down on the prep time, I truly believe slow cooking is the key to developing the right flavors for this recipe. The good thing is that you only have to stir the halwa occasionally to cook it, so you can multitask while making it. It also freezes beautifully, so you can make a big batch!
Homemade Khoya: Khoya is not necessary for this recipe, however it adds an amazing richness and flavor to the recipe. If you can't find khoya easily, worry not. Use my recipe for Instant Khoya that's made in the microwave with only two ingredients. It tastes just like the one from the halwai.
Ingredients Needed to Prepare the Recipe for Gajar Ka Halwa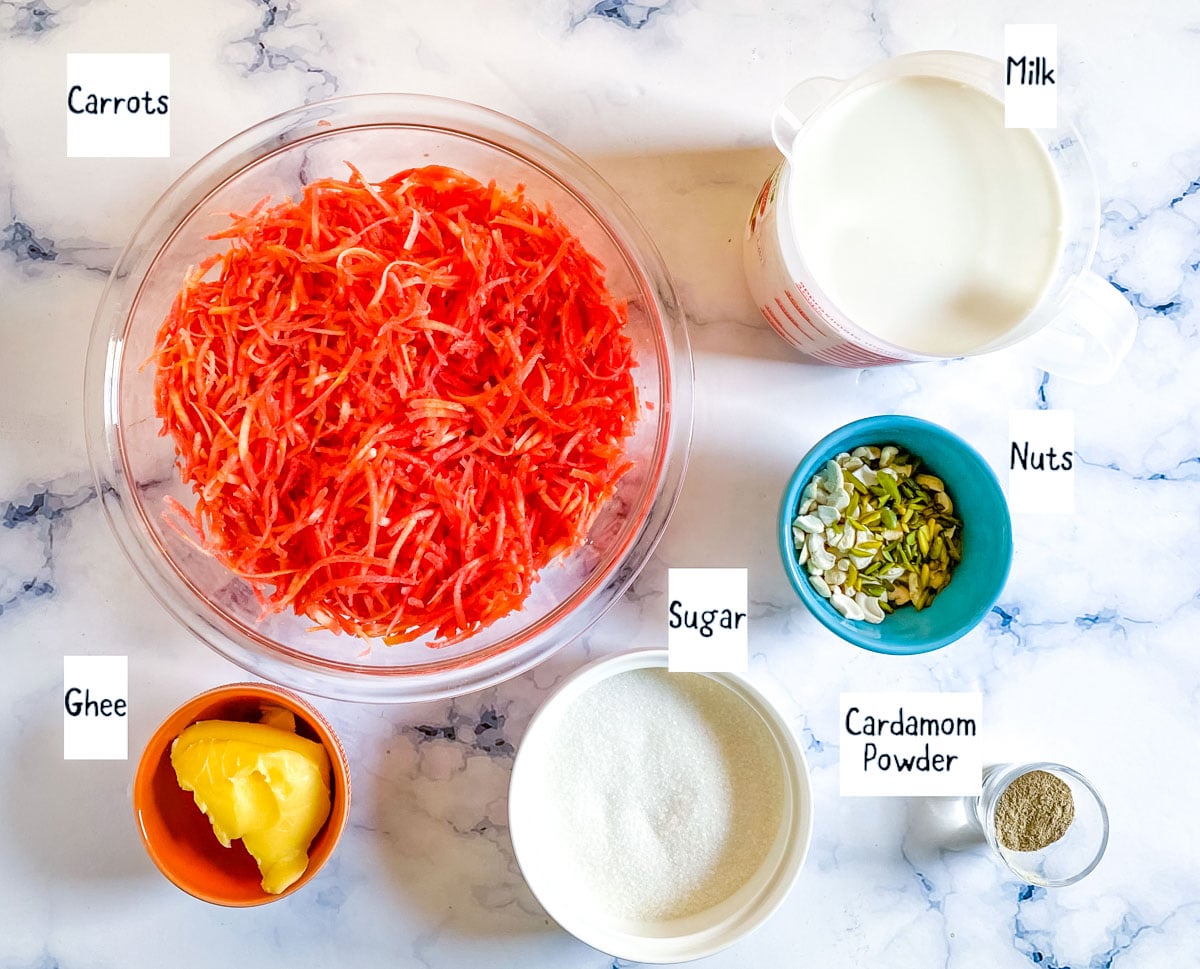 Be sure to have these important ingredients before you prepare this meal:
Pakistani Red Carrots - Using the right variety of carrots is key here. I used red carrots which are sweeter and juicier. These are typically easily available in India and Pakistan. If you cannot source them (which I highly recommend), you can also use the orange variety. These carrots are grated into thin, fine pieces, making them easy to work with and much more enjoyable.
Whole Milk - You'll need a liter of whole milk to combine with your ingredients in this recipe. For best results, I recommend using whole or full-fat milk. While this recipe will work with 2% milk, it won't be as rich in flavor.
Ghee - The ghee adds such an incredible flavor to this dish and is a must-have ingredient for it.
Khoya - You can purchase khoya or prepare it at home by combining milk powder with heavy cream, whichever you prefer.
Cardamom Powder - If you don't have the powder, you have the option of crushing three or four green cardamoms in place of it.  
Dry Fruit: Add your favorite nuts to the recipe for additional flavor and texture.
Boiled eggs: This is an optional ingredient, and I did not add them, but it's an enjoyed delicacy in Punjab, Pakistan.
How to Make Carrot Halwa (The Traditional Way)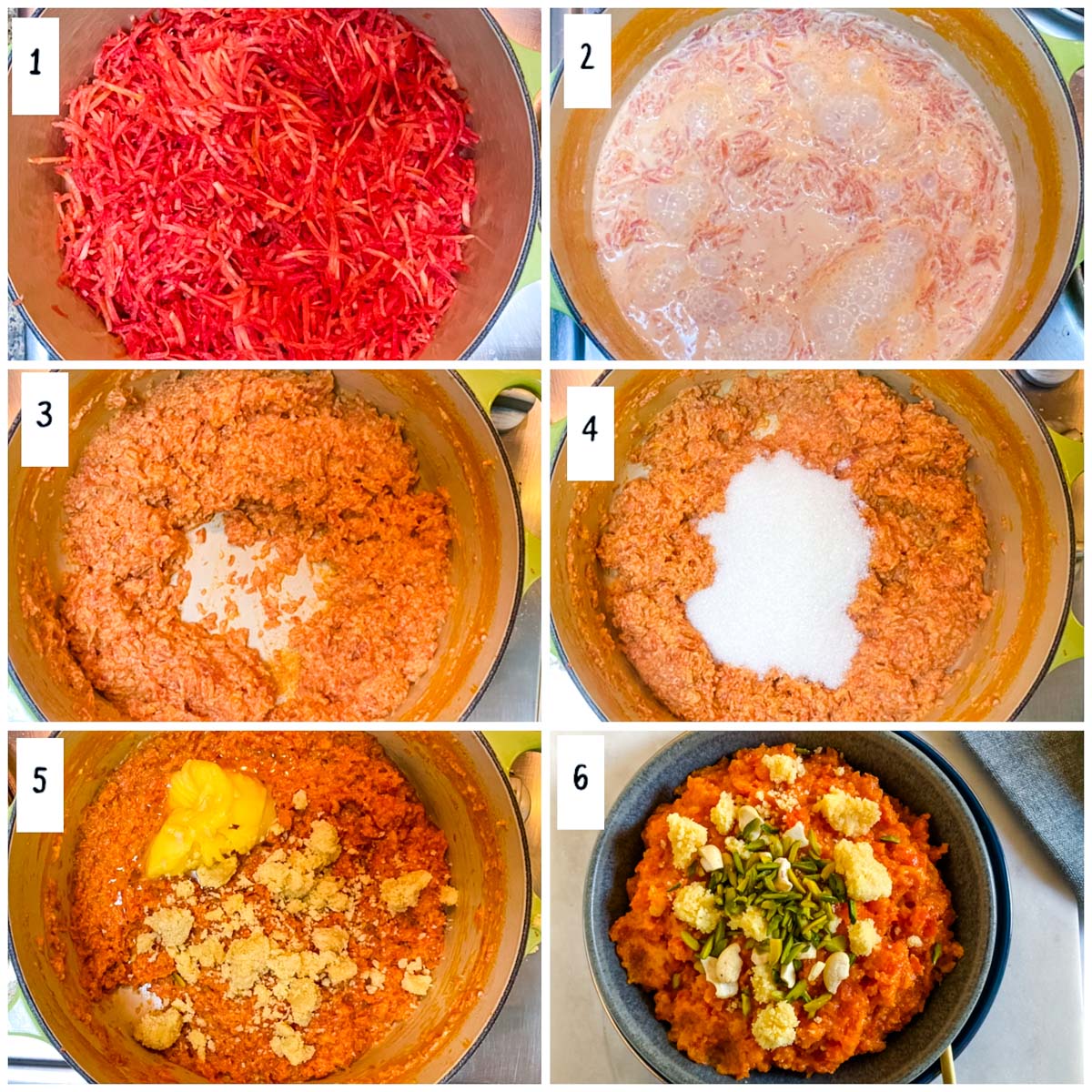 You can prepare this dish in a heavy-bottomed pot, making sure to add the carrots first before adding your milk, lowering the heat, and cooking for a minimum of an hour and up to two hours. While the cooking time might seem long, it's a crucial part of this recipe and will help you prepare the most flavorful dish.
Saute: Start dry sauteeing the shredded carrots in a large dutch oven pot or heavy bottomed pot. We need to do this only for 3-4 minutes.
Add the Milk: Pour in the milk, and bring to a boil.
Reduce the Milk: Gajar Halwa is made by reducing the moisture until your are left with a condensed flavorful form of carrots and milk. To do this, you'll need to cook the halwa for 1 to 2 hours on low heat, while stirring every 10 minutes or so, until you can see no liquid at all upon stirring. Refer to picture number 3 in the above collage.
Add the Sugar: Now's the time to add the sugar, and stir well until it's fully incoporated. Cook on medium high heat for 5-7 minutes, while stirring, until the moisture from the sugar has evaporated.
Add Ghee, Khoya and Cardamom Powder: Now add the ghee, khoya (if using), and cardamom powder and cook on high heat heat until you can see the oil separating on the sides of the halwa. At this point you can also mix in some dry fruit.
Serve: You can serve this dish hot or cold, topped with nuts and extra khoya.
Below are a few alternate methods that are often quicker and easier to make, if time is of the essence for you!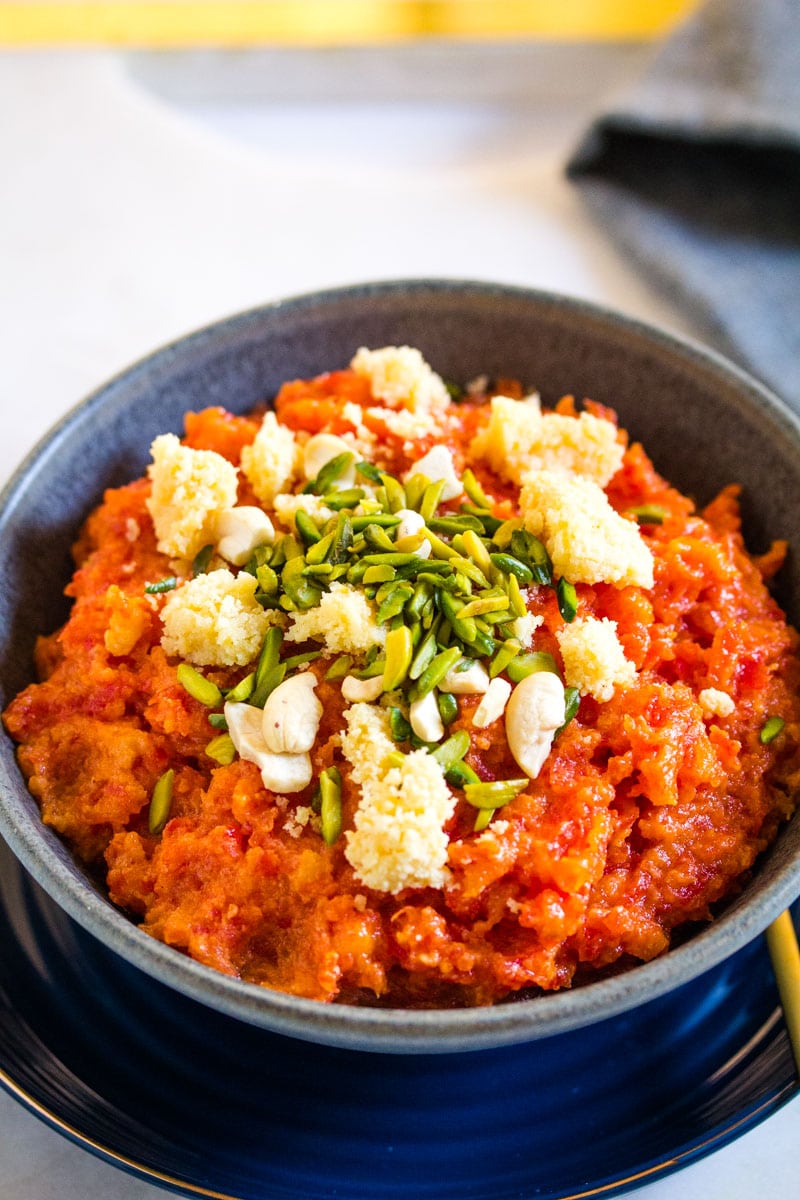 Milk Powder Method
My mother often makes carrot halwa, but only with carrots, milk, sugar, and ghee. She never adds khoya and in fact, it's not even necessary.
Instead, she finishes off the halwa with about half a cup of milk powder and mixes it well. This is a cool trick because it adds richness to the dish without needing any khoya at all.
Follow the recipe as written in the recipe card, but when it's time to add the ghee and khoya, just add the ghee and cook. Then add the milk powder, mix well and cook for another 2-3 minutes.
This is a bit weird, but I've been known to sprinkle extra milk powder over gajar halwa. Sounds super weird, but it's delicious.
Condensed Milk Method
To make this halwa quicker and richer, you can also add condensed milk instead of milk. The cooking method will be a bit different but much quicker:
Start by sauteeing the grated carrots in 2 tablespoons of ghee.
Cook the carrots on medium heat for 5-7 minutes until they have softened and most of the moisture is evaporated. Keep stirring during this process.
Now add 400 ml of condensed milk, and stir until it's incorporated. Keep cooking on medium heat while stirring until most of the moisture has evaporated.
Sprinkle over cardamom powder and dry fruits, and mix well.
Your gajar ka halwa with condensed milk is ready to be enjoyed!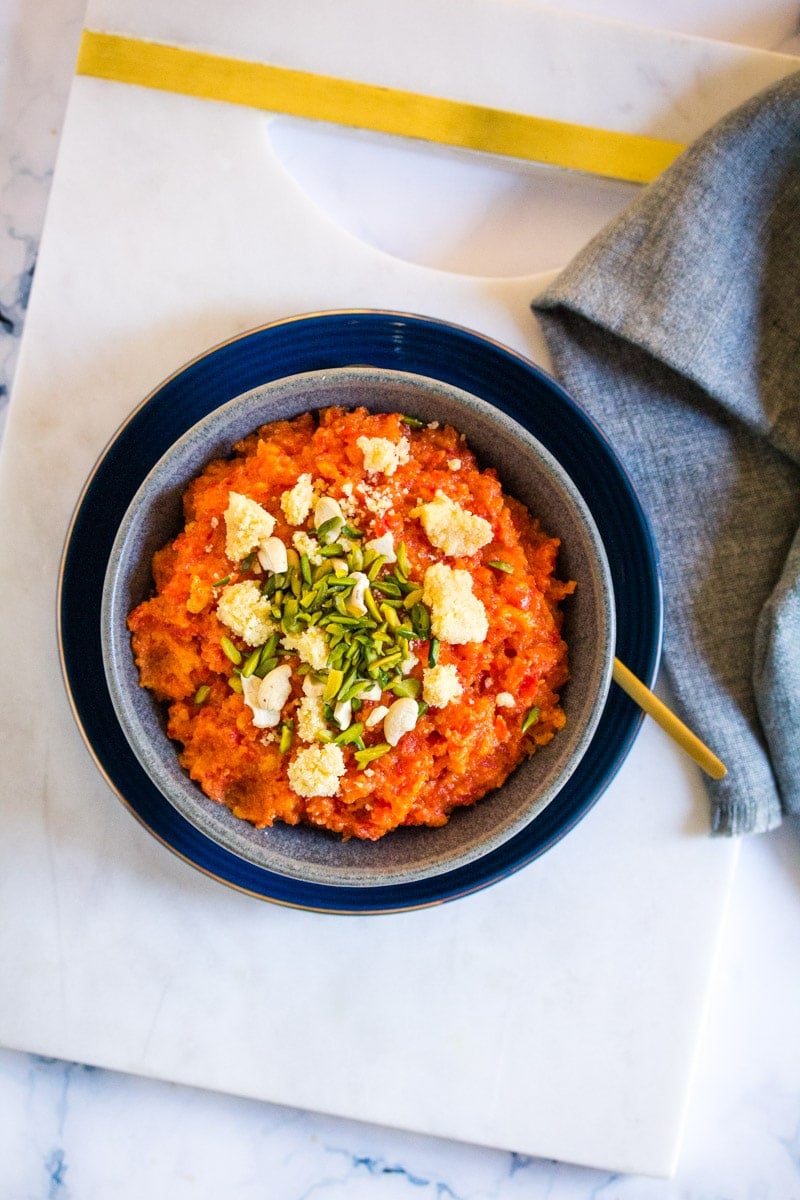 Frequently Asked Questions
What types of nuts will I need to use for their recipe?
I'm a fan of using cashew nuts and pistachios because they add the perfect flavor and texture to this dish. However, if you don't like those nuts, you can always use peeled almonds. The peeled almonds are more traditional, so when you're trying to keep it traditional, they're the best option to use!
Do I have to use whole milk for this recipe?
I would highly recommend using whole milk for this recipe to achieve the perfect taste and texture. If you're using fat-free or skim milk, the recipe won't come out the same. It can alter the taste, appearance, and overall texture of this dish, which isn't something you want to have happen when you're preparing this from scratch.
What type of ghee should I use in this recipe?
It's crucial to use high-quality ghee in this recipe to achieve the best results. Of course, you can add more or less ghee, depending on what you prefer. Some people enjoy adding up to an additional cup of ghee for the added flavor it brings to this dish.
Can I freeze Gajar ka Halwa?
Yes, you can freeze it in an airtight freezer-safe container for up to 1 month.
Recipe Notes
Although it may sound strange to some, sliced boiled eggs taste great as an addition to this recipe. In Punjab (Pakistan), it's normal for people to add chopped boiled eggs to their halwa before serving it.
Make sure that you're doing plenty of mixing while preparing this dish. It needs to be mixed frequently so that you can achieve the ideal texture for the dish.
You can serve this dish hot or cold, whichever you prefer. Some like to eat it on the spot when it's done cooking, while others prefer to place it in the fridge and allow it to chill for a bit before serving it. No matter which way you like it, you can expect the bold flavor to blow you away.
Gajar Ka Halwa is a popular North Indian dish served throughout the country and beyond. And now you can make it at home!
While similar to bread pudding, it has such a unique taste that you can emulate with the right ingredients at home.
Enjoy this dish served hot or cold. It's the kind of food that tastes amazing and leaves you feeling both comforted and satisfied.
More Delicious Desserts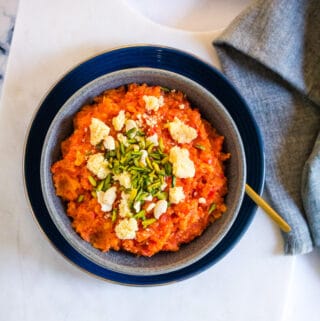 Gajar ka Halwa Recipe
Gajar ka Halwa (Carrot Halwa) is a traditional Indian dessert made with carrots, milk, sugar and ghee. It's a winter specialty and is perfect for festive celebrations.
Print
Pin
Rate
Equipment
Food processor with a grater attachment

Box grater

Heavy bottomed pot such as a dutch oven
Ingredients
1

kg

Pakistani carrots

grated

1

litre whole milk

1/2

cup

ghee

1/2

cup

khoya

milk solids

2

teaspoons

cardamom powder

1/4

cup

assorted nuts

I used cashew nuts and pistachios
Instructions
To a large heavy bottomed pot, add the carrots and cook on medium heat for 2-3 minutes. Now add the milk, stir and lower the heat.

Cook for 1-2 hours on low heat, or until all the moisture has evaporated and there is no liquid left. It's important to keep stirring occasionally during this step.

Add the sugar, and cook on medium high heat for 5-7 minutes until the moisture from the sugar has dried up.

Add the ghee and khoya (milk solids) and on medium high heat, keep cooking the halwa until you can see the oil separating about 5-7 minutes.

Add the cardamom powder, stir until combined.

Finally add the assorted nuts, give it a mix, and gajar ka halwa is ready to be enjoyed!
Notes
Ingredient Notes:
Red Carrots: These carrots are sweeter in flavour and have a bright red color. If you cannot find any, you can substitute with the regular variety of carrots. I use a food processor to grate the carrots as it's quicker and convenient, but you can also grate them by hand.
Milk: I highly recommend that you use whole milk for this recipe as it adds a richness to the halwa that other percentage milk cannot do so.
Ghee: Use high quality ghee for best results. You can adjust the amount to your liking, and increase it up to about 1 cup for a more indulgent halwa.
Khoya: You can make homemade khoya, or skip it completely if it's not easily available. 
Cardamom powder: You can also use 3-4 crushed green cardamom in place of this.
Nuts: I used cashew nuts and pistachios, but you can also add peeled almonds which is more
traditional.
Boiled Eggs: Sounds a bit strange, but in Punjab (Pakistan) this halwa is topped with chopped boiled eggs.
Alternate Methods of Cooking the Halwa:
Milk Powder Method:
Follow the recipe as is, except do not add khoya at the end.
Instead, you can add 1/2 cup of milk powder after adding the ghee.
Mix well and cook for 2-3 minutes. Proceed with the rest of the recipe as written.
Condensed Milk Powder:
NOTE: we do not need any whole milk or sugar for this method.
For this method start by heating up the ghee in the pot.
Add the shredded carrots, and then cook for 5-7 minutes on medium heat while stirring.
After most of the moisture has evaporated, add 400 ml of condensed milk. 
Mix well and continue to cook on medium heat for 8-10 minutes, while stirring, or until most of the moisture has dried out.
Add cardamom powder and dry fruit, and mix well. Your halwa is ready to be enjoyed!
Nutrition
Calories:
234
kcal
|
Carbohydrates:
17
g
|
Protein:
5
g
|
Fat:
17
g
|
Saturated Fat:
10
g
|
Polyunsaturated Fat:
1
g
|
Monounsaturated Fat:
6
g
|
Trans Fat:
1
g
|
Cholesterol:
32
mg
|
Sodium:
127
mg
|
Potassium:
433
mg
|
Fiber:
4
g
|
Sugar:
6
g
|
Vitamin A:
20951
IU
|
Vitamin C:
8
mg
|
Calcium:
147
mg
|
Iron:
1
mg